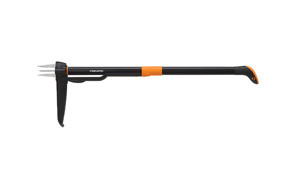 Fiskars 339950-1001 4-Claw Weeding Tool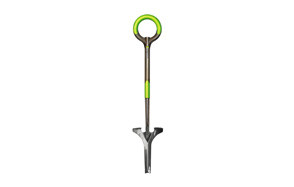 Radius Garden 205 Pro Ergonomic Weeding Tool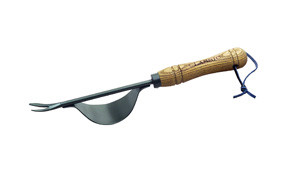 Flexrake CLA329 Classic Dandelion Weeding Tool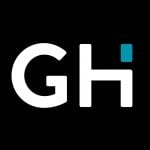 Yard work is often tedious and back breaking. Weeding the garden is dull and never-ending. If you feel that the weeds are growing faster than you can pull them out of the ground, it's because new weeds tend to sprout within days of you clearing your yard.
Conventional weeding involves pulling out every single weed, one at a time. The trouble with this method is that parts of the weeds get left behind in the soil to grow again another day. That means that in a matter of days or weeks, your garden will need weeding again.
Fortunately, there is a faster and simpler way to pull weeds from the ground and weeding tools make it possible to get those unsightly botanicals out without bending over for hours on end. The best weeding tools will help you get your garden looking nice and neat again, without breaking your back.
The Best Weeding Tool
Weeding Tool Buying Guide & FAQ
Features To Look For In Weed Removing Tools
Sharpness –The best weed removing tools don't just remove the parts of the weed on the surface of the ground, they need to go a little bit deeper into the root system. That's when you will appreciate a nice, sharp tool to cut into the ground so you can remove as much of the weed as possible, including the roots. By being this through with your weeding you are less likely to leave any parts of the weed behind and this means the weeds will be less likely to grow back. The more you can hinder the growth of new weeds, the less weeding you will need to do. Check the blades of the weeding tool and make sure they are sharp enough to cut deep into the soil and remove the entire weed.

Maintenance –One thing you don't want to do with your weeding tools after you've just spent hours clearing your garden with it, is to spend more of your precious time cleaning, lubricating and tightening your tool. Look for weeding tools with as few moving parts as possible. Also, look for materials that are rust proof and sturdy. Obviously, as you will be using your weeding tool in the dirt, it's inevitable that your tool is going to get dirty. Shake off any excess dirt and soil from your weeding tool when you have finished your yard work and wash off the rest of the muck. You should then let it dry completely before putting it away. If there are any moving parts on your weeding tool, lubricate these parts after you have cleaned the weeding tool to stop them from becoming stiff in between uses.
Head Types
Knives – Weeding tools featuring a knife type head are the most common type found in weeding tools because of their simplicity. They are designed to cut through soil and chop the weeds to shreds, yes, even the toughest ones. These are great to plunge deep into the ground around the weed so you can lift it out completely. At the same time, you can also take a few stabs at the soil to aerate it which will benefit the plants you've decided to keep. The knives are also practical when you want to scrape out weeds from pavers, gaps in concrete and any weeds that have sprouted on the outside of your house and other areas where they shouldn't be.
Hoes – These types of weeding tool heads are incredibly simple to use and it serves the double purpose of cultivating the soil once you've removed the weeds. It requires very little effort to get your garden de-weeded. You simply plunge the head into the soil in front of the weed and pull the weeding tool towards yourself, bringing the entire weed up and out of the ground. You can then shake off any excess dirt from the weed and after a few more stabs at the dirt with this type of weeding tool, you'll have a nice, soft garden bed again. A weeding tool with a garden hoe type head is great for clearing weeds quite fast and giving the soil a good turn at the same time.

CobraHead – Simplicity is what you get when your weeding tool has a CobraHead. It looks weird at first, but once you take this tool into your hands you will quickly realize how practical and easy it is to use. The shape alone makes it easy for the blade to dig into the soil to remove weeds and cultivate the soil at the same time. The design itself is ergonomically good for your hands as it allows for the natural movement of your hands as it does the work without overexertion.
Rake – A weeding tool with a rake head is excellent when you want to remove a cluster of small weeds. You simply pass this weeding tool over the weeded area. This action loosens the soil making it simple to pick up handfuls of such weeds and discarding them. Any weeds left behind will be sufficiently displaced so that further growth will not be possible. They will then deteriorate and become mulch for the surrounding foliage you actually want growing there. The other main benefit of a rake head weeding tool is that you can use it as a rake to pick up any organic matter leaving your garden beds neat and tidy and you'll also aerate the soil allowing your plants to grow better and stronger.
Digger – A digger head on your weeding tool is great for tackling larger and more stubborn weeds like dandelions, thistles, and other thicker, more difficult weeds. Digger heads are practical at removing the entire weed, right down to the roots as you can plunge them deep into the ground to the very tips of the roots. These also work well at removing weeds that are growing in close proximity to each other as you can remove entire clusters in one blow. They can also be used to dig into freshly cultivated soil when you want to plant seedlings.

Types Of Weeding Tools
Short Handled –When you want complete control over the weeds in your garden then short handled wedding tools are the way to go. These are ideal when you have plants growing close together as the shorter handle makes it easier to control where you strike the tool. The benefit of short-handled weeding tools is that you are less likely to miss the weeds and hit your prized plants. These are easier to use when you are kneeling on the ground as it brings you into closer proximity with your garden which will further increase your control during weeding.
Long Handled –If your back and knees screech in protest every time you decide to do some weeding in your garden, then long-handled weeding tools may be the best for you. The longer handle allows you to get right to the bottom of your weeding problem without bending or kneeling, yet you can still get the tedious job of weeding done like a pro. Some long-handled weeding tools have the extra feature of being able to pick up the weed and discard it so you won't even need to bend over to pick up the weeds once you've removed them from the soil.
Weed Tool FAQ
Q: Why do I need a tool to deweed?
A: Technically speaking you don't need a tool to de-weed your garden. However, the right tool will make the job a whole lot easier. Most often when it comes time to pull the weeds from your garden, the surface of the soil in your garden beds will have hardened considerably. If you do start to pull at the weeds, you will only remove the tops of the weeds, and even that is questionable. With so much of the weed left behind, it could only be a matter of days before the weeds start growing again. A weeding tool digs into the soil which loosens it sufficiently enough to pull the weeds out of the soil, roots intact.
Q: What is the best way to keep weeds at bay?
A: One of the best ways to keep weeds at bay is to cover your garden beds with mulch. Weeds generally need lots of light to grow, so the layer of mulch will prevent the light from getting to them. Place the mulch around the plants you are intentionally growing and stop the weeds from growing. The best time to weed your garden is when the ground is wet. At this time, you can get your weeding tool to do most of the work and all you will need to do is to pull the weeds out of the ground. When you do, try and remove the entire weed, roots and all. Also, nip off the heads of any weeds as soon as you see them. Many of these contain hundreds of seeds which will further exacerbate your weed problem. Don't let this weed heads mature. The wind can disperse them all over your yard giving you weeding work almost all year round.