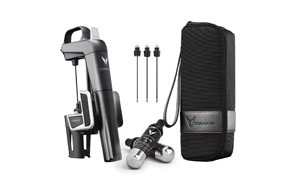 Coravin Model Two Plus Pack Wine Preservation System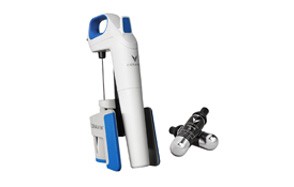 Coravin Model One Wine Preservation System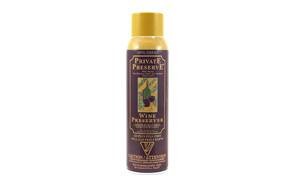 Private Preserve True 1026 Wine Preservation System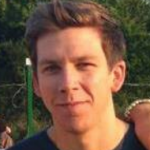 OK, so here's the scenario – you've got a cheeky little bottle of wine calling to you from the wine rack, but you only fancy one glass. Do you open it for that instant fruity hit of pinot grape knowing you've sacrificed the rest of the bottle, or do you save it for another day?
Yup, life is full of tough dilemmas but for this one, Gear Hungry has the answer: with a wine preservation system you can do both.
These nifty little gadgets can make your go-to vino last well beyond the first glug by tackling all the things that make it go flat and taste bad. They take the hassle out of trying to force the mangled cork back into the bottle (come on, we've all done that) and stop us throwing away a perfectly good bottle of wine when we could be drinking it another day.
Wine preservers don't all work the same way – some suck, some add gas, others get all aerated as they tackle the oxygen and bacteria bad guys – but they do mean you can continue to drink your favourite vintage long after the cork has popped.
So, put down the corkscrew and that bottle of Chateauneuf de Pape and read our round up of what we think are the currently the best wine preservation systems out there.
The Best Wine Preservation System
Wine Preservation System Buying Guide & FAQ
How We Chose Our Selection of Wine Preservation System:
We've poured over the best wine preservation systems out there, so you can spend more time choosing your next bottle of Cabernet. We used the following criteria to ensure the final list is worth popping a cork for:
Performance – not just in effectiveness when it comes to preserving your precious pinot but also ease of use and how long the system will last
Price – we looked for value for money in terms of quality, output and extra features

Features To Look For In Wine Preservation System:
While your final choice will be determined by how often you will use a wine preservation system, whether you will need it to be portable (vino on the beach anyone?) and what quality of wine you will be looking to drink, you will also need to be sure the product ticks all of the following boxes:
Design – look for a system that is not over-complicated as you know what you want it for and what it needs to do. For clamp-on wine sprays,wine aerators or wine vacuums, you need to ensure it has a secure fit and can at least work with a standard size bottle (750ml).
Ease Of Use – you don't want a fiddly system that could end up with a serious wine spillage or worse. Can you easily fit it on the bottle or feed the pump line into the bottle neck without wasting either the wine preserver or the wine itself. Can the system be easily portable if you decide to dine al fresco?
Durability–as well as the design and suitability of your chosen wine preservation system, you need to factor in how many times it can be used. Many of the systems use cartridges or gas capsules which will need to be replaced. Check how often (this is where value for money comes in) and how easy it is for you to source replacements.
Safety– it sounds obvious, but make sure the product fits the bottle and there's no risk of the glass breaking, if you are going for a wine spray check the gas contents to make sure you are happy they are totally safe, and the spray system is secure. Read the instructions carefully when using a spray, wine aerator or wine vacuum for the first time.
Types of Wine Preservation Systems:
There are two main ways of protecting your favorite vinowith a wine preservation systemthat keeps the contents of your opened bottle totally quaffable and fresh:
Spray: simply put, this involves using a wine preserver to protect the surface of the wine with a layer of gas. Spray systems use the inert gas argon (or other gas mixtures) to preserve the wine by replacing the oxygen inside the bottle and creating a protective layer of the wine surface. To sound like a chemistry teacher - argon specifically, is non-reactive and as it is heavier than air, effectively protects and prevents the wine from oxidizing.
Vacuum: this does exactly what it says on the tin by using a pump to extract all the air out of an opened bottle of vino before you reseal it with a wine stopper. The easiest and often the cheapest option, a wine vacuum is a simple way to prolong your wine's shelf-life. However, they can't always create a totally airtight space inside the bottle although your wine should stay fresh for at least three days.
You can also choose to opt for a wine aerator system - which pushes oxygen into the wine to improve taste and also keep it fresh - or an absorber, which uses cartridges that absorb the oxygen and unwanted moisture within an opened wine bottle.

Wine Preservation System FAQ
Q: What Is A Wine Preservation System?
A: A wine preservation system is a great way of extending the drinking life of your favorite vintage after you've popped the cork. They also makes great gifts for wine lovers. Not only can they extend the shelf-life of an opened bottle of wine, they can also preserve the taste. A wine preservation system can be as simple as a replacement cork or wine sealer but for superior taste and longevity, opt for a specificwine preservation system. There are two main ways of preserving the quality and taste of your wine – pump the air out of the bottle using a wine vacuum or cover the surface of the wine with a protective gas. Both systems work to protect the wine from its arch nemesis – oxygen – for as long as possible and reduce its damaging effects on the wine's flavor.
Q: Can Wine Go Bad?
A: In short, yes. When the cork is taken out of a bottle of wine, the wine is immediately exposed to air, causing it to oxidize – meaning it starts to lose its freshness and will eventually darken in color. Bacteria in the wine are also fed on oxygen and with the cork removed will eventually turn the alcohol into acetic acid – leading to a rather unpleasant vinegar taste. An expensive bottle of wine is more robust than a $10 bottle from the mini-mart, but all wine will eventually turn bad.  But while an off wine tastes unpleasant, it isn't harmful - so you can't go blaming that hangover on a bad bottle!
Q: How Do I Tell If Wine Has Gone Bad?
A: It's not just the taste that will tell you whether you've got a bad'un, there are other, sometimes more subtle clues to show if a bottle of opened wine has gone on the turn.
A cloudiness to the wine or if there is a film left in your glass indicates there's some oxygen-fed microbe activity kicking off inside the opened bottle. Bad wine may also have a sharp vinegar smell and could also start to brown in color and lose its luster. If you suspect the wine is off, also check for tiny bubbles which come from a 'second fermenting' in the bottle due to all the unwanted chemistry going on. Trust us, this isn't a new form of sparkling wine, it will taste pretty sour and rather unpleasant.

Q: How Long Does Wine Last After It's Opened?
A: An opened bottle of wine will typically last around three to five days with its cork or a wine stopper in place although the taste quality will change during this time, as the wine oxidizes. Most white and rose wines will be considered drinkable for around five days if stored in your refrigerator. Sparkling wines should be drunk within three days, although Champagne is a bit tougher and can last a little longer.
Q: Will Alcohol Percentages And Wine Taste Change After It's Opened?
A: Once a bottle of wine is opened, its alcohol percentage is unlikely to change as you will probably not have it opened long enough for the time needed for the alcohol to evaporate.  As wine has relatively low alcohol levels – typically 12 to 16% - it would take weeks for evaporation to cause any significant percentage drop.
However, once the cork is out and air comes into the equation, other changes are afoot. For some tannin-rich reds, the arrival of air can actually temporarily improve the flavor by softening the taste – we've all heard the phrase 'letting a wine breathe'. But eventually the oxygen-fed bacteria in all wine get a little stir-crazy and the delicious taste of your favorite vino will turn sour and sharp.
Q: Do Quality Wines Last Longer Than Cheap Ones?
A: More expensive wines do have the potential to last longer than cheaper plonk as they tend to be more concentrated, helping them fend off the damaging effects of oxygen for a little longer when opened. And a quality red wine will have more tannin which acts as an antioxidant. However, a more expensive white wine with naturally lower tannin levels will not be able to put up as good a fight. But all wines degrade as soon as you pop the cork so how you store them before you open them and how your treat them afterwards using a wine preservation system can make a big difference to how long your vino – cheap or budget-busting - lasts.
Q: How Do I Store Wine At Home?
A: The way you store your wine can help you preserve it at its best and ensure it is totally quaff-ready.  Ideally you need to keep your wine in the dark (UV rays ages wine as well as our faces) and store wine bottles on their side to keep the cork moist and prevent air getting inside. A consistent temperature is also important, around 12 and 19 °C for red wine and 8 and 12 °C for white. Above these temperatures – or if you put your precious wine through too many temperature changes - and your vino will age much quicker and the cork could seep. If you are putting together a nice little vino collection of your own, wine racks are a good way to go, just don't store them anywhere too hot. And don't forget, everything eventually has a shelf-life, even wine - most day-to-day wines are at their best drinking quality within 3 to 5 years of production.

Q: How Do I Store Wine After It's Opened?
A: The key to storing your wine is to keep it as fresh as you can as soon as the bottle has been opened. This means re-corking the bottle after every glass you pour –several of our reviewed wine preservation systems are ideal to also use as a reseal  - and keep the bottle out of daylight if you can.  When you've had enough to drink, pop the cork tightly back into the bottle and store at room temperature with the bottle standing upright.
Q: Does Wine Need To Be Refrigerated?
A: Ideally yes, if it's a white, put it in the cool box with a wine stopper to help it from spoiling too soon. Do the same with sparkling wine too, as cold temperatures keep the bubbles from dissipating. And white wine – even if it's a few days old - is always so much better when served with a bit of a chill!
Red wine is a different beast altogether as cold can affect its taste which is why unopened bottles should be stored at room temperature. Putting an opened bottle of red in the refrigerator can also do more damage as temperature fluctuations can affect the chemistry and ruin its flavor.
So, there you go, our glass-raising guide to preserving your opened bottle of wine…cheers!
Sources:
1. How to keep wine after its been opened, WikiHow