Best Martini Glasses In 2022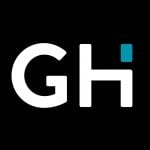 This product guide was written by GearHungry Staff
Last Updated
August 28, 2020
GearHungry Staff
GearHungry Staff posts are a compilation of work by various members of our editorial team. We update old articles regularly to provide you the most current information. You can learn more about our staff
here
.
GearHungry may earn a small commission from affiliate links in this article.
Learn more
Embrace your inner Carrie Bradshaw, Lorelai Gilmore, Grace Hanson, or James Bond, with the perfect martini glasses. Whether you like your drink shaken or stirred, with vodka or gin, everyone deserves to feel like a star – even on the couch.
Few drinks give you quite the same feeling of class and sophistication as the classic martini, and with so many variations to choose from, you can even add a dash of fun to this traditional drink to make it your own.
With our buying guide, you can find the best martini glasses to suit your style and taste. Whether you prefer stemmed or stemless martini glasses, you can mix, stir, and shake your way to full sophistication, knowing you've picked the right one for your home.
The Best Martini Glass
Luminarc Arc International Martini Glass Set
Dedicated to finding the perfectly shaped glass for every drink, Luminarc Arc International Martini Glass Set is our Best Choice for timeless, iconic martini glasses.
Made right here in the USA, Luminarc effortlessly blends traditional style with a contemporary twist to create stunning glassware. They're also committed to reducing carbon emissions in their manufacturing process to be the 'cleanest' glassware manufacturer in the world, so you can enjoy every sip without ever needing to worry about your environmental impact.
This particular collection offers you a set of four classic 10-ounce martini glasses that are perfect for your favorite tipple and are even dishwasher safe so you and your friends can enjoy without worrying about the clean up afterward! Made of stunning, lead-free clear glass, these glasses come without any fussy bells or whistles to distract from the clean look of a classic martini, so whether you're a Bond or a Bradshaw, your drink can be center-stage.
If you are more of a beer lover, make sure to check out these quality beer glasses, too.
Key Features:
Set of 4 martini glasses
10oz capacity
Made of lead-free glass
Each glass is completely dishwasher safe
Made at home in the USA by the 'cleanest' glassware manufacturer in the world
Specification:
Brand

Arc International

Model

N1963

Weight

2.45 Pounds
Juvale Martini Glasses Set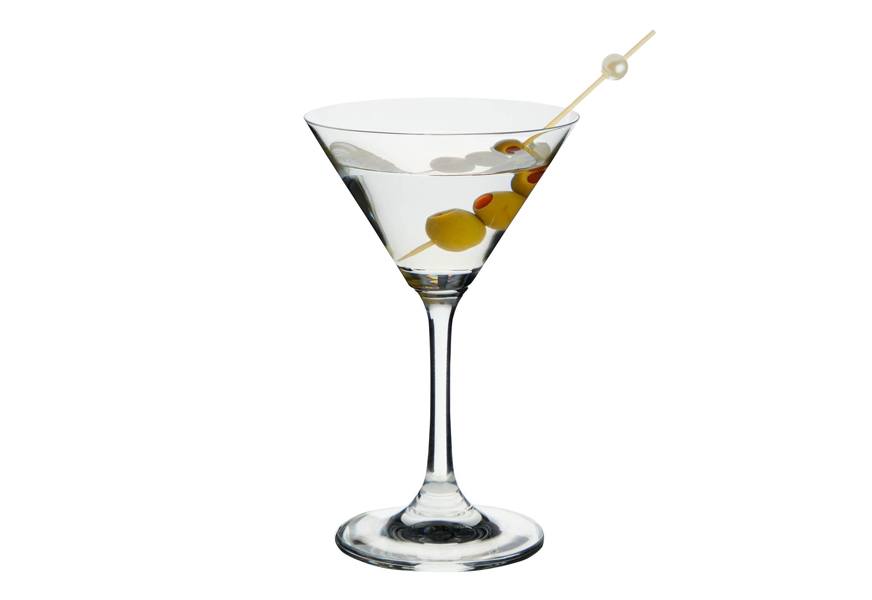 If a subtle sip is all you need to get your taste buds tingling, you'll love Juvale Martini Glasses Set of 6. The essential addition to any home bar or restaurant, these 5-ounce martini glasses do the job of adding some style and sophistication to any glassware collection. Their durable, lead-free glass used in manufacturing means you don't need to worry about tipsy users; they're even dishwasher safe! The elegant design will make you feel like a superstar when you're holding one of these glasses as you circulate your next event or bring some class to evenings curled up on the couch. We love the idea of giving this generous set as a gift, particularly for engagement parties or work gatherings.
Although these glasses aren't particularly expensive, the crystal-clear appearance of the glass and the traditional shape and style will fool even the most discerning guests into thinking you spent a fortune, particularly when you bring out all six! The classic look of these glasses will instantly add class to any dinner party or social gathering and make the perfect housewarming gift for anyone who loves a classic cocktail but doesn't always want to head to the bar.
Key Features:
Set of 6 martini glasses
Made of durable, lead-free glass
Dishwasher safe
Capacity of 5oz
Glass measures 6 inches tall with a rim diameter of 3.81 inches
Specification:
Brand

Juvale

Model

JG10222

Weight

2.8 Pounds
Lenox Tuscany Classics Martini Glasses
Renowned for creating glassware to the highest possible standards and with a rich history of incredible craftsmanship, Lenox is truly a luxury brand with an eye for the most beautiful and unique shapes inspired by classic, traditional looks. These particular Lenox martini glasses have been inspired from vineyards in Tuscany, to bring a blend of authentic Italian style and sensual pleasures to every sip. With beautifully balanced proportions, the classic martini shape, and a strong point to hold your glass without worrying about ruining your chilled drink with warm hands, these martini glasses should be a staple in every home.
Created from the most beautiful lead-free European crystal, you'll almost be able to taste the refinement and beauty of the Tuscan vineyards that inspired this gorgeous glassware collection. They even come with a lifetime replacement policy, so you don't need to worry about dishing out on glassware that will only last through a single party. What's more, careful craftsmanship goes into making the crystal as durable as possible. While they recommend hand-washing, you won't need to spend your next event anxiously watching your guests use your finest crystal without being able to enjoy the party yourself.
And seeing as you're sure to love them, why not treat yourself to the full Tuscany Classics collection? More than just beautiful martini glasses, you can also pick up red and white wine glasses, champagne flutes, beer glasses for every style of beer, pitchers and decanters, a whole range of bespoke cocktail glasses, bar tools, and so much more.
Key Features:
Made of the highest quality, durable, non-leaded European crystal
Lifetime replacement policy in case of breakages
Dishwasher safe – although hand washing is recommended for prolonged life
Set of 4 martini glasses
10oz capacity
Specification:
Brand

Lenox

Model

6115711

Weight

1 Pounds
JoyJolt Afina Martini Glasses Set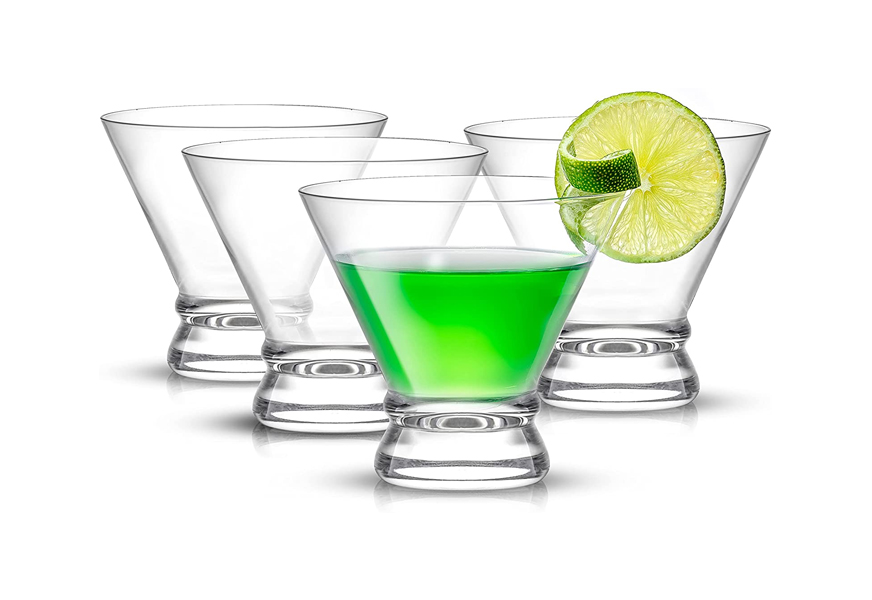 If you're looking for a modern take on a timeless classic, then these gorgeous JoyJolt 8oz Stemless Martini Glasses could be just the thing to complete your glassware collection or home bar. Any cocktail will look amazing in these instantly classic glasses. Featuring a double-coated glass and heavy, secure base, you can enjoy sharing them with even your clumsiest guests. Perfect for a shaken or stirred martini or classic cosmopolitan, any drink will look and taste fabulous in these stemless martini glasses, measuring just 3.75 inches tall and 3.9 inches wide at the rim.
As part of the JoyJolt Afina Collection, these stemless martini glasses take advantage of a unique base design to avoid spillage and cutting-edge use of materials to make martini glasses that are completely dishwasher safe and almost indestructible. You don't need to worry about clumsiness caused by making your favorite tipple a little too strong! They're perfect for bars or restaurants as well, so you can drink with confidence at home and feel proud to share such a unique set of glassware with your friends and family at your next party. The bold style used by JoyJolt in the design of these glasses truly makes them stand out from the crowd, and they even come in a gorgeous gift box, making them the perfect stylish gift for any occasion.
Key Features:
Set of 4 stemless martini glasses
Durable and dishwasher safe
8oz capacity
Comes in a gift box
Specification:
Brand

JoyJolt

Model

JG10222

Weight

2.2 Pounds
Libbey Cosmopolitan Martini Glasses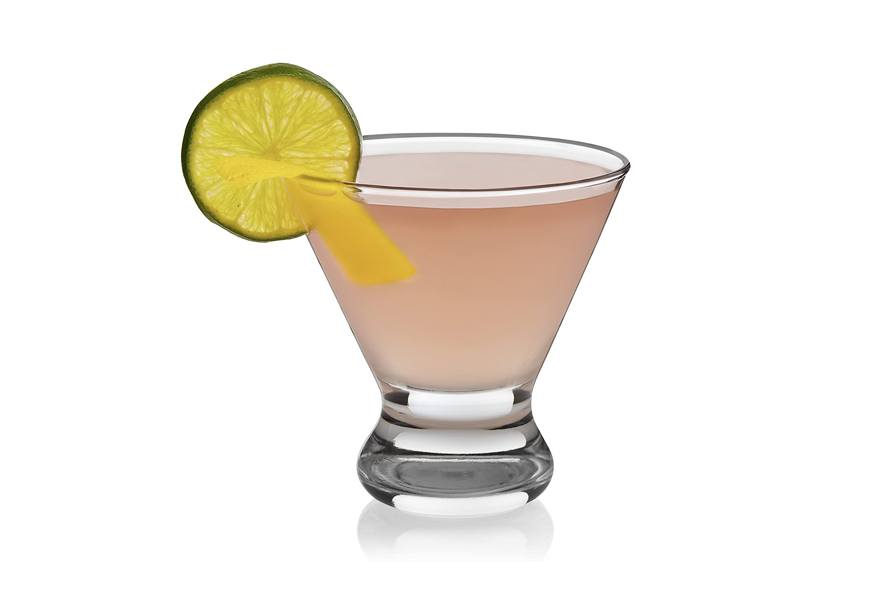 Another stunning set of four stemless martini glasses, Libbey's glorious Cosmopolitan Martini Glasses, will instantly transform your kitchen and entertaining space into a classy Manhattan cantina. With over 186 years of experience, Libbey is an expert when it comes to blending beauty and functionality, and these stemless martini glasses with cleverly weighted bottoms to avoid spills are a stunning example of the balance of this glassware company does best.
While a martini glass is a classic, timeless staple, these glasses are perfect for a more modern cosmopolitan cocktail with the exact right presentation. They're also wonderful for food presentation; imagine your dinner party guests' surprise and delight when you bring out a gourmet strawberry shortcake trifle or classic New York cheesecake perfectly presented in these stemless martini glasses. The clear lead-free glass and elegant shape are just right for showing off different layers, bright colors, or the perfect garnish to make you feel like a celebrity in your own home with every serving.
If you are more of a whiskey lover, check out our list of the top whiskey glasses everyone is buying right now.
Key Features:
Set of 4 stemless martini glasses
8.25oz capacity
Lead-free high-quality glassware
Dishwasher safe
Specification:
Brand

Libbey

Model

89584

Weight

2.4 Pounds
Mikasa Cheers Martini Glass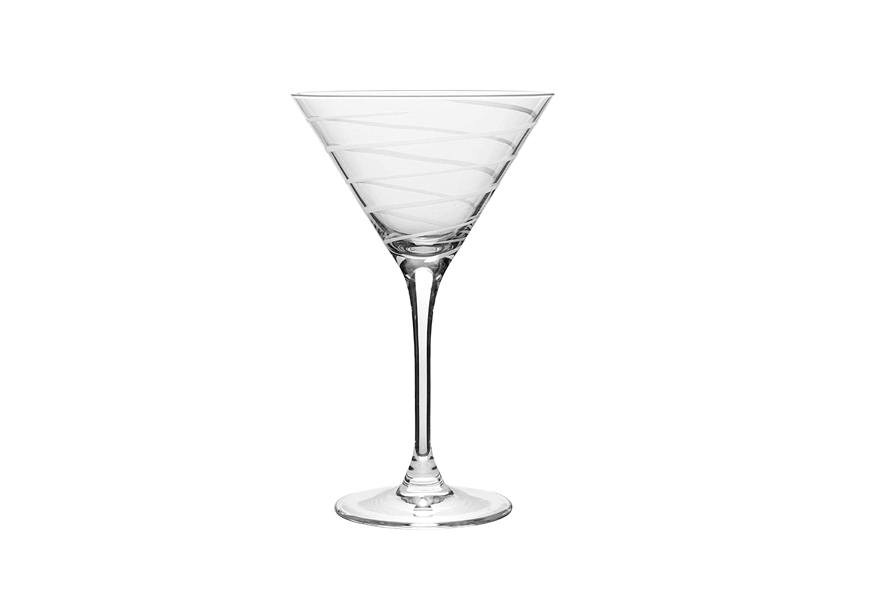 Add a bit of fun to your after-work cocktails with this gorgeous set of Martini Glasses from Mikasa. With dots, pinstripes, swirls, and circles, you won't need to worry about using wine charms to identify which martini glass you're drinking out of at your next gathering. The fun, yet elegant designs inject a little bit more personality into any event so you can enjoy the high class without the stuffy feelings. Perfect for a party or girls night in, these unique martini glasses are a beautiful blend of a timeless classic with a modern twist (or swirl). With a 10-ounce capacity, you and your guests won't need to worry about constant trips to the bar to keep your new favorite glassware filled. You can also find wine glasses, whiskey tumblers, and even plates with matching designs from Mikasa, so your glassware and kitchen collections can be as stunning and unique as your home.
We love any excuse for a cocktail, but with these whimsical martini glasses, you don't need to worry about adorning a three-piece suit to feel the part. These glasses are for everyone. What's more, they're dishwasher safe (although they recommend hand washing for long life) and made of the highest quality lead-free glass, so cleaning up after a night in with Samantha, Carrie, Charlotte, and Miranda doesn't need to be a hassle.
Key Features:
Set of four patterned martini glasses
One glass each featuring pinstripes, horizontal lines, dots, and swirls; no need for wine charms to distinguish between glasses
10z capacity
Each glass stands at 7.5 inches tall
Comes packaged in a beautiful gift box
Specification:
Brand

Mikasa

Model

SW910-417

Weight

3 Pounds
Epure Milano Collection Cocktail Glass Set
Returning to a more classic martini glass, this stunning set of 4 from Epure is sure to wow even the fussiest of guests, particularly when filled with their favorite cocktail. Drawing inspiration from their maker's name, these martini glasses are a good demonstration of pure and simple glassware free of any bells and whistles to distract you from the elegance and class offered by a simple martini in just the right glass.
Boasting their 35 years of experience, Epure has chosen to keep things simple with this martini glass set, which sits comfortably in their Milan collection, taking inspiration from the clean, classic style so typical of such a beautiful area of Italy. Advertised as stylish, durable, professional-grade glassware, we really can't fault the smooth lines and classic appearance of these martini glasses that make them the perfect addition to any home bar. These feel like the no-nonsense sort of martini glass out of which Winston Churchill might have enjoyed his favorite beverage. Their smaller-ounce capacity is revered as being perfect for a 'real' martini.
They also make a lovely gift for men who like to drink.
Key Features:
Set of 4 martini glasses
6oz capacity
Professional grade glassware
Dishwasher safe
Specification:
Brand

Epure

Model

8541917365

Weight

2.1 Pounds
Deco Unbreakable Martini Glasses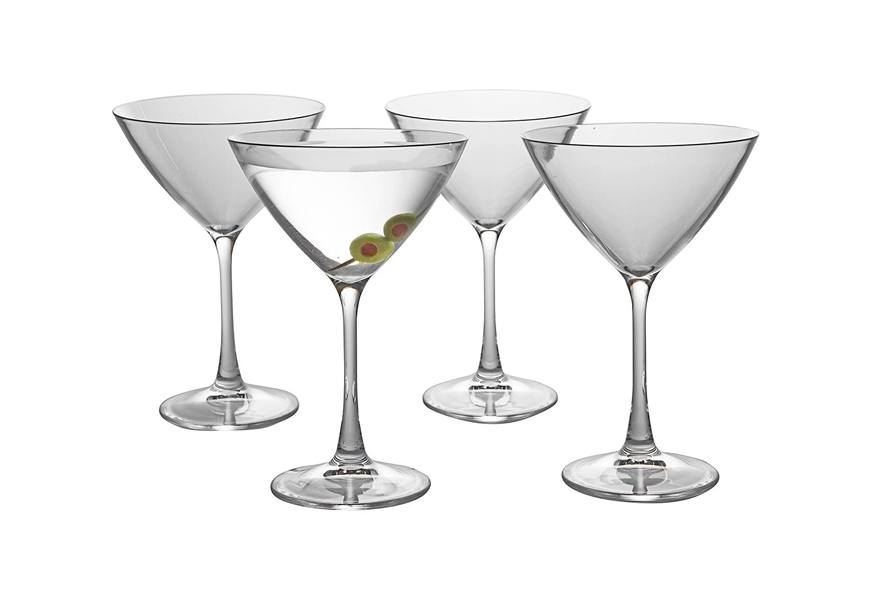 Do you have a clumsy guest who's forever knocking over your favorite crystal whenever they come around for a cocktail or two? Or perhaps you're the awkward friend who has their drinks in a plastic cup whenever you're not entertaining for fear of breakages? Whether you're the glass breaker or it's a guilty loved one, you can finally enjoy a good martini or other cocktails in a proper martini glass thanks to this Set Of 4 Unbreakable Martini Glasses, perfect for every occasion. Shatterproof, reusable, and dishwasher safe, these martini glasses solve all the common problems any clumsy drinker might suffer. You can sip, shake, and stir without ever worrying about ruining your stunning glassware (although spilling a drink almost hurts as much as broken glass!).
By creating stunning glassware from 100% Tritan, you can feel confident that you've finally got a set of martini glasses that will stand the test of time. Not glass yet, not plastic, Tritan is an excellent material for cocktail glassware as it has all the durable properties of reusable plastic with the appearance and feel of clear glass. Even after going through the dishwasher, they remain transparent, so you don't need to feel unsophisticated when sipping your classy Manhattan from this set.
Our buying guide on shot glasses features some more quality glassware, so make sure to check it out, too.
Key Features:
Made of 100% BPA free Tritan (a material with the durability of plastic but look and feel of glass that won't discolor or lose its shine after washing)
Dishwasher safe and reusable
Set of 4 martini glasses
8.8oz capacity
"Unbreakable"
Specification:
Brand

Deco

Model

SPOMHNK510

Weight

1.2 Pounds
Host Freeze Stemless Martini Glasses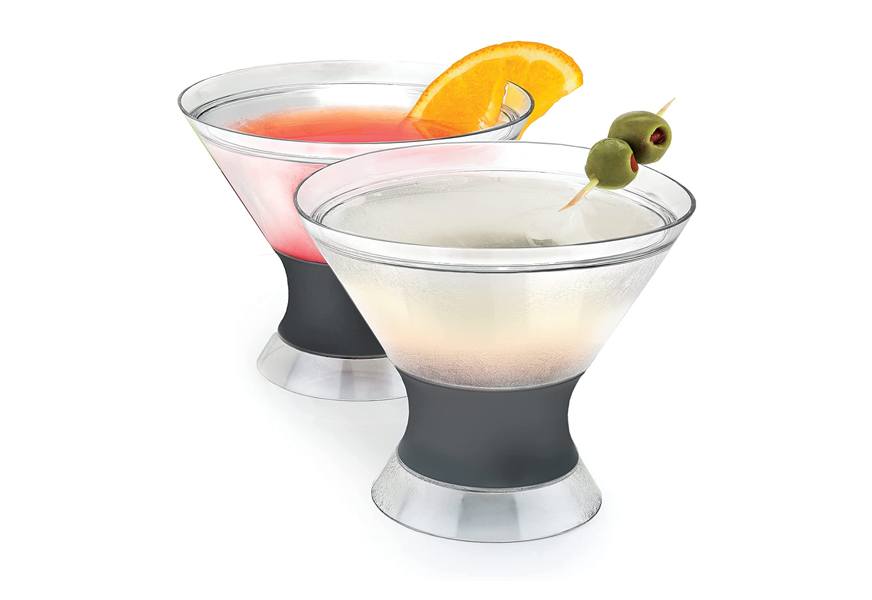 Any serious martini lover out there will know that martinis should always come in a chilled glass, but so many expensive martini glass options will crack under the pressure of your freezer. These Host Freeze Stemless Martini Glasses are engineered to undergo freezing temperatures and retain that cold to ensure every cocktail remains as frosty and refreshing as it should be. The insulated plastic walls of these stemless martini glasses feature a proprietary cooling gel that works hard to be the perfect cocktail chiller through every sip, shake, and stir. Leave them in the freezer for two or more hours before serving your signature cocktails, and you can enjoy each drink at the perfect 43-53 degrees Fahrenheit.
The plastic construction is not only advantageous for keeping your drinks cold, but it also means these stemless martini glasses are the perfect addition to any garden party. The BPA-free plastic is resistant to breakages, and the insulated silicone band around the base means you don't need to worry about cold hands or clumsy guests. The smooth curve of these stemless martini glasses elegantly slides into a sturdy base, offering the beautiful aesthetics of a classic martini glass without the risk involved with a fragile glass stem. The 'Freeze' technology ensures every sip is as refreshing as a cocktail should be without needing to water down your drink with pesky ice-cubes, even on the hottest summer day.
For more must-have glassware for your kitchen, check out these elegant Irish coffee glasses from our list.
Key Features:
Set of 2 stemless martini glasses
Insulated, BPA-free plastic
The proprietary cooling gel in the walls of the glasses effortlessly cools down any drink
Insulated silicone band for secure grip
9oz capacity
Specification:
Brand

Host

Model

3310

Weight

13.6 Ounces
Luminarc International Atlas Martini Glass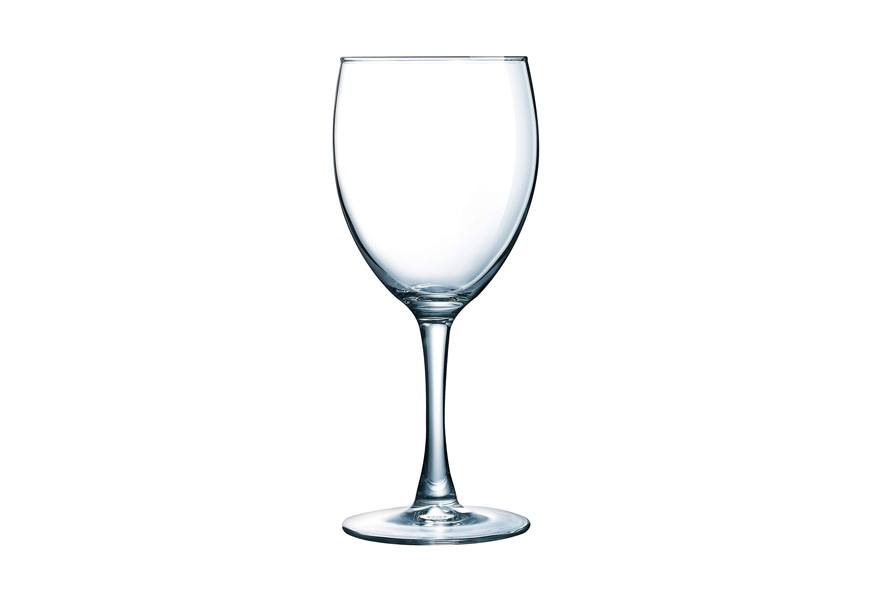 Another classic martini glass offering from one of our favorite USA based glassware manufacturers, this set of Luminarc International Atlas Martini Glasses, is genuinely timeless elegance in a glass. Whether you're the sort of person who loves a classic martini after work or are hosting a fabulous dinner party, these martini glasses are sure to wow everyone who lays eyes on them. Made from the highest quality lead-free glass and completely dishwasher safe, these martini glasses take a simple approach with classic lines and stunning little flairs of design that make them stand out from the crowd in the most subtle of ways.
With nearly 200 years' worth of experience, Luminarc has thought hard about what makes a classic martini glass in the design stage for this set, and the result is a timeless beauty that still wouldn't look out of place in a more modern kitchen. With a wonderfully broad and shallow bowl, these martini glasses also make a remarkable statement when used to present appetizers or desserts at your next dinner party. With a reinforced rim, heavy base, and an incredible fit in hand, you'll feel like the next James Bond with every sip from this classic martini glass.
If your favorite cocktail happens to be Moscow Mule, here are some lovely Moscow Mule mugs you might also like.
Key Features:
Set of 4 martini glasses
7.5oz capacity
Lead-free glass made in the USA
Dishwasher safe
Specification:
Brand

Luminarc

Model

J8976

Weight

2.16 Pounds
Bormioli Rocco Cocktail Glasses Set
Although at first glance, we'd forgive you for thinking this set of modern stemless martini glasses were beautiful, quirky shot glasses. Once you realize each glass has a capacity of 8.5 ounces and stands 4.25 inches tall, you'll see why they've made it onto our list of the best martini glasses available!
Because sometimes you need to have your martini with a twist, this stunning Bormioli set has taken the classic elegance of a traditional martini glass and updated it to suit any modern drinkers who take their martini with something a little different. Whether you're looking for the perfect glass for your classic evening martini on the rocks or just want a more beautiful way to enjoy a cold glass of refreshing water, these stemless martini glasses are the perfect solution to your drinking needs. The short, wide stem ensures plenty of stability in the glass, without worrying about the risks involved with fragile stems, and the cup itself is a comfortable, secure grip. Redefine the classics with martini glasses that boast a modern twist and unique appearance without sacrificing the traditional martini style that we all know and love. This set surely makes the perfect luxurious but inexpensive gift ideal for many occasions.
Key Features:
Made of lead-free, Italian glass
8.5oz capacity and 4.24 inches tall
Set of 6 stemless martini glasses
Dishwasher safe
Specification:
Brand

Bormioli Rocco

Model

8541917374

Weight

5.25 Pounds
Libbey Vina Martini Glasses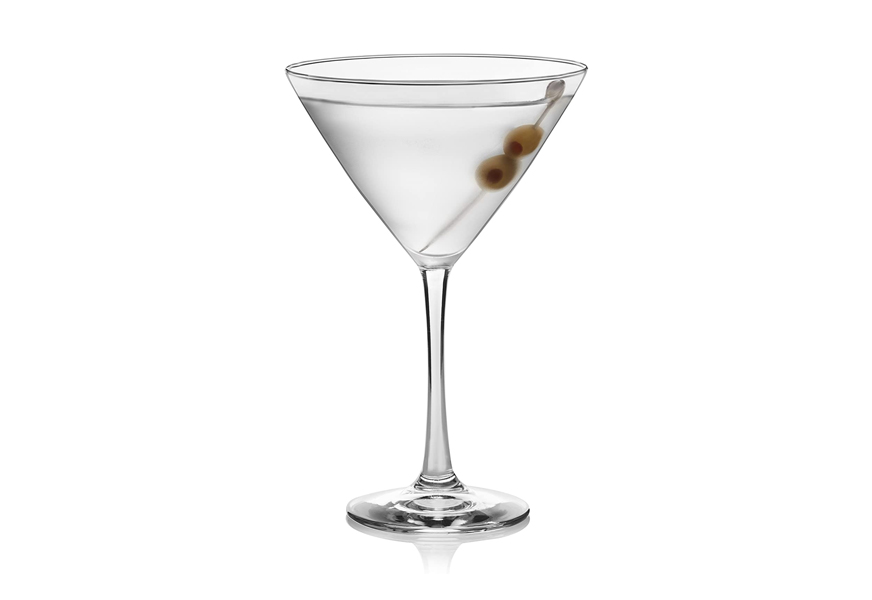 Another offering from Libbey, this time looking at their stunning Vina Collection glasses, there's little wonder why Libbey has made it onto our list of the Best Martini Glasses twice. This stunning set of six martini glasses is a little more traditional than the Cosmopolitan selection we looked at earlier but will feel no less at home in even the most modern kitchens.
A generous 12-ounce bowl capacity means you can enjoy your favorite martinis, cosmos, or Manhattans without needing to go back for constant refills, and the beautiful clear glass is ideal for showing off a unique garnish or the stunning colors of a more modern cocktail. Why not try a Tequila Sunrise in a Vina Martini Glass? The classic triangular profile of the glass, coupled with the large capacity, will make this drink pop. With a minimum bead and willowy stem, this set of martini glasses ticks all the boxes of a timeless, elegant glass. The size of the bowl also lends itself beautifully for unique ways to serve delicious deserts!
Key Features:
Set of 6 martini glasses
12oz capacity
Lead-free glass
Dishwasher safe
Specification:
Brand

Libbey

Model

89391

Weight

2.8 Pounds
Godinger Dublin Collection Martini Glasses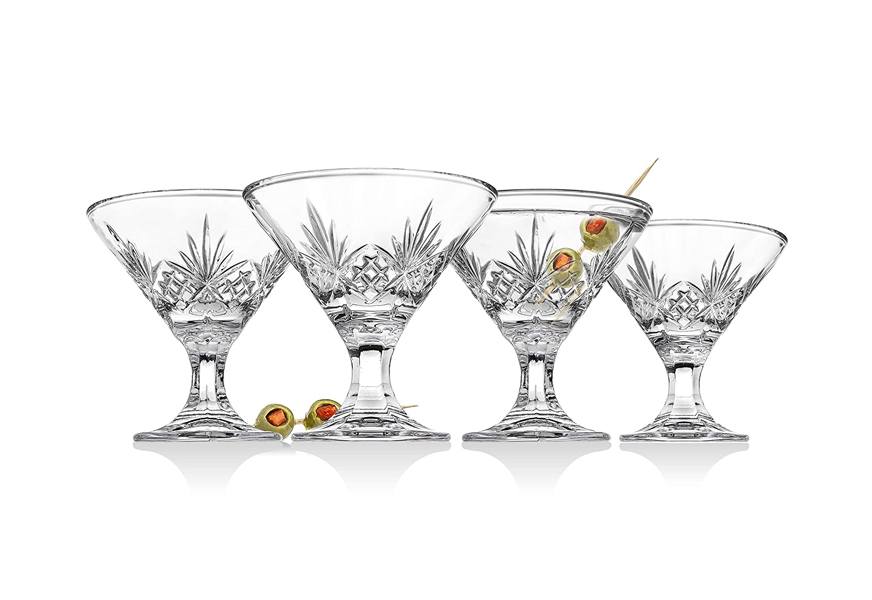 Although you might associate the classic crystal glassware look with your grandmother, this set of Godinger Dublin 4 martini glasses certainly isn't outdated. Instead, they tread that fine line between classic style and old-fashioned to create something a little special that anyone can enjoy. Established in 1973, Godinger specializes in handcrafted elements made from silver, pewter, crystal, stainless steel, and metal, bringing you the most beautiful pieces you'll wonder how ever you lived without them.
These martini glasses are a testament to the quality and talent of the Godinger craftsmen. Made of the most stunning lead-free crystal that's durable enough to withstand the dishwasher, these glasses make use of the classic crystal designs you might recognize from more historic glassware. They've updated them to suit a more modern kitchen while maintaining the timeless elegance a great martini glass deserves. And with a short stem, these glasses balance the classic stemmed martini glass with a nod to the more modern look of stemless martini glasses.
Key Features:
Set of 4 martini glasses
Lead-free crystal
5oz capacity
Dishwasher safe
Specification:
Brand

Godinger

Weight

3.4 Pounds
Oggi Stainless Steel Martini Goblets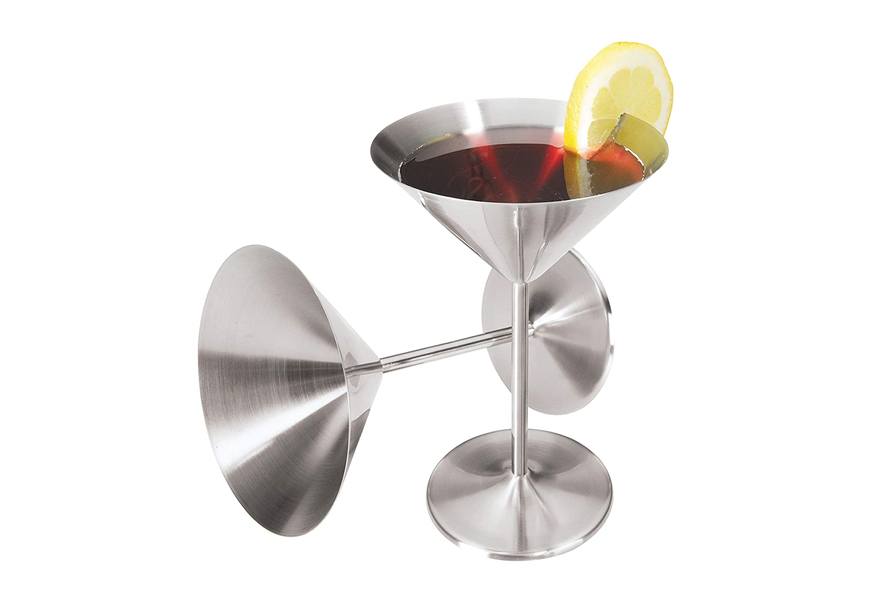 Going in an entirely different direction to the rest of the best martini glasses on our list, this set of two martini 'goblets' from Oggi is a great way to express your individuality without letting go of the timeless style and sophistication a great martini offers. Rather than using glass or any other transparent material, these goblets are made from stainless steel to create a stunning and unusual visual effect that works surprisingly well in a modern bar or kitchen.
Best coupled with a vibrant drink to counteract the silver color of the glass, these martini glasses effortlessly keep your drinks cool and give an incredibly sophisticated-chic look to any home bar or restaurant. They'll survive the freezer, won't be hurt if dropped on the patio, and are weighted to avoid spillages so that you can use them without worry time and time again.
For more cool kitchen necessities, check out our list of the best-selling beer koozies.
Key Features:
Set of 2 martini glasses
8oz capacity
Made of stainless steel with a brushed satin finish
Hand wash
Specification:
Brand

Oggi

Model

7108

Weight

15.2 Ounces
Sign Up Now
GET THE VERY BEST OF GEARHUNGRY STRAIGHT TO YOUR INBOX