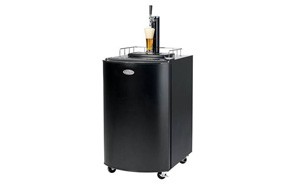 Nostalgia Full-Size Kegerator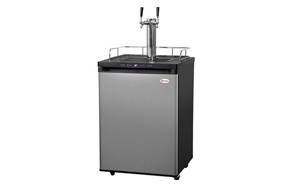 Kegco Digital Beer Cooler (Kegerator)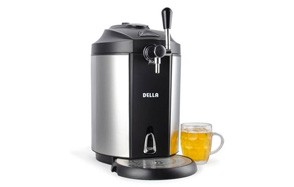 DELLA Mini Kegerator
You want beer, and dammit, you want it now. We don't blame you, but you've got to bring enough for the whole wolf pack. These are the top eight kegerators we've used, abused, (and possibly smashed into on our way out the door), and we couldn't keep it a secret from you guys any longer. Saturday night is approaching, the man of the hour is you, so what are you going to do? From coupling, size, taps, the whole shebang, we're about to break it down for you.
Our Top Picks Of The Best Kegerators
Nostalgia Full-Size Kegerator
See More Reviews

Whether for the home bar or your mate's Saturday night house party, you get to be the working class hero who brings the kegerator. This double tap system enables multiple fill-ups at once, and a guardrail so you won't see glasses or bottles of hard liquor sliding off the top (then you can yell at your friend for disrespecting the kegerator). The spring-loaded feature enables you to stand like a one-trick bartender and fill up cups without having to get in anyone's way. Be wary of a few washer connection issues, which seem to arise more often when you're cleaning rather than using.
Key Features:
5.1 cubic foot capacity
Spring-loaded for easy drink refills
Includes guardrail
Specification:
Brand

Nostalgia

Model

KRS2100

Weight

95.6 pounds
Double tap system
Comes with guardrail for glasses
EdgeStar KC2000 Full-Size Kegerator
See More Reviews

It's a medium-priced, full-sized, full-fun kegerator. The good folks at EdgeStar craft a few different variations of the same model, so if double tap or stainless steel are necessities for you, click through the link to find their other models along that page. The star of the show is the single tap model, outfitted to hold a ½ or ¼ US keg, but if you're a Coors guy, it's probably not going to hold their unique sizes. Temp range falls into the low 30's, giving you, quite literally, ice-cold beer whenever you want it. From stem to stern, it's simple to clean, but this is designed to be stationary. Casters are included for transport, but they're to be used sparingly.
Key Features:
Includes guardrail
Holds standard ¼ and ½ kegs
Converts to mini-fridge when not housing a keg
Specification:
Brand

EdgeStar

Model

KC2000

Weight

99 pounds
Includes 5lbs of CO2
Easy to clean external components
Kegco Digital Beer Cooler (Kegerator)
See More Reviews

They say that you get what you pay for, and we'd agree – this top-tier kegerator comes at a slightly higher price than our other models, but has virtually no downsides. Speaking of virtual, this comes with a digital thermostat reading right along the top for easy viewing, as a constant reminder that you bought one of the best kegerators on the planet. Forced fan cooling keeps and even temperature throughout your fridge unit, chilling beer down to a hare's breath above the freezing point, so you can have ice-cold beer whenever you want it. As long as you don't open the door up, this will also support the cold when it's in motion, so if you're bringing it onto the porch or down the road to your mate's cookout, you'll still be the star of the show with the ice-cold brew.
Key Features:
Large interior for bigger kegs
Double tap setting
Digital thermostat read
Specification:
Brand

Kegco

Model

K309SS-2

Weight

97 pounds
Includes a 5lb aluminum CO2 canister
Chills to the freezing point, and faster than average kegerators
Keggermeister KM2800 Fridge and Dispenser
See More Reviews

Say Keggermeister out loud. Do it. Didn't it make you smile? This killer kegerator comes at a lower price on our list, with some seriously premium features. Firstly, we want to address the performance: we had our thermometer hit about 35 degrees at peak performance, but that was without a keg in it. On average, it runs about 39. Some users say the internal thermometer is off, but either way, it's still a refreshing chilled glass of beer. You get ample storage, a low cost, and a guardrail feature to house cups and bottles. Slide and glide it on the smooth-moving casters, or leave it stationary as a mini fridge when the party season comes to a close – either way, you're going to love it.
Key Features:
Single tap setting
Fits full-sized keg, or two separate five-gallon kegs
Smooth caster movement
Specification:
Brand

Keggermeister

Model

KM2800BK

Weight

80 pounds
Includes widespread guardrail
Works perfectly as a mini fridge for bottled beverages when there's no keg
Only chills to 39 degrees on average/35 degrees top performance
A bit more difficult to assemble than should be
EdgeStar KC1000SS Craft Brew Kegerator
See More Reviews

We personally dubbed this the mini tap, and don't recommend it for the party scene. This stainless steel beer tower comes with a thick barrel, an easy-to-use tap, and a few little features that really make this go from function to flair in a split second. Blue LED lighting cascades from the top interior, where the digital thermostat sits, giving you the feeling that you've just walked into another dimension (which we've affectionately named Beeropolis). You get a low cost in comparison to other models, swapping capacity for luxury, and the party scene for four friends and a Sunday game (which we would personally take any day).
Key Features:
Internal blue LED lighting
Digital thermostat
Outfitted to turn into a double tap if you would like
Specification:
Brand

EdgeStar

Model

KC1000SS
Stainless steel construction
Ultra stylish and slim to fit in a home bar
No guardrail feature
For get-togethers; capacity isn't for a party scene
EdgeStar Full-Sized Black Stainless Steel Kegerator
See More Reviews

EdgeStar loves beer, and loves to dazzle us with their ubiquitous line of kegerators. You can never go wrong with stainless steel, especially when it comes in all-black. You're paying more than the average cost of our listed items, but you're getting the ultimate freestanding beer tap for your home. You'll be the epicenter of all the action, from Sunday games to celebrations, and more. Stash a half-sized keg in this fridge unit, stack the red Solo cups and pints glasses on the guardrail section, and let the festivities commence. You're the go-to home for all important events, the go-to guy to ensure that celebrations are enjoyable, and the guy who gets to sit down when everyone left, and let the tap flow into your glass. You've earned it, big guy.
Key Features:
Built-in digital thermostat
Designed for half-barrel kegs
Guardrail + drip tray
Specification:
Brand

EdgeStar

Model

KC3000SSTWIN

Weight

80 pounds
Freestanding operation makes this the ultimate man cave tap
Double tap feature
Delivery instructions are unique and inconvenient
Higher price
EdgeStar KC3000 Digital Display Kegerator
See More Reviews

In case you couldn't tell, we love EdgeStar. This model comes in the intermediate to high price range, and we're going to throw out the disappointment right from the get-go: the CO2 tank is included, but not filled. Normally, this wouldn't be an issue, except EdgeStar's delivery service is different than standard shipping, and as a result, they should have no problem bringing you CO2 in the tank. You do get a rapid cool down feature to quickly chill your keg, or maintain the temperature that your keg had when you picked it up. When beer season is over, use the all-inclusive wire racks to transform your kegerator's chest into a functional mini fridge. The digital thermostat is a bit wonky at times, so we recommend an additional thermostat/infrared reader.
Key Features:
Digital thermostat display
Full-size keg storage
Temperature range from 32 to 50 degrees
Specification:
Brand

EdgeStar

Model

KC3000
Includes two wire shelves for fridge conversion
Quick cool down feature for fast keg chilling
Includes a 5lb aluminum CO2 tank, but arrives empty
Excellent temperature range, but 3-5 degree inaccuracy on thermostat
See More Reviews

Designed to quench the thirst of the one-man army of you, this mini kegerator is a personal cold draft tap. Whether you want to bring it to the cookout, keep it by the wayside while you watch the game, or simply slap it on the counter to enjoy a glass the moment you get home, you'll have DELLA sitting right by your side. We love the fact that it's so portable, although refueling the CO2 (included three 16g cartridges) can be a pain in the neck if it's being used for more than a couple of mates. We don't list it as a con below, but you're not going to get a lot of foam on top. Personally, most of us would rather trade a higher volume of beer and leave the foam behind, but that's up to personal taste.
Key Features:
Simplistic cleaning process
LED temperature display
Three 16g CO2 bottles included
Specification:
Brand

DELLA

Weight

15 pounds
Extremely mobile; perfect for tailgating and cookouts
The least expensive beer kegerator
CO2 refueling is a bit of a pain
Kegerator Buying Guide & FAQ
Ever wanted to know what really makes a kegerator the best? After detailed analysis (plenty of Friday nights), we've broken it down into four simple steps. Pay attetion, and strap in.
Number of Taps - You know what sucks? Lines. You know what sucks more? A line at the kegerator. It's like mandatory fun, or the DMV, or anything worse you can think of. Thrash around, and double back to the tap - depending on the size of the party, you're going to need more than a single tap.
Keg Size - No two kegs are built the same. Well, plenty are, but this is another thing where it comes down to the size of the party. You need to ensure it's going to hold the same sized keg that you're used to buying.
Coupling - You don't have this, you don't have beer. The coupling is the key to the lock, and in the room behind that lock, is beer. You're going to find a bunch of different styles, some German-made, that don't fit the kegs you're used to buying. You need to figure out, first and foremost, what kind of coupling is going to work before you commit to the purchase.
Kegerator Size - Hauling it on and off of the flatbed? Size matters, especially here. If you're one-manning it (we're sorry, dude), you'll want a lightweight model so you're not busting your back trying to help everyone else. If you've got a buddy to help each time, get a little luxurious (the heavier models coincide with them being more top-of-the-line, nine times out of ten).

Q: Can I Use a Kegerator for My Home Bar Tap?
A: Absolutely. If you're planning on having a piece-by-piece, roll-out bar (usually a custom one, or individual pieces purchased from Amazon, etc.), just know that it's generally only good for ninety days after you've opened it. Your coupling, plus the pressure of the valve, eliminate oxidation, keeping beer fresher for longer. However, after enough time, you're going to want to switch it out. If you're spending every Sunday with the boys (perks of having the big screen), or you're going through a glass after work every night,you'll be good to go.
Pouring the Perfect Pint
Cinematic, frothy glasses of chilled beer are, well, mostly in the movies. Unless you're a bartender or a food producer (Google it; it's a thing), you're going to struggle putting the perfect pint together. That's where we come in to help. There's one simple rule to follow, and you'll be in heaven on pillowy clouds of beer foam in no time.
Glass in one hand, tap in the other. Release the tap about 70% of the way (you don't want a jet stream of beer), holding the glass at a forty-five degree angle, slowly returning it to being completely straight up as the glass fills. Do this enough, and you'll be a pro in no time. We apologize if your buddies bug you to grab the beer since you'll be so good at it, but hey, perfection is always in demand.
Cleaning Your Kegerator
You have two essential options when it comes to cleaning your kegerator: pressurized, and unpressurized kits. Beer contains yeast, which is an active culture, and dangerous if only partially cleaned out from your valves. Our friends over at the Beverage Factory explain a very good way to go about cleaning your kegerator, and as such, we'll leave that up to the professionals to explain right here.
Sources
The Perfect Pour: Tricks & Tips for Pouring the Best Tasting Beer, Kegerator Learning Center
Common Beer Line Cleaning Questions, Beverage Factory