TAG Heuer Swiss Quartz Watch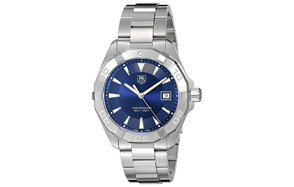 Key Features:
A unidirectional stainless steel analog watch with quartz movement
Well built with a scratch-resistant sapphire crystal
Water-resistant at 300 meters
Beautifully decorated blue dial with silver-tone hands and minute markers on the outer rim
An adjustable bandwidth of 20 mm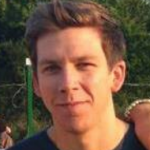 Tag Heuer is a name that is synonymous with sophistication, innovation, formula one and sports in general. Well, the second two didn't really rhyme but are both true. Tag Heuer is the go-to designer and manufacturer for driving watches and chronograph watches. The company has deep roots with Formula 1, sports and the arts.
In fact, a lot of famous people have become ambassadors for TAG Heuer over the years including Chris Hemsworth (Thor, Avengers), Leonardo DiCaprio, Ayrton Senna, Tom Brady, Uma Thurman and Lewis Hamilton among many others.
If you are a guy with style and money to spend on a collectible or you are buying for someone special. In the following post we look at what we feel are the 10 best TAG Heuer watches for men.
The Best Tag Heuer Watch For Men
History Of TAG Heuer
TAG Heuer is a Swiss-based watchmaker that has been in business for over 150 years. Known for its innovative take on classic timepiece engineering, they have made a name for themselves in pioneering watches with increased accuracy and improved performance. It quickly positioned itself as experts in timing sports events.
Since the company was established by Edouard Heuer in 1860, the company has never shied away from doing things its own way and not just the same as everyone else. The name is taken from an abbreviation of the original name Techniques d'Avant Garde and Edouard's surname.

Known predominantly for their work in the world of sport, you may not have been aware that TAG Heuer were involved in the timing of events as early back as the Olympics in Paris, Antwerp and Amsterdam during the 1920s.
Although the company has combined its innovative chronographs with a more commercial housing, they are still very much associated with various racing events and continue to be the watch of choice for many sports stars and athletes in various disciplines. More than just a style icon, TAG Heuer is a symbol of precision and sophistication, technology and value for money (check out watches for men under $1000).