Diesel Men's DZ1437 Double Down Black Silicone Watch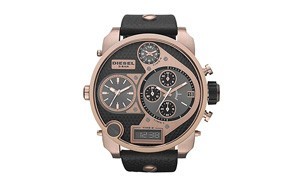 Diesel Mens DZ7261
Diesel Men's DZ1206 Master Chief
Nearly everyone agrees that Swatch ignited the fashion watch revolution during the 1980s. Before that time watches had largely been formal, expensive affairs intended to make a statement about the status of the wearer. While status watches are still with us Swatch took the starch out of the watch industry and it wasn't long before Diesel joined the fray with their own brand of high quality, fun, affordable and hyper-functional timepieces. Below we're going to take a close look at the 10 best Diesel watches for men, in no particular order.
Our Picks – The Best Diesel Watches For Men
Diesel Men's DZ4282 Mega Chief Gunmetal Watch
See More Reviews

The DZ4282 Mega Chief from Diesel is a startling example of the company's commitment to both performance and cutting-edge style. This is a large watch and one that is unapologetically intended for robust male wrists. It's crammed with features but somehow the designers here make all the different components work harmoniously together both in an aesthetic as well as functional sense. This is a watch that would look just as appropriate on a sailboat slicing its way through rough chop off Bermuda as it would in the boardroom. And achieving that design middle ground is no small feat.
Speaking of sailboats, the DZ4282 will not only allow you to determine the right time to tack from your close reach it will also keep working regardless of how thick the spray from the waves. And should you find yourself temporarily in the drink don't worry; it's water resistant down to more than 300 feet. The gunmetal finish is handsome and versatile, the scratch resistant mineral crystal is virtually undetectable, the activation mechanisms for this Diesel men's chronograph watch are reliable and discreet and the analog Swiss quartz movement never lets you down. The deployment clasp on the stainless steel band holds firm under all conditions and the band itself remains comfortable through April showers and the dog days of August.
Key Features:
Chronograph functionality
Band width 26 millimeters
Water resistant to 330 Feet
Specification:
Brand

Diesel

Model

DZ4282

Weight

7.04 Ounces
Diesel Men's DZ1206 Master Chief Watch
See More Reviews

The Men's Master Chief Diesel watch sports a classic design that allows you to always put your best fashion foot forward. The face presents a traditional layout with contemporary design touches that manage to place the watch squarely in 2018 while still tipping its hat to the classic men's watch of the past. The leather strap is fully fleshed out; satisfying and sumptuous in appearance and extremely comfortable on the wrist all year round. In spite of the fact that the look here is all business it's nonetheless water resistant down to 100 feet. Which means you'll never worry about your watch when you're caught in heavy weather between the subway and the office.
The DZ1206 Master Chief is a beautiful timepiece that's bold without being ostentatious, solid without being too heavy and well-engineered without costing you an arm and a leg. The clasp buckle on the band is robust and solid, the Swiss quartz analog motion is as dependable as your smartphone clock and the coloring is tasteful without being pretentious or exclusive. The chronograph features are intuitively easy to digest and the date window is prominently displayed and clear as can be. Whether you're heading out to dinner with that special someone or to a potentially life changing job interview with the DZ1206 on your wrist you'll ooze refined confidence.
Key Features:
Clasp Buckle
Band width 27 millimeters
Dial color grey
Specification:
Brand

Diesel

Model

DZ1206

Weight

2.88 Ounces
Diesel Men's DZ4323 Mega Chief Watch
See More Reviews

The Men's DZ4323 Mega Chief by Diesel puts a space-age spin on the classic Master Chief profile, updating the design motifs to place it squarely and proudly in the 21st century looking forward. Make no mistake, this is a big watch, but not one that will look unbalanced on the right wrist. It's also a compelling timepiece to look at as it borrows design cues from both the Mega Chief Gunmetal and the Master Chief and ties them together with subtle twists like the onyx toned finish and slightly oversized scratch resistant crystal. The leather band is from the same design template as that on the Master Chief but the coloring of this Diesel watch gives it a gravitas all its own.
Surprisingly, while the casing is thick it doesn't feel that way and the fact that the watch tips the scales at a trim 4.08 ounces has a lot to do with that. Like most Diesel timepieces this one is also highly water resistant. And while that doesn't necessarily mean it's built for diving wrecks for hours at a time it won't falter if you dive off the catamaran to take a quick dip with it on. As on all Diesel watches the Swiss quartz movement is dependable as the sunrise and the buckle closure means the watch is going to stay put even if you are diving from the boat or shagging down fly balls at the company softball game. An essential piece of everyday carry if you have the wrist for it.
Key Features:
Analog quartz movement
Leather calfskin band
Water resistant to 330 Feet
Specification:
Brand

Diesel

Model

DZ4323

Weight

4.80 Ounces
Diesel Men's DZ1437 Double Down Black Silicone Watch
See More Reviews

Diesel plants its flag on black tie mountain with the men's DZ1437 Double Down Black Silicone watch. When they say "double down" they mean they're really doubled down: on looks, on comfort and especially on value. Fortunately (and smartly) Diesel is not trying to get away with something here. They're not hoping you'll mistake this for a Movado or some such thing. They're making a much more important statement. They're saying "You can have luxurious style in a beautifully engineered timepiece for the price of a decent shirt." It's really pretty astonishing that they've been able to carve out a look that is as distinct as the watch is comfortable and dependable.
The monochromatic design motif is not some trick as they deploy it. It's not intended to hide some deeper flaws in concept or execution that a more traditional color scheme might betray. The black here serves a purpose. It comments on and complements the simple geometry of the watch and all its component parts while the judicious application of phosphorescent material on the hands provides subtle movement that effectively negates what could otherwise be perceived as a static and rather boring experience. The Double Down all black Diesel Watch is anything but boring and at its remarkably affordable price point it's not easily ignored either.
Key Features:
Analog display
Silicone band
Men's standard band length
Specification:
Brand

Diesel

Model

DZ1437

Weight

2.08 Ounces
See More Reviews

From the understated excellence of the Double Down Silicone watch we go full razzmatazz with the Men's DZ7261. Why? Because… why not? The DZ7261 is the 1960s Batmobile of Diesel watches. An over the top indulgence composed with enough engineering savvy that it has to be taken seriously. Beneath all the bravado is a watch with peerless analog quartz movement, 4 different dials each providing the time a different face (including a digital one), chronograph functionality and waterproofing down to 30 meters. You may or may not think the stylings of this watch are the best thing since sliced bread but you can't argue with the thoughtfulness and quality of its construction.
The rose gold-toned stainless steel case has a warmth to it that belies the lighthearted nature of the design while the black leather wrist band is comfortable and totally up to the task of keeping this oversized timepiece firmly in place. At just over 7 ounces this is one of the heavier Diesel fashion watches but if you have the wrist to handle the DZ7261 the weight is not going to be an issue for you. This is an enigmatic fashion watch that is likely to find favor with sporting types but can be enjoyed by anyone with offbeat tastes and an adventurous spirit.
Key Features:
Chronograph functionality
Band width 26 millimeters
Water resistant to 99 Feet
Specification:
Brand

Diesel

Model

DZ7261

Weight

7.04 Ounces
Mens Rasp DZ4453 Diesel Wrist Watch
See More Reviews

The DZ4453 exhibits modern styling, a clean easy to read face with chronograph functionality, a deployment-clasp mechanism that holds the watch in place no matter what you're doing and a gun metal grey color scheme that works with virtually any of your business outfits. It's another one of Diesel's big watches and at 6.24 ounces, one of their heavier. But if you've got the arm for it the Men's Rasp has your aesthetic and practical back. Diesel's signature Swiss quartz movement means you won't have to be checking your smartphone to verify the time and the fact that it's water resistant down to 165 feet means that getting caught in a spring shower during lunch time is a bigger threat to your suit than your watch.
The stainless steel wrist band with the double push button closing mechanism hugs your wrist in a way that will remind you of buckle down leather bands. The gunmetal grey face with black toned hands, 3 sub-dials and easy to read date window makes quick reads a snap and the beveling on the face and control knobs provides a subtle visual counterpoint to the monochromatic color scheme. This is high end fashion watch design at its best for the man who wants to impress without breaking the bank.
Key Features:
Stainless steel band
Deployment-style clasp
Water resistant to 165 Feet
Specification:
Brand

Diesel

Model

DZ4453

Weight

6.24 Ounces
See More Reviews

The classic Mega Chief from Diesel effortlessly rides the line between looks and function, between casual and professional, between old school and new. Wear it with your khakis, polo shirt and boat shoes or your double breasted Burberry suit. The Mega Chief offers a bold round face, a brown leather band that's as supple as it is durable, chronograph functionality (minutes, seconds and tenths of seconds) and is beautifully balanced for such a relatively heavy timepiece. Water resistant down to 100 meters the Mega Chief is as comfortable poolside or on the deck of the sailboat as it is in the conference room. And while you're not going to want to take the leather strap in for a dip, you don't have to worry if you do so accidently.
This is the perfect watch for the active guy. One he can wear anywhere at any time of the day or night. It's handsome and well-engineered and the textbook Swiss quartz movement is always accurate, always dependable. It has overtones of the company's Master Chief watch with a few more oh so subtle art deco design cues that give it its own voice and provide it a timeless edge. Those unfamiliar with diving watches may wonder what the "10 bar" designation at the 3 o'clock position on Diesel watches refers to. Essentially 1 bar equals 10 meters of water resistance. So 1 bar would be water resistant to 33 feet while 10 bar is water resistant to 330 feet.
Key Features:
Dial color grey
Leather calfskin band
Water resistant to 330 Feet
Specification:
Brand

Diesel

Model

DZ4290

Weight

4.96 Ounces
DIESEL DZ4329 Mens Analog Sport Watch
See More Reviews

The grey, ion-plated stainless steel of the Diesel DZ4329 Men's Sport Watch says everything you need to know about this fashion timepiece. It tells you it's versatile and tasteful and that the designers at Diesel are on top of their game. The subtle colorings of the watch (white, Windsor blue and grey) are a thing to behold and reinforce the notion that less is indeed more. From a functional standpoint the DZ4329 embodies Diesel's trademark Swiss quartz analog motion, its commitment to comfort and its understanding that water is a part of life. The 10 bar capability of the DZ4329 will hold you in good stead even if you forget to take it off before snorkeling.
The deployment style clasp holds all 7.2 ounces of the watch in place whether you're hustling after that taxi at rush hour or jockeying for position under the boards in the pickup basketball game and the scratch resistant crystal ensures the watch won't assume a run-down look after a few bumps and scrapes. The crown and other control knobs are also full waterproofed. This is not your grandfather's dress watch. But you're not your grandfather and this is not 1958, it's 2018. Show you're in step with the times with the Diesel DZ4329 Men's Sport Watch.
Key Features:
Black Ion-plated steel casing
Deployment-style clasp
Water resistant to 100 meters
Specification:
Brand

Diesel

Model

DZ4329

Weight

7.20 Ounces
Diesel DZT2004 Touchscreen Smartwatch
See More Reviews

Speaking of 2018… the DZT2004 Diesel watch is an excellent example of what can be achieved by combining the best of today with the best of yesterday. The DZT2004 is a full capability smartwatch that employs Google's Wear OS to interact with your iPhone or Android apps. You have a choice of touchscreen interface designs and each is displayed over the DZT2004 standard analog face wherever and whenever you need it to be. Keep track of the weather, your physical condition, your location and more with the touch of the screen or opt for the classic good looks of the standard analog display. Either way you're completely covered for any eventuality and in all likelihood you'll be pulling out your smartphone less often as a result.
The DZT2004 is a statement watch. One that acknowledges the times have-a-changed and isn't shy about embracing that change. It's also frees you from having to walk around with your smartphone in your hand all day by shifting the access point for important data to your Diesel wrist watch. That wrist display can be fully personalized as can the watch straps, which can be swapped out to dovetail precisely with your tastes. The watch is easily charged by simply placing it on the included charging magnet and you'll get up to a full day's usage from a single charge. It will even alert you to important calls when you have your phone on silent.
Key Features:
Analog and digital displays
Stainless steel band
Quartz movement
Specification:
Brand

Diesel

Model

DZT2004

Weight

8 Ounces
DZ4341 Diesel Leather Watch
See More Reviews

The Diesel DZ4341 got a real shot in the arm publicity wise when Conor McGregor was spotted wearing it during a recent fight promo. Sales spiked because hey, if it's good enough for Conor it's good enough for those of us who don't make $40 million a year. The things that drew Conor to the watch are the same things that have been attracting men in general to this outstanding Diesel timepiece for several years since it was first introduced: looks, durability and price. Okay, so McGregor probably isn't as concerned about affordability as most people but the fact is the DZ4341 is an incredible value considering the quality of the engineering and the resulting dependability.
While you won't want to wear the DZ4341 Diesel Leather Watch in the MMA ring you can wear it just about anywhere else: the office, out to dinner on a big date, to the ballpark or to watch one of those MMA bouts. The leather wristband is thick and comfortable and closes easily and firmly with a no-nonsense buckle. The mineral crystal is scratch resistant and the analog display is easily readable day or night. The watch features 10 bar capability so you can wear it on your trip to Thailand for the Songkran water festival or on the speed boat as you slam through the surf off of Montauk. It's surprisingly light as well so you're not going to suffer watch fatigue by wearing it all day. If you're an active guy who also likes to look good the DZ4341 may be just the timepiece for you.
Key Features:
Analog display
Leather calfskin band
Water resistant to 330 Feet
Specification:
Brand

Diesel

Model

DZ4341

Weight

3.84 Ounces
The History of Diesel and Diesel Watches
Diesel have carved out their own unique position in the world of fashion watches, one upping the overtly campy and inexpensive competition by embracing leading-edge design concepts that look to extend the tried and true classic motifs of the past and not simply discard them.
Back in 1978 though, Italian designer Renzo Rosso scarcely imagined that someday he'd be head of a multibillion dollar fashion conglomerate when he created Diesel out of the ashes of two financially distressed Italian predecessors. His goal was to establish a platform for exciting new clothes designers but when the fashion watch revolution overtook the market in the late 80s he knew he and his craftsmen and women had something to contribute.
In 1988 a young Dutch fashion designer named Wilbert Das traveled to Italy in the hope of impressing Rosso, whose Diesel brand was still having trouble getting much international traction. Das so impressed Rosso that the Italian businessman hired him on the spot and within just a few short years Das was in charge of making all creative decisions. Many credit him as the brain and the eye behind the creation of many of the best Diesel watches for men.
It was obvious from the start that Das wanted to carve out a unique position for Diesel although it took a few turns round the design studio to get things moving in the right direction. What he and the company settled on was an approach that looked both backward and forward while staying true to the company's European roots.
Today, Diesel watches continue to blaze an independent trail that defies easy categorization. The company's willingness to continually experiment along with their commitment to affordability put them squarely in the fashion watch community. But their equally firm dedication to quality engineering and pushing the bounds of what is possible material and design-wise, along with their bold courting of luxury watch fans, points to loftier expectations and an unwillingness to be pigeonholed.