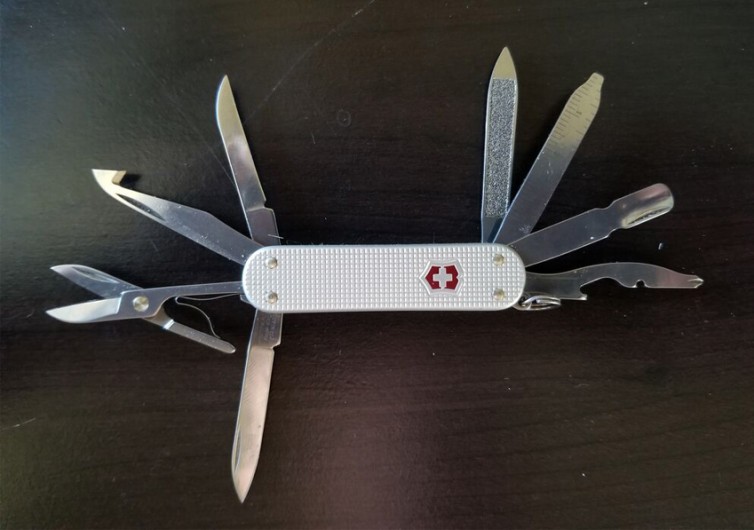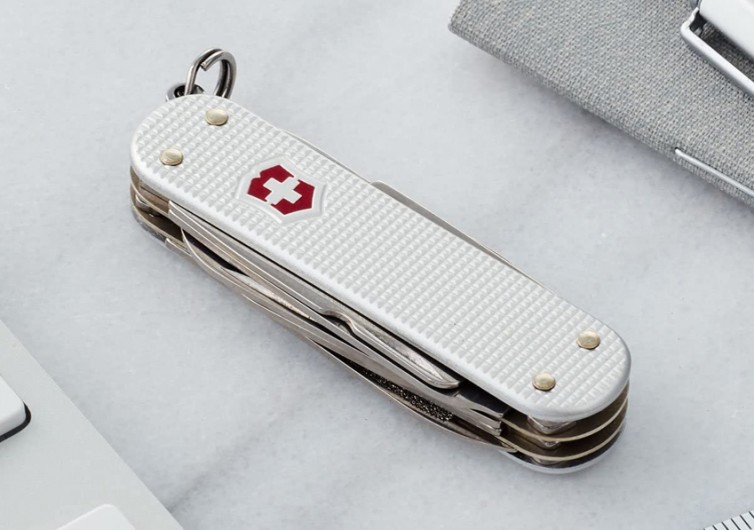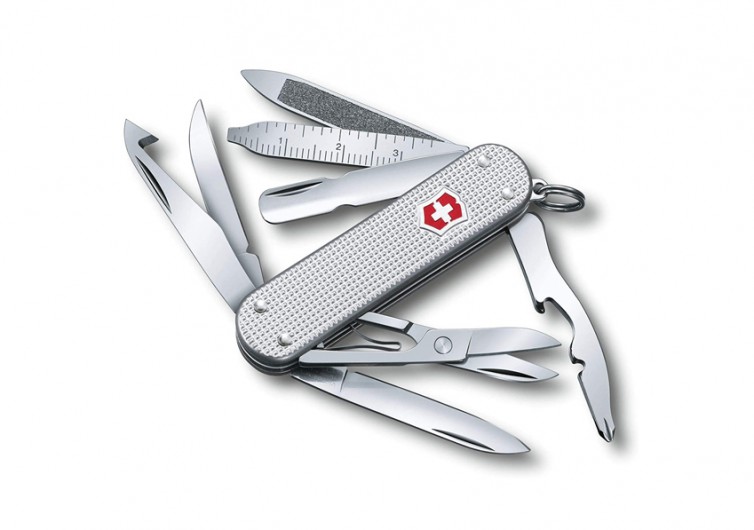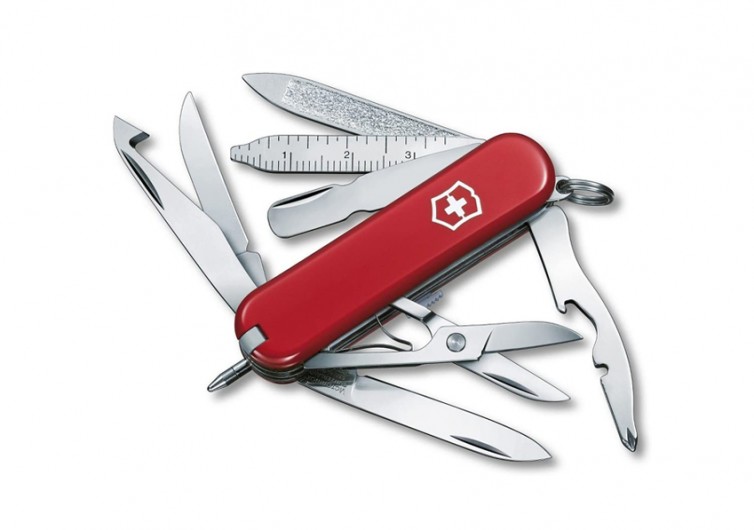 GearHungry may earn a small commission from affiliate links in this article.
Learn more
Mighty, Tiny Multi-Tool: Victorinox Swiss Army MiniChamp Alox
Victorinox makes a Swiss Army multi-tool in miniature, the MiniChamp Alox. Of all the gear I've tested for GearHungry, this is hands down my favorite item — EDC or otherwise. It's keychain size and weighs just 1.4 ounces, but it boasts a robust 15-tool kit (including the keyring). During my review period, I used it easily 3 times as much as any of my other knives. Its utility was so consistent because it was always so easy to keep on hand. On top of that, it was somehow never hard to find which tool I wanted.
Here's the full Nelson on this tiny, mighty multi-tool.
MiniChamp Alox Multi-Tool Specs and Features
The main event of any multi-tool should be the tools it includes. There's a list at the bottom of this article for those interested in knowing every MiniChamp Alox capability. But my favorite tools, and the ones I explain below in the Tested Experiences section, were the bigger blade, the bottle opener, the hook blade (or orange peeler), and of course the scissors. (Because who doesn't love the tiny Swiss Army scissors)?
With 14 total tools plus the all-important key ring, I was never short on options. Any EDC tool solution seemed within the Swiss Army multi-tool's reach.
The knife has textured grips, which was a nice touch — no pun intended. The texture did constitute an advantage: such a small handle can be tricky to hold, but the texture helped secure it. The familiar cross and red shield let everyone know it's a genuine Swiss Army product.
Weight is a minuscule 1.4 ounces. The tool is just over 2 ¼ inches long when folded.
Swiss Army Multi-Tool Testing Experiences
As soon as I took the MiniChamp multi-tool out of the box, I put it on my keyring. Why not? It was the perfect keychain: smart, functional, and not so big it made me look any more like a sorority girl than I already do.
After that, I just let it do the work. And work it did; I found myself reaching for the MiniChamp constantly. I opened packages with the big blade until I discovered the orange peeler. The peeler was perfect because the blade itself is a depth gauge. Finally, I was safe from slicing up my brand new gear before I even got it out of the box.
The blade still had its utility. For such a small blade, this Swiss Army multi-tool has a relatively deep belly. I found it was sharp enough to cut limes for beers after I'd opened them with the bottle opener. Be advised, the opener left something to be desired. It's pretty small, so I found it didn't bite bottlecaps all that well. But it still removed each cap I pried. And in any desperate situation, I reasoned that I could always use the MiniChamp multi-tool itself, lighter-style, to pop a cap.
Beyond that, I was beyond psyched on the scissors. Who wouldn't be? They're adorable. I am a snowflake — I mean I made a snowflake — with mine. It was pretty fun! If you want a taste of Gear Hungry tester life, make a snowflake with Swiss Army scissors and share your work with us on social media!
Review Conclusions: A Small Home Run
For my money, Victorinox' MiniChamp Alox was a tremendous EDC multi-tool. It fits on a keyring but it was more than capable with its useful tool kit. And the textured handles made a lot of sense for such a small tool.
All that justifies the price point: MSRP is $53. That ain't cheap, but again: during the review period, I used the mini Swiss Army multi-tool at least three times as much as any other knife in my quiver. Bottom line: size matters, and in this case, mini is mighty.
MiniChamp Alox Tool List:
Small blade
Blade
Orange peeler
Scraper
Cuticle pusher
Bottle opener
Phillips screwdriver 0/1, magnetic
Nail file
Nail cleaner
Screwdriver 2.5 mm
Ruler (cm)
Ruler (inches)
Scissors
Keyring