Slides Step: The Best Slides for Men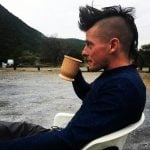 This product guide was written by Sam Anderson
Last Updated
June 9, 2021
Sam Anderson
Sam Anderson has followed a passion for well-told stories and nature's beauty from university classrooms to mountain adventures. After earning a bachelor's degree in literature, he leaned into a life fueled by road tripping, rock climbing, coffee and beer, and renegade camping. He has worked as a chainsaw operator, house carpenter, and window cleaner, at one point running his own window cleaning business. He has finally settled with his girlfriend and small zoo in the western American desert, trading his tool belt for a keyboard.
GearHungry may earn a small commission from affiliate links in this article.
Learn more
This just in: slides are no longer shoes you wear to prevent foot fungus in public showers. The best slides for men can be a fashion statement or a recovery godsend. It's a simple concept that can go a long way: a strap with a sole attached. If you gave a 6-year-old a crayon and told her to draw a shoe, there's a good chance she would draw something that looked like a slide.
But the shoe's capability is massive. Our review team has worn them for workout recovery, travel, beach and pool days, and even hiking. Future famously wore them to perform…other zesty activities.
A good pair of slides belongs on your shoe rack, whether it's for resting or raging. We slid into the best, testing and evaluating men's slides to wear in any situation.
The Best Slides for Men Review
Adidas Men's Adilette Shower Slides For Men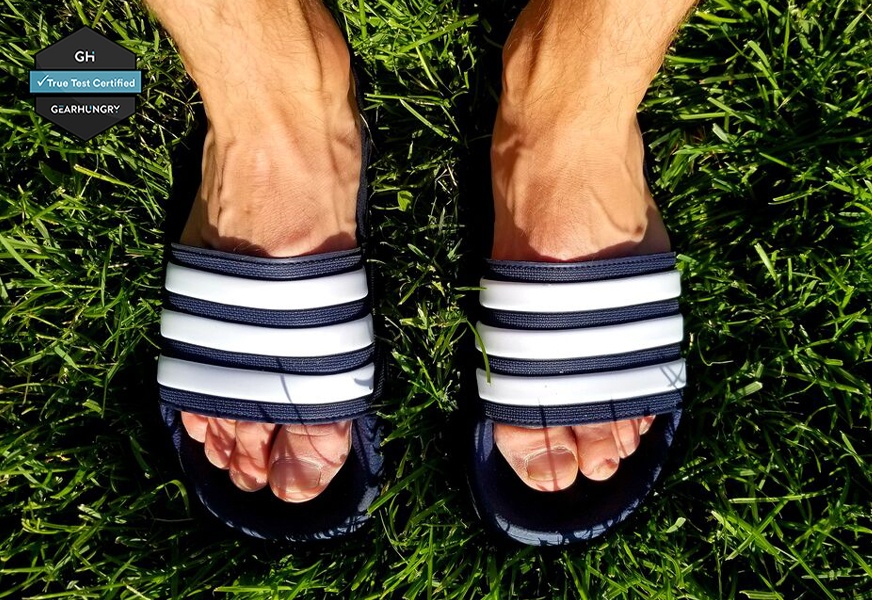 Recognizable and high-performance, Adidas slides for men are among the world's most popular slides. Its three-stripe bandage style upper has achieved icon status, becoming synonymous with slide fashion. During my review, Adidas' Adilette shower slides for men were a revelation in comfort and wearability. As a result, the navy and cloud white pair eventually came with me nearly everywhere.
Adidas' proprietary CloudFoam made the Adilette's footbed a dream. It never got slippery, sticky or stinky, despite me wearing the slides in desert summer conditions. The EVA outsole performed well, too: its subtle tread pattern threw down traction on a variety of surfaces. Wet pool decks and loose gravel on dog-walking trails were no problem.
The cool factor was obvious; the slide's deep navy set the tone for the cloud white triple stripes to jump off the bandage strap. Distinctive "adidas" brand lettering on the midsole anchors the stripes. I chose to review the navy because it matches a lot of my clothes, but I've also owned a kelly green pair that slayed in its time.
Because they were so comfortable and matchable, in the 6 weeks of "testing" them out, I did perhaps overwear the Adilettes. And while that meant my slides required consistent cleaning, it had no effect on the slide's performance. The contoured sole had held up, every scuff mark had vanished under soap and a bristle brush, and the tread showed very little wear.
Adidas Adilette shower slides for men take the field with classic, easy style and plus performance. Read the in-depth review here.
Key Features:
Three-stripe bandage upper
CloudFoam footbed
EVA outsole
Specification:
Brand

Adidas

Model

AQ1703

Weight

5 Ounces

Materials

Synthetic upper, CloudFoam footbed, EVA outsole

Colors available

5
Sole unit performed well during testing
Go-anywhere style
Perhaps easy to overwear, could lead to rapid wear-out
The North Face Base Camp III Slides For Men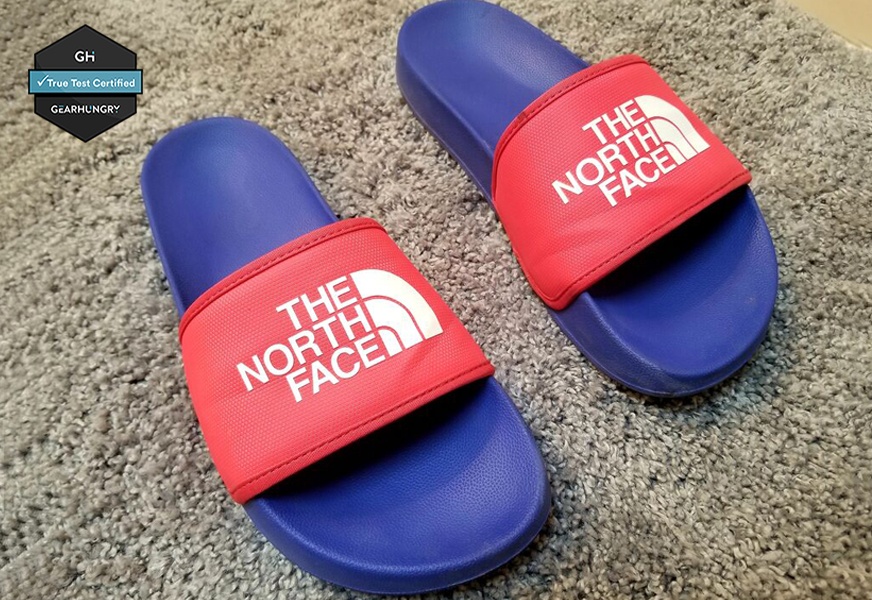 The North Face Base Camp III is a robust slide with a deep contoured footbed and wide, soft upper. As reviewed, it was a supportive slide that felt rejuvenating to my tired, post-workout feet. The red and blue colorway's loud styling made an impression.
I mostly wore the Base Camp III according to the title's implied suggestion: in base camp. The slide was supportive enough to go anywhere with its cushiony but dense sole unit, but I chose to keep it close to home due to its incredible comfort. Made with recycled materials, the upper was soft and breathable. I expected it to be fragile, but during testing, it resisted moderate abrasion.
Because of the soft upper and deep footbed contour, the Base Camp seemed to cradle my feet. The effect approached what I would call luxury: it recalled spa day and produced a healed feeling. Over time, I developed a slight pressure point on top of my right foot, but it dissipated as I continued to break the slides in.
A note on sustainability: while the Base Camp III utilizes recycled material in the upper, The North Face's choice of EVA for the sole unit detracts from the slide's planet-friendly footprint.
Overall, The North Face Base Camp III is a boldly styled, capable slide for men. Its soft materials and deep-cushioned design make it ideal for rest days and post-workout hangs. But its supportive sole unit and secure fit make it suitable for wearing casually. Read the in-depth review here.
Key Features:
Deep contoured footbed
Wide bandage style upper with recycled material
EVA sole unit
Specification:
Brand

The North Face

Materials

100% recycled polyester, 5% recycled TPU, EVA

Colors Available

5 men's, 5 women's
Deeply comforting
Supportive
One upper produced a pressure point during testing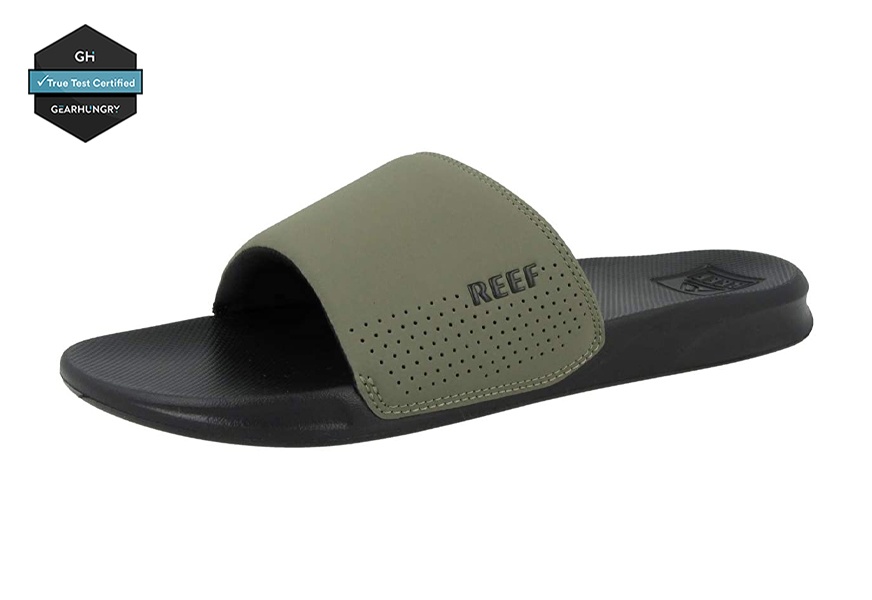 The REEF One Slide is a clean-looking super comfortable everyday slide. Our travel-happy tester, who's had a pair for over 2 years, reports that he loves them for their light weight and durability.
Self-identifying as a "slide guy," our tester estimates he's owned 18 pairs of different slides during the past 2 decades. He prioritizes function, looking for low-key, lightweight slides that can hold up to lots of miles over a variety of terrain, and the abuses of being stuffed into suitcases repeatedly.
His lifestyle makes him travel a ton, but he never leaves home without slides. The REEF One Slide has been his go-to for some time now. He says his current pair has lived hard yet held up better than nearly any slide he's had. In his experience, the One has also resisted the sandal funk that so many men's slide sandals get. He reports the material has been easy to wash off, and while super soft and comfortable, has held up extremely well. Clearly, the anatomic contouring has worked its magic in his experience.
The strap's matte color, low-key small REEF logo, and small perforation style accents appeal to pragmatist sensibilities. Other styles, with palm leaf patterns and bold lettering, favor the bold. Our man reports the tread has proven functional. Though it doesn't look like it should have much traction, he reports hiking on a variety of terrain in the One and feeling impressed with the traction they offer.
If you're looking for a slide that belongs at the beach and around town, goes well with board shorts or jeans, and can keep up with your active lifestyle, our well-traveled reviewer recommends the REEF One.
Key Features:
Choose bold or muted styling
Anatomically contoured footbed
"Enhanced biodegradability" (according to REEF)
Specification:
Brand

Reef

Materials

EVA

Colors Available

9
Comfortable and durable (as tested)
Matches any outfit with discreet colorways
"Enhanced biodegradability" is unsubstantiated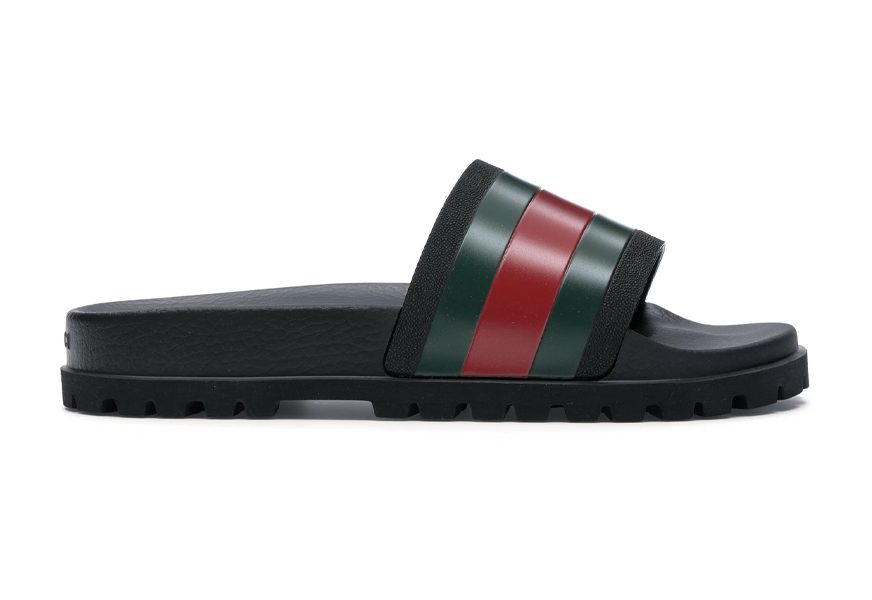 If we collectively wondered whether slides were fashionable during the last decade or so, Future effectively killed the debate in 2015. "I just f—ed yo' b—- in some Gucci flip flops," he announced on "Thought it Was a Drought." The floodgates opened and Gucci's Web slides saturated our cultural imagination. Now, everybody from Lil Yachty to Iggy Pop has been known to wear them (look it up). 
Gucci says it "reimagines" its House code red and green stripe for the Web slide in a "pop inspired take." That's another way to say, "our colors are red and green, so we put them on a thing we made." In terms of differentiation, Gucci adds a heavy lugged sole (a la Timberlands) to the slide, complete with the characteristic three-leaf pips near the middle.
It's hard to quantify the Gucci Web slide's performance. In what looks like a filler text oversight, the web page's Materials and Care tab advises Web slide wearers to "dry it immediately with a soft cloth should it become wet." Gucci also claims to have been carbon neutral since 2018 — but any purchase of Web slides, made in Italy from nondescript "rubber," cannot possibly help that cause.
But to hell with it, if you've got rapper cash, you might as well try the Gucci Webs out. It's true, if you have to dry them with a soft cloth every time they get wet at the pool, they might not last. Then again, if you're wearing Gucci at pool parties, you're playing with Monopoly money.
Cop a pair in black or white and give Future the mean mug the next time you see him when you're out with your girl. 
Key Features:
Gucci House code red and green striped upper
Lugged sole
Baked-in pop culture iconography
Specification:
Brand

Gucci

Materials

Rubber sole

Colors Available

2
Expensive — have less cash to make it rain at the pool party
Unknown performance benefit
Nike Men's Benassi Just Do It Athletic Slides For Men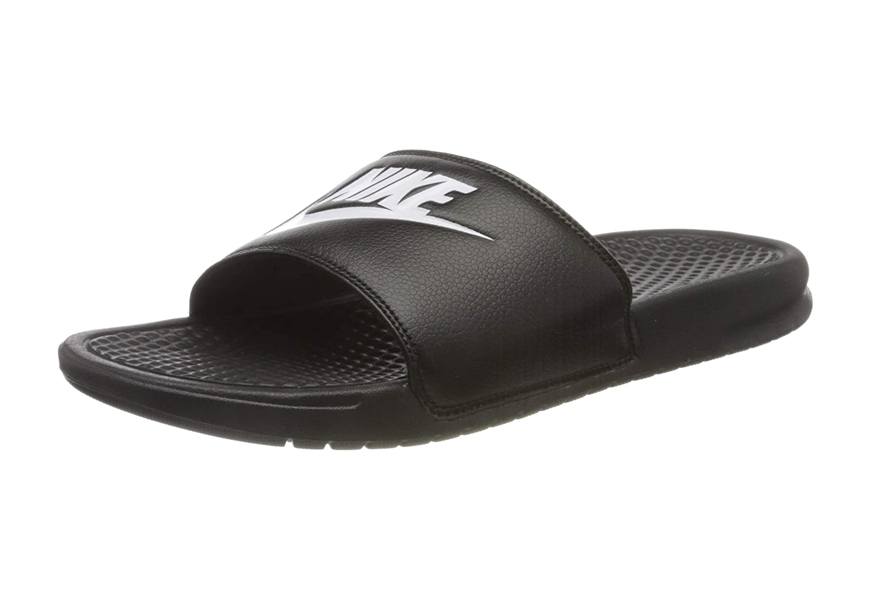 Nike's Benassi Just Do It (JDI) slide leverages the branding advantage of the swoosh and a few comfort features to claim a spot near the top of the most popular slides for men.
The concept is simple: line the upper with soft fabric, brand it aggressively, and add a comfortable foam sole unit. There's little apparent magic to the Benassi JDI. It just delivers (or just does it). The textured sole can be an all-day option for folks who like to wear slides with massaging soles.
These Nike sandals enjoy a good reputation established by a broad pool of reviews. Some wearers find them comparatively long and narrow, which is consistent with the typical commentary regarding Nike sizing.
Be aware: a wide variety of color choices is available online, but Nike itself only offers 4 colors. Some Amazon reviewers seem confused about the color they received, which seems to indicate the presence of knockoffs. Whatever; imitation is a form of flattery.
Editor's note: make sure to check out Nike's "make it an outfit" feature. My mans is wearing a bucket hat. Is it 1998 out here? It sure feels like 1998…
Key Features:
Lined upper
Swoosh/Nike branding
Foam sole unit
Specification:
Brand

Nike

Material

Unknown (soft fabric, foam)

Colors Available

4 official; many available at large
Nike pedigree
Established product
Some may find it narrow
Fakes seem to exist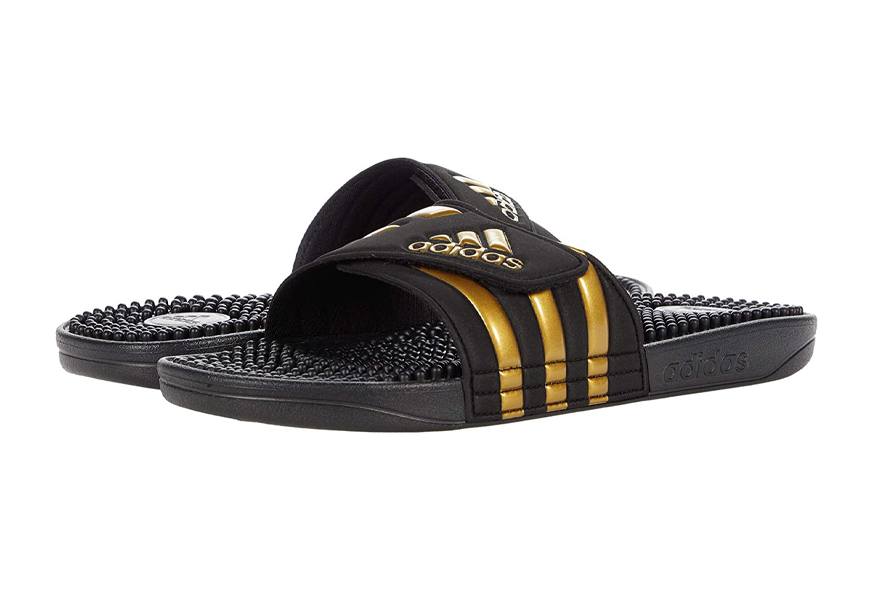 Adidas makes the slide for the king of comfort in the Adissage slide. The awkwardly named slide's footbed is a dense forest of knobby protuberances that gently massage the wearer's feet during every part of every stride. A velcro strap upper helps the Adissage fit any foot with no pinching or pressure points. 
Adidas clearly specifies that the Adissage is built for post-workout rejuvenation, not for all-day comfort. If you've ever worn a pair, or if you can imagine the feeling of all the little EVA nubs constantly flexing and rearranging underfoot, the reason for not wearing them all day becomes obvious. This is a specialty sandal for recovery.
As such, we recommend it for athletes or people who work on their feet all day like nurses, restaurant workers, retail workers, construction workers, etc. With the padded velcro upper, it's almost more accurate to call it a slipper.
The Adissage comes in navy and black with white stripes. A black version with deep gold stripes drips hard, but as of this writing it was sold out. A few pairs were still left on Amazon — don't miss out! The king (or queen, or non-gender-specific royalty) in your life deserves the best massaging footwear for their R&R.
Key Features:
Massaging EVA nubs on footbed
Adjustable hook and loop upper
Specialty massaging slide
Specification:
Brand

Adidas

Materials

CloudFoam, EVA

Colors Available

2
Prioritize recovery and self-care
Get a foot massage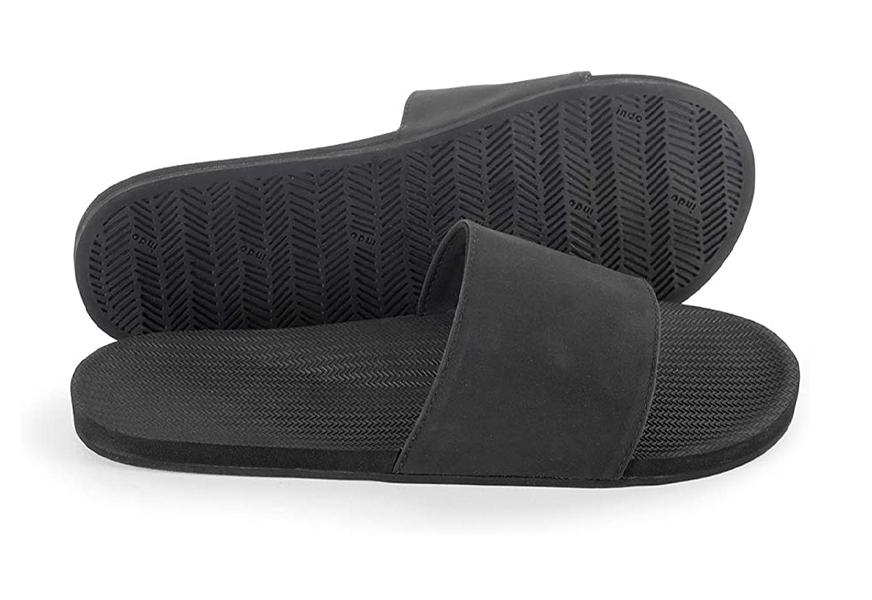 IndoSole's ESSNTLS is a planet-friendly, minimalist slide that scores all kinds of casual style points. Whether you're in Tulum for a long weekend, meeting your coworkers for happy hour, or actually doing something sustainable like weeding your backyard vegetable garden, the ESSNTLS slide for guys belongs on your feet.
IndoSole commits to sustainability. First, it mitigates virgin rubber harvesting by recycling tires in a process it calls Sole Engineered Tire Technology. Each IndoSole sole features 40% recycled tire material. It also uses fibers that cut down on water and leverage artificial dyes. Natural dyeing gives its products colors like "leaf" and "granite." Finally, IndoSole delivers a product built to last with an ergonomic footbed and a durable, high-traction outsole (just like a tire).
The shoemaker is also a certified B corporation, which is a relatively new designation intended to balance purpose and profit. It claims responsibly sourced materials and cruelty-free processes.
IndoSole doesn't try to visibly brand ESSNTLS slides or add flare. Instead, it lets the product speak for itself. The result is a minimalist-inspired, sustainably oriented slide that can match any outfit and suit a variety of situations.
The kicker? It's only a hair more expensive than many of its rubber/EVA competitors produced by the world's biggest corporations.
For more cool footwear like this, check out our guide to the best hiking sandals.
Key Features:
Recycled tire rubber sole
Natural dyes
Responsibly sourced materials
Specification:
Brand

IndoSole

Materials

Recycled tires, natural rubber, natural dyes

Colors Available

6
Thoughtfully produced
Durable (as claimed)
Slides For Men Buying Guide
Why Trust Us
Our staff's expertise stems from strong outdoor and exercise backgrounds, where having the best footwear is critical to comfort and success. And that doesn't apply exclusively to athletic shoes — we know that a good pair of slides for recovery days or post-workout hangs is just as important!
We love slipping into a pair of comfy slides after a long day's work on the trail, at the cliff or in the gym, and we evaluate them critically.
Who This is For
I've run into people all over the world, with all kinds of different lifestyles, who like to wear slides — rock climbing guides in Thailand, socialites in Las Vegas, even a master joinery carpenter in the Adirondack Mountains.
Everyone likes to relax in a chill pair of sandals, and comfortable slides for men land at or near the top of the pile.
How We Picked
Our internal tests focused on several top slides from the most recognizable brands like Adidas and REEF. Research and a passion for finding the best slides for men took care of the rest.
An eye for reducing waste from virgin plastics and decreasing carbon footprints, while still cranking out cool slides for men, also informed the process.
How We Tested
Our review team wore the sh-t out of the slides tested in this guide! For my part, I'm in Vegas, it's hot, and my semi-quarantined life more or less resembles that of The Dude as portrayed by Jeff Bridges; slides are pretty much my standard footwear.
Our team, including me, wore slides in a variety of situations, from the pool to hikes (no kidding) to the grocery store.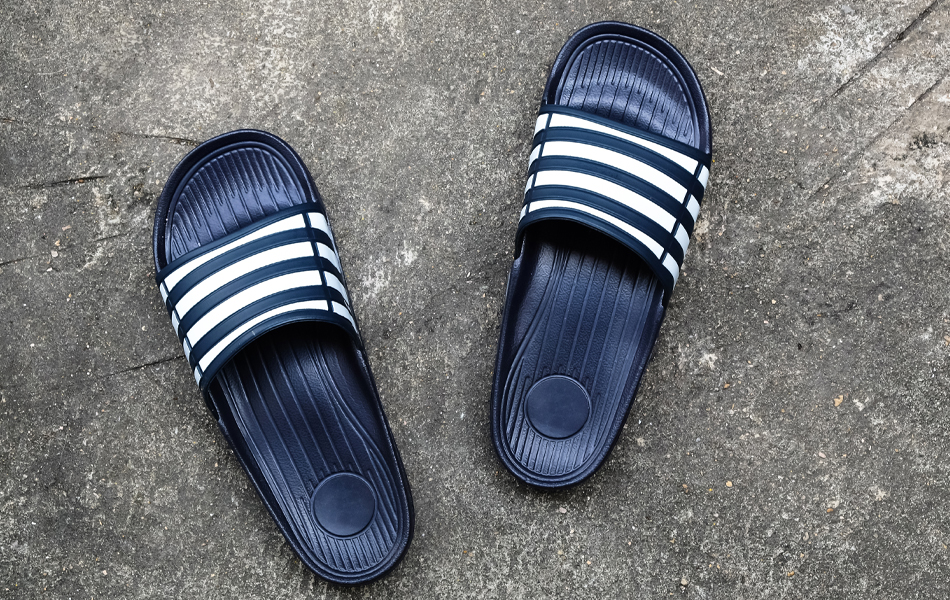 Features to Look for in Slides
Design – Just like the universe in which we live, the universe of slides appears to be expanding at a constant rate. Brands have innovated and embellished nearly every changeable element of the slide.
Uppers can be bandage style or velcro, footbeds can be contoured, massaging (the little knobs), or even suede, and outsoles can be lugged, smooth, or, of course, feature a tool like a bottle opener.
Whatever you need from your slides, there's probably a pair that delivers it.
Material – Many slides feature one or more of the materials that blend the characteristics of plastic and rubber together — polypropylene and EVA are common.
Some slides include recycled material.
Size – Critical, man. Wear your slides too big and the sides will curl up around your feet. This is not only uncomfortable, but blatantly uncool. You're not going to look stylish in your slides for men if you wear them 3 sizes too big and end up walking around in a pair of misshapen foam canoes.
Most brands include sizing charts, or even sizing feedback from wearers. Knowledge is power.
Adjustable or Fixed Straps – You have two choices: classic "bandage" style or adjustable velcro. Some folks prefer the velcro; I'll always champion the bandage. It conforms to your feet better, and there's no denying its classic style.
Non-Slip – Some slides claim non-slip capability. Shower slide outsoles can feature inserts molded from various materials to prevent slipping.
Our advice: don't assume a slide will keep you from pulling the banana-peel maneuver, even if the manufacturer claims it will. From proven experience, if I (just for instance) get blitzed and saunter around on a slippery pool deck, it's up to me to keep myself out of the hospital. 
Weight – Leather slides for men are often heavier than their plastic/rubber molded counterparts. It's also safe to assume that if it's got a bottle opener built into the sole, it's built for comfort — not for speed.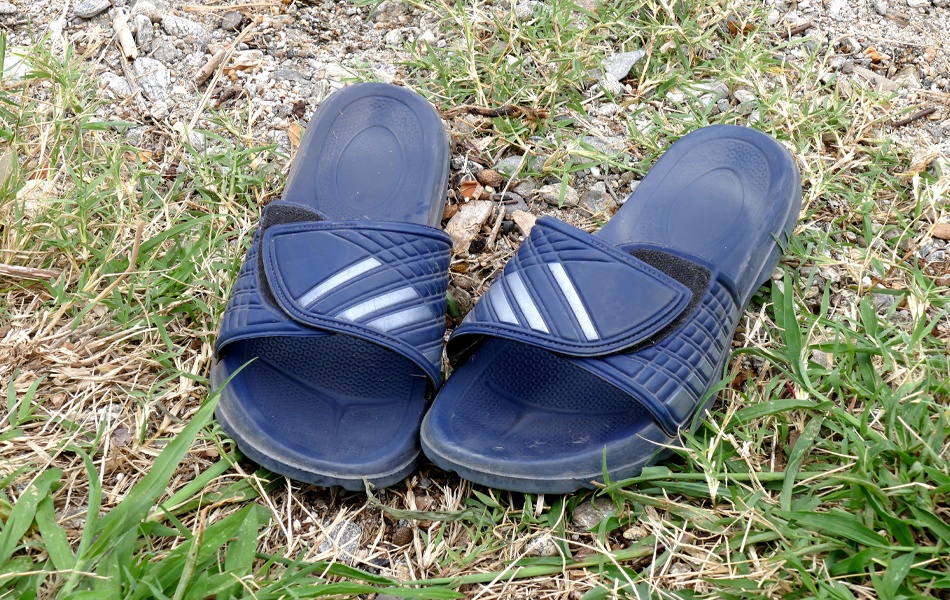 Slides For Men FAQ
Q: Are slides back in fashion?
A: Hell to the ye-yuh! Unlike that phrase, slides are back in fashion. Type this into Google for proof: "rappers wearing slides." As well, fashion's most prestigious houses have recognized the slide in recent years: Gucci, Fendi, Givenchy; the list goes on.
The slide is in.
Q: How to wear slides?
A: Type this into Google: "rappers wearing slides." If that's not your vibe, just wear them how you feel.
I wear slides with shorts, sweats, slacks, socks, no socks. Sarongs, swimsuits, sunglasses, shirtless, etc. I'll rock a pair of slides with jorts.
They also pair well with barbeque tongs, books, intoxicants, or virtually any sport or activity.
Use your imagination!
Q: Should slides be worn with socks?
A: Oh, absolutely. Or not. It's pretty much up to you! One of my favorite things about slides is that you can wear socks with them. I've worn slides with wool socks for climbing recovery at alpine campsites before. Slides with socks also look great matched with slacks or fashion sweats.
You do you, booboo!
Q: Are slides bad for your feet?
A: Dr. Miguel Cunha, surgical podiatrist and founder of Gotham Footcare, pens an informative article on the topic, available here. TL;DR: slides are not that bad for your feet, and they're way better than flip flops.
From the layman's corner: anything is bad in excess, right? I'm currently listening to Cosmo's Factory by Creedence Clearwater Revival, which is great every once in a while. But if I listened to it on repeat every day, I'd probably start making flower garlands, obsessing over the Vietnam War, and initiating conversations with strangers about the real meaning of Puff, the Magic Dragon.
Conclusion: everything in moderation.
Q: Are slides comfortable to walk in?
A: Well-sized slides are very comfortable to walk in. The upper should hug the top of your foot and push your toe box and midfoot securely into the sole during your stride.
Beware of cheap slides for men and remember not to push your slides beyond a reasonable mileage or terrain limit. They are not shoes for hiking in mountains; they're pool sandals.
Q: Are slides unisex?
A: Dismantle the patriarchy with slides! The big differences between men's and women's shoes are toe box and heel width: women's shoes usually have wider toe boxes and narrower heels. Because slides don't have a heel per se, slide shapes don't usually vary as much.
As far as sizing, I recommend ignoring whether it's for "men" or "women," and just using the size conversions. 
Q: Is it bad to wear slides all the time?
A: Again, refer to Dr. Cunha's article for a cogent scientific analysis. Or see the answer to "Are slides bad for your feet?" above for a shorter answer.
Or, consider that if slides are literally the only footwear you sport, sooner or later you're bound to turn into one of two things: 1) The Dude or 2) a tweaker extra from a sundrenched '90s music video with blonde tips, excessive facial piercings, a neon bowling shirt, and a visor you exclusively wear upside down and sideways.
The choice is yours.
Source:
Summer Shoes: Slides vs Flip Flops - Gotham Footcare
Sign Up Now
GET THE VERY BEST OF GEARHUNGRY STRAIGHT TO YOUR INBOX