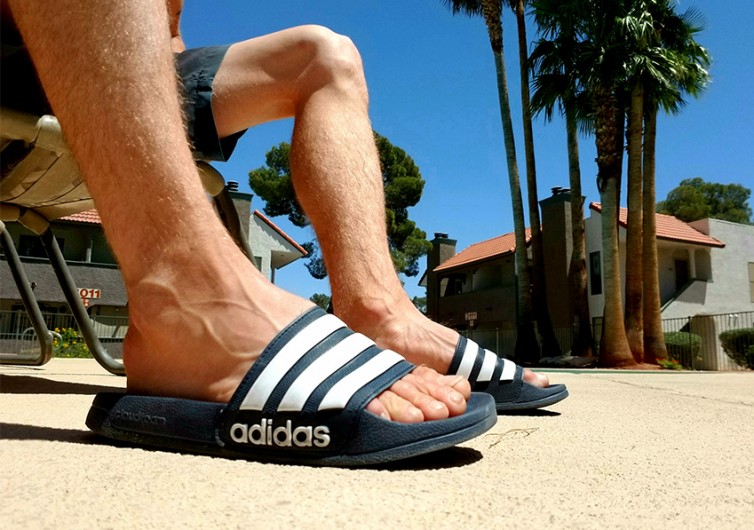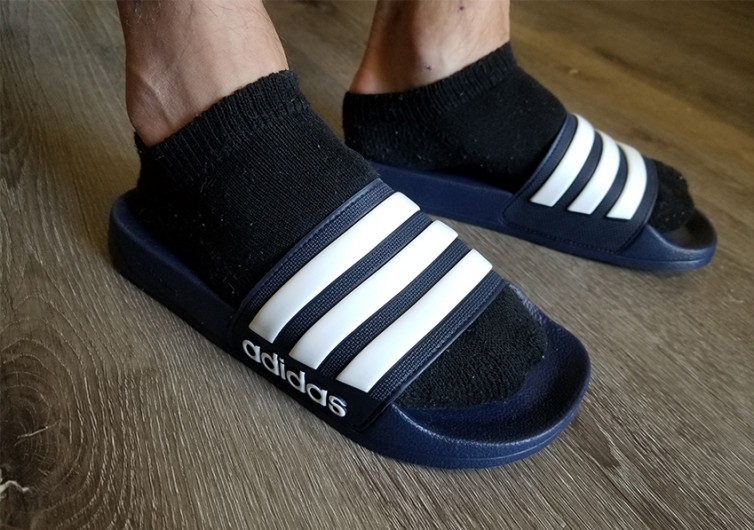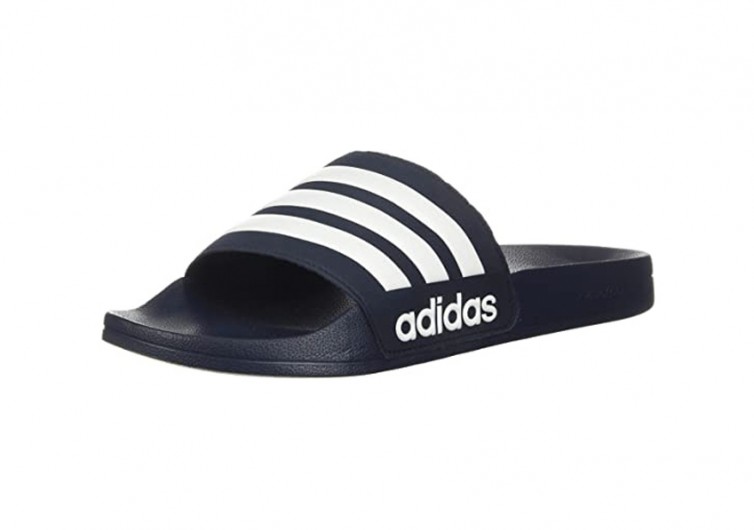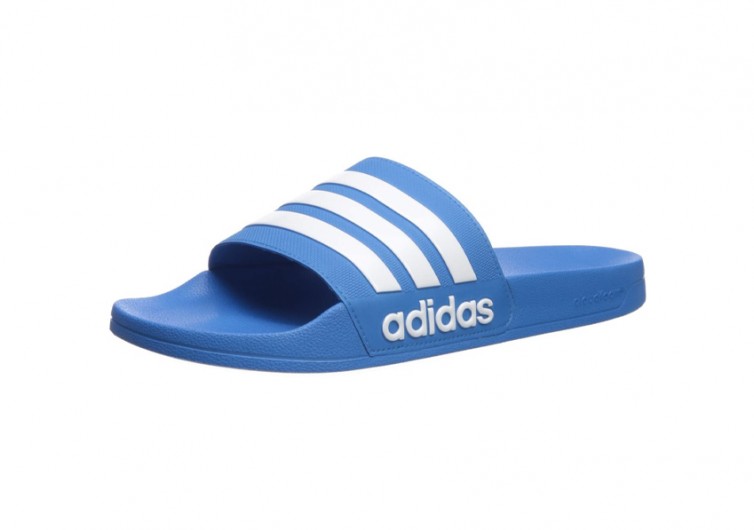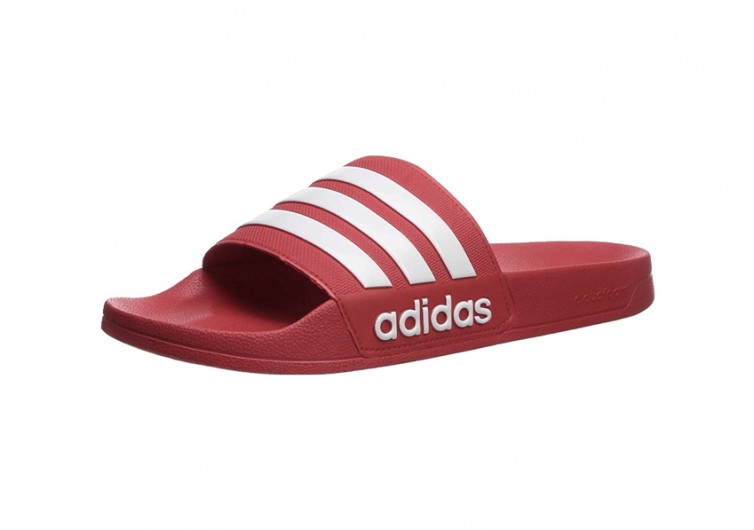 GearHungry may earn a small commission from affiliate links in this article.
Learn more
Walking on Rare Air: Adidas Adilette Shower Slide
Walking in Adidas' Adilette shower slides for men was like walking on a cloud. A cloud, that is, of Adidas proprietary foam. Each footfall felt secure and cushioned on the CloudFoam footbed, and the three-stripe upper contoured to my foot with no pinching or pressure points. The slide's dark blue/cloud white contrast looked clean and distinct wherever I wore them. And the EVA outsole caressed any surface.
Over time, the shower-ready slide tested well under a variety of circumstances, earning its place on my balcony, poolside, and beyond.
Adilette Slides for Men: Styling and Upper Performance
Adidas' three-stripe "bandage" style upper is synonymous with slide aesthetics. The bold but simplistic styling scans as street fashion, pre-or post-workout wear, or a casual staple. In bright cloud white, the three slightly raised stripes made my navy Adilettes pop. I even paired them with a pair of narrow navy slacks to take my mom to a ballgame for Mother's Day. She didn't use the word "handsome," but she did say she loved my outfit and almost didn't give me the slides back when I let her borrow them.
The synthetic upper also felt secure around my foot without digging in or creating pressure. As a result, the slides performed well for moderate duty like dog walking (tested up to 1.25 miles) and driving.
The upper's breathability was moderate/mediocre. When I wore the slides in 90°+ temperatures, my feet tended to get a little greasy under the uppers. Then again, these are not those minimalist Jesus shoes that people wear for running ultramarathons. The Adilette is built for low-key stunting and the poolside hangs and it shines in both scenarios.
Footbed Feel, Outsole, and Wearability
Adidas' CloudFoam material translated well in the Adilette. For me, the thick footbed was supportive enough to facilitate all-day comfort but soft enough that I never forgot I was wearing shoes meant for bathing. That combination generated a unique and refined wearing experience.
Adidas invites interested parties to "[r]ejuvenate tired feet" with the Adilette. Normally, I would not mention this except to either validate or make fun of it. In this case, I stake my journalistic oath to the claim.  I loved the slides from the get-go for their oddly silken feel. Size the Adilettes right (I found the sizing to be accurate), and they hug your feet satisfyingly between the upper and the contoured footbed. I discovered that if I wore the slides for too long and then went barefoot, everything in the world suddenly seemed horribly wrong.
Overwearing them became a problem, thanks to a few factors. First of all, the EVA outsole provided better multi-surface traction than I expected, leading me to wear the Adilette in a wider variety of situations. That led to rapid wear on the heel, where I ground the tread flat after a few weeks. Also, use and abuse almost always besmirched my peerless cloud white stripes, which are vulnerable to sidewalk funk and asphalt residue.
The good news: cleaning is easy. I simply scrubbed them with dish soap and a bristle brush under my sink faucet. Left to dry in the open air, they were fresh and clean again in less than 10 minutes.
Review Conclusions
After a few weeks of reviewing, I found I enjoyed wearing the Adidas Adilette shower slide for men pretty much everywhere.
With the Adilette, Adidas orchestrates a secure upper, contoured CloudFoam footbed, and EVA outsole to produce a comfortable, substantial slide. They are quick to clean, not at all flimsy, and embody a laid-back style. I expect my Adilettes to stay in my rotation for a long time.
Cop a pair for $25 MSRP.