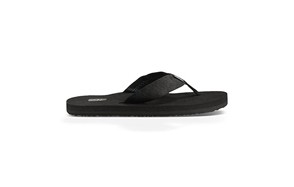 Teva Men's Mush II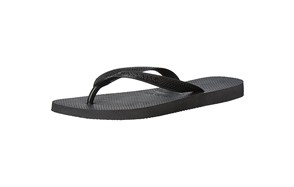 Havianas Men's Top Sandal Flip Flops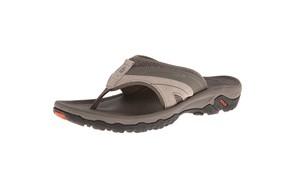 Teva Men's Parajo Flip Flops
Kick off the work boots and loafers. Sneakers won't do, either. Sandals are the ultimate switch from work, to "Please don't bother me, I'm actually enjoying myself for a minute." They're all about comfort, loosely about style, and definitely about quality. Lean back, put your feet up, and pick your next pair of sandals. If you're a bit apprehensive about committing to the purchase, you can check out how to eliminate odors and wash them properly in our buying guide below.
Our Top Picks Of The Best Flip Flops For Men
1. Reef Fanning Men's Bottle Opener Flip Flops
See More Reviews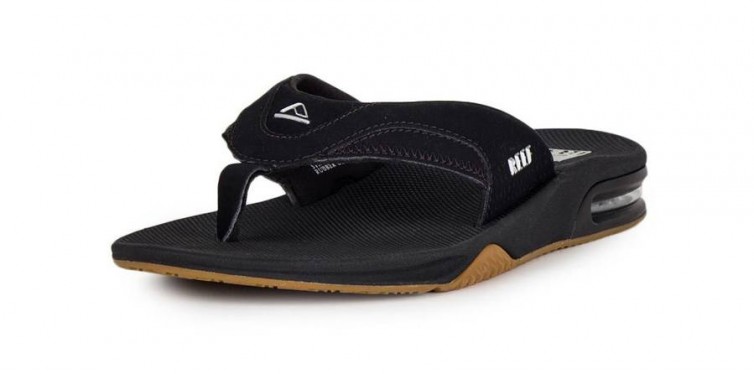 With a comfortable strap and rubber outsole for traction, you get a functional flip flop that won't let you down, or make you look like a fool. Nobody wants to slip out of their flip flop or have it be a thin strip of rubber beneath your feet, which is why Reef Fanning added a footbed and airbag alongside their phenomenal traction.
You get shock absorption, which is especially helpful when walking along a concrete boardwalk, and a 360 degree heel airbag for impact prevention. Arch support gives you a satisfactory feel when you slip into and out of these flip flops, while the bottle opener—yes, there's a real bottle opener, it's not just a title—allows you to pop a top off your flip flops whenever you want.
Specification:
Brand

Reef

Weight

14.4 ounces
See More Reviews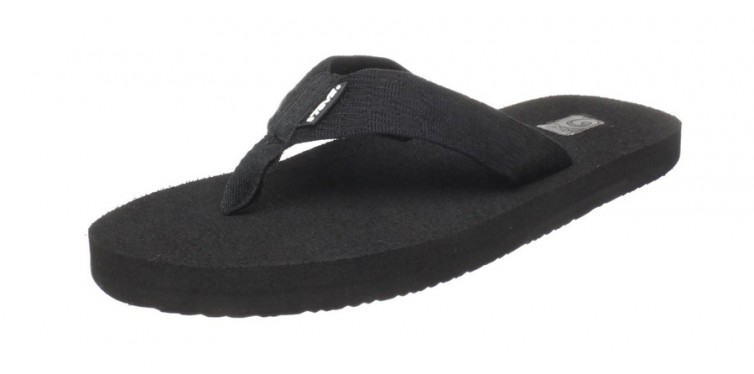 An EVA-foam sole gives you maximum comfort while you're strolling along the beach or boardwalk, while the canvas and cotton material for the upper webbing provides stability, ensuring you won't slip out. Speaking of slipping out, the traction on this outsole provides excellent stopping power, so you won't slide on a few misplaced grains of sand. With comfort and function at the helm, you're ready for every nautical affair, or just relaxing in your backyard on a hot day.
Specification:
Brand

Teva

Model

Mush II-M

Weight

6.4 ounces
3. Crocs Unisex Crocband Flip Flop
See More Reviews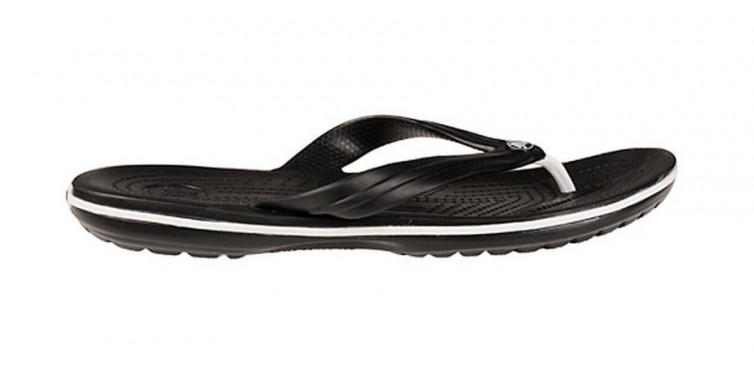 You don't have to tell anyone that they're official Crocs if you don't want to. Available in multiple colors (over twenty different styles) and crafted with a synthetic sole, these ultra lightweight flip flops come with a soft TPU toe post for comfort, even when you're curling your toes to provide additional traction—which you won't need to. These foam cushion sandals also come with excellent outsole traction, so slipping won't be an issue. It's recommended to order half-a-size down to avoid problems.
Specification:
Brand

Crocs

Model

11033

Weight

6 pounds
4. Reef Phantom Men's Flip Flops
See More Reviews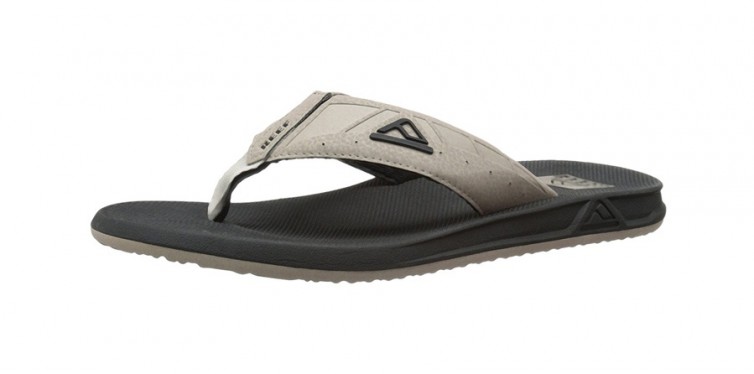 These would be our editor's pick (since he's wearing them to the office every single day). Crafted of synthetic with a matching sole, this USA-made product comes with instantaneous comfort and relief from the stress you put on your feet on a daily basis. The strap is ultra comfortable, while the traction remains razor-sharp with immense stopping power, even when wet. Arch support and a killer footbed are just two more reasons to slip into the Phantom and never look back.
Specification:
Brand

Reef

Model

Phantom

Weight

1 pounds
5. Skechers USA Mne's Bosnia Flip Flops
See More Reviews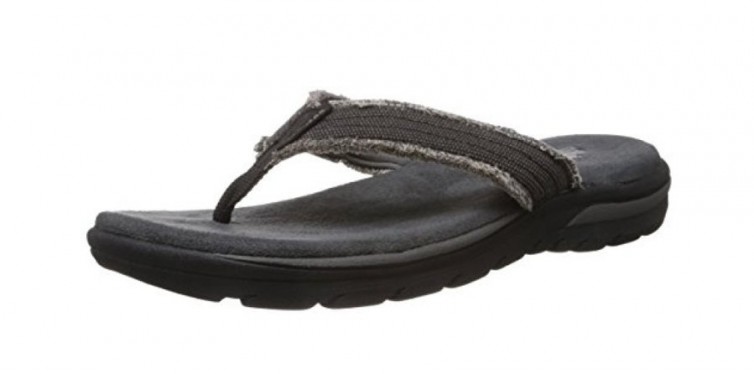 Skechers has been a staple shoe provider, primarily in the 90's, but they're still alive and kicking, even today. Available in a slew of different colors and crafted of ultra durable canvas with a synthetic sole, these flip flops provide excellent traction even when wet. With a plush pad footbed, frayed edges, and nothing else to this set of flip flops, you get straightforward features and a comfortable fit.
Specification:
Brand

Skechers

Model

64152

Weight

1.25 pounds
6. Teva Men's Parajo Flip Flops
See More Reviews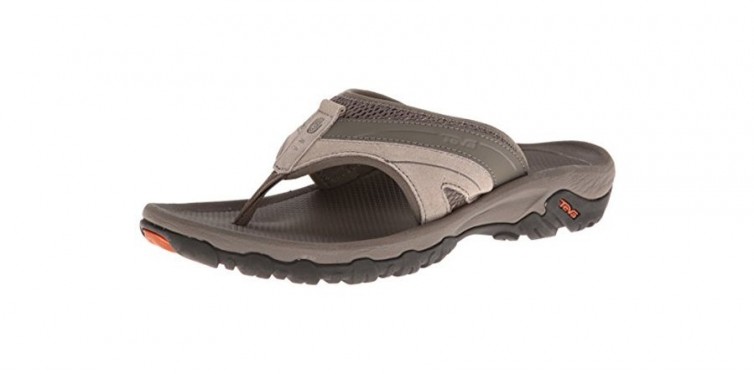 Teva makes some of the best flip flops on the market, and these are no exception. Designed with high arch support and the most comfortable band of any pair on our list, you get a leather and fabric blend throughout, with a comfortable rubber sole. The platform aids in reducing fatigue while walking, while the triple-textured thong strap gives you excellent traction. These are stylish, fit well, and allow you to feel comfortable beyond belief.
Specification:
Brand

Teva

Model

Pajaro M-M

Weight

2 pounds
7. Quiksilver Carver Suede Three-Points
See More Reviews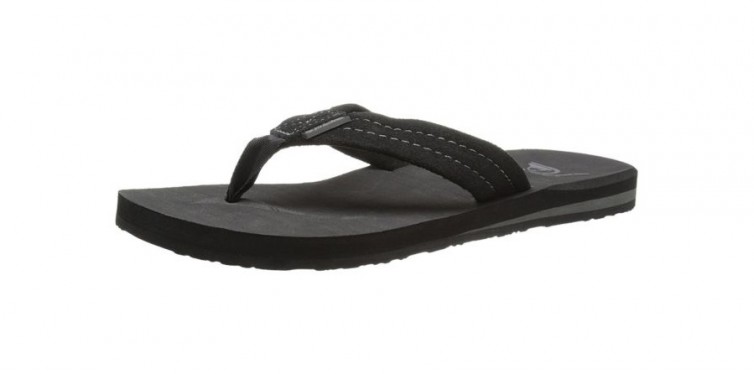 Just when you thought you couldn't get any more into the anatomy of a flip flop, Quiksilver proved us all wrong. With a dynamic due of leather and a sponge rubber sole, you absorb the impact of walking, while receiving excellent traction from the correcting arch support system in place. Visible straps over the top of your foot provide stitching for effect, while the contrast stripe on the midsole supports it. These look great, feel comfortable, and get the job done—pick between four different colors.
Specification:
Brand

Quiksilver

Model

CARVERSud-M

Weight

6 pounds
8. Volcom Recliner Flip Flops
See More Reviews
This is probably a style you haven't seen before. Available in multiple color options, these Volcom flip flops provide you with a manmade feel. The synthetic sole provides excellent arch support, while the EVA footbed and rubber sponge bottom protect your feet from the impact of constant steps on concrete and wood. The strap fits rather comfortably across the top of your foot, while the anchor between your toes provides support. An excellent pair of flip flops to just kick back and relax in.
Specification:
Brand

Volcom

Model

Recliner

Weight

1 pounds
9. Sanuk Men's Fraid Not Flip Flop
See More Reviews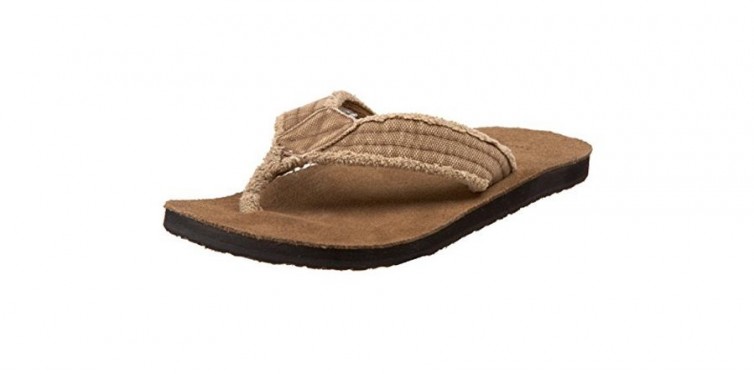 Sporting a bit of posh style, these canvas and suede sole flip flops provide you with a comfortable unique feed. When you can't stand the feeling of rubber beneath your toys, suede is the ultimate alternative. The outside provides excellent traction, while the strap lays comfortably across the top of your foot. You can get these kickback, beach-ready flip flops in four different colors.
Specification:
Brand

Sanuk

Model

FRAID NOT

Weight

1.29 pounds
10. Havianas Men's Top Sandal Flip Flops
See More Reviews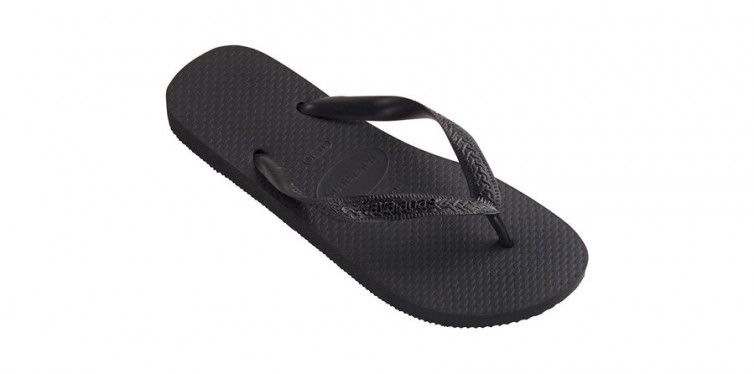 Straight to the point, and affordable as can be. These flip flops come with a synthetic sole, and are completely manmade with no machine work involved. High-quality durable rubber makes up most of these flip flops, while the rice pattern sole prevents your feet from slipping, even if you've just had a wave crash over your toes. This won't lose its shape over time or overheat your feet, and have been Brazilian-made since 1962. If you want an affordable fix that's going to get the job done, you've just met your match.
Specification:
Brand

Havaianas

Weight

1 pounds
Buying Guide & FAQ
If you're an avid reader of Gear Hungry, then you know that with us, simple isn't good enough. We find everything you could want to know about your favorite products, and ask the questions nobody else is asking.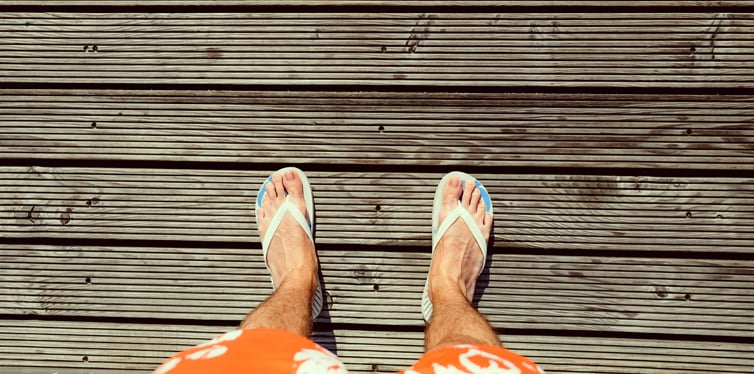 Breaking In Your Flip Flops
There's always more than meets the eye. With flip flops, breaking them in properly actually has a method behind it. Here's what to do, and some common mistakes to avoid.
Only take short walks in your sandal, never take long walks if they're brand new. You'll cause chafing, cracks and fades, and stress the materials. It's like bending a piece of wood—you can't just attempt to do it quickly, or else you'll break it. You have to work your way into it.
Don't avoid liquid; it's actually helpful. If you can fill up a clean bucket and submerge your foot into it, do that. It sounds crazy, but flip flops weren't designed to avoid the water. They're meant for beachgoers, and walks on the boardwalk—if your flip flops get wet, they'll break in faster.
Avoid the mistake of flip flops that are too big. Just like most other types of clothing and footwear, you're going to end up slightly expanding the materials. It's okay if they're a little too snug at first, because you will stretch the material to your perfect fit.
Keep Your Flip Flops Smelling Fresh
Your flip flops are mostly going to contain rubber and plastic—it's just how modern manufacturing goes these days. However, you don't just have to accept defeat and have stinky feet. Rubber and plastic are comprised of oils, and your feet produces sweat, as well as oil that's naturally formed from your skin. It merges with it, in a way, so taking preventative measures before they get smelly is the best option.
If you're a fan of odor eaters, then you'll be upset to understand that they don't really do their job on flip flops. The best bet is to take baking powder, and pour a thin veil over the entire foot space area of your flip flops. Leave it on all day, so roughly eight hours, to get the maximum result. Shake the powder into the trash, and wipe dry (you don't want to press odors/oils back into your sandal, they're only floating on the surface). Once it's dry, you're good to go.
Our second method is pretty fantastic as well. Get a plastic grocery store bag, and throw your flip flops in there. From that point, just toss a few fabric softeners into the bag, seal it up, and leave it overnight. That's going to absorb the odors, and leave your flip flops smelling fresh as can be.
How to Clean Your Flip Flops
Here are three ways to clean your flip flops:
Machine Washable? Probably
You can actually just throw these into the wash with your normal clothes. It's definitely recommended to do it on its own to avoid cross contaminating any odors onto your clothes, and you also don't want to melt the rubber in your washing machine. Put it on cold and delicates, and you'll be amazed at how clean they come out.
Scrubba Dub Dub
Put them under the faucet with warm water—avoid hot water; if it steams, don't put it on your flip flops. Your hands may smell a bit funky after this, but use your thumbs and the tip of your index fingers to rub the warm water into the grooves of the flip flops where your feet go.
Soak Them in a Moat
Well, not a real moat. Fill up your bathroom sink. If you have a secondary bathroom that's not in daily use, it's best to do it there (just don't forget about your poor flip flops). Fill it with warm water, and leave your flip flops submerged for the entire day. If you can't leave them until tomorrow, do it for 2-4 hours to reduce light odors. If your flip flops float to the top, try to use something to weigh them down.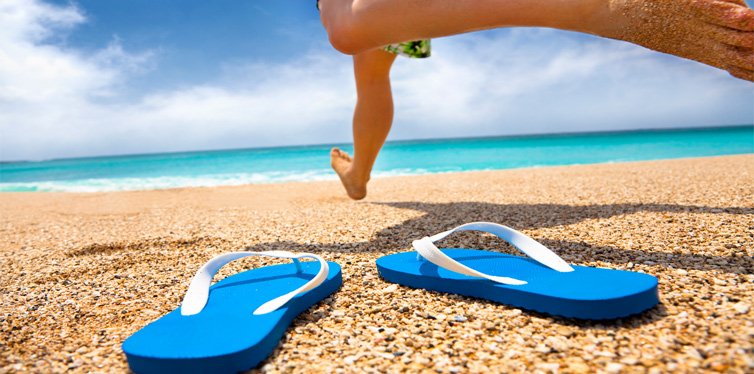 Can I Use These Methods on Leather Sandals?
If you want them to deteriorate, then be our guest. Leather sandals are tricky, so it's best to think of them like dry cleaning. Use the baking soda trick in the odor reduction section above, but extend the time period. Leave it on for 24-36 hours, and wipe clean with a wet wipe or baby wipe if you have one available.