All Flip, No Flop: The Best Flip-Flops For Men In 2022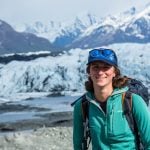 This product guide was written by Ilana Newman
Last Updated
July 21, 2022
Ilana Newman
Ilana is a writer, photographer, and life long learner. Born and raised in the Pacific Northwest, she spends her free time climbing, running, and skiing in the mountains. She is passionate about intersectional social justice work in the outdoors and creating access for all.
GearHungry may earn a small commission from affiliate links in this article.
Learn more
Maybe you live near the beach. Maybe you wish you lived near the beach. Or maybe you just love wearing footwear that makes you feel like you're barefoot. Flip-flops and sandals are the ultimate summer footwear. They're easy to slip on and kick-off, and stop the swampy foot feeling that comes from wearing sneakers or work boots in warm weather. And sure, flip-flops aren't the most durable or sturdy footwear, but there's more out there than your $5 gas station flip-flops might make you think.
Brands like Teva, Chaco, Rainbow, and Reef have revolutionized the sandal and flip-flop industry to create some of the best flip-flops for men. You can find sandals that last for years, provide arch support or a contoured footbed, and are ready for anything from everyday wear to outdoor adventures.
Lean back, put your feet up and pick out your next pair of flip-flops in our best flip-flops buying guide below.
The Best Flip Flops
KEEN Men's Kona Flip Flops
The KEEN Kona Flip Flops are an excellent supportive and grippy flip flop that is great for short hikes, beach days, and walking around town. Our tester enjoyed the support, grip, and fun rainbow print. She wore these around town, to her part-time job at a climbing gym, and on short hikes to climbing areas. They never slid too much and tolerated being in water well during river dips post-climbing. Our tester likes to be barefoot most of all, but it's easy to get hurt that way, so they wear a lot of flip flops and sandals whenever possible.
These aren't your ordinary flip flop. There's a lot of thought and intention that went into creating these. From the bottom up, the molded EVA footbeds and compression molded midsoles provide next-level comfort and support. This shoe will remain supportive and comfortable even if you're getting well over your 10,000 steps per day. The water-repellent DWR helps keep water at bay and the polyester uppers have a quick dry lining for river dips or sweaty days. Stinky feet happen, but these shoes help combat it with Cleansport NXT odor control. If you need to wash these, they can be machine washed and air dried for easy cleaning.
Key Features:
Polyester webbing uppers with a quick-dry lining
DWR coating prevents straps from absorbing water
Molded EVA footbeds and EVA midsoles cushion
High-traction rubber pods on outsoles for grip
Cleansport NXT odor control
Specification:
Brand

KEEN

Model

Kona Flip-Flops
Very grippy, no sliding around
Comfortable and supportive
Ideal for longer walks
Thicker outsole than most so they take some getting used to
Rainbow Sandals Single Layer Classic Leather Flip-Flops
Rainbow Sandals Single Layer Classic Leather have been known to last for 10, even 15 years. That's a long time for any pair of shoes, let alone sandals and flip-flops. But the leather straps and comfortable soles will keep you on your feet for years — without sacrificing style. Rainbow Sandals make these flip-flops out of top-quality full-grain leather. They also come in various colorways and are pretty stylish. You probably wouldn't want to wear them to a wedding (except maybe at the beach), but they're good enough for the brewery or a get-together with friends.
The double-stitched construction contributes to the durability, while the EVA midsole provides arch support and molds to your foot during the break-in period. The rubber soles, on the other hand, provide traction for walking on wet rocks or slick boat decks.
Make sure you also check out the list of top slides for men for more great products like this.
Key Features:
100% leather flip flops
Double-stiched 1″ strap
Rubber sole
Nylon toe piece
Specification:
Brand

Rainbow Sandals

Weight

10.23 Ounces
Durable, many last for years
Comfortable sandals
Mold to your foot
A few people have had issues with sole separation
Teva Mush II Flip Flops For Men
Teva creates some of the best men's sandals on the market for comfort, style, and support. All of their sandals make great water shoes, and this pair is no different. They're as ready for a river trip or a day out on the sailboat as they are for a backyard barbeque.
The dual density EVA midsole gives you maximum comfort and support while you're strolling along the beach or boardwalk, while the canvas cotton material for the upper webbing provides stability, ensuring you won't slip out. Plus, the traction soles on the Teva Mush II outsole provide excellent grip. With comfort and function at the helm, you're ready for your next water adventure or just relaxing in your backyard on a hot day.
Key Features:
Cotton canvas straps
Dual-density EVA footbed
Grippy traction outsole
Specification:
Brand

Teva

Model

Mush II-M

Weight

6.4 Ounces
Lightweight
Very comfortable
Some find the quality of foam to has gotten worse over the years
OluKai Ohana Men's Beach Sandals
The OluKai Ohana is a high-quality option for everyday flip-flops. These are not cheap flip-flops, but you get what you pay for. Made of synthetic leather, the straps are water resistant and include an ultra soft, quick dry jersey lining for extra comfort. The toe post is made of soft nylon that doesn't cause any irritation even after wearing it all day long. Plus, the molded footbed provides an anatomical fit for support and comfort. The nonmarking rubber outsole features a tread with lugs shaped like coral and provides plenty of traction in almost any situation.
These OluKai flip-flops are a great option for someone who wants to wear flip-flops every day — and keep them in good shape for a long time. Reviewers have worn these to play soccer (for fun, not competitively), travel, and for everyday use. The good arch support makes them a good fit for anyone with foot issues like plantar fasciitis or anyone who needs firm arch support. However, they do take some time to break in. Once broken in, these are some of the most comfortable men's flip-flops for walking.
Be sure to also check out our list of the best Nike sandals for more great items like this. 
Key Features:
Jersey knit lining
Anatomical arch
EVA foam midsole
Coral shaped lugs
Specification:
Brand

OluKai

Model

10110-2525-13.0

Weight

3 Pounds
Supportive and comfortable
Durable
Crocs Crocband Flip Flops For Men
You don't have to tell anyone that these are Crocs if you don't want to as they certainly don't look like your typical Crocs. But the lightweight design and soft footbed will make you understand why people love the quirky footwear. Available in multiple colors (over twenty different styles) and crafted with a synthetic sole, these ultra-lightweight flip-flops come with a soft TPU toe post for comfort.
These foam sandals also have excellent outsole traction, so slipping won't be an issue, whether at the pool or on the beach. These are unisex sandals, so make sure to find the right size for your feet, not just your typical size. It's recommended to order half a size up to avoid any issues with rubbing.
Key Features:
EVA foam sole
Made out of Croslite foam like all Croc shoes
Soft, flexible, and lightweight
Specification:
Brand

Crocs

Model

11033

Weight

6 Pounds
Super-lightweight
Great support for a flip-flop
Sporty look
Hari Mari Dune Flip Flops
Hari Mari is a newer company from Dallas, Texas, that wanted to reimagine the flip-flop game with fun colors and comfortable styles. The Dune flip-flops feature their signature memory foam toe post that allows the flip-flops to form to your feet immediately, with no long break-in period required. The straps are also memory foam filled to hug your feet and keep you secure.
And when you set sail, the soles are boat friendly, with plenty of traction, so you don't slip around on the deck while trying to raise the mainsail. They use water-friendly foam with water-eliminating channels, so you don't get bogged down while wading or swimming. Plus, the footbed foam has antimicrobial properties to keep them fresh without odors for the whole summer.
Key Features:
Memory foam straps and toe post
Boat safe soles
Antimicrobial foam
Specification:
Brand

Hari Mari

Weight

14.4 Ounces
Stylish flip flops
Waterproof
No break-in period
Quiksilver Carver Suede Three-Points
With the dynamic duo of suede and an EVA footbed, Quicksilver brings you classic style in these durable flip-flops. The anatomical arch support keeps your feet healthy and happy even after walking for miles. And the heel contour and toe bar also help with any foot pain keeping your foot in place. The whole soft footbed is made of compression molded EVA foam, slip-resistant, and textured.
The soft suede straps over the top of your foot include contrast stitching for effect, while the contrast stripe on the midsole supports it. These look great, feel comfortable, and get the job done, while giving you lots of colors to choose from. And reviewers have reported getting years and years out of these flip-flops, so they're durable too.
For more top-quality footwear, be sure to browse our list of the most popular boat shoes.
Key Features:
Suede straps and contrast stitching with a characteristic midsole contrast stripe
Anatomical arch support
Rubber outsole
Specification:
Brand

Quiksilver

Model

CARVERSud-M

Weight

6 Pounds
Durable
Anatomical fit
Heel support
Some people experienced staining on their feet from the darker colors
Reef Phantom Men's Flip Flops
The Reef Phantom is a great option for someone wanting a comfortable, durable pair of sandals right out of the box. Crafted of synthetic leather, this USA-made product features an anatomical footbed designed to be comfortable without any break-in period. And the sole is made up of three parts: the first is a plush contoured foam that holds your foot in place, then there's a medium density midsole for long-lasting support, and then the high-density outsole provides traction.
The straps on these Reef flip-flops are made out of ultra-comfortable synthetic nubuck that is water friendly, so you can spend all day splashing in the waves and then seamlessly transition to dinner after. Reviewers say these are some of the best flip flops for men, especially if you have flat feet. But they also say to size up!
Key Features:
Anatomical footbed
Nubuck leather
Water-friendly
Specification:
Brand

Reef

Weight

4.6 Ounces
Comfortable
No break-in
Great for water and everyday comfort
Newer versions seem less durable
Chaco Core Lowdown Flip Flops
Chaco makes my go-to summer sandals, and I would trust them to make flip-flops with a high-quality construction as well. They definitely won't wear down as fast as foam or even leather flip-flops do. Other than the straps, these quality flip-flops are pretty much unbreakable. But even if they do break, you can send them back to Chaco to get resoled or re-strapped if you want.
The contoured LUVSEAT footbeds provide firm arch support and foot alignment to keep your feet comfortable all day long. The EVA midsole provides high rebound and low compression to last for years. And the nonmarking ChacoGrip rubber soles are designed to provide traction in wet environments. Go ahead and slip your wet feet into these flip-flops as often you like because they are made with antimicrobial materials to help keep smells and bacteria at bay.
You may also be interested in these stylish moccasins from our list. Take a moment to check them out.
Key Features:
LUVSEAT footbed
Nonmarking outsole designed for water
Polyester webbing
Specification:
Brand

Chaco

Weight

15.84 Ounces
Durable
Supportive
Odor-resistant
Not the softest flip-flops out there
Teva Men's Parajo Flip Flops
Teva makes some of the best flip flops on the market, and these are no exception. Designed with high arch support and a comfortable band, you get a leather and fabric blend throughout, with a comfortable rubber sole. Designed for light hiking, these are probably some of the most stable in the flip flop department.
The nylon shank aids in stabilizing your foot and protecting you from roots or rocks while walking or even hiking, while the suede thong strap is lined with mesh for breathability. These are stylish, fit well, and allow you to feel comfortable beyond belief. The leather is all sustainably sourced, and you can recycle these flip-flops with Teva once you wear them out, so they never have to see a landfill.
Key Features:
Suede straps lined with mesh
Nylon shank provides stability
Sustainably sourced leather
Supportive enough to hike in
Rugged, should last for many years
Comfortable to wear for long periods
Volcom Recliner Flip Flops
If you're looking for the ultimate comfort, this is the best pair of flip-flops for you. The pillowtop bed of flip flops features a cushioned quilted sole. These flops take a day or two to feel comfortable, but then they cradle your foot like your mattress cradles your body. They're so comfortable and soft, you'll wear them everywhere, from the beach to your house.
The water-friendly strap fits rather comfortably across the top of your foot with a soft padded lining, while the anchor between your toes provides good support. An excellent pair of flip-flops to just kick back and relax in. While they may not be the most stylish flip-flops out there, they're available in multiple color options and go pretty well with any casual outfit.
Key Features:
Quilted foam footbed
Reinforced toe post
Non-scuff outsole
Specification:
Brand

Volcom Inc. Footwear

Weight

6.6 Ounces
Soft and comfortable
Water-friendly
There's a break-in period
Not as durable as more expensive flip-flops
Sanuk Men's Fraid Not Flip Flop
Sporting a bit of a fun style, these flip-flops provide a comfortable, unique feel. The frayed canvas straps feel casual but look good with just about any outfit. However, because they're made of cloth, these aren't the flip-flops to wear to the beach or on a river trip. But the suede footbed is a great alternative if you can't stand the feeling of rubber beneath your toes.
The outsole provides excellent traction, while the strap lays comfortably across the top of your foot. They also have a cushioned silhouette, so they're comfortable to wear for long periods. You're ready to head to the brewery or for a summertime picnic in the park with these Sanuk flip-flops.
Key Features:
Frayed canvas straps
Suede footbed
EVA midsoles
Specification:
Brand

Sanuk

Weight

6.1 Ounces
Stylish and comfy
Made from recycled materials
Durable
Havaianas Men's Top Sandal Flip Flops
Straight to the point and affordable as can be. If you're looking for a basic, budget pair of men's flip-flops that still will last and stay comfortable, these are the best flip-flops for you. Better than a cheap pair of gas station flips, but not quite to the memory foam footbed/leather straps level, Havaianas flip flops have stood the test of time and still get the job done. My boyfriend has had a pair of these flip-flops for three years and wears them almost every day all summer.
Havaianas flip flops come with a synthetic sole, and are completely manmade with no machine work involved. High-quality durable rubber makes up most of these flip-flops, while the rice pattern sole prevents your feet from slipping, even if you've just had a wave crash over your toes. These flip-flops won't lose their shape over time or overheat your feet and have been Brazilian-made since 1962. If you want an affordable fix that's going to get the job done, you've just met your match.
Key Features:
Rubber flip flops
Non-slip pattern on the sole
Water-proof construction
Specification:
Brand

Havaianas

Weight

7 Ounces
Affordable
Lightweight
Durable
Flip Flops For Men Buying Guide
Why Trust Us
Whether we're on vacation or it's that beautiful time of year known as summer, sandals are a key piece of our wardrobe. From sport sandals to casual flip-flops, there's a place for every type of shoe. But there's something about how easy it is to just slip on your flip-flop and head out the door that makes these simple sandals some of our favorites. We've tried them across the board, from the simplest rubber flip-flop to the high-end leather options. We have compiled the best flip-flops for anyone who wants a new pair of these comfy, silly shoes in their lives.
Who This Is For
This is for anyone tired of wearing uncomfortable, unstylish footwear all summer long. Maybe you keep trying to buy $5 flip-flops at the convenience or big box store, and they just keep wearing out quickly. Or you just need something easier to slip off and on than your normal sandals or sneakers. Well, flip-flops and sandals are the solution. And this guide to the best flip-flops for men has all the answers to your questions and outlines the best flip-flops on the market today.
How We Picked
We picked the best flip flops for men by first looking at some of the best sandals on the market and looking at those companies. Funnily enough, many of the best flop flops are made by the same places that make the best sandals. We also looked to companies that focus on water, rivers, and oceans, as many of those companies make great, durable flip-flops. We picked the best flip-flops by researching and through personal experience.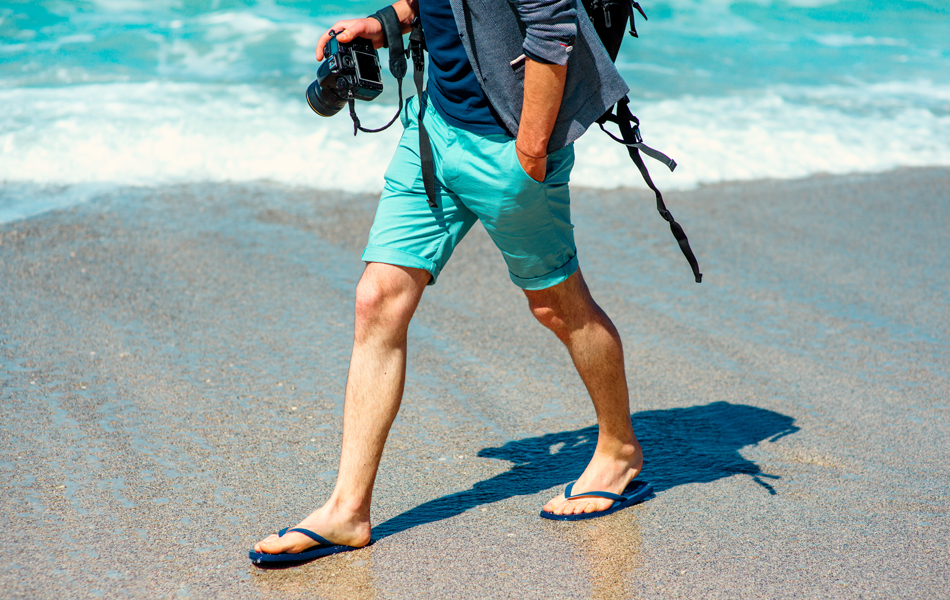 Features To Look For In Flip Flops For Men
Comfort - Comfort is probably the number one thing to look for in the best flop flops for men. Seriously, comfortable flip-flops will allow you to live a more comfortable life. For the most comfortable flip-flops, look for either a soft footbed or a footbed that molds to your foot. That way, they are perfectly supportive for your feet.
Support - If you have foot pain like plantar fasciitis, it is important to get shoes that support your feet. Proper arch and heel support are vital if you'll be wearing your flip-flops all the time and walking long distances. If you just plan to slip them on once in a while to go to the beach or the pool, this might not be as important to you.
Traction - Imagine walking out to your pool chair, carrying a full glass of beer, ready to sit back, relax, and enjoy your day. And then you step on a slick spot on the pool deck, and the world falls out from under you. Next thing you know, you're on your butt, beer spilled everywhere, all because your flip-flops didn't have enough traction. Traction is important. We highly recommend looking for tread patterns that help grip the terrain you'll be walking on most often.
Style - Of course comfort matters, but do your flip-flops look cool? The best flip-flops for men look great at the beach, around a campfire, and out for drinks with friends. From fun colors to sweet logos, there are lots of ways your flip-flops can look great.
Versatility - If you're looking for the best pair of flip-flops to just wear at the beach, you probably won't care if you can wear them anywhere else. But if you're looking for something that you can wear every day, that will last for years to come and will look good with any number of outfits, then versatility might be important when shopping for flip-flops.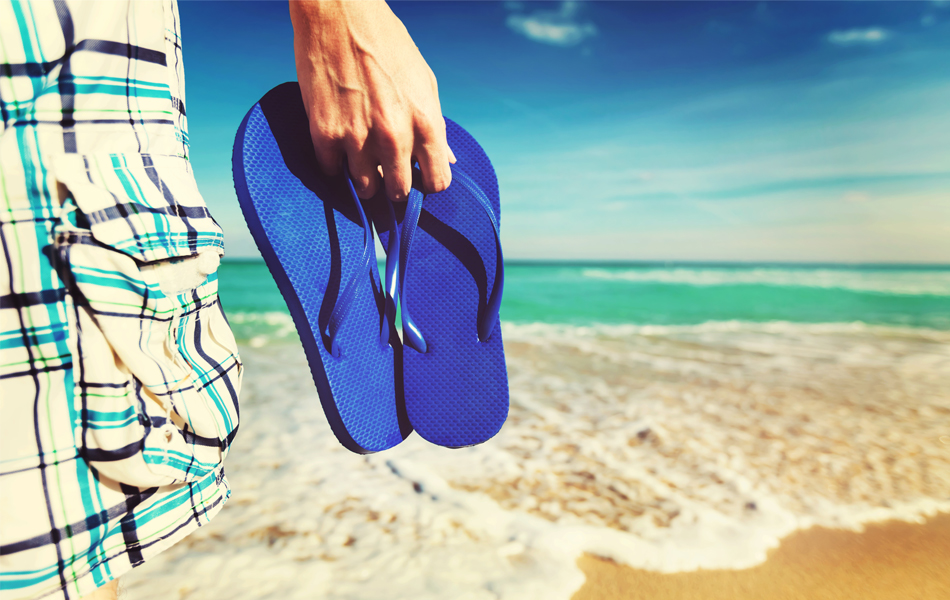 Flip Flops For Men FAQ
Q: Are flip-flops safe to walk in?
A: Definitely, although if you're looking for flip-flops to walk in for long periods, you might want something a little more supportive with an anatomical footbed or memory foam cushioned footbed to keep your feet comfortable for as long as you're on your feet. Shock absorption might also be important if you're walking for long distances. A cheap rubber or foam flip-flop might not be the best if you're planning to walk long distances. There are sandals made for hiking, so keep an eye out for supportive options.
Q: How do I clean flip-flops?
A: Most flip-flops should be hand washed using a wet rag. A light detergent or cleaning agent might be required if soiled by tough stains, but be careful not to over-scrub them to prevent damage to the material. Check with the manufacturer for more detailed cleaning instructions tailored to your specific flip flop.
Q: Which material is best for flip flops?
A: This depends on what you're looking for! Leather is a great material for flip-flops, but not if you're planning on spending all day in the water. In that case, rubber or foam is going to be a better bet. If you plan to be hiking or on rocky terrain, a grippy rubber outsole is a great choice.
Q: Should I size up or down for flip-flops?
A: This depends on the shoes. Make sure to check with the manufacturer to see what they recommend. However, if the shoe does not specify whether it might run small or large and you need to choose a full size (no half size options), it's typically better to go a size up instead of down since you don't want your toes or heels hanging over the edge.
Q: How do I style flip-flops?
A: Flip-flops are casual shoes, so it's best to keep it casual. However, there are definitely some stylish flip-flops on this list that wouldn't be out of place at a nicer event, especially in a beach town or somewhere where flip-flops are normal attire. Style your men's flip-flops with shorts and a t-shirt for full-on casual, or add a semi-casual collared shirt and some linen or other lightweight pants for a beachy, comfortable, but nicer look.
Sources:
How To Buy And Walk In Flip Flops - WikiHow
Sign Up Now
GET THE VERY BEST OF GEARHUNGRY STRAIGHT TO YOUR INBOX