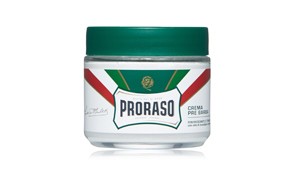 Proraso Pre-Shave Cream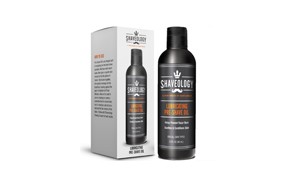 Shaveology Lubricating Pre-Shave Oil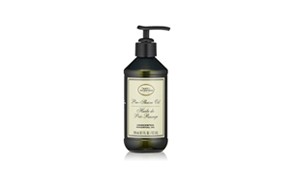 The Art of Shaving Bulk Pre-Shave Oil
Every man's shaving ritual should contain pre-shave oil for softer hair growth, a smoother shave, and less skin irritation. If you have sensitive skin, or you're just looking for the ultimate smooth and close shave, you're about to add some of this to your arsenal. Check out the best pre-shave oils for men in 2018.
Top Picks: Best Pre-Shave Oil in 2018
Sandalwood Pre-Shave Oil by The Art of Shaving
See More Reviews

If you've never wandering into a store of theirs or been on their site, you have a void in your life. The Art of Shaving is excellent for everything you need for a closer, better shave. This pre-shave oil is just the ticket you're been looking for. While your missus can steal it every now and again, it's intended specifically for men.
This protects your skin from razor burn (the dreaded devil of shaving), and is also excellent as a beard oil to soften your skin and hair, all at once. The light aroma is an excellent compliment to your casualwear or smart wear, and the sandalwood essential oil that makes up the main component is better for normal skin, or dry skin. Oily skin users won't benefit from this as much. Get razor burn, ingrown hairs and irritation off your mind.
Key Features:
100% sandalwood essential oil, 2oz bottle
For normal to dry skin
Excellent at removing razor burn and red bumps
Specification:
Brand

The Art of Shaving

Model

670535100034

Weight

8.2 ounces
VIKINGS BLADE "Black Forest" Pre-Shave Oil
See More Reviews

As aggressive on irritation as the title would suggest—it practically makes it disappear overnight. If you're looking to keep certain areas of your face clear of stubble, while also softening the stylized section of your facial hair, you've found the ultimate item for you. Scented with western red cedar (product of Australia), you get a unique, subtle aroma that compliments your cologne.
Available in a 2oz bottle, this pre-shave oil contains 100% organic oils, including olive oil, citrus aurantium dulcis oil, ximenia Americana seed oil, and more. For the sensitive skin that needs an aggressive handle on irritation and ingrown hairs, leave it to the VIKINGS.
Key Features:
100% organic oils, 2oz
Works well with any razor type
Softens facial hair for the styled look
Specification:
Brand

Vikings Blade

Weight

5.6 ounces
Shaveology Lubricating Pre-Shave Oil
See More Reviews

Ever wondered what it would be like to look red carpet ready? It starts with how you maintain yourself, and Shaveology gives you the perfect tool to take your facial hair and shave game to an entirely new level. Excellent protection for your face reduces razor burn and practically eliminates the possibility for red bumps and irritation, while keeping your stylized facial hair plenty soft and looking bold.
Available in a 2oz bottle, this low-cost high-performance pre-shave oil works quickly and allows you to feel refreshed like you never have before. Apply for 5-10 minutes, hit the shower and shave, and you'll feel like a million bucks.
Key Features:
Premium protection against razor burn, 2 oz bottle
Lifetime guarantee
Cleaner, sharper shave
Specification:
Brand

Shaveology

Weight

1.6 ounces
Unscented Pre-Shave Oil by The Art of Shaving
See More Reviews

We can't get enough of these guys (in case you couldn't tell). The Art of Shaving outputs superb quality and really brings your shave to a whole new level. Unscented, for those of you with sensitivity to smells or want the power of your cologne to do the talking, and ready to protect your skin—this has it all.
Ingrown hair, razor burn and aggravating red bumps are a thing of the past. This is excellent for daily use, and utilizes a unique blend of botanical ingredients to give you a one-of-a-kind feeling that you don't even get with their other products. For an entirely new experience, softer hair, and a closer shave, look at it as an art form.
Key Features:
Unique blend of 100% botanical ingredients, 2oz
Recommended for daily use
Unscented and hypoallergenic
Specification:
Brand

The Art of Shaving

Model

670535100003

Weight

2.08 ounces
See More Reviews

Now now, hold on. We know it's not a pre-shave oil, but this deserves an honorable mention and includes the same benefits we'll be talking about in our buying guide down below. You want to feel you best? Then you need to go with the best. This pre-shave cream allows you to save on a hint of cash, while also reaping the rewards of a smoother shave.
Eliminate bumps and razor burn by letting this soak for 5-7 minutes, and getting your shave on. This melts away to leave you feeling refreshed, and looking your best. For quantity versus cost, this is the best deal on our list.
Key Features:
Eliminates red bumps
Softens your stubble/stylized facial hair
Protects your skin from bacterial growth in your pores
Specification:
Brand

Proraso

Model

8004395001019

Weight

3.68 ounces
The Art of Shaving Bulk Pre-Shave Oil
See More Reviews

Their standard formula with anything but standard results—go big, or go home with this bulk offer on a pump-activated pre-shave oil reservoir from your good friends at The Art of Shaving. Get a comfortable shave and softer stubble, stylized facial hair, and a cleaner look all in one.
This bottle is expected to last you for well over a full year—take the investment in your style now, with the most underrated and proven-to-work item in your shaving arsenal. You can't afford to give a shoddy first impression; they're looking right at you, and they'll notice attention to detail. Cleaner shave, softer skin, a complete win.
Key Features:
Biggest bulk item on our list w/ bulk savings
Promotes razor  glide
Eliminates razor burn
Specification:
Brand

The Art of Shaving

Weight

10.1 ounces
Pre-Shave Oil Buying Guide & FAQ
Perhaps the most important component to your shave game, pre-shave oil acts as your secret weapon. It's simple to put a product in a bottle and tell people why it's good, but we always go one step above that—this is what you need to look out for in your pre-shave oil, and a few of your answered questions surrounding this necessary shaving arsenal product.

Q: What is Pre-Shave Oil?
A: It's the most important part of your shave, especially if you're one of the millions of men who suffer from sensitive skin. As the title suggests, you use it before you shave, and grab a few excellent benefits, which we'll get into in a moment.
Pre-shave oil is the secret weapon in your shaving arsenal. It's not the same thing as shave butter, which is a common misconception. It's the ally of sensitive skin; it provides comfort while shaving, and helps to reduce improper cuts. When you shave, you're essentially cutting-off facial hair without removing the root. Your pre-shave oil helps keep the hairs at attention (kind of like how foaming shaving cream does for men without sensitive skin), ensuring that you get an even cut across your entire face, reducing the red bumps of irritation and ingrown hairs from sprouting.
Q: Why do I Need Pre-Shave Oil?
A: Have you ever shaved, only to feel the familiar sting of razor burn, or waiting eight hours to see an ingrown hair forming? Yeah. We thought so. Here's why pre-shave oil rocks:
Reduces Irritation: For those of you with eczema or another skin condition that really makes your skin sensitive to just about everything under the sun, pre-shave oil can provide exceptional comfort while actually boosting your shave's precision.
Precision: There are plenty of other shave products that help with this, and while it's not the primary feature behind pre-shave oil, it does increase your shave's precision a bit.
Softer Hair: Even if you're going for the beard trimmer but still majestic mountain beard, you'll need some pre-shave oil to keep the hair soft, not coarse. Apart from that, you'll also see less frayed, split ends when you trim up certain patches.
Pre-Shave Oil Rarely Contains Chemicals
For the most part, they're all-natural products formed or organic compounds you find in nature. The main target audience of pre-shave oil is men (and women, if they suffer skin irritation) who need to tone down the harshness that's being applied to their skin. Psoriasis and eczema sufferers especially.
When you have skin irritation or conditions, chemical compounds are only going to mess with your skin that much more. In an effort to help your skin stave off irritation, they're unlikely to contain irritants.
Tips When Using Pre-Shave Oil
Don't over-oil. It's very easy to apply too much, and have it actually clog your pores. It's an essential tool to your shaving kit for men, but if you use it improperly (like anything else in the world), you'll run into issues.
Keep it in a cool area. The natural components to your pre-shave oil are going to be drastically effected by sunlight penetrating the exterior of the bottle, as well as hot and cold temperatures. You don't want it to separate, or not do its job properly.
Lather it up gently. Forcing it into your skin and applying too much pressure it going to command it to be absorbed by your pores; you still want some of it on the surface to actually aid in your shave and soften your facial hair, so be diligent about how you apply it.

Shaving Hacks to Stop Skin Irritation
Whether you're a wet shaver or dry, you'll be able to use these little hacks to seriously get the most out of your pre-shave oil application.
The longer you wait, the more your pre-shave oil works. Most bottles recommend 5-10 minutes before applying, but when you give it about 15-20, you get the most comfortable shave ever. As a disclaimer, waiting too long can nullify the effects or have it completely absorbed into the skin with no benefit during your shave.
Pre-shave oil helps you exfoliate. You've heard that term on a million Dove commercials in the past, but it's actually vital to your skin's health. Exfoliate (with pre-shave oil) before you hop in the shower. This is what cuts down on bacteria getting trapped in your pores, and essentially means you'll have a 90% chance of no bumps when you're done shaving.
Whatever you do, dry and cap your razor. If you use a four, five, or six-blade titanium razor, or anything that's better than dollar store ten-packs, you need to properly care for it. No amount of shave oil in the world is going to help if you're working with crummy equipment.
Never go over the same area twice. Men make the mistake of pulling the thing back and going over the same area; you're still running a razor across your skin, and it's going to irritate the hell out of it.