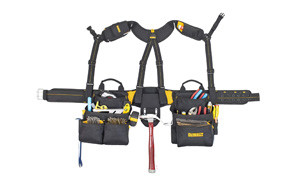 Dewalt 20-Pocket Pro Apron Tool Belt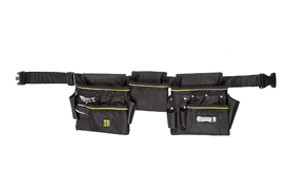 TR Industrial Multi-Function Tool Belt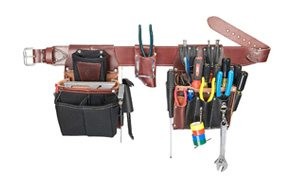 Occidental Leather LG Commercial Electrician's Set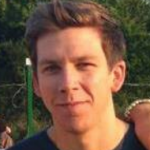 Your mechanical wingman, the carpenter's companion, the quintessential component to the engineer's ensemble: tool belts. They've been around for ages, but nobody ever talks about how in-depth they can be. We're about to break down the most intricate parts, and throw some hard science down on the table. From materials to waist size, brand to the build, there's always more than meets the eye. We're going to focus more on the function, and less on the flair of these ultra functional necessities. Designate a new spot in the shed or garage for your favorite pick from this list.
The Best Tool Belt
Tool Belt Buying Guide and FAQs
How We Chose Our Selection of Tools Belts
While others just see a tool belt, we see an opportunity to explore every crack, crevice, nook and cranny to find out what makes these powerhouse brands remain on top. We took a look at the following criteria to build our list:
Quality
Construction materials
Overall price
Customer reviews
Brand reputation
Warranty information
Ease of cleaning
Many of these brands have been in the consumer construction business for ages, and provide major tools, belts, and other necessities to a wide array of crafts and trades. It took a lot for us to whittle it down this much, and after sifting through the best of the best, we've also taken the time to carve-out everything you need to know about maintenance in the guide below.

Features to Look For In Tool Belts
Waist Size - This comes right on down to you, and how much the belt is designed for. Pay special attention to the measurements range: a minimum and maximum waist size, usually in inches, that will quickly dictate if it's the right belt for you.
Weight - This refers to the empty weight, because it's going to directly impact your carry weight. You're not carrying 20 lbs of tools; you're carrying 22 lbs between the tools and the belt. A little goes a long way. Leather weighs more than nylon; harness belts weigh more than waist belts.
Material - You'll run into leather, nylon, synthetic fiber, and in very rare cases, a bit of canvas. The first three are viable choices. If you care for it properly, no matter what material, this will last you forever.
Pockets - Amount, depth, and durability: the pockets are the reason you're grabbing this belt in the first place. Take into account the number, sizes, and what you'll be using this for. You already have a clear picture in your head. Now, you just have to apply it to your purchase.
Durability - This also relies on the material. To be totally honest, unless you're a complete novice and don't know how to load a tool belt properly, any belt you purchase will be durable enough to last a lifetime (with proper maintenance). These are designed to hold onto heavy, sharp, and otherwise fabric stress-inducing items. Time is nothing.
Design - There's two primary designs: harness, or waist. This comes down to preference, and in some cases, your work may require one or the other, very specifically. Harness belts are better used when working in elevated workspaces, while waist belts are universal.
Comfort - Just because you're lugging around a set of tools doesn't mean you should be uncomfortable during the process. Comfort comes in the form of padding (sometimes you have to buy it separate, so be on the lookout for this), harness strap thickness and durability, maximum weight hold on each pouch, and the different adjustment ranges so you can get a good, quality fit.

Why You Need a Tool Belt
You've either been asked by your boss, required to grab one by your foreman, or you're just sick of trekking all the way back to the garage ten times on a Sunday afternoon. It's all about mobility, and not having to make additional trips back and forth for tools, nails, or other small components. Maximize efficiency, get the task done faster, and be on to the next one.
Any good tool belt is also going to be interchangeable, giving you some control over how different compartments fit, and how the entire thing is designed. If you work in any trade or spend your weekends fixing up the house, helping mates, or anything in between that requires a steady hand and some know-how, you need a quality tool belt. Treat them right, and they'll last a lifetime.
How to Properly Wear a Tool Belt
There's usually two different tool belt types. Regardless of which material type, it all boils down to a couple of choices. You have an over-the-shoulder or harness strap, or one that fits around your waist. Key differences can be seen if you look at our #1 product on this list, and our #4 pick.
If you've got your eyes on a waist tool belt, you like a classic appeal with old-school function. We're right there with you. You already know how to wear a belt, so we're not going to hold your hand through it. You have to get a comfortable and accessible fit, while also ensuring that your pants aren't going to droop and sag (it's a chore trying to adjust them without taking the belt off).
For harness-style tool belts, they get a touch bit more complex. You have to take your height into consideration, and understand that you'll be putting a lot more weight on your shoulders. It can get fairly heavy, and you also have an entirely different setup going on than a standard waist belt. Look for padding and the adjustable range on your straps before purchasing, so you know how much leeway you have.
That covers each type, but what you really want to focus on is your setup before you take it up a ladder. Take these simple steps into consideration before you hike the rafters.
Place your most-used tools in a small radius, adjacent to your dominant hand. Take into account the specific job you're about to do: if you're a Jack-of-all-trades, then you'll want to take a look at the project, and plan accordingly before you ascend any elevated position.
Place less-used, but still vital tools on the side of your non-dominant hand. They'll still be accessible to you, and if a fellow worker needs one of those tools, you can simply tell them what side it's on, and they can grab it for themselves.
Carry the bare minimum when you're going up ladders. If you don't need it right now, don't bring it. It's easier to go down the ladder than have an overweight tool belt drop items below. This will also help with lower lumbar support in the future.
Buy a padded piece if your tool belt doesn't come with one. If you're up on the roof or out in the field all day, you're going to thank yourself for the extra bit of comfort when the weight of the world slides off your shoulders when that whistle blows.
How to Wash Your Tool Belt
Most tool belts are primarily made out of nylon, leather, or synthetic materials. We thought it best to cover all three separately, and include a short list of items that go well to cleaning and maintaining your tool belt for years to come.
Cleaning Your Leather Tool Belt
Leather is a sturdy material, even when you get under the skin. Start by removing all your tools, and inspecting the leather's current water resistance.
Leather is naturally oiled and has a waterproof feature about it. Splash a few specs of water on a specific area. If it beads up, then it's nice and protected. Now you can get to cleaning.
Once all is well, grab a damp face cloth, and wipe out the tool holsters. You'll be extracting sheetrock bits, sawdust, and anything else you encounter in your profession.
Hang it up to air dry, or use a simple paper towel to gently pat it dry. If your leather tool belt gets wet, do not, under any circumstances, use a hairdryer or any other heat source to dry it out. It can severely damage the structural makeup, causing it to crack, fade, and tear.
Seal and treat this up to two times per year, and you'll have your tool belt for the rest of your life.
Cleaning Your Nylon or Synthetic Fiber Tool Belt
Start by removing your tools, nails and anything else that might be hanging around. Kick on your vacuum cleaner, and use the narrowing tool to get in all the crevices. Even if it looks clean, you're going to run your vacuum hose over ever single spot on this tool belt.
Next, grab your bristle brush (if you don't have one, look in the next section for our personal recommendation). Apply a conservative amount of cleaner to the ends, trying hard not to let it drip to the handle or base of the bristles.
Gently rub circles into each spot in your tool belt. Nylon isn't very breathable, but it still manages to absorb dust and fibers over time. Whatever the vacuum didn't get out, the brush will. This process should last for four to seven minutes.
Hang it somewhere to get some air throughout it. You should have an easier time putting this on and taking it off. Over time, debris gathering inside of the material will impede upon the mobility. You'll want to do this once every six months or so.

Tool Belt Cleaning Add-Ons
Leather Honey - The ultimate all-in-one leather cleaner. It's primarily used for jackets, shoes and other leather apparel items, though it can be used on seats as well. If you have kiddos around, you'll be happy to know this is a non-toxic mix.
Leather Sealer - As we talked about in the cleaning guide, your leather will eventually lose that natural waterproof element. Using this helps revitalize the natural oils in the leather, and put a waterproof shield back where it belongs.
Soft Sole - Nylon cleaner to work with your nylon cleaning brush. These two items will work in sync, clean those difficult spots in between the fibers, and leave it feeling like the day you bought it: flawlessly new. This also works on synthetic materials.