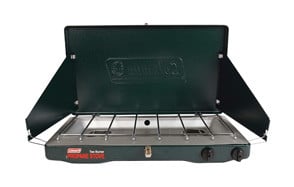 Coleman Gas Camping Stove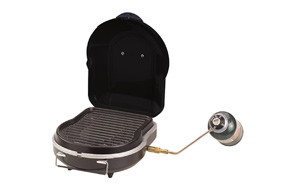 Coleman Fold N' Go Portable Grill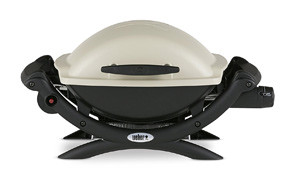 Weber Q1000 Liquid Propane Grill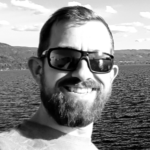 There's nothing quite like a steak or vegetable kebab under the stars, out on your own. Camping grills are basically your best friend while you're out in the wilderness. Cooking inconsistently over a campfire just won't do it for you – who could blame you? Camping grills offer an even cook, they're portable and easy to use. Heading out to the campsite this weekend? Let's get you grilling in no time.
The Best Camping Grill
Camping Grill Buying Guide & FAQ
Heading out into the great outdoors can be tricky without the right equipment. Take a look at the best categories and features to look out for in an excellent camping grill. We've been on the trail with numerous models (this is quite a fun job) and tested these all ourselves. Based on our experiences and those of other camping grill enthusiasts, these are the main components you should be looking out for.

Features to Look For in a Camping Grill
There's a few major components you need to look out for. These all have to do with how you use your grill, how long it's going to take you to finish cooking, and more. Not sure what's important in your selection? Check it out.
Cooking Surface - Usually dealt out in square inches, your cooking surface is going to determine how much you can cook at one time, and how much it's going to cost to keep the flames going. The more cooking surface you have, the more fuel you're going to need to keep the fire going. Smaller cooking surfaces are ideal for those planning no more than four in their party while they're camping.
Temperature Gauge - These are a hit or miss for some. When it's a small batch of food, you can generally keep your eye on it with little to no worry. Food items like sausage, hot dogs and burgers just take a keen eye to keep under wraps. Trying your hand at ribs or something more complex? You may need your temperature gauge.
Transportation - You need it to be portable, no questions asked. When you're loading and unloading the car, wheeling it to your campsite and more, you want maximum mobility for minimum fatigue. Look for all-terrain wheels or lightweight carry models.
Grill Tops/Plates - Want to ensure that your food comes out perfect? You may need a cooktop or cook plate addition with your unit to treat it like a skillet or griddle. If you're a newcomer to the outdoor grilling scene, this is going to come in handy for you.
Easiness to Clean - The last thing anyone wants is to buy something that's difficult to clean. Your camping grill has to look good, so that you can cook well. Of course, it's always best to have a scrub bristle brush for your grill as well, just to scrape off any caked-on grease or food after it cools down.
Ignition Button - Quick, easy no-flame ignitions are what most grills are sporting these days. They make the job quick and easy; these are a must.
Safety Tips When Using an Outdoor Grill
We're all aware that open flames are dangerous. We're going over some basic safety practices, and a few things you may not have thought of, to give you a well-rounded view on how to set up your camping grill, and what to look for when using it out on the trail.
Avoid using your grill within twelve feet of a hanging branch. The best way to judge this is by having your mate take a look at you standing beneath it, and doubling your height. If you're clear, grill away. A more decisive way would be to bring a tape measure along for the ride, or to simply set up shop far away from overhanging branches.
Stable footing. This may sound like child's play, but trust us - this is one little feature that often gets overlooked. When you set up your grill, you need to check the ground around it first. If you can, ensure it's as level as Mother Nature would allow, and stomp the topsoil into the ground with your feet. Clear away leaves and twigs, so there's no chance of a wild wind pulling your camping grill away. It's also helpful to avoid accidental tip-overs.
Keep the grill clean. Burgers and chops will taste better as a result, but that's not the main reason - remember that overhanging branch issue I told you about? That's generally only a concern when you have a dirty grill, and grease sends pillars of flame and smoke barreling into the sky. Keep the grill clean, and you'll avoid grease fires.
Keep the five minute rule close. If your gas grill goes out entirely, wait five minutes to reignite it. Gas pockets can form in the air and linger for a few minutes, and a quick ignition can ignite the gas around you. It's best practice to just hold off if your grill suddenly goes out.
Keep the grill area as an off-limits zone, even after the fire's gone out and the food's been eaten. For at least an hour after use, most grills will stay hot enough to start a brush fire if they get tipped over. Treat it as if the flame is live, and you'll have nothing to worry about. It keeps everyone on their toes around the grill.
Lastly, always, always be prepared to put out a fire at a moment's notice. Keep your extinguisher around 5-6 feet away from the grill, and be sure that it's visible. If you head off to use the loo in the woods, you don't want your friends digging through every bag, only to not find the fire extinguisher in case of an emergency.
Okay, now that we're through all the safety tips, we can get the flames going.

Camping Grill FAQ
Q: What's the Difference Between a Camping Grill and a Camping Stove?
A: Think of an old gas range. There's a burner, and a controlled flame - that's what a camping stove is. It resembles a regular, traditional stove like you'd find in anyone's house. Camping grills are just smaller versions of large backyard grills, where you're using either gas (different way it's distributed than a burner) or charcoal to cook your food.
Q: How to Properly Grill Outdoors
A: Believe it or not, some folks just don't know how to grill outdoors. If you're new to the world of grilling on the campsite, don't you worry about a thing (because it was our writer's first time doing it, too). Follow these steps and you'll be safely grilling up a storm.
Inspect the Grill
Unless you're using it right out of the package on its first go, you'll need to inspect the grill. For charcoal, you should ensure all the ash is swept away. For gas, make sure you have a full tank, and inspect the line for leaks (a lot can happen when you stow it away).
Ignite the Night
Charcoal or gas, you need to heat up your grill for 10 minutes. Avoid using lighter fluid on charcoal grills - it makes the food taste like chemicals. Your components need ten minutes to heat up so you'll actually cook your food instead of staring at it, and to avoid light-outs (when your gas grill flame inexplicably goes out and you have to wait five minutes to reignite it).
The Cooking Process
Alright, ready for a slew of tips and tricks? You've inspected, prepped, and lit the grill - now let's get ready to actually cook some food.
Only flip your meats (ideally) one single time during the entire process. You place them on the grill on one side, await until it's properly cooked, and flip it, then wait some more. This gives you consistent color on both sides.
Get the same flavor and effects as a professional smoker by taking non-treated wood chips, soaking them in water for 15 minutes, and applying them to the basin (charcoal grills only). If your camping grill comes with a smoker, this is where you would use the chips.
Keep your meats moist or keep the marinade on them by wrapping them entirely in tin foil. This also avoids your sugar-rich marinades and/or sauces from caramelizing when you don't want them to. Direct flame contact will practically candy your meats (if this is your intention, rock on).
Q: How to Keep Food Fresh Outdoors
A: The number one way to go about keeping your catches fresh, or your from-home food nice and beautiful is by using a cooler. We're past the days of salting meats and curing foods; use a cooler, and keep your food fresher for longer. Our top cooler for this particular task is able to keep your food and beverages cold for up to 72 hours - more than enough time to cook and enjoy your perishables out on the camping trail.
Q: What Accessories Should I Bring for my Camping Grill?
A: Glad you asked. There's five basic things that you should never be without. These give you the opportunity to be forever at-the-ready, so nothing sneaks up on  you. Avoid all those, "Dammit!" moments by packing the following:
This six-piece set includes everything you need, whether it's a one-man show or a ten-person feast, you'll be ready to go. It includes a spatula, barbeque brush, and other tools that you'll find invaluable. There's even a bonus with this purchase: a miniature charcoal grill, perfect for firing up for a single medium-sized saucepan when you're cooking sides.
Laying out the dishes in an orderly fashion? Take it buffet style and serve up the dishes as they come off the grill, allowing your mates to just grab and go. This folds up real small and pops up to provide a bunch of surface area. Comes with a nice carrying case to avoid damages.
While it's never the most fun subject to talk about, these gloves give you optimal safety when you're working around roaring flames. These are usually used with parties larger than four (high volume cooking) and provide an alternative to using a spatula when you don't know if the flames are going to touch you or not.
Where are you going to stick the steak and burger buns? Right. Here. Coleman (who else?) makes this killer kit with cutlery and dishware that's intended to be used outside. Super durable, super easy to clean, and ready to use whenever.
Look, nobody wants to pack up a dirty grill, greasy utensils, and filthy plates when they're leaving. This wash basin allows you to clear everything before you leave, so you return home the same way you left.
Q: Can I Use a Camping Grill on my Apartment Terrace?
A: Most apartments (in the United States) have extremely strict guidelines regarding having anything on your patio, porch, terrace, or whatever they want to call it. In some cases, you can't even have children's toys out there on the balcony.
With grilling, they don't want to see them sitting outside. They feel that it gives a "trashy" appearance. When it comes to safety, there's something to consider, and it's where their validation comes into play. Rising black smoke from your camping grill could be affecting your neighbors on the patio above, or trapping heat/smoke to give the appearance of a fire. Even if you live on the top floor, a camping grill isn't going to suffice. For that, you need an electric or infrared grill (and then they really can't say anything about it).
Our Top Pick
The Smoke Hollow 205 was our editor's personal favorite. Here's what he had to say:
"It's basically like cooking at home. You feel like you're using a regular grill in your backyard, so the comfortability is key. [The grill] happens to be one of the easiest to use."
Sources
A Beginner's Guide to the Barbeque, Start Cooking official website
Outdoor Grilling Tips & Tricks, Broke Ass Gourmet