Best Men's Waist Trainers in 2022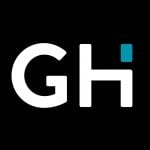 This product guide was written by GearHungry Staff
Last Updated
November 13, 2020
GearHungry Staff
GearHungry Staff posts are a compilation of work by various members of our editorial team. We update old articles regularly to provide you the most current information. You can learn more about our staff
here
.
GearHungry may earn a small commission from affiliate links in this article.
Learn more
Waist trainers date back to the 1600s and were commonly used by women to attain a fashionable hourglass figure. Today, they've become quite the masculine workout accessory, with the best men's waist trainers being used to trim stomach and back fat. In fact, there's hardly a gym bunny out there that doesn't sport this flab-reducing, muscle-toning, and body-shaping gear.
Our focus is on curating a list of men's waist trainers designed for ultimate comfort, support, and effectiveness in this buyer's guide. We've scoured the net for consumer reviews, and we have studied an array of designs to narrow down options to what we deem as "the best of the best." Here goes:
The Best Men's Waist Trainer
Sports Research Sweet Sweat Premium Men's Waist Trainer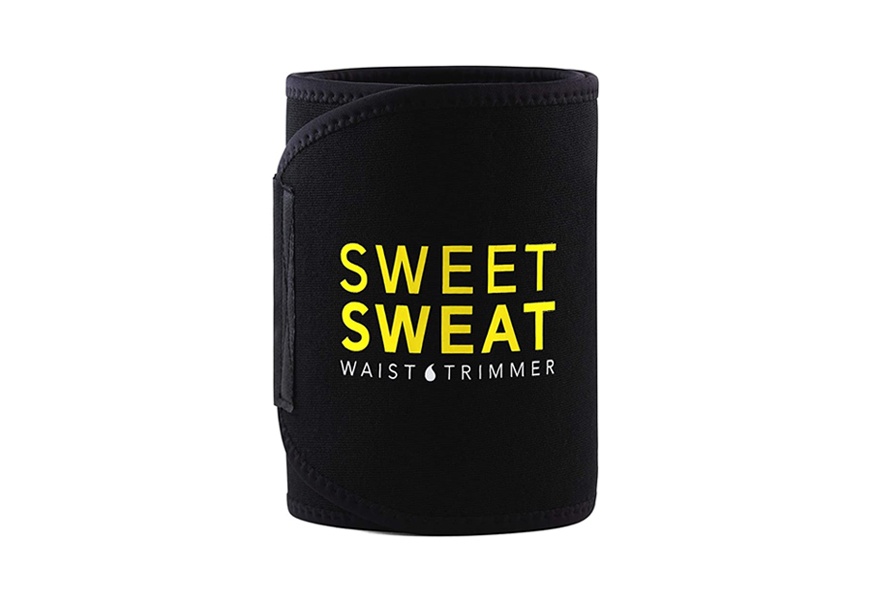 Living up to its namesake, the Sweet Sweat waist trimmer by Sports Research has been "shweetly" designed to enhance your workout. Made from 100% latex-free neoprene, the belt firmly hugs your core to increase body temperature and encourage perspiration. The result is an amplified workout that will help you to burn fat faster.
The Sports Research Sweet Sweat Premium Waist Trimmer relies on a Velcro closure for a snug fit for all body shapes and sizes. It also boasts a grid inner lining to prevent it from slipping – which means that you won't have to keep pulling it up during an intense training session. The cherry on top – this waist trainer for men comes with an unarguable price tag, meaning it's outstanding value for money. If lifting weights is your activity of choice, make sure to choose a reliable weightlifting belt, too.
Key Features:
Naturally flexible for all body shapes and sizes
Made from latex-free neoprene to increase sweating
Grid inner lining to prevent slippage
Double Velcro closure and adjustment strip
Durable stitching
Can be machine-washed on a gentle setting
Includes a breathable carry bag
Specification:
Brand

Sports Research

Weight

8.78 Ounces
Sports Research Sweet Sweat Pro Series Men's Waist Trainer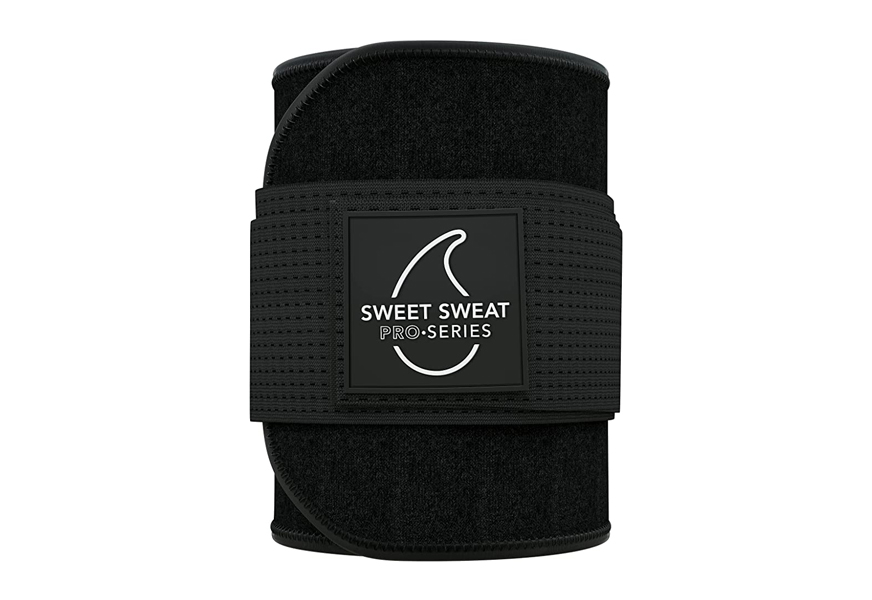 Sitting at the higher end of the price range, we have Sports Research Sweet Sweat Pro Series Waist Trainer. This model is superiorly comfortable and cushions, compresses, and supports your core to help reduce muscle soreness and fatigue. As a result, you'll not only trim your belly fat, but you'll also relieve the aches and pains that come with an intense workout, just like these muscle stimulators.
The Sweet Sweat Pro Series design works in conjunction with the brand's gel to ultimately amplify body heat and stimulate water loss (sweat) whilst exercising. The training accessory is made from thermal 100% latex-free neoprene and boasts a contoured design that fits most body shapes. A fully adjustable Velcro closure encourages an optimal fit on waists less than 42 inches. To end – it's worth every penny!
Key Features:
Double Velcro adjustments for extra support
Made from durable 100% neoprene
Non-slip moisture-repellent surface
Fits waists up to 42-inches
Durable overlocked stitching
Machin-washable on a gentle setting
Can be used with Sweet Sweat Gel
Specification:
Brand

Sports Research

Weight

11.22 Ounces
Wonderience Neoprene Men's Waist Trainer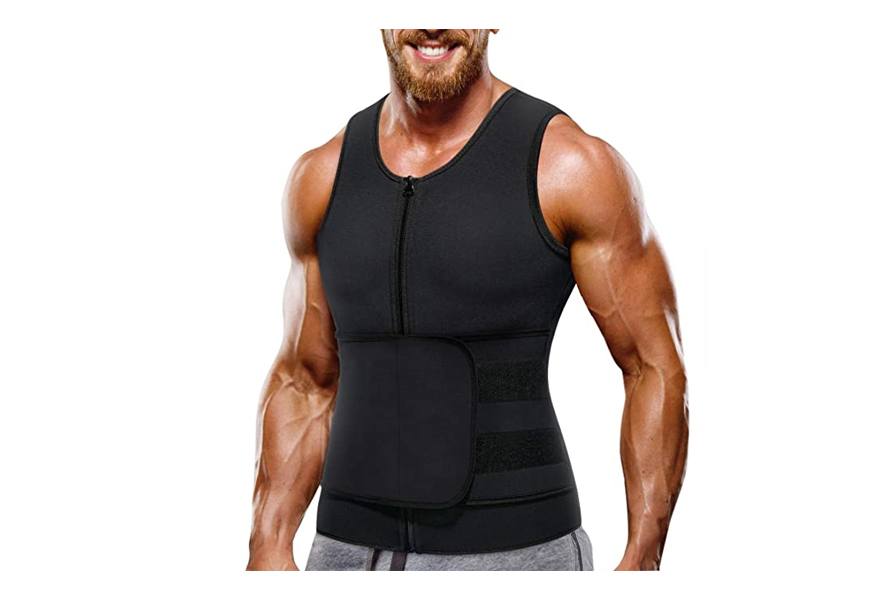 Made with a blend of neoprene and polyester synthetic materials, Wonderience brings to you a vest waist trainer for men that hugs your body to support your torso and chest. Designed to mimic a regular vest, this sauna suit for men amplifies thermal activity around the abdomen during exercise for increased weight loss. Wonderience Neoprene Men's Waist Trainer also doubles as a thermal cover to wear under your workout shirt when it's cold – or, it can be worn to give you an instantly shapelier look.
The vest itself is easy to put on and closes in the front with a zipper. Then, there's an added belt-like piece that sits around your abdomen which can be adjusted using the Velcro attachment. It's this Velcro belt that focuses on your stomach by flattening it and increasing perspiration during training to burn fat faster.
Key Features:
Breathable neoprene and polyester blend
Easy to put on and take off
Corrects posture and increases fat burning
Zip and Velcro adjustments
Can be discreetly worn under a shirt
Thermal fabric to help you keep warm
Can be hand-washed
Specification:
Brand

Wonderience

Weight

10.41 Ounces
Eleady Men's Compression Shirt Waist Trainer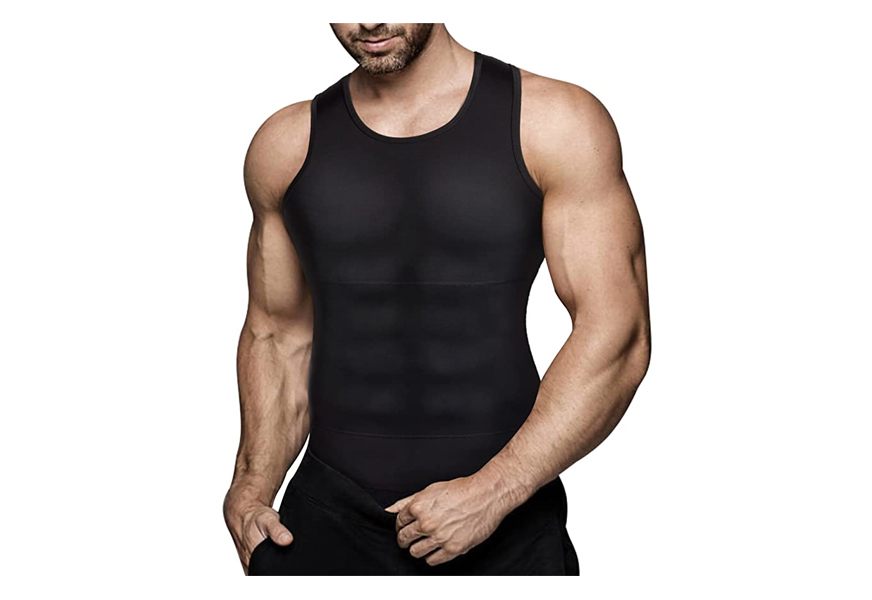 If you want a waist trainer that you can slip into without having to fidget with opening and closing mechanisms, then the compression shirt by Eleady is a good choice. It's made with a blend of Rayon and Spandex for a soft feel against your skin while added elastic gives you the abdominal support you need during a workout.
What we also liked about this Eleady Men's Compression Shirt Waist Trainer design is that it's very lightweight and can be worn under your workout clothes without discomfort. This means that you can tuck those love handles (and man boobs) away for an instantly slimmer appearance. As for durability and care, the brand assures us that this garment can be popped into a warm wash and won't easily be prone to wear and tear.
Key Features:
A quality compression muscle tank top
Made from breathable and soft materials
Designed to stimulate muscle toning
Instantly shapes your body
Available in sizes small to XXXXL
Can be machine washed
Durable enough for extreme workouts
Specification:
Brand

Eleady

Model

EleadyUS-AD60259813XL-B72-FXIA

Weight

9.45 Ounces
AG ActiveGear Men's Waist Trainer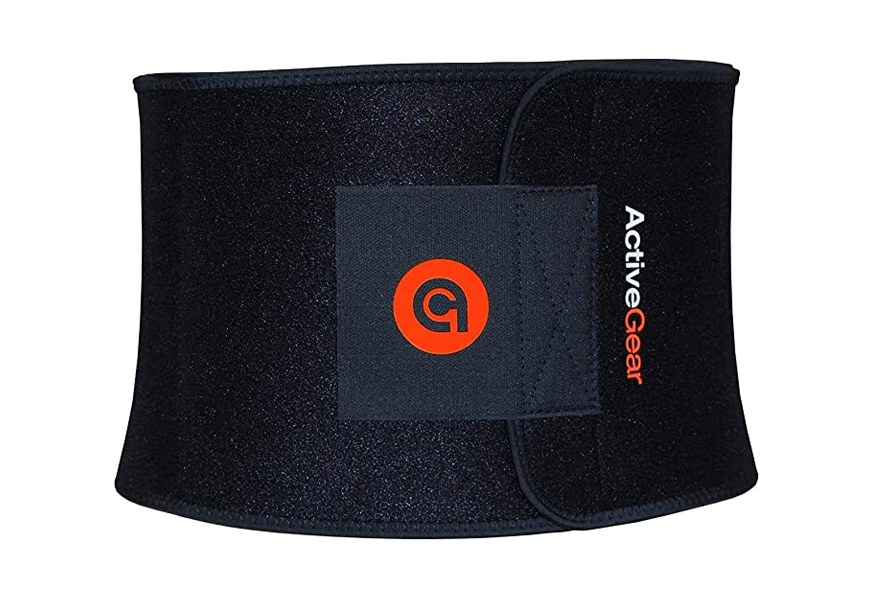 The AG ActiveGear Men's Waist Trainer belt has been uniquely designed to fit both men and women. Its ultimate purpose is to support the abdomen and lower back muscles while training, thus helping to reduce injuries. It does, however, also feature all the added properties needed to encourage perspiration for increased weight loss.
As a quality waist belt, this ActivGear model gives more coverage around the abdominal area when compared with similar waist training products. This means it produces an optimal contour fit and more support overall. It can be adjusted using the Velcro strap and, once it's on, an anti-slip inner lining ensures that it sits securely in place. Made from 100% latex-free neoprene, this is a suitable option if you are allergic to latex. To take even better care of your joints and muscles, make sure to also use a quality kinesiology tape during your workout sessions.
Key Features:
A unisex waist slimming belt
Retains optimal body temperature
Fits up to 48-inch waist
100% latex-free design
Moisture-repelling material
Supports muscles and posture
Anti-slip flex design
Specification:
Brand

AG ACTIVEGEAR

Model

AG-1-WT-MED-BL

Weight

7.84 Ounces
Wonderience Neoprene Waist Trainer Vest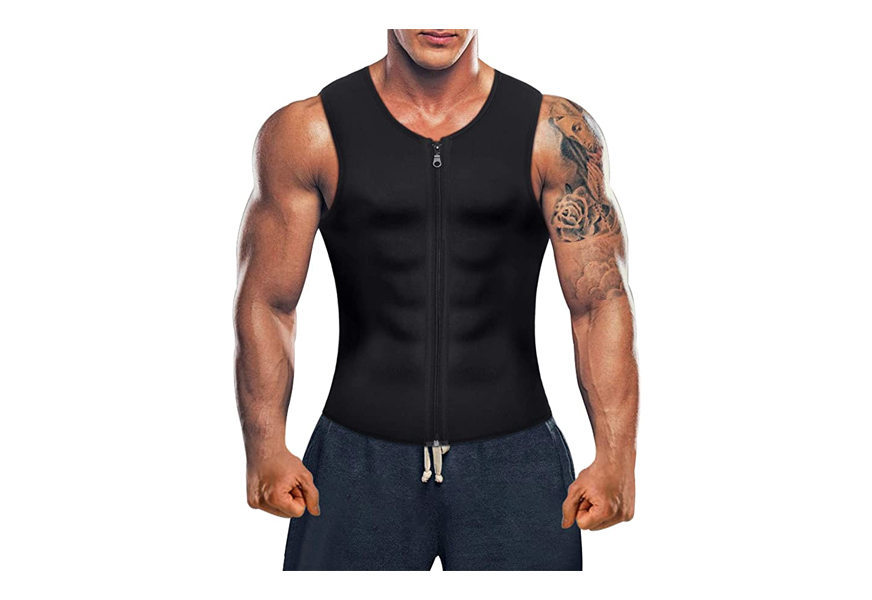 If you don' want a belt hovering around your abdomen but you still want to tuck in flabby bits, then this Wonderience Neoprene Waist Trainer Vest is an option. It's superiorly light in weight and secures in the front with a zip – making it easy to put on and take off again. Because of its soft and light construction, this is another men's waist trainer that will fit snugly under a shirt or even your best business suit.
Claiming to increase perspiration by 3 times, Wonderience markets this waist trainer as a "sauna suit". This is because it uses thermal materials that keep heat in, much like a sauna trap in hot, damp heat. Hitting shelves with a slightly steeper price tag, this is a higher-end men's training vest that offers support in all the right places while remaining blissfully comfortable. For more comfortable and practical workout essentials, browse our list of the best workout underwear for men.
Key Features:
100% Neoprene inner and 100% Polyester outer
Encourages 3 times more sweat than normal
Smooth front zipping closure
Can be worn comfortably under clothes
Offers abdominal and spinal support
Maximises fat loss
Can be hand-washed
Specification:
Brand

Wonderience

Weight

11.99 Ounces
GKVK Mens Slimming Body Shaper Vest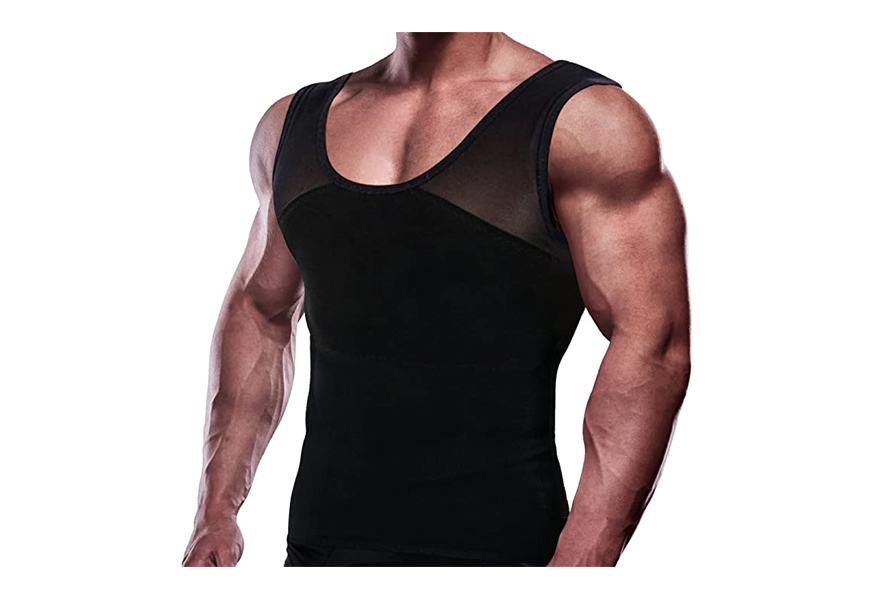 This GKVK Men's Slimming Body Shaper Vest is a new generation body shaper for men. However, it not only shapes your abdomen and waist for a slimmer look but also trains your body to achieve long-term weight loss goals. Made from a blend of 80% nylon and 20% spandex, this is the best waist trainer that can be worn all day long without making you feel uncomfortable or restricted.
In addition, you'll also enjoy how this tank-top trainer breathes. It works extremely well at retaining heat without making you feel itchy or wet – which means that you'll be able to wear it for longer for optimal results. Modestly priced, this body-molding vest gets our thumbs up for its quality design and promise of durability.
Key Features:
Premium men's waist trainer vest
Flattens abs instantly
Quality nylon and spandex blend
Fits sizes small to XXXL
Breathable and comfortable
Shoulder mesh material for easy dressing
Gynecomastia compression shirt
Specification:
Brand

GKVK

Weight

3.21 Ounces
TAILONG Men's Waist Trainer Belt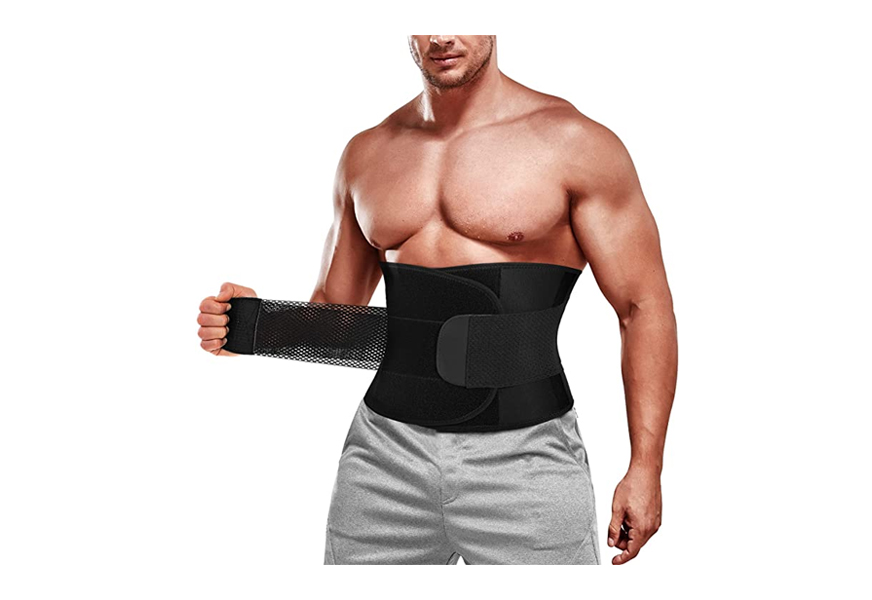 This TAILONG Men's Waist Trainer Belt uses 9 steel bones to ultimately support your abdominal and lower back muscles while creating a toning effect. The inclusion of these bones doesn't make this training belt the most comfortable choice, but it does make it one that shapes your body for superior results.
Focusing on this design from a weight loss point of view, you'll appreciate it for its ability to boost body temperature to ramp up perspiration and burn calories. Keep in mind, however, that because it's a bit on the bulky side, it's not a belt that you can easily wear under your clothes. Instead, this model is the perfect companion for a hardcore gym session, or an hour on your home gym equipment.
Key Features:
Weight loss enhancing belt
Made from quality neoprene
3 adjustable hooks for controlled compression
9 steel bones for abdominal and back support
Stays in place without shifting
An ultimately durable design
Can be hand washed
Specification:
Brand

TAILONG

Model

TAILONG-AA102098300S-Q91-FYJ2

Weight

8.78 Ounces
TOAOLZ Men's Waist Trainer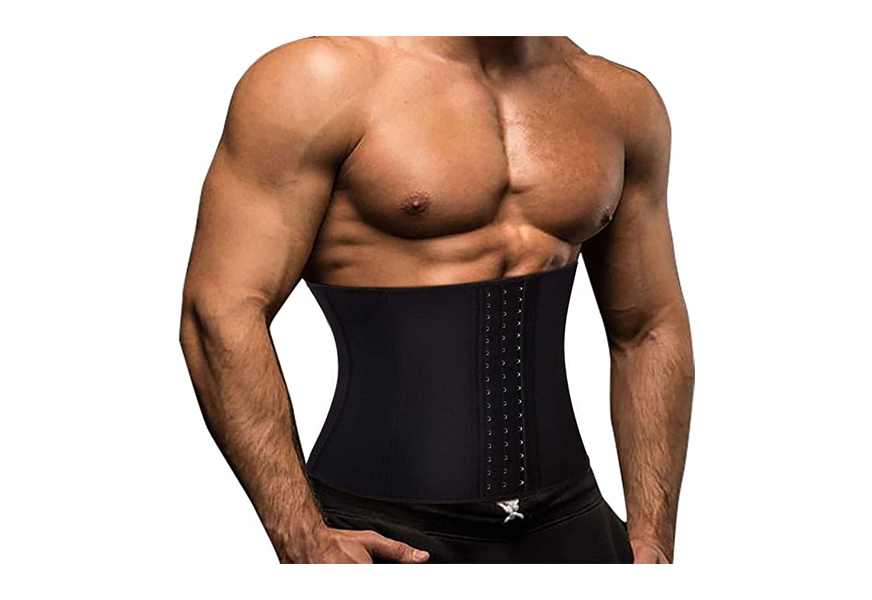 While this men's waist trainer is one that looks a little feminine, its muscle toning effects will leave you feeling ripped and ultimately masculine. Designed by the reputable company TOAOLZ and as a 2-in-1 gym accessory and body-shaper, you can expect nothing less than high-end quality at a price that isn't hard to swallow.
This TOAOLZ Men's Waist Trainer has 9 steel bones that provide optimal brace support for your core. The multiple hook closures then work to secure the garment in place for the best compression results to help reduce workout injuries and enhance perspiration. Made from neoprene with built-in sauna properties, we like this model for its superior securing mechanism, its soft comfortable fit, and its ability to increase sweat by three times. If you are a runner and already have the best waist trainer, make sure to choose any of these top running belts from our list.
Key Features:
Made from premium neoprene material
Includes 9 steel bones for core support
Adjustable hooks for compression control
Durable and stretchable fabric
A shapely corset design
Helps to relieve back pain
Increases sweat by 3 x the usual amount
Specification:
Brand

TOAOLZ

Weight

10.41 Ounces
Mcdavid Men's Waist Trainer Belt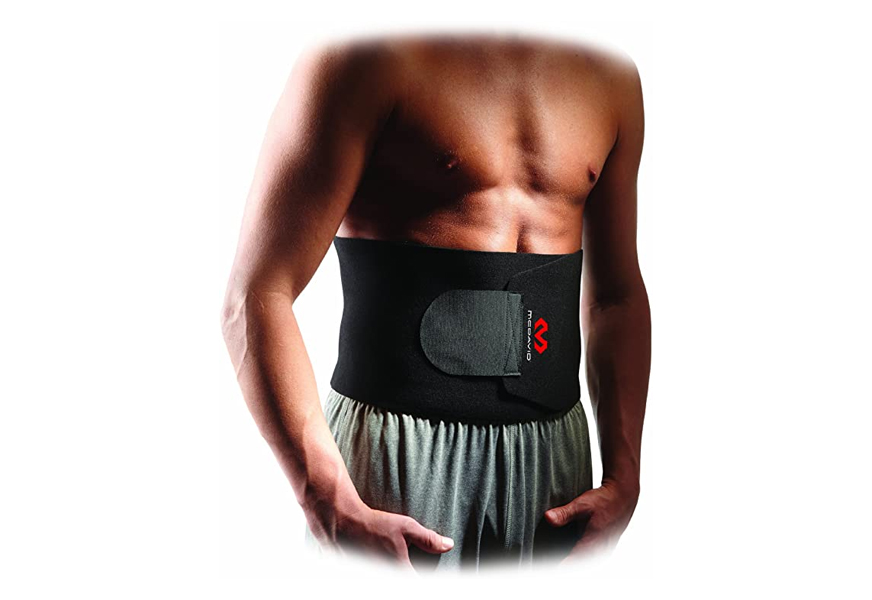 If you're shopping on a budget but don't want to skimp on quality and want to get the best waist trainer for the money, then the Mcdavid Men's Waist Trainer Belt is a great choice. With this workout accessory, you can enhance your gym sessions and reach your goal of a flatter, toned stomach. And the best is that you can do it all while feeling perfectly comfortable in this lightweight body-moulding design.
Modestly priced, this model may not be deemed a high-end product, but it's good enough if you want to dip your toes into the waist-training experience before spending more money. It's also conveniently latex-free and breathes extremely well. To summarise, it cushions and compresses all the right places and fastens securely using Velcro for a secure fit. To make your session even more effective, put on one of these quality training masks from our list.
Key Features:
Uses therapeutic heat
A lightweight soft design
Made from latex-free neoprene
Durable Velcro fastener
One size fits most
Increases muscle productivity
Non-slip inner layer
Men's Waist Trainer Buying Guide & FAQ
Features to Look for in Men's Waist Trainers
To prevent buyer's remorse, we advise you to make your purchase while keeping the following considerations in mind:
Material - The types of materials used to create a waist trainer are very important. They need to provide the perfect combination of flexibility, breathability, and firm support so that they are comfortable to wear without compromising their purpose – i.e. to shape your body. If the fabrics are durable and can be machine washed, then all the better!
Keeping the above factors in mind, the best materials for men's waist belts or vests are blends of cotton, nylon or other flexible components.
Comfort - Apart from choosing a design that's made from flexible, supportive, and well-aerated fabrics, it's important that you size your waist trainer accurately for a comfortable fit. You're not going to have a pleasant time if your purchase is too big or too small. At the same time, check to make sure that there are not going to be any uncomfortable protrusions (such as knobbly stitches or Velcro attachments) that are going to dig into your skin.
Durability - To make sure you get your money's worth, then durability is key. Check waist belts for their fabric quality and pay attention to detail when it comes to stitching and connections. A good waist belt should be able to endure the toughest of workouts and shouldn't be susceptible to wear and tear.
Fit - Men's waist trainers come in all shapes and sizes. For a comfortable fit and effective weight-loss and muscle-toning assistance, it's very important that you find the perfect fit.
As with most forms of clothes, many waist belts and vests are sold with their specific sizes stipulated on their packaging or tags. This means that you can ask a professional to help you with your correct measurements for a comparison – or, you can go old school and try the belts on until you find one that fits perfectly.
Adjustability - Since the point of a waist belt is to help you to lose belly fat and tone your core muscles, it makes sense that it should be able to adjust (be made smaller) as you lose weight. That's why the best waist trainers for men include options to adjust the tightness of the accessory.
Hook adjustments offer the most secure support but can be tedious to operate. On the other hand, Velcro adjustments are easy to position but may not be able to hold your fit as securely.
Body Shape - A man's body size and shape characteristics should be taken into consideration when buying a waist trainer. You are either small in build, tall, plus size, or full bust. To leverage the benefits of waist vests and trainers, you need to choose a size that accurately matches your body's characteristics.
Ease of Cleaning - Waist trainers sit close to your body and can absorb an excessive amount of sweat and dirt. This means that they need to be washed frequently. Check the labels for washing instructions and give preference to those that can be machine-washed.
Men's Waist Trainer FAQ
Q: What is a men's waist trainer?
A: Waist trainers for men have been designed to enhance the results of a workout, with the focus being on the body' core. They have been constructed using special materials that help to stimulate thermal activity to increase the amount of natural sweat the body produces.  This increase in sweat helps you to lose belly fat faster while abs are toned more effectively.
In short, waist trainers for men are workout accessories that help with:
Abdominal training
Enhanced weightlifting
Faster burning of calories
Core training
An increased metabolic rate
To add, waist trainers are also often worn for their ability to reduce the onset of injuries during a workout. This is because their clever design and special materials hug a man's waist to provide abdominal and lower back muscle support.
Q: Do waist trainers really work for guys?
A: If you use a quality waist trainer that has specifically been designed for a male's body and form, then you will see and feel notable results after weeks of continuous use. However, not everyone's body is the same and the extent of these results may differ considerably. Also, if you're wearing the waist binder to tone muscle, it's important that you do core-focused exercises in conjunction with wearing the training belt/vest.
Q: Does a waist trainer reduce love handles?
A: If a waist trainer forms part of a healthy diet and a regular exercise regimen, then it can assist in the reduction of love handles. The effectiveness of a waist trainer can, however, differ from person to person and depends largely on body-type and frequency of use. And, the more of a sweat you build up during a workout, the more calories you'll burn, reducing the amount of extra fat that sits around your waist.
Q: Can you lose belly fat with a waist trainer?
A: A waist trainer on its own is not going to magically melt away belly fat. However, if you use one in conjunction with a healthy low fat or low carb diet and regular exercise, then it is an accessory that can be used to help speed up the weight loss process. Keep in mind that there is no scientific evidence that proves that waist trainers do work – although, there are many celebrities who swear by the accessory's effective results.
Source:
How to Wear a Waist Trainer - WikiHow
Sign Up Now
GET THE VERY BEST OF GEARHUNGRY STRAIGHT TO YOUR INBOX