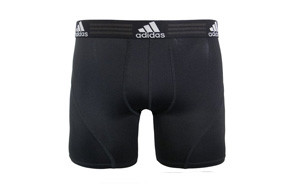 Adidas Men's Sport Workout Underwear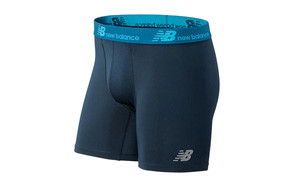 New Balance Men's Dry Fresh Workout Briefs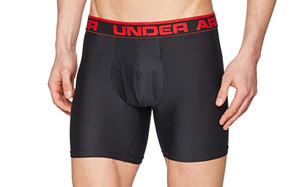 Under Armour The Original 6'' Boxerjock Briefs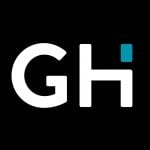 There are a lot of things you need to be mindful of when you're working out including your form, your heart rate, hydration levels, time between reps and, if you're running outdoors, the traffic, weather conditions, road conditions and more. The last thing you want to be thinking about is whether your underwear is creating a vibrant bacterial pool in your crotch. Instead, you want to be dry, safe, comfortable and in control. That's what workout underwear is for and below we present the 10 best.
The Best Workout Underwear For Men
Workout Underwear Buyer's Guide
Things to Consider When Choosing Workout Underwear:
Material - Athletic underwear is made using a variety of fabrics but all are intended to serve the primary masters of this type of garment: flexibility, breathability and durability. As such you almost always wind up with something like a polyester/spandex or nylon/spandex or polyester/elastane mix. This ensures the garment adapts to your particular physiology while also providing the necessary freedom of movement and breathability. Some manufacturers treat their fabric with antimicrobial agents that keep the environment hygienic and odor free. While others go heavier on the spandex or elastane in order to provide crossfitters and the like that extra bit of stretch they need. What you'll almost never find in workout underwear is cotton.
Size - Obviously you're going to want underwear that is snug but not binding. The last thing you want is to feel your exercise underwear pinching your boys when you're running on the treadmill in a crowded gym. Or maybe it is what you want. But it's not what most guys want. So, snug all around to keep everything firmly in place, but not so tight that you'll need a fertility clinic when you're done.
Length - As a general rule (which of course means there are some exceptions) dudes with big legs prefer a longer cut because this type of undergarment isn't as prone to riding up. Longer workout underwear also tends to improve circulation which is important for bike riders and to help focus your energy, which weight lifters appreciate.
Comfort - Comfort is the result of fit, fabric, length, moisture wicking properties and more. If your workout underwear feels nice when you first put it on but traps your sweat and rides up on you like nobody's business it's not much good. The most comfortable active underwear is that which meets all your practical and functional requirements.
Design - All the top garment companies today employ world class designers so there's little danger you're going to wind up with performance underwear that looks bad. The only question is whether the cut is right for you, if the pouch keeps dry and safe and under control and if aspects of the design such as the waistband dig into your obliques or sartorius or other muscles of the waist or hip area.
Moisture-wicking properties - Unless you like swimming in sweat while you run or lift or otherwise workout you're going to want to be sure to select workout underwear that effectively wicks away moisture. Most all of the polyester/nylon/spandex/elastane blends do an admirable job of eliminating moisture so this is rarely an issue. Silk and wool are good examples of natural fabrics that wick moisture away effective but which aren't particularly good for workout underwear.
Odor-control technology - Athletic underwear that isn't breathable and doesn't vent heat and moisture lays the foundation for gnarly odors and a nice case of crotch rot. Fortunately most workout underwear today does a great job handling moisture, but even so some manufacturers have begun treating their fabrics with antimicrobial agents that kill bacteria before it has a chance to multiple and fester.
Durability - All of the above profiled exercise underwear is going to hold up to regular use and abuse. The materials are engineered for long term durability and the inclusion of spandex and elastane et al means they are built to be stretched and pulled in every direction. You rarely have to worry about the fabric itself failing. You will have to make sure the stitching is first rate however. Because if it's not any failure of the garment is likely to occur in the seams.

Workout Underwear FAQ
Q: What Is Workout Underwear and Why Do You Need It?
A: As the physical fitness movement took hold in the second half of the 20th century it became quickly apparent that standard cotton briefs or boxers just weren't going to cut it in the gym. Men needed a way to minimize the negative effects of sweat while staying cool and obtaining support in the crotch so that their stuff wasn't getting in the way of the business at hand. The jockstrap, which had been standard issue for athletes for decades, was simply no longer enough. A more comprehensive solution was needed. Enter workout underwear.
Workout underwear addressed the major concerns of men when it came to strenuous physical activity: keeping dry, keeping cool and protecting the family jewels. But there were other things to think about as well. Snug fitting sports underwear was/is great for promoting circulation and control but if the seams are located in the wrong place they could cause chafing and rashes and promote crotch rot. Also, plenty of guys had issues with tags in the underwear which weren't so good a wicking away moisture and often turned into sweaty, irritating pads rubbing incessantly against the lower back. Hence most modern workout underwear is sans-tag.