Heavyweights: The Best Weightlifting Belts of 2022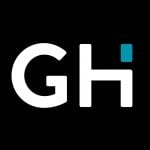 This product guide was written by GearHungry Staff
Last Updated
October 19, 2021
GearHungry Staff
GearHungry Staff posts are a compilation of work by various members of our editorial team. We update old articles regularly to provide you the most current information. You can learn more about our staff
here
.
GearHungry may earn a small commission from affiliate links in this article.
Learn more
If you're trying to get every last ounce of result out of your workout, good weightlifting belts are essential.  Whether you're at home or the Gym. A solid weightlifting belt helps you keep your core tight during heavy lifts and gives you resistance as you brace. The best weightlifting belts are the great bridge between you and your goals. Champion weightlifters use weightlifting belts, competitive athletes use them, and they're great for people who want to add extra oomph into their regular workout regimen. If you're looking to raise up your personal records, it's time to check out the best weightlifting belts on the market. We did the work, lifted the weight, and tested out a number of weightlifting belts to help you find the best one to help you get your gains.
The Best Weightlifting Belt
Gym Reapers 10mm Lever Weightlifting Belt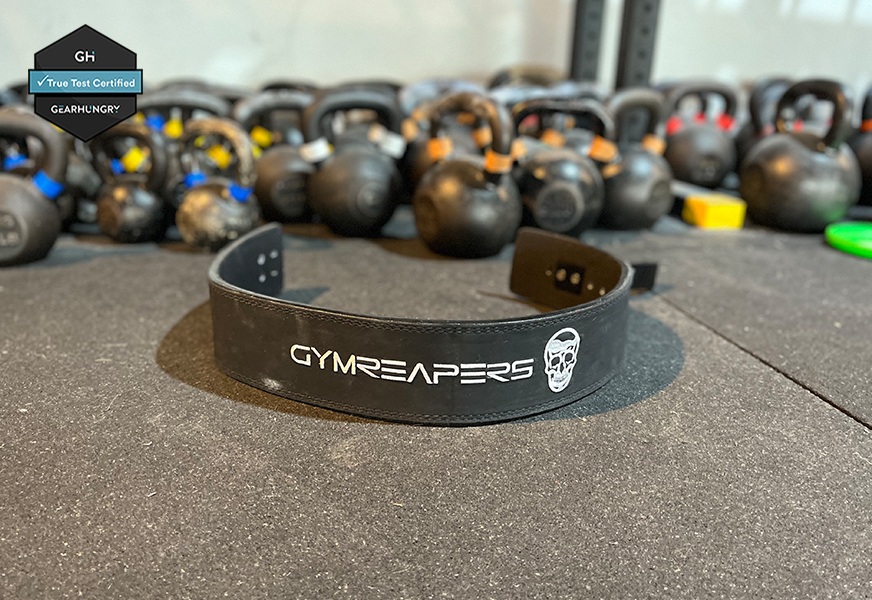 Choosing the best weightlifting belt comes down to a lot of personal preference, but you'd be hard-pressed to find someone who wouldn't like Gym Reapers' 10mm Lever Belt. This leather belt blends support and pliability better than any other belt we've tested. We've tested the belt on deadlifts up to 600 lbs and squats just under 500, and the support has been phenomenal. Double stitching adds durability, while the smooth edges minimize any uncomfortable digging into the skin.
The lever option can be controversial, as it requires a screwdriver to adjust the size. But a lever is very convenient for ensuring a tight fit without any cinching down, and it's much less likely to pop open during a heavy lift than velcro. In fact, we've tested it for months without the belt popping open once.
Leather belts tend to crack over time, but after our lengthy testing period, not only has the belt performed flawlessly, it also still looks like new. While it's one of the priciest ones on this list, we've found that it's well worth the investment, and then some.
In addition to a lifting belt, you may also like these quality waist trainers from our list. Take a moment to check them out.
Key Features:
Made of genuine leather with smooth edges and double stitching
USPA competition approved
Durable lever buckle attachment
Specification:
Brand

Gym Reapers

Weight

1.9 Pounds
Harbinger 5-inch Weightlifting Belt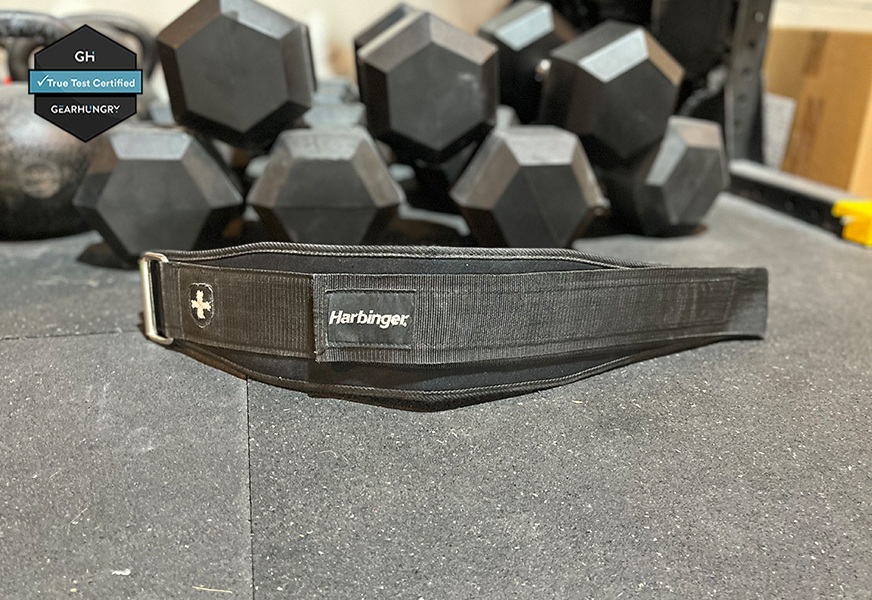 CrossFit entails a variety of movements, and the best weightlifting belt for CrossFit has to be able to provide support in all of them. We're huge fans of Harbinger's 5-inch Weightlifting Belt for CrossFit for its light weight, quick adjustment, and its ability to be comfortably worn during just about any movement you can imagine. This minimalistic lifting belt is sports slight padding, an adjustable strap for plenty of versatility, and surprisingly strong velcro for holding fast during heavy olympic lifts.
I've had this belt for over five years and it's been useful in competition and during daily workouts. It's been solid on oly lifts, powerliftings, and traditional weightlifting as well. I love the solid velcro, which has allowed me to crank down for heavy power cleans, then loosen up as I transition to box jumps or burpees. The low profile allows it to be worn under the shirt if that's you're thing, and it makes it easy to fold up for travel. If you are up for an additional challenge, make sure to check out these farmer's walk handles, as well.
Key Features:
Velcro strap
Excellent durability on the velcro closure
Available in multiple sizes
Specification:
Brand

Harbinger

Model

23340

Weight

8 Ounces
Eliko Premium Weightlifting Belt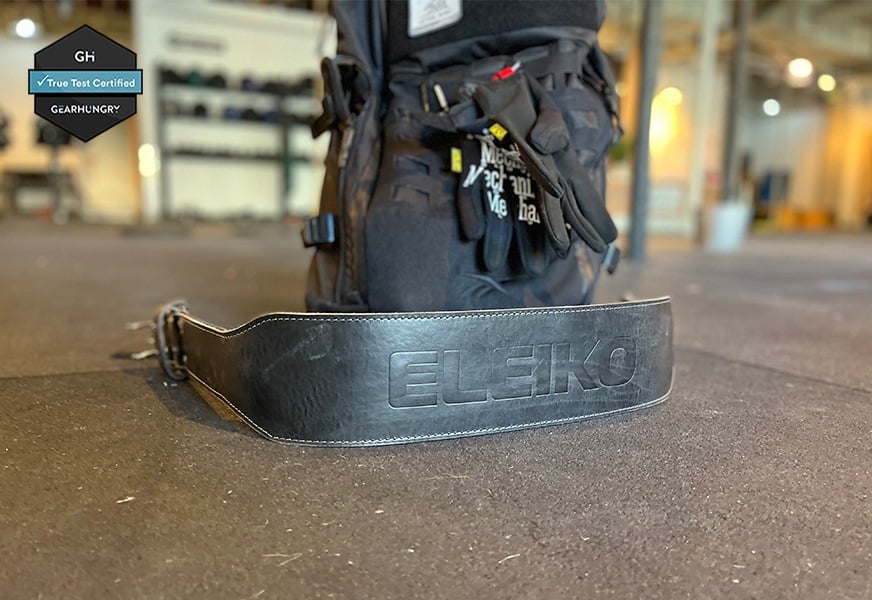 When if comes to general weightlifting, it's hard to do better than Eliko's Premium Weightlifting belt. It's on the pricier side, but the quality and durability make it feel like a bargain. The leather rides the perfect line between support and comfort, especially after a few wears, and the dual-prong stainless steel buckle is built to last. 
It started out on the firm side, but after two or three squat sessions, the leather softened up and has felt buttery smooth every since. I've taken the belt through powerlifting sessions and countless Olympic lifting workouts, and while it will work well in the former, it really shines in the latter. The belt's flexibility and support provide plenty of give in the starting positions but lock down tight at the bottom of the squat. We're loving this belt in it's current state, and we're looking forward to breaking it in more over time. Make sure to also check out our list of the best barbell collars, for more great weightlifting-related products.
Key Features:
Ultralight composition for those who prefer the non-leather options
Wide back design for more comfortable support on the back
Suitable for longer workouts
Various sizes on offer
Specification:
Brand

Eleiko

Model

3000619040

Weight

2.2 Pounds
Harbinger Padded Leather Weightlifting Belt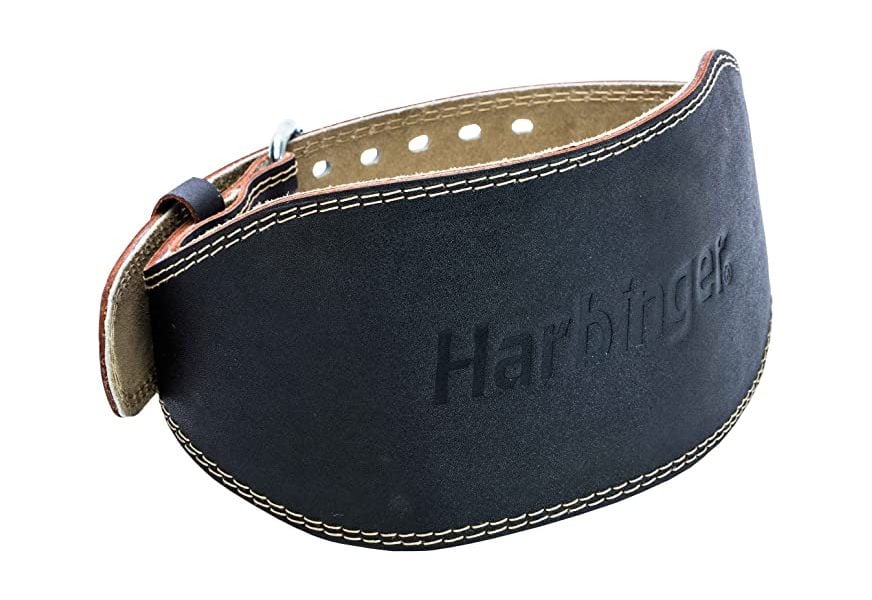 Additional padding keeps your lower lumbar safe, while the durable construction keeps makes sure that it won't wear out before you do. A dual prong roller buckles keep Harbinger Padded Leather Contoured Weightlifting Belt on even under heavy conditions, while the 6" width aids in stabilization from start to finish. If comfort is your main concern, don't worry: Harbinger took care of that. The foam and suede lining provides plenty of padding and a soft touch. For the best fit, make sure to use Harbinger's sizing chart and do not go by the size of your pants. Users rave about this belt for keeping their posture strong without feeling too tight and constrictive. If you are looking to upgrade your weightlifting equipment even more, then make sure you read our weightlifting shoes review.
Key Features:
Genuine leather composition
Foam cushioning and suede lining for enhanced comfort
Adjustable buckles to fit all shapes and sizes
Contoured design for a perfect fit
Specification:
Brand

Harbinger

Weight

14.4 Ounces
Flexz Fitness Weightlifting Belt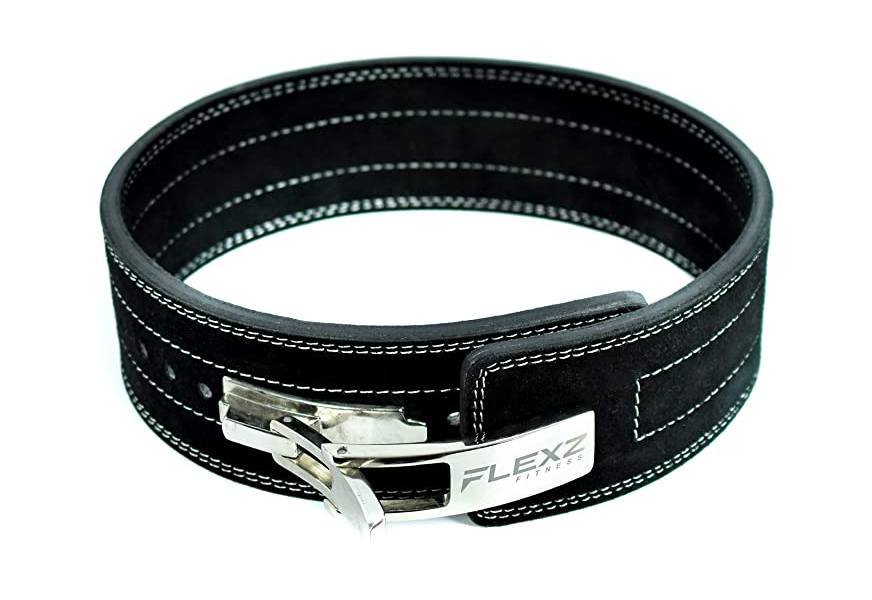 If you're the kind of lifter who likes to coordinate, you're going to love this lifting belt. This one comes in a variety of colors, so you can dial in your kit. Flexz also put comfort at the forefront, putting suede lining inside. Plus, the durable stitching along the exterior ensures that you won't have to replace it any time soon. This makes a great powerlifting belt as well, because it's USAPL and IPF compliant, making it a stellar belt for powerlifting and olympic weightlifting competitions around the country. Flexa also slapped a lifetime warranty on this belt. This, along with a no-hassle return policy that makes them one of the most customer-oriented companies on this list. Make sure it is always handy in your gym bag, when you hit the gym.
Key Features:
Comes with a no-hassle lifetime guarantee
USAPL and IPF compliant belts
Heavy duty stitching and a comfortable suede lining
Specification:
Brand

Flexz Fitness

Model

B0002-Black-XX-Large

Weight

2.91 Pounds
ProFitness Genuine Leather Workout Belt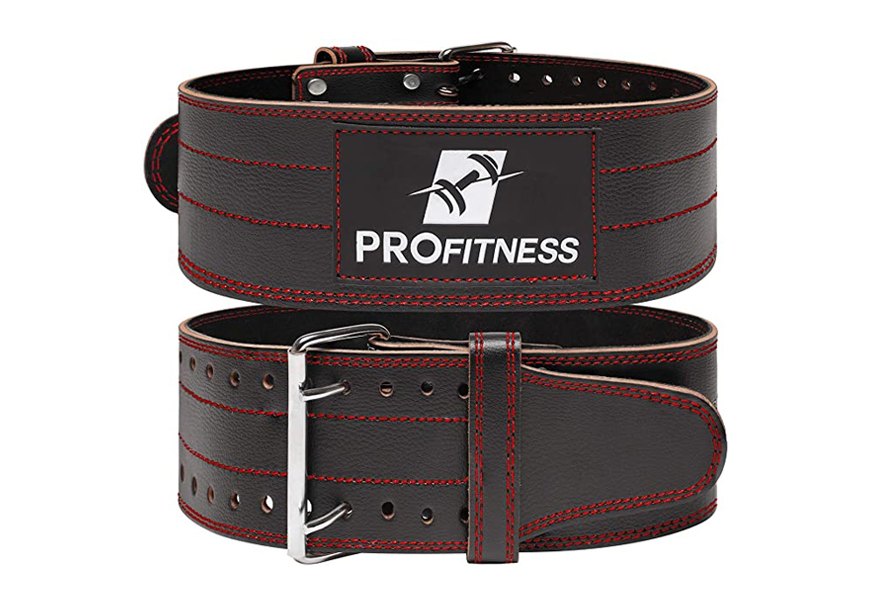 Splitting down the center of our list, ProFitness comes at you with a weightlifting belt that's designed for maximum coverage. The wide 4-inch leather belt offers plenty of security for deadlift, squats, and a wide range of barbell movements. A buckle belt this wide can be a bit tough to manage, but ProFitness does offer a solid tryout to make sure you're happy with your purchase. They don't throw down a lifetime warranty on it, but within the first sixty days you can get a 100% money-back refund if you're not feeling it with this belt. From the sturdy leather to the excellent buckle, it's a fortified belt if we've ever seen one. This can come in handy if you like to exercise on the adjustable workout bench.
Key Features:
Ultra-sturdy brushed buckle closures
4" leather width for optimal back support
Sixty-day full money-back guarantee
Specification:
Brand

ProFitness

Weight

12 Ounces
RitFit Weightlifting Belt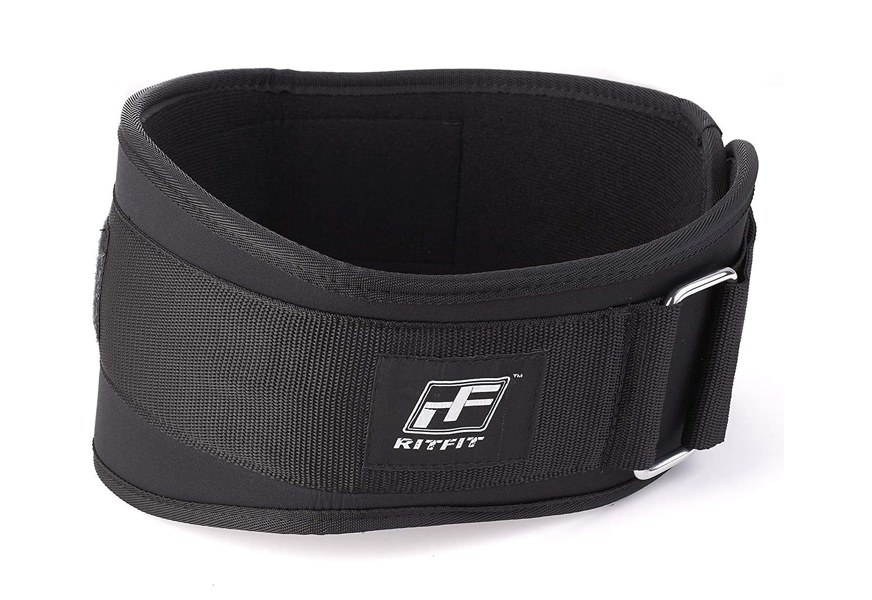 RitFit isn't using leather, but they're using everything they've got to make this one of the most adjustable and flexible weightlifting belts on the market. If you're a big and tall lifter, you'll have a great time fitting into this nylon belt snugly, without causing too much constriction on your midsection. With this whopping 6-inches of coverage, lifters with long torsos will get plenty of support. You get a lifetime warranty from RitFit, which aims to be the only weightlifting belt you'll ever need. Apart from the quality, we also fell in love with the price. Be sure to also check out our list of the best knee sleeves for more great items like this. 
Key Features:
6" wide waterproof foam core
Lifetime warranty straight from the manufacturer
Excellent diverse fit for bulkier gents
Specification:
Brand

RitFit

Model

RF-WLBELT-6BLKM

Weight

9.6 Ounces
Iron Bull Strength Weightlifting Belt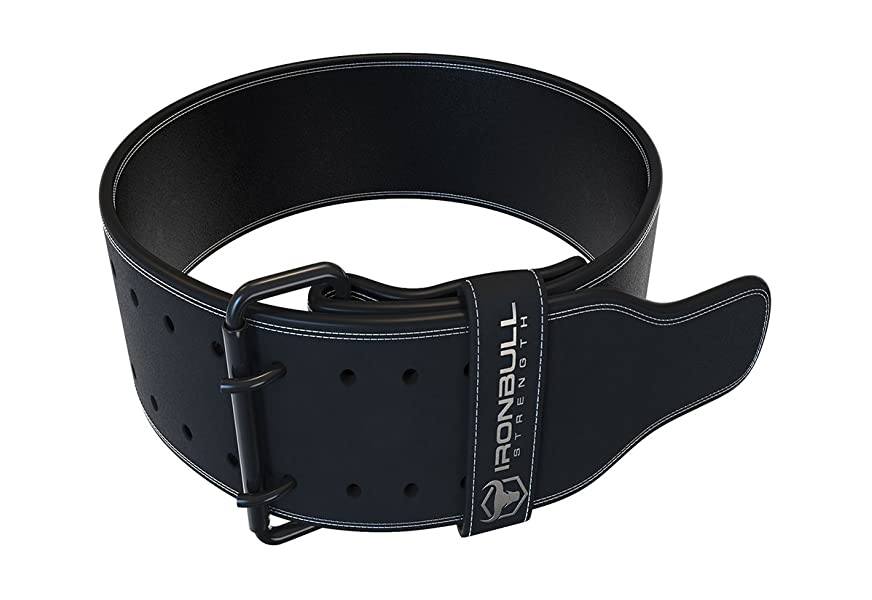 We're winding down our list, but Iron Bull keeps the momentum going with their ultra-durable leather weightlifting belt. You get plenty of support from the 4" wide, 10mm thick leather build, while also getting to choose from one of five unique colors/styles. The strong double prong closure lets you cinch down the belt for a super-tight fit, and the prongs keep the belt in place no matter how hard you strain against it. It's built thick to provide plenty of support, comfortable to keep your sides from chafing, and with plenty of color options to keep you feeling good whether you're at the gym or your own home gym. I mean, let's be honest – if you feel good, you'll lift better.
Key Features:
4" wide, 10mm thick leather construction
Durable and adjustable double prong loops
Comes in five different styles
Specification:
Brand

Iron Bull Strength

Weight

1.54 Pounds
Ader Leather Power Lifting Weight Belt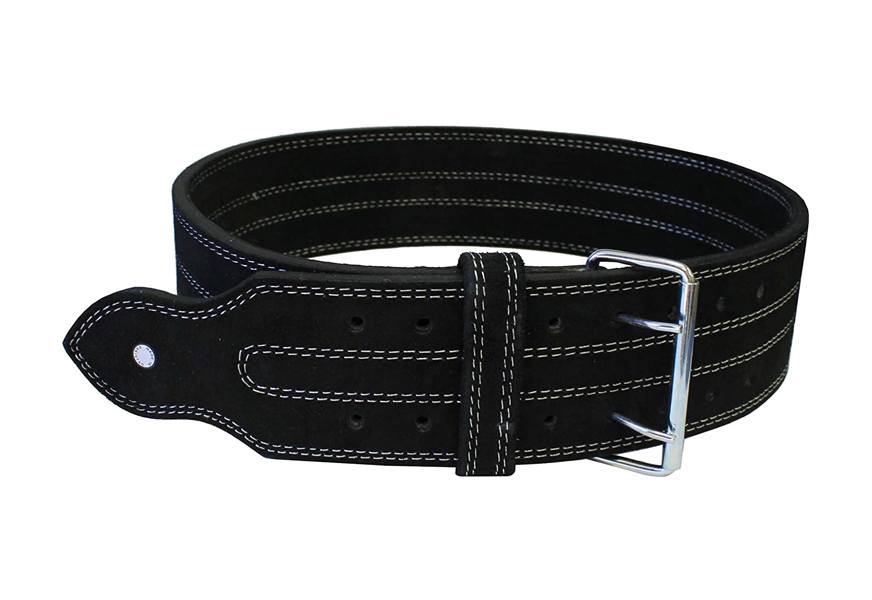 Parting is such sweet sorrow, but we're leaving you with a real gem that comes at an affordable price range. Ader Sporting Goods brings us a double-stitched leather belt, complete with a durable double prong closure to retain a snug fit. There's nothing more to this belt than meets the eye: you've got stability, support, and a fair level of comfort under just about any lifting condition we can imagine. If you're still not certain on which belt fits your style and needs, continue reading our comprehensive buying guide to get all the necessary information before doubling back to this list, and selecting your perfect fit.
Key Features:
4" width
Double prong, durable closure
Made of leather w/ double stitching for maximum durability
Specification:
Brand

Ader Sporting Goods

Model

SG_B00JFNY5OU_US

Weight

1.81 Pounds
Steel Sweat Weight Lifting Belt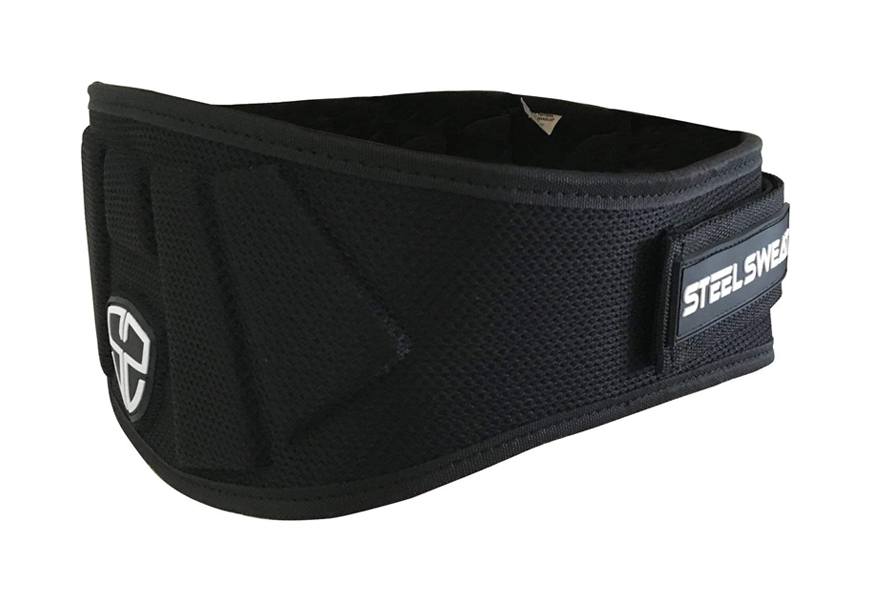 Every drop of sweat you break is another step further you're taking to build your body, and for that, you need the right companion to bring along for the ride. Steel Sweat Weight Lifting Belt is made out of nylon, six inches thick, and sporting some excellent back support that doesn't sacrifice comfort for posture. You're stabilized all the way through while saving a hefty amount of cash to keep in your wallet with this nylon belt. The padded edging along both ends of the belt make it comfortable, even when you're bending in angles that would normally be uncomfortable: there's no feeling that your belt is cutting into your sides. Steel Sweat also designed this to fit most body types, so whether you're just starting out or you're a pro at lifting, you'll be able to slip into comfort and support. Don't forget to also browse our selection of the best-selling curs bars currently on the market.
Key Features:
6" wide lower back support
Durable and stretchy design keeps you stabilized, without constricting your core
Edging makes this comfortable to wear when shirtless, no matter what angle you're lifting at
Specification:
Brand

Steel Sweat

Weight

8.01 Ounces
Why Trust Us
To give you an in-depth look at each weightlifting belt on this list, we researched the best products online, recalled the every weightlifting belt that we've used in the past and researched user reviews. The author has over 20 years of experience in the fitness industry, from ultrarunning and triathlon to CrossFit and powerlifting and has blown out many belts over the years.
Who This Is For
This article is intended for people who are looking to find the best weightlifting belts an array of situations. We found a lifting belt for a wide range of budgets and priorities, as well as a few for specific needs.
How We Picked
We tried to find weightlifting belts that would be useful in all kinds of situations and sported a range of features, styles, and budgets. We looked at fit, support, ease of adjustment, and materials to find something that would appeal to lifters of every sort. We looked at leather belts, searched out a great nylon belt or two, and tried to find ones with unique fastening materials. Materials like velcro, lever, and prong fasteners with a stainless steel buckle were all considered.
How We Tested
We combined practical experience by using the belts as they were intended. Powerlifting belts were test primarily by deadlifting, squatting, and bench pressing, while belts geared towards olympic weightlifting were tested by practicing the snatch and clean and jerk. Nylon belts were tested in multiple movements, primarily explosive dumbell movements and CrossFit WODs in which a flexible, thinner belt would be useful.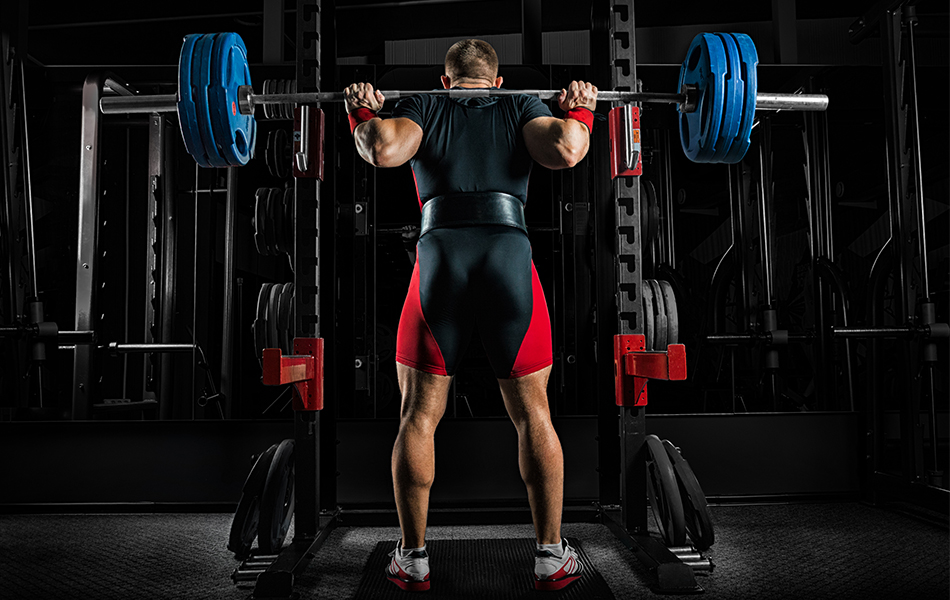 Features To Look For In Weightlifting Belt
Width - The width is going to aid in stability. Most good belts will have a 4" to 6" width.
Adjustability - You're either going to use velcro, lever, or a few different belt loop closures to put your clasps through. You want to fall somewhere in the middle of those loops, so you'll have time to adjust them as your body changes over time.
Material - For the most part, you're going to see leather, as it's the best weightlifting material for the main build. Nylon is a good option for HIIT and CrossFit training, thanks to its lighter weight and lower profile.
Durability - This includes the thickness of the material, the closure strength, and how long you're expected to have this for. Most of these belts have long warranties, some even have lifetime warranties, due to the stress that they're built to withstand.
Versatility - A lot of belts are designed for specific use, like squats and deadlifts. Most leather belts are made for these slower heavier lifts. Nylon is more versatile, thanks to its low profile and weight, so they'll work for most other uses where you could use a little extra support.
Support - These usually come in either 4" or 6" of leather for your lower lumbar support. That's the main area you'll be propping up, minimizing the high risk of sustaining back or spine injuries.
Comfort - Many of these are suede-lined, or contain a certain amount of foam to help cushion your sides to prevent digging into your skin. Some people lift shirtless, so this comfort helps reduce chafing. Apart from that, the belt should be snug, but comfortable.
Locking mechanism - Many leather belts use prong buckles as a fastener. They're easily adjustable, but it can be difficult to cinch them down to the required tightness. Other leather belts use levers to lock down. They make it simple to achieve your desired tightness, but adjusting for different sizes usually requires a screwdriver. Nylon and synthetic belts on the other hand, generally use hook and loop fasteners to lock down. These are the easiest to secure and adjust, but they can occasionally pop open during periods of high strain.
Design - Some belts are designed with a uniform width throughout the belt, which provides a consistent level of support across the belts' coverage. Others are wider at the lower back and thinner at the front to help facilitate bending during a lift.
Thickness - Most leather belts you'll find are around 10mm thick. This is an excellent thickness for providing protection on heavy lifts. Some extend into the 12mm-14mm range for added support, but many of these aren't approved for use in competition. Nylon belts, by their nature, and generally much thinner.
Stitching/gluing - When looking for a good weightlifting belt, shoot for one with stitched seams, rather than glued ones. Due to the amount of stress that weightlifting belts withstand on a daily basis, reinforced stitching is the best way to ensure that a belt will last over the long run.
Price - A lifting belt can vary in price from $20 to over $100. While you can find a solid weightlifting belt in the lower end of the price range, many high-end belts are designed to last a lifetime. If you're looking at your first weightlifting belt, feel free to purchase a more affordable one to start out with. You can use it as you decide how you want to lift and to figure out what you want in a long-lasting belt. And if you're lucky, that low-end belt might end up being the perfect one.
Warranty - Look for belts with at least a 6-month warranty. This will ensure that you find one with the right fit and one that will last you for a while. And if it doesn't, you'll have another one on the way.
Types Of Weightlifting Belts
Bodybuilding Belts - Made up of leather, bodybuilding belts are made with thicker backs and thinner fronts near the buckle. A hybrid of the powerlifting belts and a velcro belt, they provide more pressure than velcro belts, but not as much as a powerlifting belt. They generally use double prong stainless steel buckles to secure them in place.
Powerlifting Belts - Powerlifting belts provide the strongest support and pressure, due in part to their rigid, thick builds. They are the same width through the full length of the belt to give the abs more contact with the belt during heavy lifts. They are usually secured with double prong buckles or levers.
Synthetic Belts - The lightest (and arguably most comfortable) of the belts on the market, these belts are often made of nylon and secured with velcro. They provide a minimal amount of pressure compared with the other two. They provide enough pressure for recreational lifting and for workouts that require a varying amount of movements, but they're upper end range of support is limited by how strong the velcro is.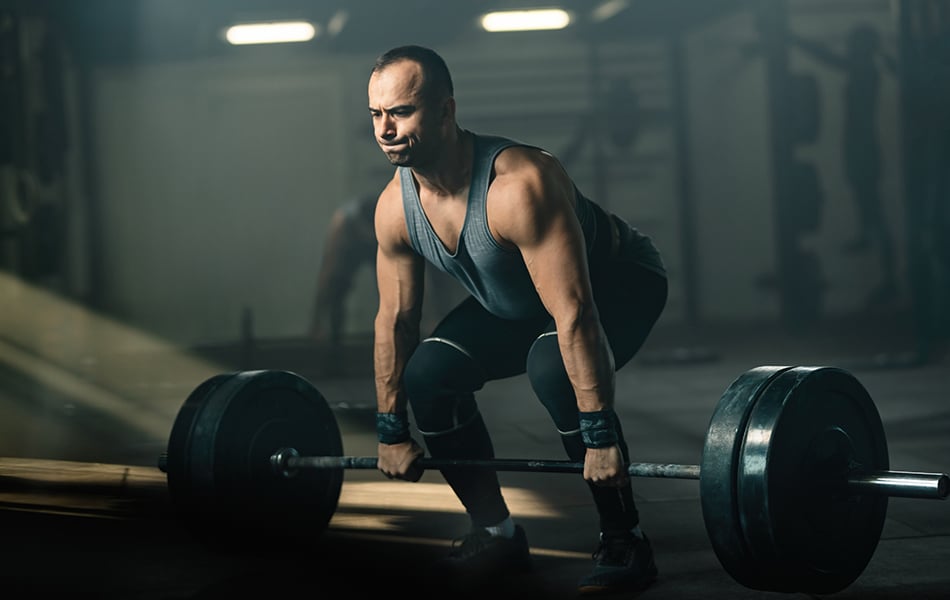 Weightlifting Belt FAQ
Q: How does a weightlifting belt work?
A: By alleviating pressure on your spine, you're able to better understand what you're truly capable of lifting without hurting yourself. Weightlifting belts stabilize your core and spinal column, putting more pressure into your inner abdominal area, which gives you a better workout through and through. When pressure is released off the spine, it mimics a move called the Valsalva maneuver, which is when you pull in your breath to increase pressure in your inner abdominal region.
Q: What are the benefits of weightlifting belts and do you need one?
A: The main reason you want to get a weightlifting belt is to provide your core with something to push against during heavy lifts, helping you stabilize your spine. This helps to prevent back injuries as well as improve your form for competitions and general exercise.
You're also going to get a better core workout than if you didn't use a weightlifting belt. The main issue with form (and injuries) is the flexibility of the spine. Back injuries can result in dislocated discs, as well as swollen muscles that press on the spine. By keeping your spine sturdy, you're putting the weight where it belongs: on your core. Better core workouts, a more intense burn in your midsection, and (if your nutrition is on point) a better six-pack.
Q: How and when to use weightlifting belts?
A: Squats, olympic lifting, and deadlifts are all reasons you'd want to use a weightlifting belt. We've seen some folks using these while doing sit-ups or chin-ups, and they're not designed to handle those, not even a little bit. These belts will also give you a much better scope of what you're physically capable to do when lifting.
So do these really provide the necessary support for improved stance during weightlifting? Absolutely. You do have to monitor your breathing patterns to reduce tightness at peak times while using these, but they're completely capable of improving your form and adding a few points to your max lifts.
Q: Is using a weightlifting belt cheating?
A: In almost every weightlifting competition in the country, you're able to use these belts throughout the whole duration. The mindset is, that you're not gaining extra muscles when you put one of these on, but you're protecting yourself from potential harm if you're going in for some serious weightlifting.
Many competitions do have size restrictions on belts, so be sure to check with your specific organization to make sure your belt is approved.
Q: How do I know what size weightlifting belt I need?
A: Every belt has a specific size chart. When considering a belt, check the size chart on the company's website to make sure that it'll be a good fit. And remember, you're wearing the belt around your belly, not your waist, so use the circumference around your belly, not your waist.
Q: Does a weightlifting belt weaken your core?
A: On the contrary, a weightlifting belt will allow you to lift heavier and build overall strength, including in your core. Many lifters will occasionally lift beltless with lighter weight to additionally bolster their core strength.
Q: Do lifting belts prevent injury?
A: Lifting belts can help prevent injury. By providing additional pressure on the core, they give athletes something to brace against, which helps keep the core tight and the spine stabilized. Ultimately, however, it's up to the athlete to ensure proper form and positioning during lifts.
Sources:
Sign Up Now
GET THE VERY BEST OF GEARHUNGRY STRAIGHT TO YOUR INBOX