Best Manual Weeders In 2022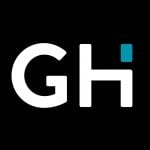 This product guide was written by GearHungry Staff
Last Updated
September 18, 2020
GearHungry Staff
GearHungry Staff posts are a compilation of work by various members of our editorial team. We update old articles regularly to provide you the most current information. You can learn more about our staff
here
.
GearHungry may earn a small commission from affiliate links in this article.
Learn more
Summertime calls for outdoor picnics, garden parties, and barbecues with your friends and family. These activities require a presentable outdoor space devoid of pesky weeds. How to accomplish that, you ask? Simple! All you need is a reliable weeder and a pair of working hands. The solution to transforming your garden, lawn, or other outdoor space into a sun-soaking haven might be simple, but finding the right tools to get rid of those weeds effectively can be an exasperating chore.
Manual weeders should have an uncomplicated assembly, be easy to use, easy to clean, and simple to maintain. But which model is right for you? Whether you are a landscaping expert browsing for a durable weed shield or merely looking to protect your lawn from intruding weeds, we put together a list of the best manual weeders to lend you a hand.
The Best Manual Weeder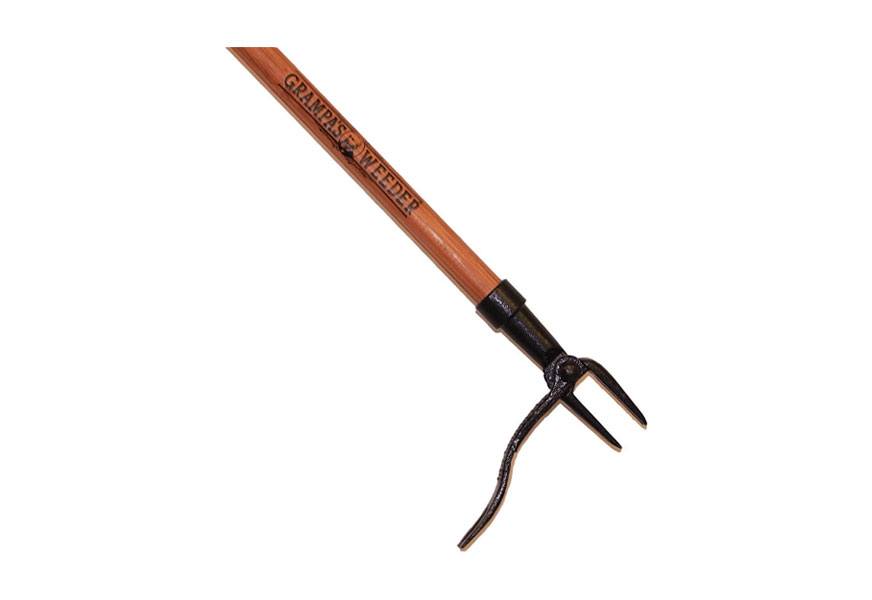 Our first product is the century-old classic weeding tool by Grampa's Gardenware Co. This manual weeder has won hearts all over the world for more than a century. Originally conceived in 1913, Grampa's Weeder has retained its old school charm of simplicity and effectiveness even today. Grampa's Weeder – The Original Stand-Up Weed Puller Tool is as reliable and trustworthy as the name itself. The secret lies in the superior quality of the materials employed in its manufacturing. The weeder handle is real bamboo, and the head is fine quality steel. Bamboo provides extra resilience while the steel head works its way through the most stubborn soil with ease.
Another remarkable feature is the ergonomic length of the handle. The 45-inch stand-up handle makes weed pulling rather simple, so it's light on your back. The steel head features four claws that work well on all soil types.
Removal of weeds and invasive plants is a hassle-free, three-step process with this ingenious weeder: simply center the metal claw over the weed, thrust it into the ground, and tilt the bamboo handle to pry it out. This chemical and toxin-free age-old solution is safe for the home and environmentally friendly. All these features and qualities make Grampa's Weeder a gardener's first choice.
Key Features:
Bamboo handle with coated metal head
45" long handle
4-claw steel head design
Chemical-free weed removal
For all soil types
Specification:
Brand

Grampa's Gardenware

Model

CW-01

Weight

1 Pound
Long-lasting simple design
Safe for the environment, kids & pets
Price is on the higher side
Cate's Garden Premium Manual Weeder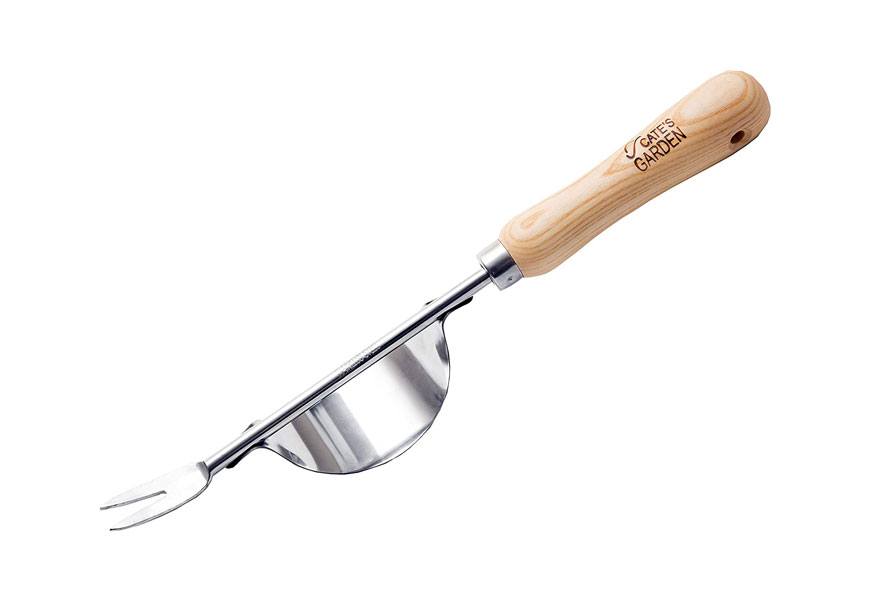 This manual weeder by Cate's Garden makes weeding simpler so that anyone in the household can tackle this chore. The lightweight tool is just over 13 inches in length and easily maneuverable. Cate's Garden Premium Hand Weeder is ideal for your home garden and can be used to remove thistles, dandelions, chickweed, crabgrass, and other common varieties of garden weeds. The attractive handle is ash wood, known for its tensile strength, shock resistance, and durability. The ergonomic handle ensures a smooth and comfortable operation.
The base, neck, and fork of the weeder are made with heavy-duty, rust-resistant stainless steel to last you for ages. The leveraged base is slightly curved so you can place it on the ground and use the sharp and sturdy V-shaped fork to remove the weed completely. Although this cultivator is guaranteed to earn both your trust and contentment, you can return it any time for a full refund, thanks to Cate's Garden's 100% money-back guarantee. And as if that is not enough, the weeder comes with a complimentary leather strap for conveniently storing your favorite gardening tool.
Key Features:
High-quality stainless steel body with classic ash wood handle
V-shaped fork tip
Lightweight and durable
13 1/8" length, 2" width
100% money-back guarantee
Specification:
Brand

Cate's Garden

Model

CG6518

Weight

6.4 Ounces
Leather strap included for easy storage
Cost-effective tool for home gardening
Requires the user to bend down for weeding, which can lead to back and knee aches
CobraHead Original Manual Weeder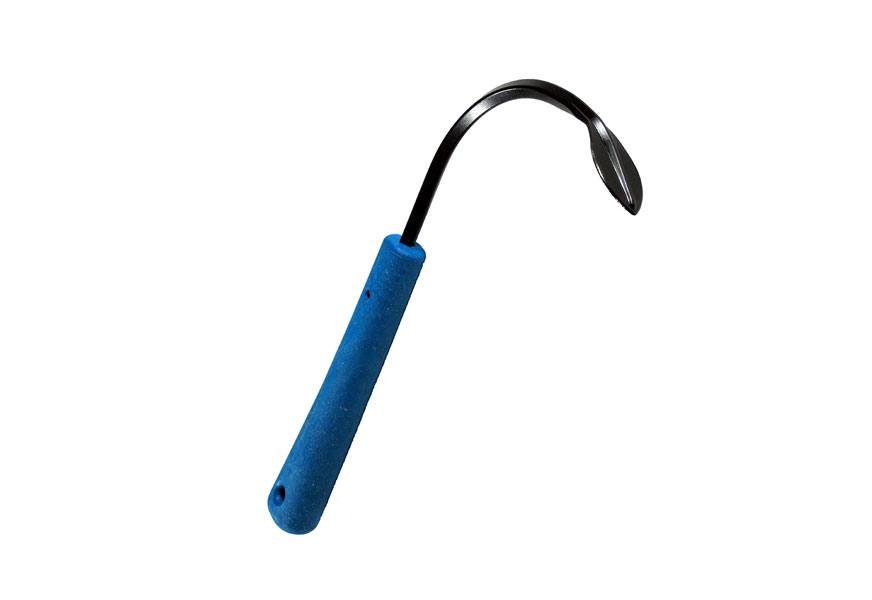 This multifunctional gardening tool is a dream addition to every avid gardener's tool shed. Yes, the CobraHead Original Weeder & Cultivator Garden Hand  Tool really is that versatile and powerful! You don't need a green thumb to use it well; the simple design makes it equally handy for novices who are gearing up for their first venture in gardening as it does seasoned pros. The handle, made from recycled plastic, has a comfortable gripping material and offers convenient operation with either the left or the right hand.
What makes this manual weeder an absolute favorite among gardeners is its multipurpose steel blade. It is robust enough to plow through and break up any soil. The blade head is curved to provide easy access to the ground and facilitate digging, weeding, and planting. The high-quality blade looks like a "steel fingernail." This design is also great for cultivating, edging, digging, furrowing, and harvesting. It's the optimal tool for all plant lovers as it caters to all their gardening and landscaping needs.
Key Features:
13" long garden hand tool
Recycled plastic handle for a comfortable grip
Tempered steel blade
Suitable for digging, planting and edging
Specification:
Brand

CobraHead

Model

001

Weight

1.76 Ounces
Curved blade head allows the maximum function
Multifunctional and versatile
Squatting or bending for use can be inconvenient
Attican Black Iron Hori Hori Manual Weeder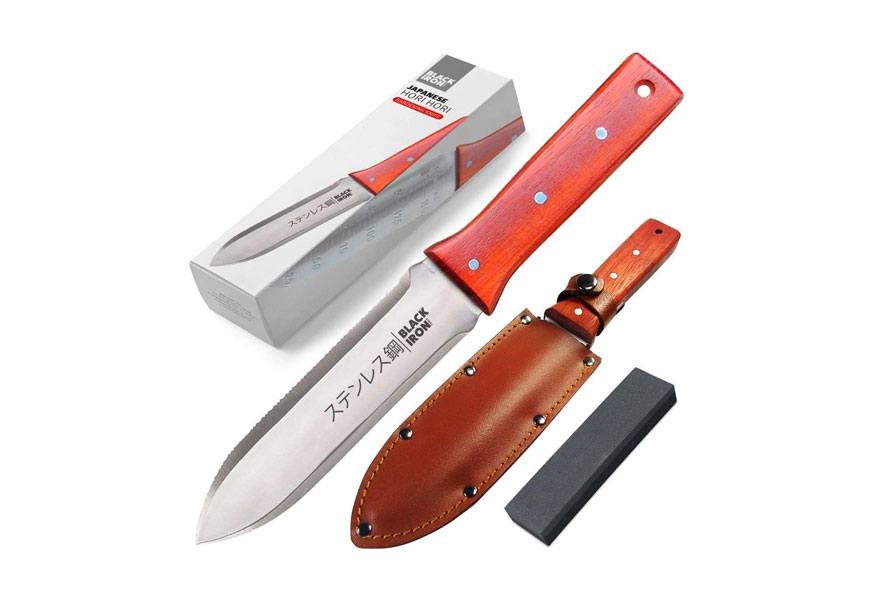 Attican has been developing premium tools for home improvement that effectively combine comfort with innovation for many years. This multifaceted Japanese garden knife is another testament to Attican's credibility. The Attican Black Iron Hori Hori Garden Knife is a priceless addition to any gardener's toolbox and boasts numerous attractive features. The extra-sharp stainless steel blade is polished to perfection and cuts roots and plants with minimum effort. Serrated edges on the 7-inch blade augment its cutting capacity. There is a measuring tool with precise calibrations on the reverse of the blade to aid the pros in planting and cultivating. The concave form adds utility to the knife for efficient scooping and digging of soil.
The glistening handle of the weeding knife is a beauty in itself. The full handle with three metal pins provides exceptional use. Made with FSC-certified hardwood, the 5-inch long handle allows for a powerful grip to make weeding a no-fuss business. The knife covers a litany of gardening needs, from weeding and digging to cutting and cultivating. Other enticing add-ons include a sharpening stone for the blade and a dense leather sheath to stow it away safely. Attican also offers a global 10-year warranty on the product as well as a 100% money-back guarantee. With all of these features, this knife is a must-have for every gardening expert. It is also the perfect gift for all gardening lovers, owing to its beautiful packaging and thoughtful accessories.
Key Features:
Stainless steel Japanese hori hori knife
Extra-sharp blade with serrated edges
FSC-certified hardwood handle
10-year warranty
Specification:
Brand

Black Iron

Model

Att-8475

Weight

11.2 Ounces
100% money-back guarantee
Comes with sharpening stone and leather sheath
Makes a great gift
Careful handling required as the blade is extremely sharp
Radius Garden Carbon Steel Edger Manual Weeder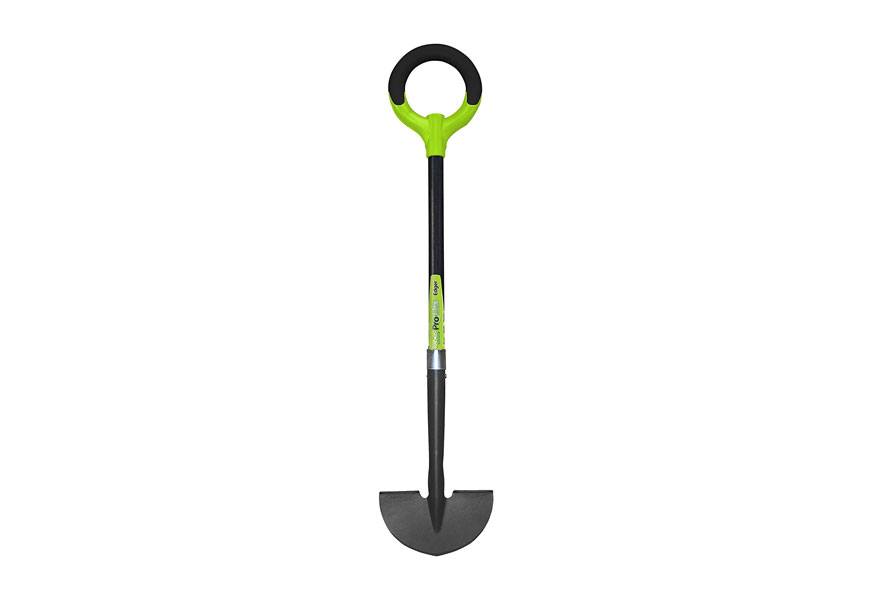 The Radius Garden  Carbon Steel Edger Manual Weeder is a multifaceted garden tool that can cut neat edges and remove unwanted weeds. Its ultra-durable, the carbon steel semicircular blade is not only strong, but it's also lightweight, while the fiberglass shaft helps shed the pounds! An O-shaped handle reduces the stress on your hands and wrists while allowing sufficient room for both hands for a powerful grip. The O-handle grip provides four times the gripping surface of a traditional D-handle grip and supports the muscles in your palm better.
The handle length of 40.25 inches grants you the ease to work standing up without getting your hands or manicured fingernails dirty. The 40.25-inch handle is a real back saver, and the 9 by 5-inch semicircular blade allows you to dig deep, tear up roots, and keep your garden, lawn, and pathway in check. The extra-wide elevated step provides more leverage for greater efficiency.
For more useful gardening tools, check out our guide to the best garden hoes.
Key Features:
Carbon steel blade
40" fiberglass handle
Comfortable O-shaped handle
Wide, elevated forward step for better balance
Specification:
Brand

Radius Garden

Model

25602

Weight

3.64 Pounds
No fuel required
No bending down
O-shaped handle is more comfortable on your hands
Durable, lightweight construction
Must clean blade after every use
Cuts weeds, but doesn't grab their roots
Worth Garden Stand-Up Weeder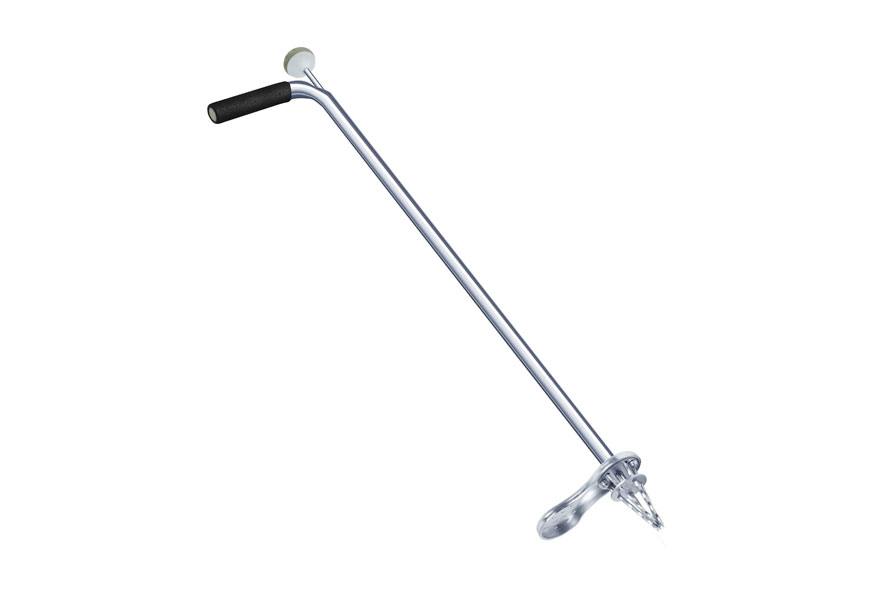 This highly compact manual weeder is the simple solution to all your weeding woes. Geared with easy to use, innovative features, it quickly eradicates those evil weeds spoiling the beauty of your lawn. The Worth Garden Stand-Up Weeder and Root Removal Tool is sure to transform your garden into a work of art.
It's made from durable zinc-plated steel to stay rust-resistant. The top end features a padded handle covered with black foam for extra comfort while ensuring a smooth and solid grip. Attached to the end of the handle is a push and pull knob that renders it super easy to maneuver the blades. The blades assemble into five pointed claws for maximum efficacy. The claw design also allows for a better grasp of the roots. The foot pedal lets you exert maximum force to grab the weed efficiently. What's more, you do not have to fret about breaking it while transferring your body weight on the pedal as the weeder features sturdy steel construction.
Key Features:
33" long handle
Made with zinc plated rust-resistant steel
Comfortable padded foam grip
Push and pull knob
Foot pedal to put force for deeper penetration
5-claw design suitable for all soil types
Specification:
Brand

Worth

Weight

2.35 Pounds
Best value for money
3-year warranty
Rust-resistant construction
Cannot be used for cultivating or planting, only weeding
Walensee Stand-Up Garden Weeder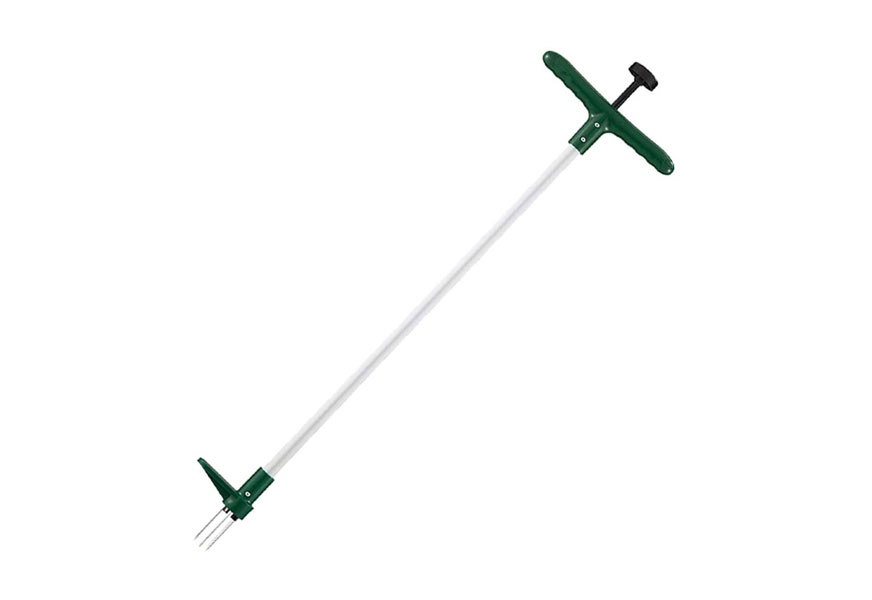 Walensee continues to produce excellence by consistently designing better home improvement solutions and regularly upgrading its products to remain on the top of its game. This manual weeder is yet another example of Walensee's dedication: this new and improved version features rivets and prongs that are much stronger than any of the former models. Removing weeds has never been easier than with this tool as its 39-inch tall handle ensures that you get maximum results with minimal labor while standing. The push-button at the top releases the weeds; this feature comes in particularly handy for elderly users as it requires minimal effort and does not tire you out.
Made with quality stainless steel, this well-built weeder is guaranteed to stay sharp in your tool storage shed forever. The clawed design consists of three 2.75-inch steel teeth, which is well equipped to eliminate the weed from the root for a deep and thorough garden cleanse. Other attractive features include an easy-grip handle for double-handed use and a foot pedal to aid penetration of the soil to grab hold of the unwanted growths. Weeding is a simple three-step process with Walensee Stand-Up Garden Weeder and Root Removal Tool: position the claw over the weed and push firmly by applying force with your foot. Twist the handle and uproot the weed, and finally press the button at the top to remove it. As Walensee places customer satisfaction above all else, you can claim a full refund if you are not content with your bargain.
Key Features:
Stand-up weed removing tool made from stainless steel
39" tall handle for easy operation
Claw design with three 2.75" steel teeth
10-year warranty
100% money-back guarantee
Specification:
Brand

Walensee

Weight

1.01 Pounds
Fully refundable
Foot pedal for enhanced performance
Suitable for soil with moisture, but might not work very well on dry clay soil
AMES 2917300 Steel Stand-Up Weeder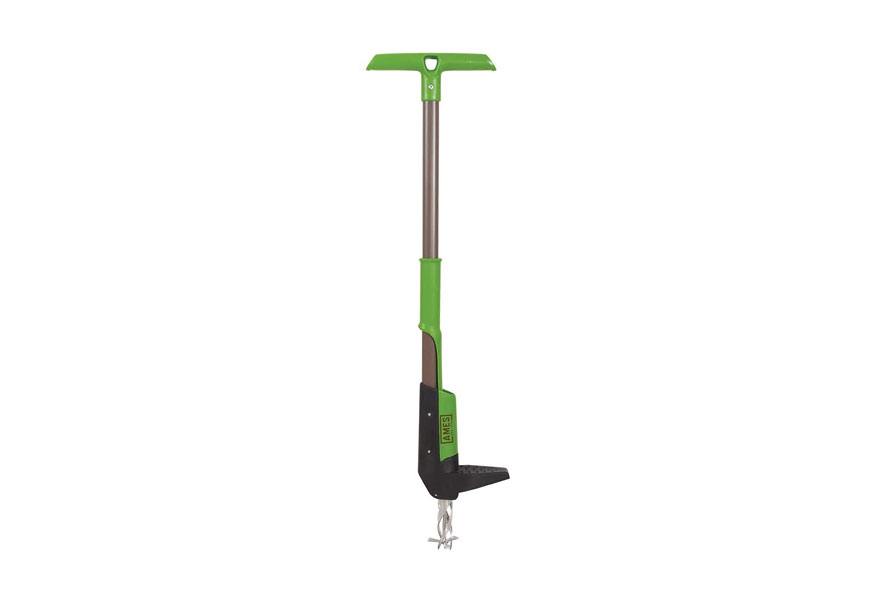 Displaying a weed-free garden or lawn is every gardener's dream. Let's face it: expert gardener or not, we all want to defeat those undesirable leafy intruders that spring up now and then all over our outdoor spaces. This lightweight device is as strong in function as it is stylish in appearance. The cool green color blends well with your outdoor landscape.
The AMES 2917300 Steel Stand-Up Weeder grabs weeds, thistles, and dandelions by their roots for thorough removal and offers a chemical-free solution to protect your environment. It works as a two-in-one gardening tool by aerating the soil before removing the weeds. The 40-inch long tool is a huge perk as you can effortlessly use it standing up without risking your back and knees. The blades provide effective weed eradication, and the ejection slide facilitates the release of the weeds after removal. It also includes a foot pedal for traction on those stubborn weeds.
For more must-have tools for your garden, check out these amazing mattocks from our list.
Key Features:
Lightweight and durable steel weeder
40" long for convenient function
Includes an ejection slide for fuss-free weed release
Compact design with unique blades and foot pedal
Specification:
Brand

AMES

Model

2917300

Weight

3.6 Pounds
The lightweight structure makes it easy for those with bad backs or knees
Extra-long for easy stand-up use
Bond Manufacturing 3-Tine LH012 Cultivator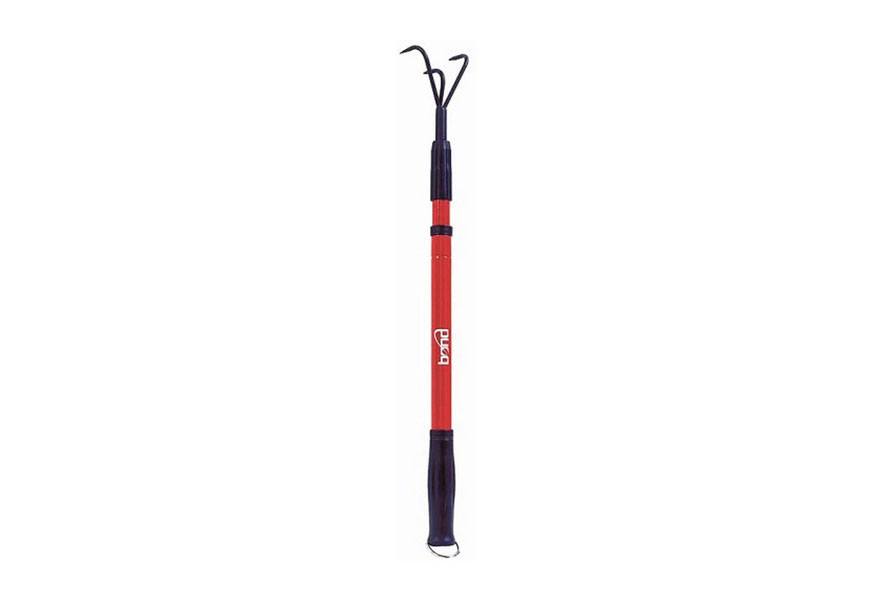 This powerful cultivator from Bond offers multiple functions besides weeding, such as digging and cultivating. Bond Manufacturing 3-Tine LH012 Cultivator boasts premium quality steel that renders it tough yet surprisingly lightweight, so its user base is not limited to burly professionals. This weeder also features a smooth and soft non-slip grip with a metal ring attached at the end so you can store it securely in place in your tool shed or garage.
One of its most useful attributes is the telescopic handle, which extends from 25 inches to 37 inches for maximum reach and extra leverage. The three curved prongs make effective removal of weeds relatively convenient, while their heat-treated heads add to its durability. Bright red paint not only attracts the eye but powder coats the tool with a rust-resistant paint.
You may also want to invest in some of the best garden shovels from our list.
Key Features:
Lightweight steel handle
Length of the handle can be adjusted from 25" to 37" for extra reach and comfort
Durable heat-treated tine heads
Soft non-slip grip
Specification:
Brand

Bond Manufacturing

Model

LH012

Weight

1.4 Pounds
Cost-effective
Metal ring for easy hanging storage
The steel handle might not withstand immense pressure
Can bend with excessive force
Solution4Patio Expert In Garden Creation No Bend Stand-Up Manual Weeder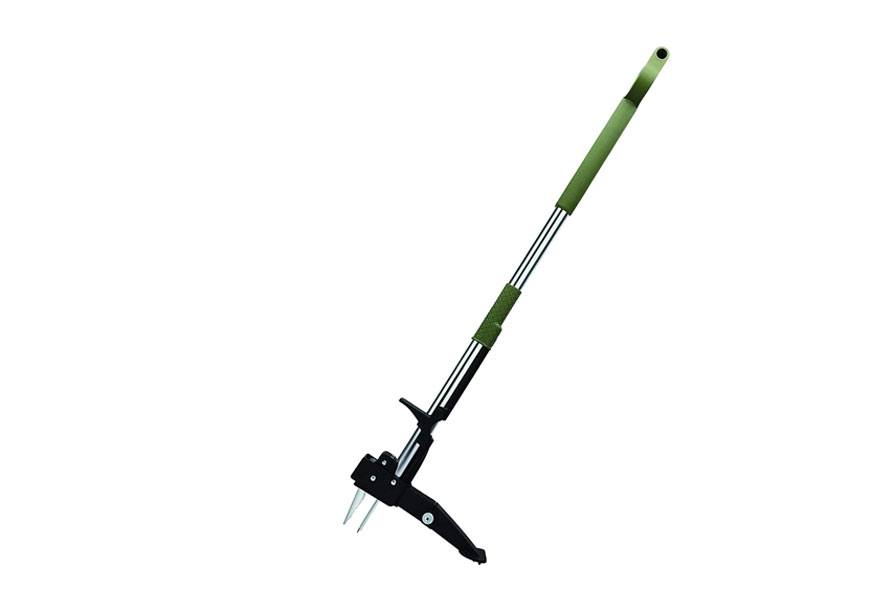 The Solution4Patio Expert In Garden Creation No Bend Stand-Up Manual Weeder grabs hold of the roots with two serrated nails and two strong rods, allowing you to twist and rip the weed out effectively. A handy foot pedal means you won't have to bend over to use it — simply place the weeder over the weed, press the teeth into the soil with the foot pedal, leverage the device back towards you, and pull.
Afraid you might be too tall to use this manual weeder instead of your electric weed wacker? Never fear; the manufacturers made a telescopic handle for just such occasions. You can extend the handle from 39 inches to 47 inches with a twist of a knob and a sturdy grasp on the durable D-shaped handle. This manual weeder is made from lightweight yet durable carbon steel and is finished with a rust-proof coating to ensure its longevity. A reinforced alloy shaft is light enough to throw over your shoulder but strong enough to take on an entire yard of dandelions. Not satisfied with this fantastic product? Use the 12-year, 100% money-back warranty. Who can pass up this good of a deal?
Key Features:
Carbon steel blades and a lightweight alloy shaft
Telescopic shaft up to 47"
Comfortable D-shaped handle
Serrated teeth to cut and grab roots
Foot pedal for leverage
12 year, 100% money back warranty
Specification:
Brand

Solution4Patio Expert in Garden Creation

Weight

2.94 Pounds
No bending down
D-shaped handle helps with power & leverage
Durable, lightweight construction
Telescopic shaft for taller users
Tough, serrated, root-grabbing teeth
Weed ejector can stick and be difficult
Manual Weeder Buying Guide
Features to Look for in Manual Weeders
Here are a few key points to consider while shopping for a dependable manual weeder:
Length of the Handle - Manual weeders vary dramatically in size. They can be as short as 10 inches, or as long as 50 inches. Some people prefer to get down in the dirt; shorter weeding tools and knives are best. For those who want to spare their back and work standing up, long handles are preferable.
Shape of the Blade - The blade does the main work of penetrating the soil and ripping out weeds. It's usually constructed in a semicircular or pointed triangular head. Such blades are useful for weeding as well as digging and planting. Another highly effective type is a forked shape. These options can have 2-5 prongs and aerate the soil before weed removal. Still another variant is the claw-shaped design that works great in hard soils.
Construction Material - Another point to ponder before settling on a manual weeder is the materials used to manufacture it. Most weeders are steel; it is important to determine if the steel is high quality, as weeding may require exceptional force and exertion. Look for materials that are rust-resistant, as well. Some traditional weeding tools are bamboo, making them resilient; others forged from aluminum, which renders them ultra-lightweight while equally durable.
Types of Manual Weeders
Manual weeders can be broadly classified as follows:
Small Tools - These include traditional handheld weeding tools and soil knives that require you to squat down for use. They are effective but usually yield a low work output and require extra physical effort.
Spades or Chopping Hoes - These weeders have blades that are straight, curved, or pronged. The weeding process with these tools includes digging, cutting, and uprooting. The gardener usually has to bend down a little to operate them, which can get tiresome.
Long-Handled Weeders - Long-handled weeders are typically between 1.5 and 2 meters long with wooden or steel handles for easy maneuvering. They have a soil working tool (such as a hoe or prongs) mounted at the end.
Sign Up Now
GET THE VERY BEST OF GEARHUNGRY STRAIGHT TO YOUR INBOX