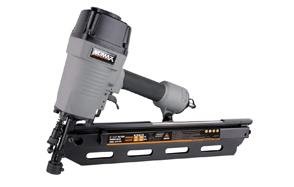 NuMax SFR2190 21 Degree Framing Nailer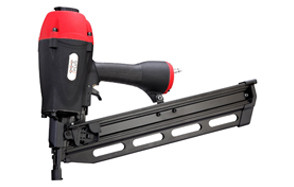 3PLUS 21 Degree Full Round Head Framing Nailer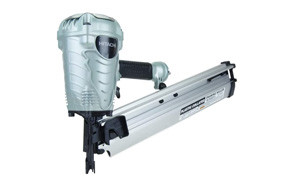 Hitachi Framing Nailer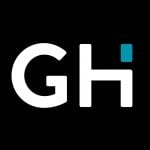 With the sun shining and a summer of peace and relaxation fully upon us, it's high time you get started on those DIY projects you've been putting off for the past year, and the best framing nailers, which you might also know as the 100% more badass nail gun or framing gun are an essential household tool for reliable results across a wide range of applications.
It doesn't matter whether you're a professional or mere hobbyist, having a framing nailer on hand and ready to use at a moment's notice will transform your projects – either at work or at home. They speed up the nailing process and help you drive wood into a frame much faster than doing it one-by-one with a hammer, because we're all far too busy to deal with that, right?
A framing hammer is powerful, efficient, and safe, but only if you use it properly. If you've got some framing jobs clogging up your To-Do list before the kids get back to school, we've got the right tools, that should hit the nail on the head.
The Best Framing Nailer
Framing Nailer Buying Guide & FAQ
How We Chose Our Selection Of Framing Nailers
To ensure your next project is the most efficient and successful one yet, we needed to make sure we identified the best and most reliable framing nailers. Luckily, we've been doing this long enough to know exactly what that means, so here's the criteria we used to narrow down our selection to the superb 10 products you see above.
Brand - The brand is our first point of contact with the product and by looking at the brand we get an immediate idea of how reliable it is. We never want to recommend low-quality brands, so the ones you see above are all ones which have passed our rigorous testing.
We also never like to focus on just one brand (at least most of the time), which is why you'll see a wide range of brands for you to take your pick from.
Price - High quality power tools never come cheap, but if you're serious about investing in a framing nailer, you expect to pay a premium for this quality. Despite this, there are still a range of prices for different framing nailer demands.
We never want to price anybody out of a purchase here at Gear Hungry, so we always strive to accommodate all budgets and needs. It doesn't matter if you're a professional who needs a top of the range nailer or someone looking form a low-end but still reliable option. We have got you covered.
Reviews - Finally, reviews are our favorite and most essential resource for making our selection. While brand and price can give us a decent idea of quality, it's not until we get to the review portion that we really get an idea of how reliable a product is.
Through these reviews, we get the chance to discover how well these products perform after 1 month, 6 months, 1 year, and beyond. If it weren't for reviews, we'd only get half an idea of how good a product is and whether it's worth recommending.

Features To Look For In Framing Nailers
Before you leave us today and click to confirm your order on the framing nailer you believe is the right one for your next project, make sure you check out these key features so you know exactly what you must look for when searching for the best framing nailer.
Depth Adjustment - Not all projects need you to drive the nails into the surface completely, so a nailer with depth adjustment features is a must. This gives you control over how deep nails are driven and therefore ensures a greater range and versatility from with your applications.
Jam Clearing - Regardless of how well-built and high quality your nailer is, there is still a chance of it jamming from time to time. Unfortunately, this is not something you can avoid most of the time, but when it occurs, you should have an easy solution to get back on track.
A straightforward jam clearing feature will keep your work at optimal speed, and this should be easy to access and take minimal time to fix.
If you want to minimize jamming as much as possible, we recommend proper nailer maintenance to keep it in top condition such as storing it away from dust traps and solving any issues immediately.
Swiveling Air Connectors - Those not as well-versed and experienced with nail guns may wonder why, exactly, there is any need for a swiveling air connector, and the ones in the know will likely chuckle and give them a lesson in convenience and practicality. Without a swiveling air connector, you risk the hose tangling, which can impede your project.
Protective Guards - With something as potentially hazardous as a framing nailer, you need the best protection to prevent injuries to both you and those around you.
A good protective guard is an essential feature to look for when choosing your framing nailer, and it should offer adequate safety measures to minimize (and hopefully eliminate) the chance of accidents. The protective guard also keeps the tool itself safe from debris caused from kickback.
Framing Nailer FAQ
Q: What is a framing nailer?
A: A framing nailer - also known as a nail gun - is a tool used by both professional construction workers, carpenters, and builders as well as DIY hobbyists for driving nails into wood or another material such as sheet metal or brick.
Typically, they run on compressed air, but some models use electromagnetism of gas such as propane or something similar. Occasionally, a framing nailer will use a small charge to operate, however, this is not as common (nor safe) as more modern versions.
There are many benefits of using a framing nailer compared to more traditional and manual methods. Most obviously is their efficiency, which depending on the size of the nail magazine can increase productivity, ensuring you complete projects much faster than if you were using a hammer and driving each nail in one by one.
Modern nailers can house over one hundred nails and dispense around 60 per minute depending on price and quality, which frees up time for completing other projects and speeding up the process.
Builders also prefer nail guns for larger projects and applications because of how easy they are to use. The mechanical operation ensures less user fatigue, which therefore makes jobs easier. However, while a nail gun will reduce fatigue and therefore minimize potential for tiredness-related injuries, it's still important to use the nailer correctly considering how hazardous it can be.
When using a framing nailer, it's important to follow the safety procedures like you would with any other tool you employ for your projects. OSHA and similar Health and Safety organizations recommend taking similar care with a framing nailer as you would a firearm because of how similarly they operate.
Sources:
How to Use A Framing Nailer Safely and Effectively - The Spruce
5 Tips for Choosing the Right Framing Nailer - Overstock