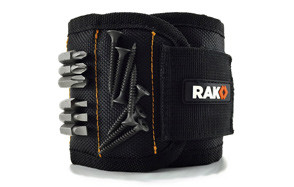 Rak Magnetic Wristband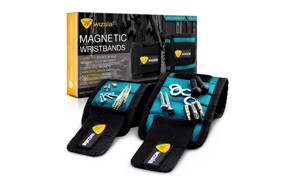 Wizsla Magnetic Wristband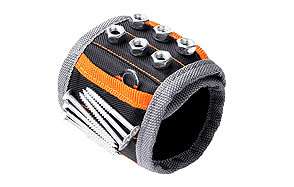 HORUSDY Magnetic Wristband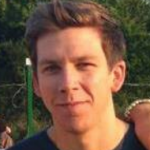 We've all been there – you're at a crucial point in a DIY job and need all-hands-on-deck to keep things straight, lined up and ready for the final nail…only for it to be on the floor, over on your workbench or just plain out of reach. Wouldn't it be great to have a 'third hand' to hold all your small hardware, ready and waiting to go?  Well, get ready to strap on one our best magnetic wristbands my project-loving friend, and you'll never be awkwardly scrabbling around for that screw, nail or drill bit ever again.
The premise is simple – a Velcro cuff reminiscent of those rock god days when wide wristbands were all the thing, with hardworking magnets clinging on to all your essential DIY small bits so you don't have to.
Super-handy for even the most disorganized of handymen, add a magnetic wristband to your essential toolkit and you'll soon wonder how you ever lived without it. To give you a helping hand, we've checked out the very best tried and tested magnetic wristbands so you can totally get to grips with your next DIY job.
The Best Magnetic Wristband
Magnetic Wristband Buying Guide & FAQs
You'll be wanting to consider the following before buying a new magnetic wristband for holding tools:
Ease of Use - Strap on and go: that's what you need when it comes to the ideal magnetic wristband. It also needs to stay comfortably in position so you can get at it when you need it, without having to contort or stretch and release without a fight when you need to take it off.
Magnets - These are the things you need to consider most, as they need to be strong enough to hold all the items you intend to stash on it. The stronger the magnetic, the heavier the items (such as drill bits and small tools) it can take. Also, make sure there are enough and they are located well. Plus, don't forget, the greater the magnetic strength, the heavier the attached tool will feel.
Dimensions - You need it to be a comfortable cuff size that doesn't interfere with the natural movement of your arm and wrist but sizeable enough to take at least the length of mid to large sized screws, drill bits, and nails.

Weight - The cuff itself needs to be lightweight as you need to take into account the additional weight of the items you want to attach which will weigh it down. And also take into account the size, strength and number of magnets used as it all add up.
Comfort - When at a crucial DIY moment, you don't want an uncomfortable, cumbersome wristband making you lose focus so check for comfort features to keep your wrist (and DIY project) sweet. The inner of the band should be designed for comfort, ideally including a breathable mesh and edges finished so as to not dig in. The whole wristband should be lightweight and be adjustable to fit you securely without causing irritation.
Materials - Your wristband needs to be tough so check what it is made of. Nylon or polyester with a good Velcro fastening are the best routes to go.
Durability - You don't want your new magnetic cuff falling off unexpectedly and you also need to know it is up to the job when the DIY heat is on so check the grade of the material. Many are made from high-grade man-made materials that are tear and rip-proof.