Best Food Mills In 2022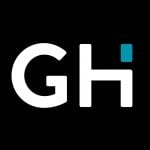 This product guide was written by GearHungry Staff
Last Updated
June 22, 2020
GearHungry Staff
GearHungry Staff posts are a compilation of work by various members of our editorial team. We update old articles regularly to provide you the most current information. You can learn more about our staff
here
.
GearHungry may earn a small commission from affiliate links in this article.
Learn more
Food mills have been around for many years, making the process of cooking a lot easier. Thanks to advancements in technology, changes have been made to the cooking mills, but manufacturers build both manual and electricity-powered models.
The best food mill for you will largely depend on your needs. Since the market is flooded with so many options, choosing one is a task, so it's a good idea to exercise a guided decision. This article lists some of the best food mills on the market, and all you need to know about them while you're on the hunt for one.
The Best Food Mill
Eliminate some of the hassle of processing your vegetables, potatoes, tomatoes manually using the Oxo Good Grip Food Mill. Sure, an electric blender is one way to go, but with a food mill, you can achieve a more delicate blend since it eliminates the tiny seeds in the sauce.
This impressive kitchenware is effective, but it's also quite safe as the inner bowl is durable stainless steel, and say goodbye to rust, which contaminates or stains the food. That's not all; the machine comes with three grinding discs to deliver different textures depending on your preferences. Even better, the manufacturer also added a secure disc exchange mechanism to make your food processing a breeze. Furthermore, this model comes with versatile foldable, slip-proof legs that secure the food mill over a container or pot. The foldable leg design also makes it easy to store once you when food preparation is complete.
Whether it's the food mill itself or the blade, the handle is designed to give a comfortable, non-slip grip and an easy to use experience. You'll also love that it's easy to clean, you can either throw it in the dishwasher or wash it by hand. Altogether, you'll find this versatile piece of equipment to be a useful addition to your kitchen arsenal.
Key Features:
Ergonomic handle
Foldable leg support
Furnished with 3 grinding discs
Stainless steel bowl
Spring-loaded lever
2.3-quart capacity
Specification:
Brand

OXO

Model

1071478

Weight

3.1 pounds
Cuisipro Deluxe Food Mill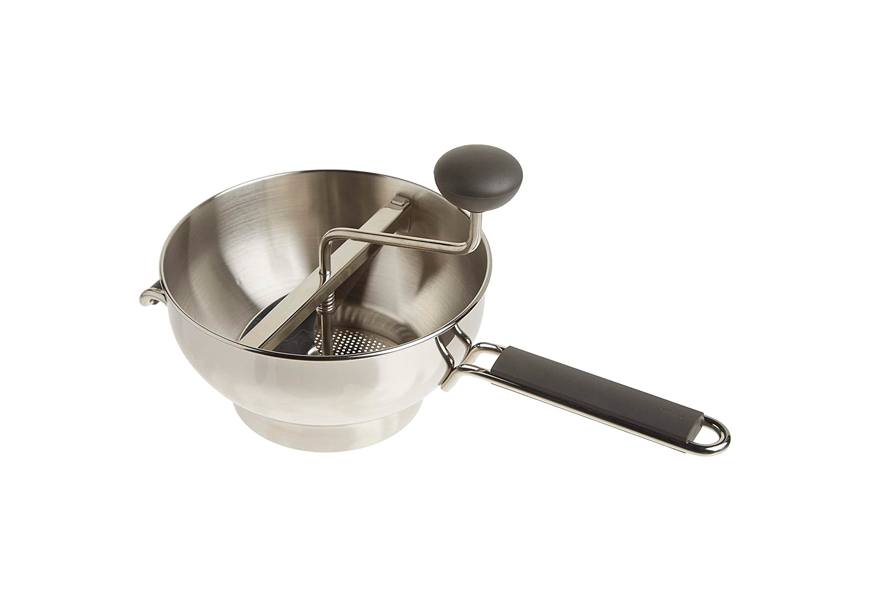 This device comes in with all the little extra bits to deliver comfortable and practical use. Cuisipro Deluxe Food Mill features an extra-large stainless steel bowl for making a large amount of sauce. If you are a hotel chef or a super mom who makes unique recipes in large quantities, this is a must-have.
The rotating crank has a firm-grip knob at the end so that the milling process can be low effort. Also, the Cuisipro Deluxe is furnished with a special scraper to evacuate purée into the container or pot placed under the mill.
In addition to the long handle furnished with a durable plastic slip-proof grip, the mill has an additional handle for easy carrying.
The device is entirely dishwasher-friendly, and what makes it's easy to take apart. If you want to clean by hand, then that's fine too, as the steel material allows easy removal of masticated food without any stains or residue.
Add the 25-year warranty, and you can purchase this with peace of mind. For more kitchen devices that will make your life easier, check out these automatic pot stirrers.
Key Features:
Stainless steel construction
Plastic slip-proof support handle
Extra handle
Large capacity
Large knob for even puree mixing
Easy to disassemble and clean
Specification:
Brand

Cuisipro

Model

746479

Weight

6.3 Ounces
Weston 61-0101-W Food Mill
One look at the Weston 61-0101-W, and you'll know right away this isn't a cheaply made device. It's a fantastically sturdy piece of kitchenware you'll love even more when you use it in the kitchen.
From top to bottom, including the three interchangeable milling disc, the Weston 61-0101-W Food Mill is finished with a durable steel design and a  large capacity of almost 2 quarts to accommodate more of the food you want to process. If you need to make tomato sauce, just launch the 2 mm grinding disc, and you are guaranteed a smooth sauce with practically no seeds.
Also, there's a 3mm and 8mm disc for tailor-fit milling. Once you load your vegetables, turn the crank in one direction to mill and the other direction when you are ready to discharge the food. Additionally, maintenance is equally easy.
If you have a dishwasher, the stainless steel material is dishwasher safe, and you can opt to clean it by hand easily. You shouldn't have any problem assembling it; however, one must pay close attention during blade installation. For some more must-have kitchen products, check out our list of the best graters on the market.
Key Features:
1.9 liter capacity
Multiple milling disc options
Durable stainless steel construction
Comfortable handle
Mashes and sieves soft foods
Easy to clean and dishwasher safe
Specification:
Brand

Weston

Model

61-0101-W

Weight

2 Pounds
Granite Ware Stainless Steel Deluxe Food Mill
If you are on a budget and you are looking out for a food mill that'll do what you want it to do, then the Granite Ware Stainless Steel Deluxe Food Mill is a great choice.  It's ideal for the preparation of the most delicate purée, sauces, and soup. Get one of these, and you'll find that seeding and peeling will become a walk in the park, just like with an immersion blender.
If you want to use this to make jam, it'll get almost all the seeds out, if not all, and you can use it to prepare baby food. The versatile food mill comes with three discs for the preparation of meals of different textures. So, whether you want to make a smooth jam, medium-textured apple sauce, or much chunky mashed potatoes, you are covered. Furthermore, the all stainless steel food mill employs a very lightweight design, so you'll find it easy to carry it if you need to. In terms of maintenance, either hand wash it or throw it in the dishwasher.
It may also interest you to know Graniteware has been in the kitchenware business since 1901. Since then, they've had the opportunity to develop the materials used and it shows in the stainless steel with carbon finishing for added strength and rust resistance. For less than $30, this 2-quart food mill is almost a steal.
Key Features:
Carbon finished steel
3 grinding disc changer
Long and safe handle
Circular base for bowls and pots
Separates skins and seeds and removes pulp
Dishwasher safe
Specification:
Brand

Granite Ware

Model

F0722-2

Weight

1.55 Pounds
Rösle Stainless Steel Food Mill
Rösle Stainless Steel Food Mill Is a beautifully finished piece of kitchenware, and you can't ignore the exquisite finish. Like many food mills, Rösle made this one manual with an ergonomic knob for a comfortable, slip-proof grip as you rotate the blade. The food mill's design ensures it doesn't fall short in terms of effectiveness or efficiency. You'll also notice there's almost no space between the blade and sieve below. This configuration is to ensure that peeling, seeding, and the overall milling processes are effortless with each rotation.
Unlike some other food mills, you won't have to keep supporting this device with your hands to get enough blade pressure. This food mill comes with two interchangeable milling discs for processing foods at different textures. Some food mills come with three discs. Rösle food mill's included discs deliver finer-textured food. As such, its 0.04  and 0.1-inch grinding disc can effectively process jams, baby food, and similar.
That's not all, for easy usage when milling, the food mill comes with 3 downward curved support hooks to secure it on a bowl or pot. Sure, it comes in a little pricey but you'll be glad you made the right decision. A lifetime warranty also comes with your purchase. But you won't need it because you can never go wrong with German-made equipment, you'll always find them in grandma's cabinet many years later still working like new. If you want to try something new in the kitchen, check out these amazing sous vides you might like.
Key Features:
Durable steel one-piece construction
Ergonomic knob for easy rotation
Fasting and efficient milling
2 milling disks
Lifetime warranty
Specification:
Brand

Rösle

Model

16252

Weight

4.29 Pounds
ALDKitchen ALD-S3000 Food Mill
This impressive unit combines full stainless steel material, electric mill grinder, and a power-saving motor to deliver a high-efficiency grain crusher. The ALDKitchen ALD-S3000 Grain Mill Grinder has a high capacity of 3000g, adequate for people who want to use it as a commercial miller in a hotel, shop, etc. So, go ahead and engage the ALF-S3000 to process all types of grain, and you'll notice how incredibly easy it is to use.
In addition to the high capacity, the speed of operation is equally commendable as this miller saves time when you need to process a large amount of grain, turning it into smooth powder in no time. The ALD-S3000 can process grains such as soya bean, dried corn, peanut, and also root spices such as ginger, etc.
The mill includes a buckle that eliminates the possibility of waste despite the high speed of grinding. Simply pour your grain in and turn the analog control. To ensure the mill doesn't burnout in a short time, the manufacturer furnishes the electric motor with a device that protects the machine from overload. Even better, you don't have to have to go through the process of lifting the entire mill to pour out your processed grain. You can simply lift the upper section to get the powder out. It's a little pricey, but you won't regret each dollar spent on this cool kitchen gadget.
Key Features:
Stainless steel finish
Buckle-down lid
Electric motor powered
Overload protector
Specification:
Brand

ALDKitchen

Model

ALD-S3000

Weight

19.1 Pounds
RSVP International Endurance Food Mill
From berry processing to baby food preparation, the RSVP International Endurance Food Mill got you covered.  Designed and finished with durable stainless steel material, your milling operation is guaranteed to be a breeze and non-reactive with the food. The package comes with three different interchangeable grinding discs made with durable steel.
This mill is a manually operated unit, so ergonomics is essential. The manufacturer understands, so they furnish the mill with a long handle for leverage. The handle itself is a combination of steel and wood finishing, so for best results, the maintenance is best done by hand. The dishwasher may not be ideal for cleaning this device due to the wood components. However, the three versatile, stainless steel discs are dishwasher safe. Our buying guide on the best woks features some more quality kitchen products you might like.
Key Features:
Designed with stainless steel
Wood finished handle
3 changeable milling disc
Non-reactive to food
Specification:
Brand

RSVP International

Model

FDML

Weight

1 Pound
Gefu Flotte Lotte Stainless Steel Food Mill
Uniquely designed to process foods in both fine and medium textures, Gefu Stainless Steel Food Mill FLOTTE LOTTE comes in with stainless steel disks equipped with 2.0mm and 3.0mm perforations. This mill is not the choice for coarser preparations. A 2-quart capacity allows a moderate food processing volume. One of the best things about the Gefu FLOTTE LOTTE is the ease of use.  You will be surprised at how incredibly painless your sauce making journey will be. The blade's position and configuration process foods quickly, and you'll be applying little effort.
Even better, the food mill is compact, making it easy to fit into the dishwasher and store. You'll have no worries about this sturdy food mill at all; Gefu builds it to last. If you need a product suitable for meat, here is our list of the top meat grinders that will do the trick.
Key Features:
Compact construction
Long comfortable handle
2 milling disks
Can accommodate 2quarts food processing at once
Specification:
Brand

GEFU

Model

24200

Weight

2.64 Pounds
Mirro 50024 Foley Stainless Steel Food Mill
For less than $50, this is another food mill that delivers excellent sauce making without pain and discomfort. The Mirro 50024 Foley Stainless Steel Food Mill comes with a capacity of 2-quart and steel material construction for efficient food milling. With this material, there's no chipping, no staining or discoloration of any kind, so it's okay if you want to use this to mix your baby's food.
Altogether, it's a versatile tool that can mash, grate, and process your food to the desired texture, and even replace your smoothie blender. If you are a chef, you've got to have this companion in your kitchen. What's more, you don't have to worry about wasting energy. This food mill is efficiently designed with a rotating crank and an ergonomic knob to make milling simple and effective.
Furthermore, the mill weighs less than two pounds altogether so you can swing it anywhere easily. The manufacturer also furnished the mill with a bowl or pot-secure support for non-slip user experience. It's equally easy to assemble and equally easy to clean, either by machine or hand. A couple of users complained the mill left their food with some metallic/black residue. So, you may need to correctly piece it together to avoid high friction movement and a similar experience. 
Key Features:
All-steel design
Comfortable knob for rotating mill
Balance support
2quart capacity
Specification:
Brand

Mirro

Model

2100043386

Weight

1.85 Pounds
Food Mill Buying Guide & FAQ
Features To Look For In Food Mills
Materials - This is an area you cannot afford to compromise on for any reason. The materials used in the construction of your food mill must first be safe, then durable. In terms of safety, because there's a lot of friction involved in the movement of the bowl, you cannot afford to have a material that will easily chip, cause discoloration, or leave an unpleasant smell behind, especially when the food is hot. Therefore, the best material with the lowest probability of creating any of the above is stainless steel. While the quality of stainless steel also differs, it is still one of the best materials to use compared to plastic or any other coated metal.
Capacity - This is how large the mill bowl is, both in depth and in diameter. While this may not directly affect the effectiveness of your food mill, efficiency might be compromised. A deep-mouthed food mill may come in handy when you want to whip up a large amount of purée. Instead of milling in batches, you'll easily swing it at a go. In addition, a food mill that's significantly too small can make food spin out of the bowl while processing. So, look out for at least a 2-quart capacity or more.
Table-Mounted vs. Rotary Food mills that operate manually are either rotary or mounted on tables. The rotary style works in a container that houses the processed food - either a bowl or pot. This configuration is ideal for 1- 5 quarts of food and frequently mounted on the table with the aid of a clamp. They often have a capacity of over a gallon and operate quickly. Operating them is faster and eliminates the awkwardness of holding the mill while you also rotate the crank. If your food mill is for occasional home use, you can easily opt for the rotary type. However, if you run a small or large commercial operation, like a hotel kitchen or restaurant, a mounted food mill may be ideal.
Electric v. Manual - If you've got a food mill at home, it's likely you have the manual type with rotating handles because they are a lot more common. Again, this is ideal for processing foods that are not very large in quantity or don't require urgency. Electric food mills are, of course, powered by electricity s the milling operation is effortless and faster. They also come in larger sizes and are usually quite expensive. If you can afford it, it can become handy when you need to process large volumes of food. But remember, if you need to prepare food in an electricity-devoid location, the manual food mill can be a lifesaver.
Blades - Blades are an essential part of the food mill. Like the bowl, they must be stainless steel and sharp. But these are not enough for a food mill to be capable. If the edge is too angled, and there is too much distance to the grinding disc, your food will swirl around instead of being forced through the sieve.
Discs - The sieve disc or grinding disc determines the texture of the processed food. Most food mills come with interchangeable discs so that you can change as you desire i.e., fine, medium, or coarse texture. Some may come with only two discs, so make sure the hole size of the available disc is something you can work with otherwise opt for a design with more disc options.
Handles, Cranks, and Hooks - The handle, crank, and hook of a food mill can make you make your milling experience fantastic or a struggle. Make sure you opt for a design with an ergonomic handle that delivers a comfortable, slip-proof grip. Also, the crank used in rotating the blade should have a good grip. So, look out for those with ergonomic knob designs. Furthermore, hooks are features that give balance to rotary food mills placed on a bowl or pot. The hooks ensure the mill doesn't slip off and makes work efficient.
Food Mill FAQ
Q: What is a food mill?
A: A food mill is a piece of kitchen equipment made for mashing food and sieving it as the user desires. The milling occurs by manual rotation, or it's electricity-powered.
Q: How does a food mill work?
A: A rotating blade grabs and crushes the food. The spinning forces the food through the holes of the disc into a bowl or pot placed below. This process also separates the seeds of fruits such as berry etc.
Q: What is the difference between a food mill and a food processor?
A: Food mills process food by crushing and extracting the skins and seed if any is present while the food processor minces food and purées both the seed and skin along with the food.  This process may impact the taste or look and may require some effort to pick them out by hand.
Q: What does mill mean in cooking?
A: Milling means to grind or change the texture and separate components of food not needed from the ones required. It either completes the cooking process, e.g., crushing cooked hot potatoes or precedes the actual cooking like it's done when making a tomato sauce. Altogether, it makes cooking easier and food softer to eat.
Sign Up Now
GET THE VERY BEST OF GEARHUNGRY STRAIGHT TO YOUR INBOX