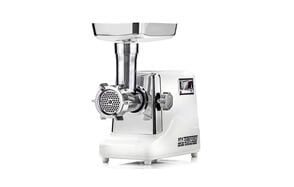 STX International STX-3000-TF Turboforce Meat Grinder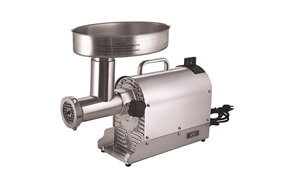 Weston (10-3201-W) Pro Series Electric Meat Grinder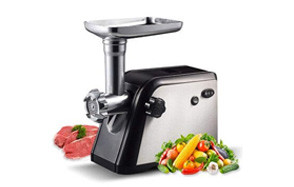 Homeleader Meat Grinder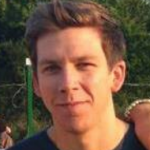 Meat grinders are a straightforward concept. Chunks of meat are fed through a tube and pushed through a turn screw, which forces the meat through a cutting plate. This determines the final size of the cut pieces of meat. Incredibly, it takes only a few minutes to grind enough meat for six burgers. The key benefit is improved taste; the most delicious burgers are ground fresh, sanguine when they go into the grill. Moreover, if you like to blend meats (perhaps with meatballs), a grinder can help to develop your technique. Dishwasher friendly stainless steel parts are another bonus.
Some of the top chefs are known to pass veal and pork separately through a coarse plate, apply seasoning and then use finer plates to give a more even consistency than hand-mixing usually allows for. You can apply your own creative fervor, too. Instead of getting into the habit of using lean burgers from the supermarket as your staple, you can formulate your own signature blend – say half sirloin, one-quarter brisket, with short rib or rib steak as the remainder. The combinations are endless. With the best meat grinders, you are empowered to choose your own meat adventure.
Before we move onto the reviews, however, it's worth finishing with a reminder that grinding machines are practical for more than just ground meat and sausages. They can also be used to cut vegetables for relish and pickles. Bologna and ham are ground to make remarkable salads. Cheese can be processed through the grinder to create pimento cheese and myriad variations.
The Best Meat Grinder
Meat Grinder Buying Guide & FAQ
Meat Grinders generally perform the same function which is, grind meat, chicken, sausages and the likes. However, there are some grinders that unquestionably have superior functions when compared to others. This guide will provide the necessary information required to further steer you in the right direction of picking out the most suitable meat grinder.
Features To Consider When Purchasing A Meat Grinder
Power - The power a meat grinder is able to exert depends largely on the motor's capacity. Electric motors are rated by their wattage ranging from 350-750 watt these ratings determine just how much meat can be ground per time and the textures as well.
Material - Meat grinders come in various durable housing, from steel casting to metal as well as reinforced plastic. Of course, in the long run, the steel and metallic models last longer and are more sturdy.
Quantity Of Ground Meat - The amount of meat a grinder can take on per time is extremely important, this helps determine if a meat grinders capacity will match your kitchen needs. Domestic meat grinders take a smaller quantity than commercial models do. It's therefore vital to find out from the description just how much meat the desired grinder can take on at a given time.
Types Of Meat Grinders
There are different types of meat grinders available in the market today;
Manual Meat Grinders - These are simple yet classically designed meat grinders that are operated by hand. They come in quite a compact size when compared to other electrical models and can chop up little amounts of meat per time. being the most affordable type of meat grinders, it makes the perfect choice for small families that won't need to mince large quantities of meat at a time and also don't mind a good old work-out when churning the meat.
Electric Meat Grinders - Electric models, of course, run on electrical power, conveying most of the work on the machine and not manpower. They have the capacity to chop more meat quantities at once with options to how finely or coarsely it should be chopped up. Of course, these are more pricey than the manual version and can do considerably more work.
Commercial Meal Grinders - As the name implies, there are meat grinders that have been solely designed for commercial use. They have their place in butcher shops, meat shops, restaurants, and the likes. They are built for bigger and tougher work, with a good number of settings and options that make chopping large quantities of meat a lot easier.

Meat Grinders FAQ
Q: How do meat grinders work?
A: A meat grinder works with specially crafted blades that push the meat through the inserted plates to produce well-chopped minced meat with all-its moisture and freshness intact.
Q: What else can you do with a meat grinder?
A: Answer: some meat grinders come with attachments that fill up well-formed sausages while some can grind vegetables as well. It can also be used to chop fruits, cheese, and bread.
Q: Can you grind vegetables in a meat grinder?
A: Yes, most meat grinders will specify if they can suitable and uniformly chop of vegetables.
Q: What does the number mean on meat grinders?
A: The number you see on meat grinders represent the measurement of the grinder plates, this allows buyers to determine the size of the grinder and the capacity it will most likely take.