Best Deshedding Tools In 2022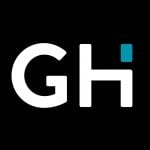 This product guide was written by GearHungry Staff
Last Updated
June 11, 2020
GearHungry Staff
GearHungry Staff posts are a compilation of work by various members of our editorial team. We update old articles regularly to provide you the most current information. You can learn more about our staff
here
.
GearHungry may earn a small commission from affiliate links in this article.
Learn more
Personal grooming is an important ritual we humans engage in on a daily basis. It may start with brushing our teeth and a shower in the morning, followed by shaving, hair, cologne. Quite often, grooming also means a trip to a barber or hairstylist. While you're busy making yourself look like a million bucks, have you given a thought to your four-legged family members?
Our pets can also benefit from a grooming session and they enjoy being pampered just as much as we do. If you have a furry four-legged family member, you need to keep them clean and brush their coats. This is especially important for dogs and cats with long fur. Cats and dogs shed their fur and it can be messy around the home during shedding season. You'll likely find pet hair all over the furniture, on your rugs, and on you after they've sat with you for a cuddle.
Deshedding your pets isn't just a convenience for you and the cleanliness of your home. Failing to deshed your pets can be very uncomfortable for your pets as well. Left unchecked, this excess hair can tangle and mat which is unsightly and can even restrict the natural movements for your pet. Grab one of these awesome deshedding tools and get to work giving your pets a little TLC. The best deshedding tools are easy to use and your pet will look and feel every bit as dapper as you do.
The Best Deshedding Tool
DakPets Dog Hair & Cat Hair Deshedding Tool
Get your pet looking like a real pampered pet with this DakPets Deshedding Brush for dogs and last. This is the perfect grooming tool for your pets that quickly removes unsightly hair from your pet with a 4-inch steel rust-resistant combs. It's also great for you with a soft grip ergonomic handle. Your pet will love the extra care they get when you brush their coats with this deshedding tool. It removes the dead hair from the undercoat and leaves the topcoat looking healthy and shiny. No more unsightly matted hair, your pet will feel loved and cared for with regular brushing with this great tool.
Key Features:
Effective grooming tool for cats & dogs
Quickly removes unsightly hair from your pet
Easily deshed short, medium & long coats
Soft grip ergonomic handle
4″ steel rust-resistant comb
Specification:
Brand

DakPets

Weight

5 ounces
Developed by pet grooming experts
Leaves topcoat healthy and shiny
Stimulate your pets' circulation
Can feel a little harsh for some pets
Pet Neat Professional Deshedding Tool for Dogs and Cats
Pamper your little fur baby with this Professional Deshedding Brush from Pet Neat. The brush will work well on most hair lengths and thicknesses and effectively removes the messy, loose undercoat without damaging the beautiful topcoat. It can effectively reduce shedding up to 95% so you won't need to clear the mess of pet hair from your furniture or floors. Best of all, your pet will love the attention you give them and the gentle actions of the brush will also boost your pet's blood flow.
Key Features:
Professional deshedding tool
Detachable head design
Suitable for all types of fur length
Effectively remove messy undercoat & loose hair
100% satisfaction guarantee
Specification:
Brand

Pet Neat

Weight

4.6 ounces
Effectively reduces shedding by up to 95%
Ergonomic handle for comfortable use
Keep furniture & floors free of pet hair
4 free e-books included
May not be effective on short hair
Furminator Undercoat Deshedding Tool For Dogs
Your long-haired doggy will love a good brushing down with the Furminator Undercoat Deshedding Tool for Dogs. This is one of the best deshedding tools for dogs with long hair as it works mainly on removing the loose hairs from the undercoat without damaging the topcoat. More importantly, the curved edge glides over the natural curves of your dog which prevents scratching the delicate skin underneath all the fluff. The ergonomic handle makes this deshedding tool easy and comfortable to use so you and your dog will enjoy some quality bonding time that is good for your dog's health as well as their appearance. Our buying guide on best dog bark collars features some more handy products for pet owners.
Key Features:
Removes the loose hair from shedding
Ergonomic handle for comfort and ease of use
Curved edge – comfortably follows pet's natural shape
Suitable for large dogs with long hair
Edge Guard protects teeth when stored
Skin Guard prevents cutting into skin
Specification:
Brand

Furminator

Weight

9.6 ounces
Reaches through topcoat removing loose undercoat hair
Curved edge for comfortable use
FURejector button to quickly releases collected hair
Teeth remove undercoat hair without damaging the topcoat
Caution required to prevent removing too much hair
Pat Your Pet Deshedding Tool
The trouble with a mass on knotted, matted pet hair is getting started on removing the mess on your pet. Most pet owners procrastinate when a pet needs matted fur to be removed and this only makes things worse. Leave the matting long enough and you may need professional help to get rid of the matting. With this Pat Your Pet Grooming Tool, you can get rid of the matted fur and groom your pet with this one convenient tool. The side with 9 teeth cuts through the matted mess for easy removal and the other side is for easy thinning and deshedding. This is the deshedding tool recommended by professional pet groomers but we're sure your pet will prefer their grooming done by you. If you love taking long walks with your little pouch, here are some handy dog water bottles you might also need.
Key Features:
A convenient 2-in-1 pet grooming tool
Rounded teeth don't scratch or irritate the skin
Recommended by professional groomers
Removes knots and smooths topcoat
Soft ergonomic anti-slip grip
Removes dead hair while it massages
Specification:
Brand

Pat Your Pet

Weight

5.6 ounces
Perfect for large and small breeds
Smoothly cut through the toughest mats
100% safe for pets
Reduces shedding with regular use
SleekEZ Original Deshedding Tool for Dogs, Cats & Horses
The SleekEZ Original Deshedding Grooming Tool for Dogs, Cats & Horses is one of those deshedding tools you just have to have for your pets. It removes more shedding fur, dirt, and dander than many other deshedding tools and it is super easy to use and keep clean. This is the World's #1 Patented Deshedding Tool for Pets and is made from premium grade poplar wood with stainless steel blades. The ergonomic handle fits comfortably in your hands so treat your furry friends to a little bit of love. If you want to keep your pet's fur shiny and healthy, make sure to browse our list of top dog shampoos.
Key Features:
Made from premium grade poplar wood
Stainless steel blades
World's #1 patented deshedding tool for pets
Removes shedding fur, dirt and dander
Ergonomic handle
Available in a variety of sizes
Specification:
Brand

SleekEZ

Model

4121411

Weight

4.8 ounces
Perfectly constructed to gently brush away loose fur
Painless and enjoyable for your pet
Easy to use and clean
May remove too much hair so go easy
MIU COLOR Pet Deshedding Brush
Deshedding your pet doesn't need to be a traumatic experience for you or your pet when you complete this task with a MIU COLOR Pet Deshedding Brush. This one quickly and easily removes loose hair from your pet and leave the topcoat healthy and shiny. It features a durable non-slip rubber handle that is comfortable and easy to hold with a quick-release button for easy cleaning. It can also reduce shedding by up to 95% so your pet will look and feel better after each treatment. And for those cold days, make sure to have a warm winter vest for dogs at hand for your little pouch.
Key Features:
Durable non-slip rubber handle
Offers quick & easy removal of loose hair
Quick-release button for easy cleaning
Eyelet on the handle for easy storage
Safety cover to protect the blade
Specification:
Brand

MIU COLOR

Weight

4.8 ounces
Suitable for long and short hair
Comfortable ergonomic grip handle
Leaves pets with a healthy, shiny topcoat
Reduces shedding up to 95%
May not be suitable for smaller pets
Pet Neat 2 Sided Pet Grooming Deshedding Tool
Give your pets the VIP treatment with this Pet Neat 2-Sided Pet Grooming Tool that desheds, unmats and removes tangles from your four-legged family members. This is a dual-head grooming tool with one head to remove clumps of tangled fur, and the other thins excessive fur and gives it a remarkable healthy luster. It features a comfortable non-slip handle and a rust-resistant blade that is sharp enough to cut through matted hair without causing harm or discomfort to your pets. To keep your furry friend entertained, make sure to check out these fun cat toys and dog balls.
Key Features:
2-in1 dual-head grooming tool
Safe & skin-friendly
Rust-resistant blade
Comfortable non-slip handle
Instructions and Paw tag included
Specification:
Brand

Pet Neat

Weight

9.8 ounces
Achieve fast and professional dematting & grooming
Reduce shedding by up to 95%
Sharp enough to cut through matting without harming pets
May not be comfortable for smaller pets
KING Komb De-Shedding Grooming Tool for Large Dog/Cat
Even pets love a good massage once in a while so you and your pet will love this KING Komb De-Shedding Grooming Tool that gives your pet's skin a nice massage while removing hair and dander. It features a self-cleaning retraction action that facilitates the removal of loose hair and rubberized bristles that gently remove dancer and also works as an excellent massage tool complete with dermal stimulation. This is one of those deshedding tools for dogs that won't cut your pet's fur so the experience is enjoyable for your pet and you. And to help your pet healthy and active, check out our guide to best dog joint supplements.
Key Features:
Self-cleaning retraction action
Helps reduce shedding and allergenic dander
Facilitates the removal of loose hair
Rubberized bristles gently remove dander
Designed by pet passionate dog owners
Ergonomic handle-less design
Specification:
Brand

KING

Model

P170-001

Weight

7 ounces
Self-cleaning retractable shedding edges
Does not cut your pet's fur
Rubber bristles excellent for massage and dermal stimulation
May take a while to remove all loose fur
FURminator Undercoat Deshedding Tool for Dogs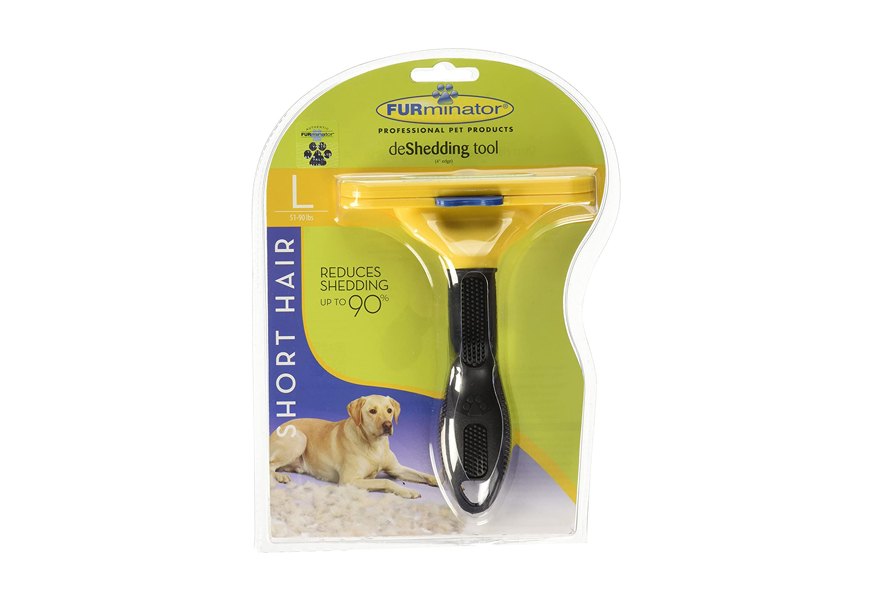 Some dogs run at the sight of dog deshedding tools so it's important to find one that will help them enjoy a grooming treatment as much as humans enjoy them. This is a deshedding tool for large dogs with short hair that reaches through the topcoat to remove the loose hairs of the undercoat. It has been designed to promote healthy skin and topcoat while being safe on your pet's delicate skin. The ergonomic handle is comfortable and easy to use and the SkinGuard Deshedding Tool glides over your pet so it is a comfortable experience for them. If you have a dog that suffers from allergies, don't forget to choose a quality allergy relief for dogs, too.
Key Features:
Deshedding tool for large (51-90 lbs) dogs with short hair
Designed to promote healthy skin and coat
Stainless steel deShedding edge 
FURejector button releases hair with ease.
Skin Guard glides over skin
Ergonomic handle for comfort and easy use
Specification:
Brand

Furminator

Model

101007

Weight

8 ounces
Reaches through topcoat to remove loose undercoat
Remove loose hair without damaging the coat
Safe on pets' delicate skin
May be difficult to use on thick coats
Deshedding Tool Buying Guide & FAQ
Features To Look For In Deshedding Tools
Size – When it comes to deshedding tools for your pets, size really does matter. The size of deshedding tool you get should really be chosen depending on the size of your pet. A large deshedding tool being used on a small pet will be difficult to maneuver over your pet's body and it will be uncomfortable for your little pets as well. On the other hand, a small deshedding tool on a large animal may be ineffective at removing loose hair and it will take you much longer to perform this task. Choose the right size according to the size of your pet so this deshedding and grooming does not become a traumatic experience for your precious pet or you.
Material – The comb or the blade of a deshedding tool should always be made of a rust-resistant metal like stainless steel because the last thing you need is for the teeth to break off and get lost in your pet's fur. The rest of the deshedding tool should be made of a comfortable material such as rubber or wood that is easy to hold on to while you work on your pet. Regardless of the type of materials used to make a deshedding tool, look for premium quality materials that are durable and safe to use on your pets.
Handle – With some deshedding tools, the body is the handle, while others have a handle that is attached to the body of the deshedding tool. Both types are effective at removing loose hair from your pets so the only consideration you need to make is which type is comfortable for you to hold. Keep in mind that if you have a large dog with long or thick hair, deshedding may take you a considerable amount of time to complete and if this is the case, you will really appreciate a deshedding tool with a comfortable, ergonomic handle.
Ease of Cleaning – The fine hairs of a dog's undercoat can bunch up and collect quite fast. This can make the cleaning of your deshedding tool a chore all on its own. Some of the best deshedding tools come with a fur ejection button that works by retracting the blade into the body of the tool, leaving you with a bundle of hair that you simply grab and discard. If your pet does have a lot of hair and especially during shedding season, you really need to consider a deshedding tool with a fur ejection feature.
Price – Fortunately, you don't need to spend a small fortune to have a good quality deshedding tool for your pets. However, you should still stay away from cheap imitations. The price of a deshedding tool is often a good indicator of the effectiveness of the tool, especially when you also consider the size of your pet along with the length and thickness of their coats. Some of the more expensive deshedding tools are probably a better choice for pets that have long or thick fur as they will be more durable and be more effective at removing loose fur and dander.
Deshedding Tool FAQ
Q: What is a deshedding tool?
A: A deshedding tool is simply a brush type gadget used to remove loose fur and dander from your pets. It's simple enough to use as well. All you need to do is to brush your pet's fur and watch the hair, dander, and debris come off. The best deshedding tools not only remove loose fur. They also massage the skin, improve circulation of blood, and improve the healthy glow of their coats.
Q: Are deshedding tools safe?
A: Deshedding tools are perfectly safe to use on your pets. Most have been designed to only remove the loose, dead hair of the undercoat, leaving the topcoat intact and gleaming. Not only are deshedding tools safe, but they are also a necessity for the health and well-being of your pets. Matted, tangled fur is quite detrimental for your pets. It is uncomfortable and it can also restrict their movements if the tangles occur near the neck, spine, hips, or legs.
Q: What is the best way to deshed a dog?
A: Deshedding a dog is a simple enough task, but you do need to set aside enough time to do it properly. The best way to deshed a dog is to start with bathing. The simple act of shampooing and rinsing your dog will dislodge much of the loose hair and the warm water will relax your dog making them receptive subjects to work with. Once your dog is thoroughly clean, make sure they are dry before you start using the deshedding tool on them.
Grab the deshedding tool and start brushing from the top of the head, working your way down towards the tail. You should see a considerable amount of fur coming off so remove this often to make deshedding easier. Make sure you also deshed the fur on your dog's underside. This includes the neck and belly.
Take your time when you deshed your dog and be gentle. If you have the right deshedding tool, all it needs is a gentle brushing from you. The tool should do most of the work for you. If you try and rush this task, you will most likely be rough and your dog will not be happy.
Q: How often should you deshed your dog?
A: How often you deshed your dog will really depend on the type of coat they have. Dogs with long coats need to be deshed at least 3 times per week. During the hotter months or shedding season, you may need to do this more often, possibly every second day. Dogs with shorter coats usually only need to be deshed twice a week with an extra treatment during shedding season while dogs with short, smooth coats may only need one deshedding treatment per week and an extra one when shedding is most prominent.
If you find your dog is leaving behind a lot of hair on your furniture or floors, you may need to deshed them more often. Like humans, all dogs are different and they all benefit from a regular pampering session.
There are so many reasons to regularly deshed your pets with the main reason being the health and well being of your beloved pet. Regular deshedding also ensures your home sees less mess from flying fur and it is also a great way to spend some quality time pampering your pooch or kitty. With one of the deshedding tools we've featured in this guide, you can be sure of a happy and healthy pet.
Sign Up Now
GET THE VERY BEST OF GEARHUNGRY STRAIGHT TO YOUR INBOX