The Best Dog Joint Supplements to Keep Your Pet Moving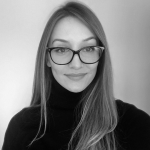 This product guide was written by Jovana Dosenovic
Last Updated
September 17, 2021
Jovana Dosenovic
Jovana is a writer and copy editor living with her lazy calico cat and thousands of (mostly unread) books. She has worked as a copywriter, fact-checker, QA analyst, and librarian, but this has been her favorite gig so far. A bit of a bookworm since she was tiny, she loves nothing more than curling up with a giant cup of coffee or tea and a good book. When not hunched over a keyboard or book, Jovana enjoys going on long walks, short hikes, and occasional camping trips. She also has an unfinished novel she'd like to publish one day. No, really.
GearHungry may earn a small commission from affiliate links in this article.
Learn more
If your dog has begun to lag behind on walks, is reluctant when taking the stairs, or has difficulty lying down or getting up, it's likely they're suffering from pain in their joints – especially if they're getting on in years. Thankfully, you may be able to put some pep back in your pup's step with the help of the best dog joint supplements.
As dogs get older, the cartilage between their bones – the tissue that acts as a protective shock absorber and joint stabilizer – begins to wear down. The less healthy cartilage your pet has, the more his bones rub against each other, causing inflammation and pain. Hence the trouble with getting up or lying down, climbing the stairs, etc. Aside from the natural degeneration of healthy joints, dogs can also have developmental joint issues such as hip or elbow dysplasia. In either case, joint pain is something to take very seriously because if left untreated it can significantly decrease the quality of your dog's life.
The good news is, there are many natural joint supplements for dogs on the market that can help both prevent joint problems and relieve the existing symptoms in your pooch. These include supplements with glucosamine, chondroitin sulfate, omega-3 fatty acids and MSM, all of which have proven anti-inflammatory properties. Below, you'll find a list of some of the best joint supplements for dogs currently available for OTC purchase – these are all effective, high-quality products with hundreds of positive reviews. Of course, it's always best to speak to your vet first as your pet may have specific needs based on her history, breed or other health factors. But this is a great place to start as we've done our research – 16 hours of it!
The Best Dog Joint Supplement
Nutramax Dasuquin with MSM Dog Joint Supplement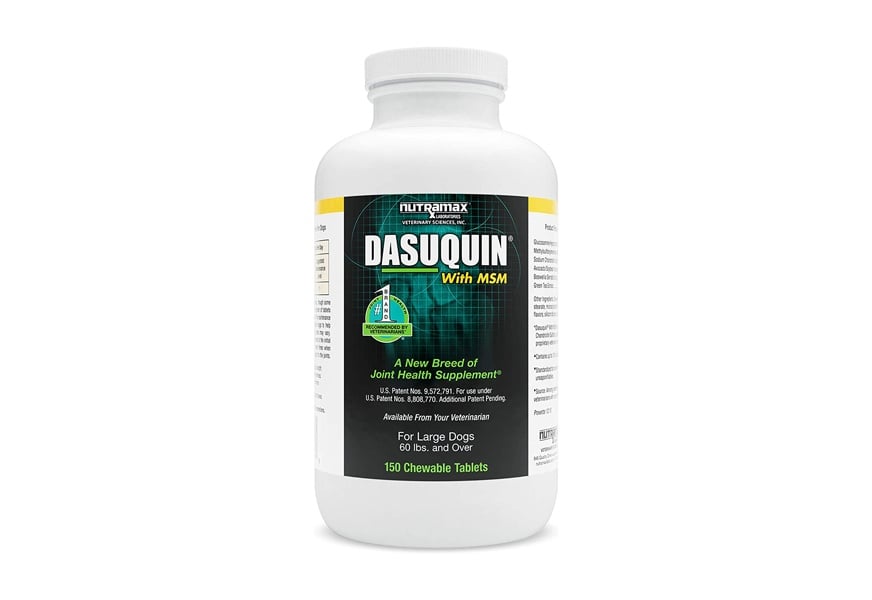 The best dog joint supplements contain high amounts of active ingredients, including glucosamine and chondroitin sulfate, and Nutramax Dasuquin with MSM Chewables definitely fall under this category. Combining the benefits and synergies of glucosamine hydrochloride, chondroitin sulfate and ASU, this excellent dog joint health supplement is sure to take complete care of your pooch's joints. Another star ingredient is MSM, an organic, naturally occurring compound made up of sulfur, known to help inhibit cartilage breakdown, support joint comfort, and encourage cartilage matrix production. Aside from high levels of main active ingredients, this dog joint supplement also contains a couple of other beneficial nutrients with powerful antioxidant properties, including green tea and Boswellia Serrata.
Long story short, our research has shown that Nutramax Dasuquin's chewable dog supplements are some of the best ones on the market. They're perfect for larger dogs weighing anywhere between 60 to 120 pounds and cases of both degenerative and developmental joint problems. Make sure you also check our guide to the best dog shampoos.
Key Features:
Contains glucosamine, MSM, chondroitin, ASU
Rich in anti-inflammatory antioxidants
Best for large breeds, between 60 – 120 pounds
150 chewable tablets
Specification:
Brand

Nutramax Laboratories

Model

DASML150

Weight

2 pounds
Doggie Dailies Glucosamine/Dog Joint Supplement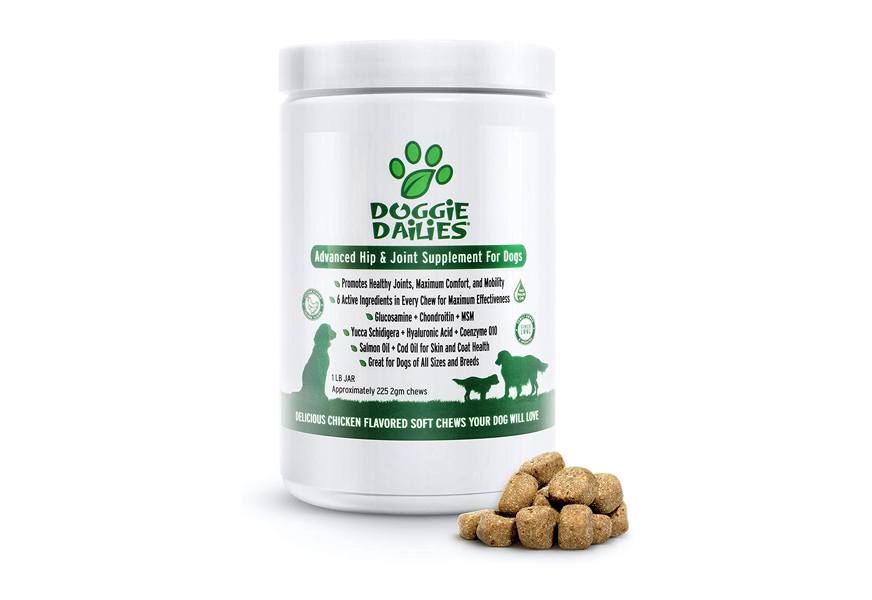 If your pup is a picky eater who turns his nose up at most dog foods let alone supplements, you'll like Doggie Dailies Glucosamine for Dogs, an advanced joint and hip supplement that tastes pretty much like a treat. Formulated with chondroitin, glucosamine, hyaluronic acid, and MSM, these delicious chews make the perfect prevention supplement as they contain not too-high and not too-low concentrations of active ingredients. For extra benefits, the Doggie Dallies contain Coenzyme Q10, which is a powerful antioxidant that aging dogs can benefit from, and Yucca Schidigera, a medicinal plant with anti-arthritic and anti-inflammatory effects.
The integrity of the tasty chews is preserved via the manufacturer's use of cold-press extrusion, which also ensures the maximum potency of the drug. The all-American-produced supplement comes highly recommended not only by hundreds of pet owners but multiple veterinarians as well. For more amazing products that will help your pet feel comfortable and warm, check out our guide to the top winter vests for dogs.
Key Features:
Main ingredients chondroitin, glucosamine, hyaluronic acid, MSM
Bonus of hyaluronic acid, CoQ10, salmon oil
Tasty chicken or peanut butter flavor
225 soft chews
Specification:
Brand

Doggie Dailies

Weight

1 pound
VetriScience Laboratories – GlycoFlex 3 Dog Joint Supplement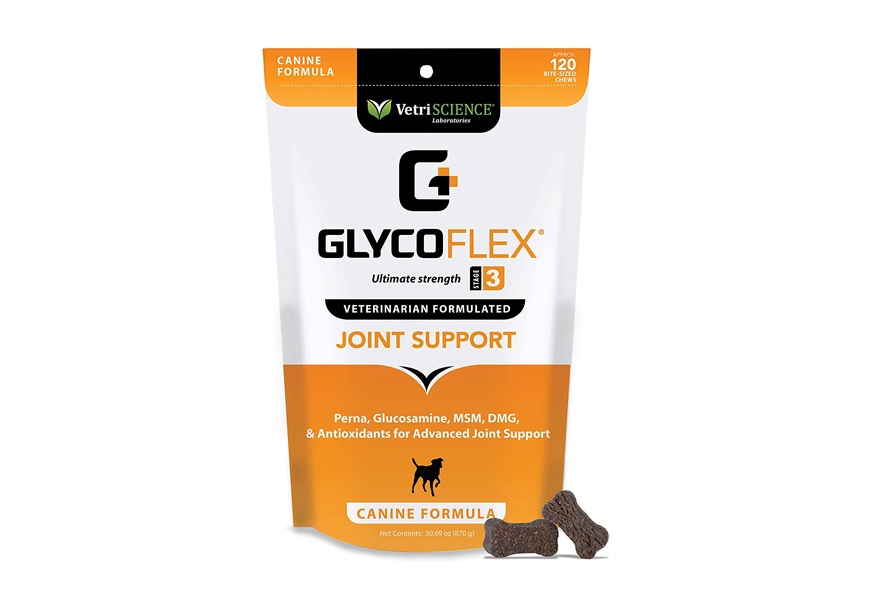 For over 40 years, the VetriScienceGlycoflex Joint Support Stages System has been recommended as a trusted dog joint supplement. And it's no wonder why – made up of pretty high concentrations of active ingredients MSM, glucosamine and Perna, this high-quality dog joint health supplement has it all. Other beneficial ingredients include Vitamin C, magnesium, and glutathione which have been added to boost the immune system of your furry pal. This is seriously powerful stuff that seems to work best on very active dogs, as well as degenerative joint problems.
When used for four weeks consistently, it increases the hind leg strength of your dog by up to 41%. This has been clinically proven after the Vetriscience Lab undertook a series of rigorous tests. Available in three distinct stages, this supplement has been formulated to build healthy cartilage and support normal joint function for dogs of all breeds and sizes. It's also one of the best dog joint supplements for canines in recovery after orthopedic surgery.
Key Features:
High levels of glucosamine, MSM and Perna
Packed with antioxidants for joint support
Recommended for active breeds and senior dogs
120 bite-sized chews
Specification:
Brand

VetriScience Laboratories

Model

0900569.120

Weight

1.8 pounds
Zesty Paws Multifunctional Dog Joint Supplement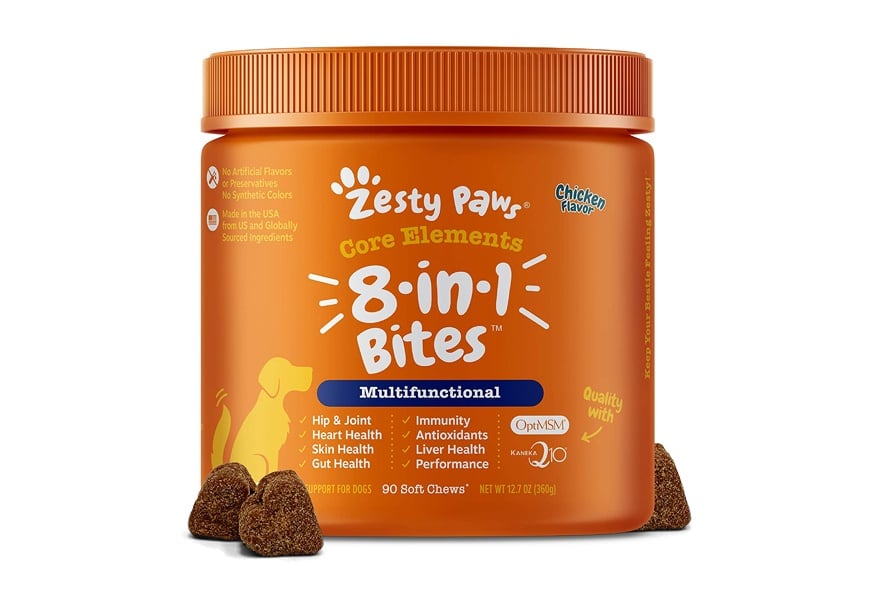 The Zesty Paws Multifunctional Supplement is another great product to consider whether your pet is suffering from stiff joints or is of poor health in general. It contains medium levels of MSM, chondroitin, and glucosamine to bring relief and increase mobility in aging pooches. If your dog suffers from arthritis, this might be her savior, as the Zesty Paws features a GRAS-designated distilled form of MSM, known as optiMSM, which provides much-needed muscular support. 
Unlike many dog joint supplements on the market that contain a very limited number of ingredients, Zesty Paws Multifunctional is chock full of other healthful ingredients and nutrients. Some of them include a probiotic blend for a healthy tummy and better nutrient absorption, folic acid and Kaneka Q10 for a strong heart, and vitamins, antioxidants, and cod liver oil for overall health and well-being. For more useful pet products, browse our selection of the most effective dog allergy relief supplements.
Key Features:
Glucosamine & Chondroitin + MSM
Probiotics, vitamins, antioxidants
Multifunctional formula for overall health
90 soft chews in chicken or peanut butter flavor
Specification:
Brand

Zesty Paws

Weight

15.2 ounces
Cosequin Maximum Strength Dog Joint Supplement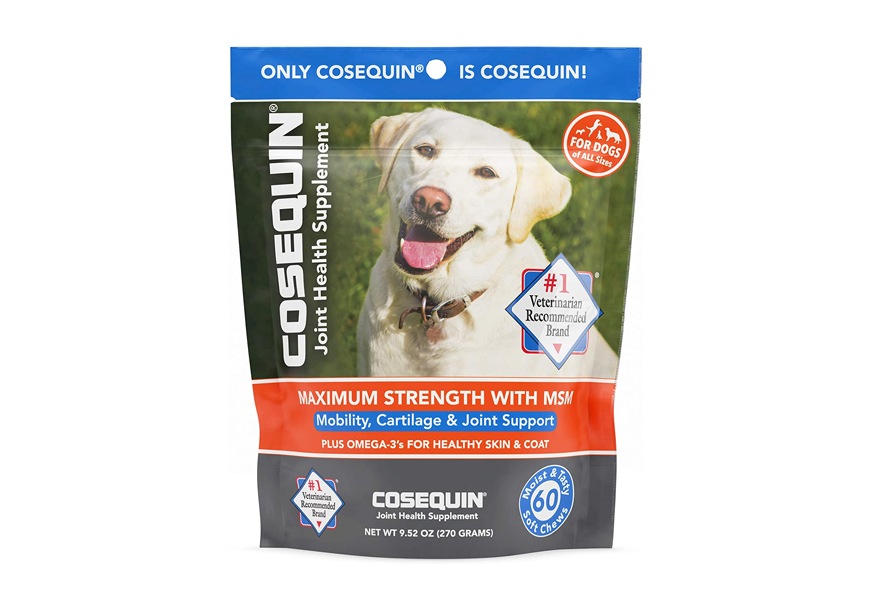 Keep your pupper movin' with Cosequin Maximum Strength supplements that are scientifically researched and formulated to help dogs maintain healthy joints. With MSM, chondroitin, omega-3s and glucosamine for dogs, these moist and tasty chews pack a powerful punch and are pretty much guaranteed to both prevent joint problems if given early, as well as minimize any uncomfortable symptoms in dogs already suffering from joint or hip issues. The formula is recommended for dogs of all ages, sizes, and breeds and is considered one of the best joint supplements for dogs by both pet owners and veterinarians.
Another thing we like about these chews – they're quite tasty so even the picky eaters should munch them with pleasure. All Cosequin supplements are manufactured in the U.S. and subjected to rigorous quality control measures so you're assured of excellent quality. 
Key Features:
Glucosamine, chondoritin and MSM
Omega-3s for healthy skin and coat
Number 1 veterinarian-recommended joint health supplement
60 moist, soft chews
Specification:
Brand

Nutramax Laboratories

Model

CQSC60-MSM

Weight

14.4 ounces
Extend Joint Care Natural Glucosamine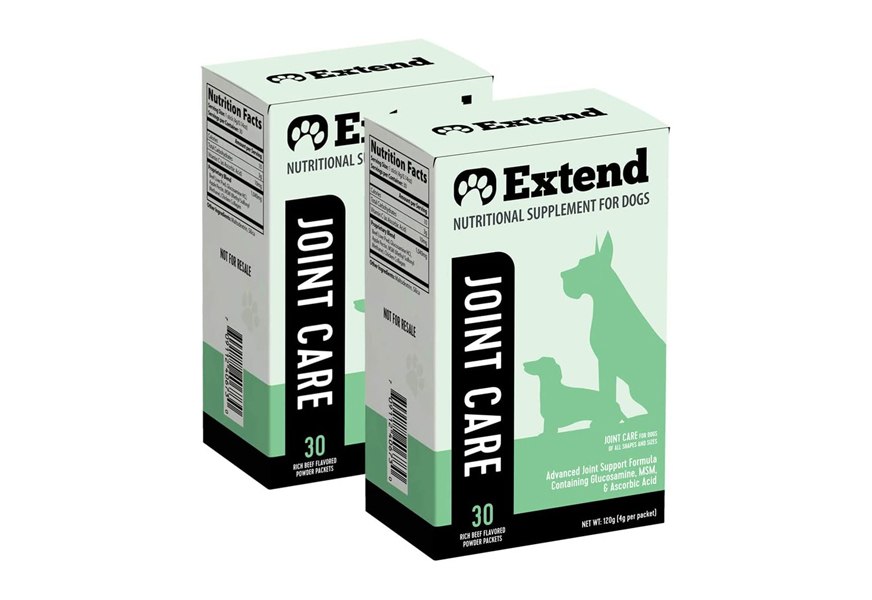 Just as its name suggests, the Extend Joint Care Supplement for dogs is a drug formulated to help extend the health and energy levels of your furry friend. The main active ingredients include MSM, glucosamine, and type II chicken collagen –  a combo that should not only relieve any pain your pooch might feel, but also improve their mobility and flexibility. The addition of ascorbic acid or vitamin C further helps increase the production of collagen (and bioavailability of type II chicken collagen) as well as boost the immune system.
Unlike most joint supplements for dogs though, The Extend Joint Care supplement comes in powder packets so it cannot be offered as a treat. Still, it's easy to administer as you can just sprinkle it over your pet's usual food, dry or wet. It also comes with a 100% money-back guarantee which we always appreciate.
Key Features:
Main ingredients glucosamine and MSM
Contains type II chicken collagen
Suitable for all dog breeds and sizes
30 powder sachets, beef flavored
Specification:
Brand

Extend Pets

Model

FBA_ex-102

Weight

11.2 ounces
Infinite All-Natural Hip & Joint Supplement for Dogs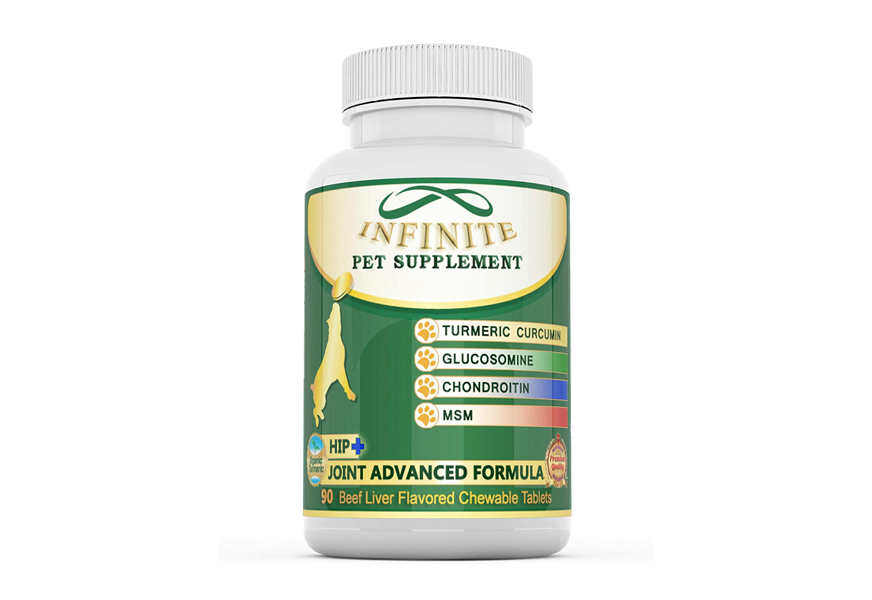 Featuring organic turmeric, plus the usual ingredients for joint health and support – glucosamine and chondroitin sulfate and MSM – the Infinite All-Natural Hip & Joint Supplement for Dogs has all the bases covered. It reduces inflammation and joint pain while helping to repair worn-down cartilage for improved mobility and comfort. Turmeric is of particular interest here as it can be difficult to come by in high amounts in dog supplements; here, it is organic and therefore of great quality, making it perfect for pets suffering from any kind of inflammation.
With no extra ingredients or artificial flavors, the Infinite's supplement is quite simple but still powerful. It's recommended for dogs of all sizes and with 100% money-back guarantee. You may also be interested in some of the best dog bark collars from our list, so be sure to check them out.
Key Features:
Features anti-inflammatory organic turmeric
With MSM, chondroitin and glucosamine
For dogs of all breeds and sizes
90 beef-flavored tablets
Specification:
Brand

Infinite Pet Supplements

Model

1DG

Weight

3.2 ounces
Bayer Synovi G4 Soft Chews for Dogs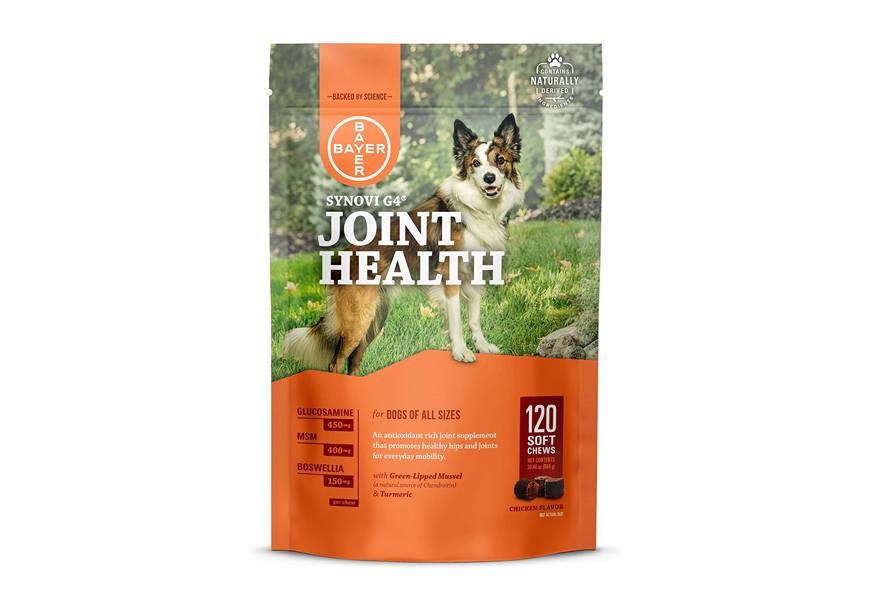 Veterinarians, dog owners, and dogs themselves love the Bayer Synovi G4, soft, chewy supplements developed with MSM, glucosamine, and chondroitin for dogs. Aside from the main ingredients, this vet-recommended supplement contains turmeric, creatine, Boswellia serrata, Perna Canaliculus, and other healthful ingredients that help support your pup's hips, joints, and overall health. This drug is made with a specialized ingredient blend where all elements are combined into a unique formula to assist with muscle toning, joint healing, and antioxidant functions. This blend is known as the Synovi G4, and it is specific to the Bayer brand.
With chicken flavor and soft texture, the chews are pretty tasty and therefore super-simple to administer – 1/2 a chew a day if you're looking for a small dog joint supplement (for pups under 15 pounds), 2 chews a day for those between 61  to 100 pounds.
Key Features:
Contains glucosamine, MSM, Boswellia
Naturally derived powerful ingredients
For dogs of all sizes and breeds
Multi-benefit formula
120 chicken flavored soft chews
Specification:
Brand

Bayer Animal Health

Model

81564558

Weight

2.1 pounds
Amazing Nutritionals Turmeric Chews for Dogs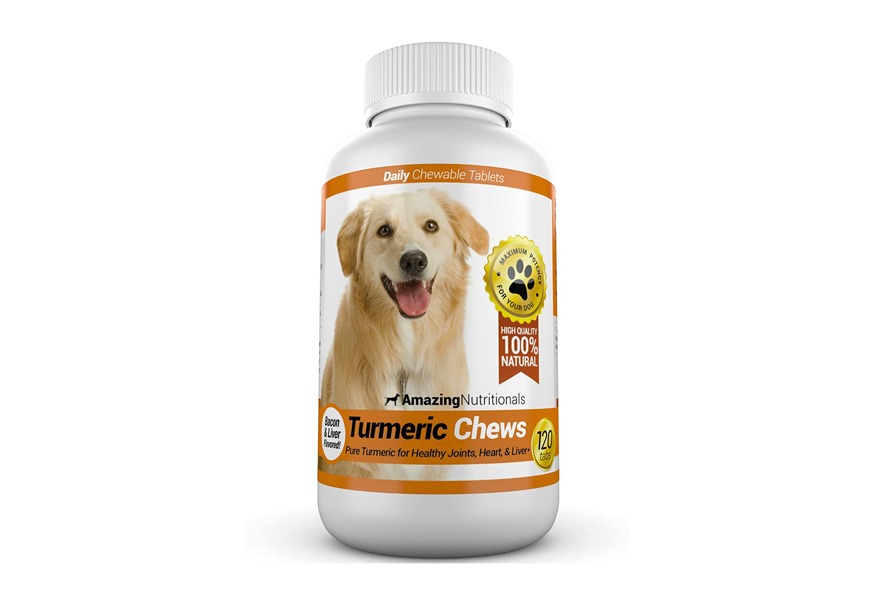 Turmeric has powerful anti-inflammatory properties, making it the perfect nutrient for dogs struggling with painful, stiff joints. With 300 mg of turmeric curcumin per chew, the Amazing Nutritionals supplement provides plenty of health benefits for your aging pooch, including the immune system and heart support, as well as reduced knee, hip, and joint pain and increased movement.
We'd like to note that these chews contain turmeric as the only active ingredient, so if you're looking for something extra – such as glucosamine and chondroitin as is recommended for dogs with joint problems – it's best to combine this supplement with another one. Be sure to also check out our guide to these amazing outdoor dog houses for some great products your pooch will love.
Key Features:
300 turmeric curcumin per chew
Reduces inflammation and alleviates pain
No other active ingredients
120 chew tablets
Specification:
Brand

Amazing Nutritionals

Model

AN-Tumeric-01-Single

Weight

6.1 ounces
TerraMax Pro Best Hip and Joint Supplement for Dogs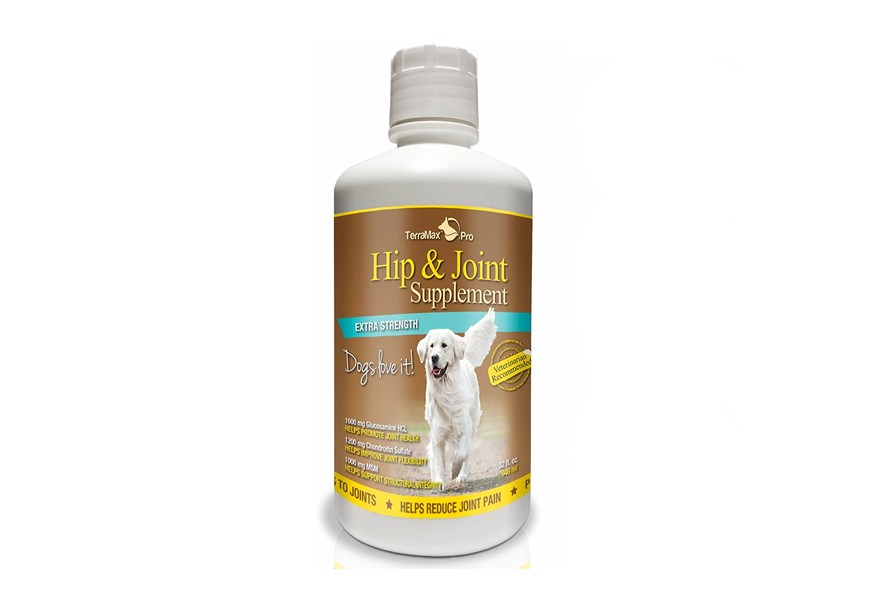 The Terramax Hip and Joint Dog Supplement contains high levels of three important substances for joint and hip health and support – glucosamine, chondroitin, and MSM, making it one of the best if not the best dog arthritis joint supplement on the market. Other helpful ingredients include hyaluronic acid, aloe vera, and manganese – a combo that is sure to boost your pupper's overall health and energy levels.
The Terramax supplement is made in the USA and formulated with the highest quality of ingredients. It comes in a liquid form and is easy to administer – just mix it with your pet's usual food or offer it straight from the cap. You may also be interested in some of the top dog agility tunnels from our list, so check them out.
Key Features:
Liquid glucosamine with chondroitin and MSM 
Extra strength for aging and active dogs
Recommended for all breeds and sizes
32 oz bottle
Specification:
Brand

TerraMax Pro

Model

Joint Health Support for Dogs

Weight

2 pounds
Why Trust Us
Dog owners, we're one of you; here at Gear Hungry, most of us have pets so we know how devastating it can be to watch your loving dog's health deteriorate but be powerless to help them. That's why you'll only find legitimate, effective products recommend here that are backed up by science and vet recommendations. Trust us – we've done our homework.
Who This Is For
Any dog owner whose beloved pet suffers from joint or hip issues, as well as pet parents who want to prevent any potential problems in the future. Whether you want to help increase your dog's mobility and flexibility, ease their pain and help them feel more comfortable, or you simply want to know what are some of the best dog joint supplements currently on the market so you can start the supplementation early on, this guide is for you.
How We Picked
We chose products that are vet-recommended and backed by years of research, and those that contain high levels of ingredients scientifically proven to lessen the symptoms of arthritis and joint problems or help prevent them. We looked for supplements that are useful for a wide range of mobility and health problems and we tried to accommodate varying dog breeds, ages and sizes, as well as budgets.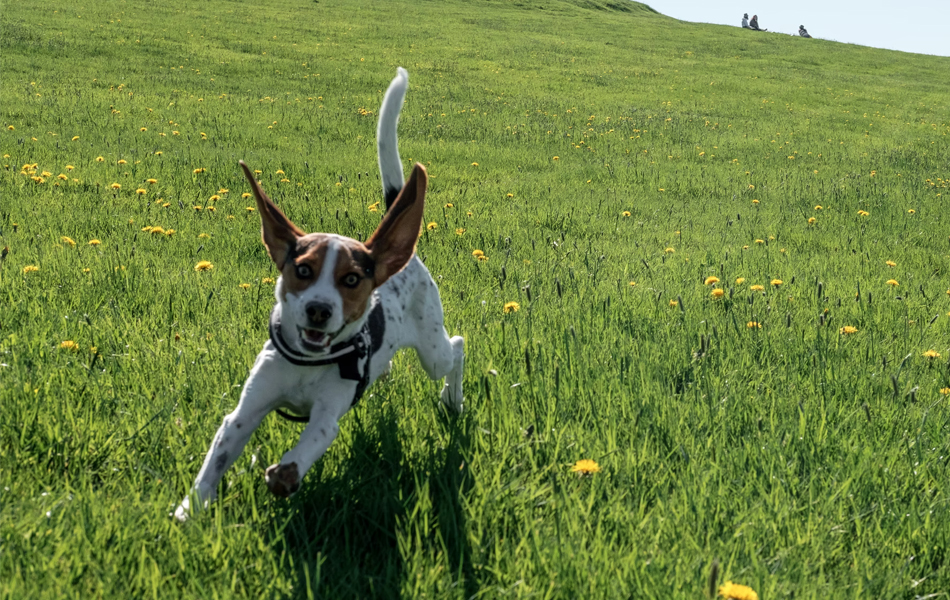 Ingredients To Look For In Dog Joint Supplements
There are quite a few naturally occurring substances that can help prevent joint problems in dogs, as well as treat the existing symptoms. Naturally, the earlier you start adding these into your pet's daily life, the better the long-term results will be. Still, it's never too late to add a good-quality joint support supplement to your dog's diet as certain ingredients used in these products are good for your pooch's overall health and energy levels. The best joint and ligament support for dogs will contain at least a couple of the following ingredients.
Glucosamine – A natural compound found in the body, glucosamine is arguably the most important ingredient in dog joint supplements. This is because glucosamine helps reduce inflammation (which is linked to arthritis and pain in the joints) while promoting the development of healthy cartilage, tendons and ligaments. It is used in drugs to help reduce the extent and severity of arthritis and is also useful for relieving the pain associated with several health conditions. Older dogs tend to produce less glucosamine than their younger counterparts, so it's best to start adding this important supplement to your pet's life while they're still an adult. Another thing about glucosamine that's worth noting is that it takes a while to build up in a dog's body, so don't expect miracles immediately. However, once glucosamine reaches therapeutic levels in your dog's tissues (which may take several weeks or even months in some cases), it can greatly reduce joint pain and increase mobility. Glucosamine is usually obtained from shellfish but it can also be made in the lab.
Chondroitin – A vital part of cartilage, chondroitin is also essential in joint supplements. Similar to glucosamine, chondroitin's role is to stimulate cartilage repair and improve mobility and flexibility while reducing cartilage degeneration. Usually, glucosamine and chondroitin are combined in drugs to help deal with the effects of ailments such as osteoarthritis. The two ingredients work best in tandem and can help reduce swelling that accompanies many inflammatory diseases, reduce pain and improve joint health. Chondroitin sulfate can be obtained from a variety of sources, including fish, pigs, cows, sharks and birds.
MSM - MSM, which is short for methylsulfonylmethane, is a common component of dog supplements and drugs aimed at joint and muscle health at large. This ingredient has powerful anti-inflammatory effects and so it's used for treating the pain associated with osteoarthritis and other joint problems. Besides this function, MSM also helps in the repair of cartilaginous tissues and leads to the efficient production of collagen to improve the flexibility and mobility in dogs (as well as humans) with both developmental and degenerative joint issues. While MSM can be given alone, it has the best effects when it's combined with glucosamine and chondroitin, so the best dog joint supplements will contain all three ingredients.
Hyaluronic acid - Hyaluronic acid is another naturally occurring substance that's helpful for your pup's joints. This clear, viscous liquid retains water so it promotes lubrication of the joints while decreasing inflammation. This ingredient is also highly welcome in dog joint supplements and it's best when it's combined with other helpful ingredients. Hyaluronic acid is also known to improve the elasticity and hydration levels of the skin and coat of dogs, which is a nice plus.
Omega-3 fatty acids - Omega-3s have a host of health benefits, including reducing inflammation and pain associated with it, as well as promoting healthy joint lubrication and muscle strength. Aside from decreasing stiffness and discomfort, omega-3s also promote heart, brain, skin, and coat health, making them one of the best ingredients in dog supplements. The best sources of omega-3s are fish oil such as salmon oil, as well as krill oil.
ASUs – Avocado Soybean Unsaponifiables, or ASUs for short, are natural extracts from avocado and soybeans which have been shown to work synergistically with glucosamine and chondroitin to reduce joint inflammation and stimulate healthy cartilage production. They're safe for long-term use and can help both reduce the symptoms associated with osteoarthritis and prevent joint problems in the future.
Tips For Managing Joint Pain In Dogs
It's no secret that the best way to treat joint pain in dogs is to prevent it, which can be done through a healthy diet, regular exercise and the use of quality joint supplements. But what can you do if your dog has already developed joint pain and stiffness?
Supplementation – First things first, add a quality dog joint supplement or two to your dog's daily diet. As mentioned, it's best to seek products that contain proven-to-work ingredients such as glucosamine, chondroitin, MSM, hyaluronic acid, omega-3 fatty acids, and ASUs. Other ingredients and nutrients can also be beneficial, including turmeric, green-lipped mussel, and antioxidant-rich nutrients.
NSAIDs – If your pet already has osteoarthritis, supplements alone are not likely to help a lot, so they should be combined with pain control medications such as NSAIDs. A great thing about this type of drug is that it both helps reduce pain as well as inflammation in the joints. Naturally, if you're planning to give your dog drugs, we recommend consulting with your vet first.
Weight management – Having a healthy weight is of crucial importance to dogs with joint pain and arthritis. Not only do dogs suffer more pain when overweight (as excess weight puts pressure on their damaged joints) but they also experience faster cartilage breakdown.
Additional treatments – Your vet may also recommend professional massages to your dog, physiotherapy, or cold laser. You can also massage your pooch yourself by gently kneading their stiff muscles and improving blood flow.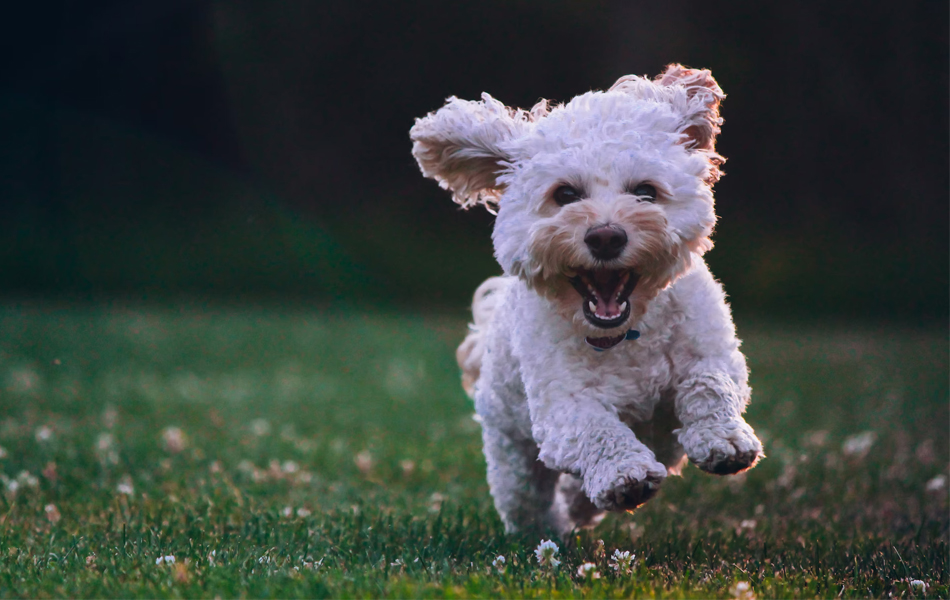 Dog Joint Supplement FAQ
Q: How do dog joint supplements work?
A: Most dog joint supplements work by either reducing the inflammation in the affected joints or by supporting healthy cartilage production – or both. Because they can help rebuild worn or damaged cartilage and reduce inflammation, quality dog joint supplements can prevent joint problems in dogs predisposed to them (due to genetics, breed or other factors), as well as reduce the existing symptoms in dogs already suffering from osteoarthritis and hip dysplasia.
Q: What are the side effects of dog joint supplements?
A: Most dogs tolerate joint supplements very well, but side effects can always occur, and their number and intensity usually depend on the ingredients and their dosage. While not very common, side effects of dog joint supplements include mild to medium digestive issues such as diarrhea, constipation, nausea or vomiting. To avoid potential side reactions, always consult with your vet and follow the directions on the label.
Q: What typically causes joint problems in canines?
A: While some dogs can have developmental issues with their joints (such as hip or elbow dysplasia), most dogs suffer from degenerative joint problems, where their joints wear down with age and use. Osteoarthritis, for example, occurs when the protective cartilage that cushions the joints breaks down, leading to friction between the bones and as a result, pain and decreased mobility.
Q: Can I give my dog human supplements for joints?
A: While many human and dog joint supplements contain similar and sometimes the same ingredients such as glucosamine and chondroitin, it's not recommended to give your dog human supplements for joints. This is because the rest of the ingredients in human join supplements are often dangerous or downright toxic to dogs; think xylitol which can be deadly to canines. Another thing to consider is the form of the supplement – while many of our supplements come as pills that we can easily swallow with a glass of water, most dog joint supplements come in easier-to-administer (to dogs) forms such as chewable tablets, soft chews and liquids.
Sources:
Degenerative Joint Disease in Dogs - VCA Hospitals
JOINT HEALTH - Veterinary Medicine & Biomedical Sciences
Sign Up Now
GET THE VERY BEST OF GEARHUNGRY STRAIGHT TO YOUR INBOX