Best Outdoor Dog Kennels In 2022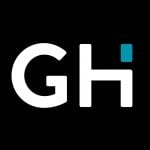 This product guide was written by GearHungry Staff
Last Updated
August 11, 2020
GearHungry Staff
GearHungry Staff posts are a compilation of work by various members of our editorial team. We update old articles regularly to provide you the most current information. You can learn more about our staff
here
.
GearHungry may earn a small commission from affiliate links in this article.
Learn more
Most dogs love to spend time outdoors in the sun, where they can play and bask in the natural light all day long. However, given how unpredictable mother nature can be, dog owners are responsible for protecting their furry friends from potential threats.
To combine the benefits of playing outdoors and staying safe, you'll want an outdoor dog kennel. We've been able to check out dozens of kennels to find the best options that will protect your dog and are worth the money.
The Best Outdoor Dog Kennel
Lucky Dog Uptown Welded Outdoor Dog Kennel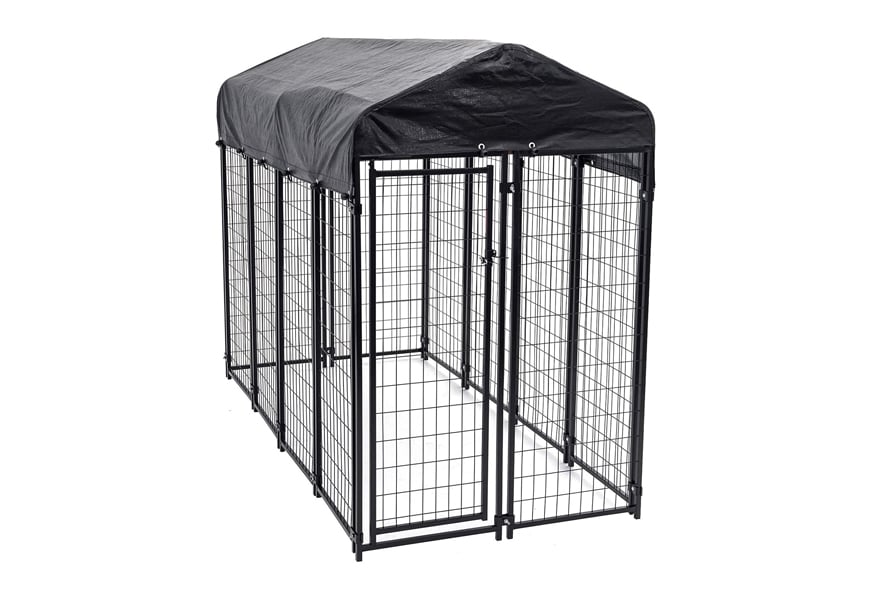 The Lucky Dog Uptown Welded Wire Kennel is a heavy-duty kennel that can accommodate just about any dog. This option is a tad pricier than others you'll see on the list, but it is worth it. The black hue looks great and fits the layout of any modern home or office location (in case you have a company with a pro-dog policy). It comes with a wire mesh and steel bars that are welded and coated, eliminating harmful sharp edges.
All modular panels have been pre-assembled and connect quickly to save you time during setup. You receive a waterproof cover for the steel frame to protect your pooch in the sun and rain. The kennel cover has been fitted with UV protection to prevent cracks or rips. If you want extra comfort for your furry friend, check out our reviews of the best dog beds on the market right now.
Key Features:
Added UV protection
Waterproof cover
Sturdy elastic cords
Specification:
Brand

Lucky Dog

Model

CL 60548

Weight

103 Pounds
Yaheetech Heavy Duty Foldable Metal Playpen Outdoor Dog Kennel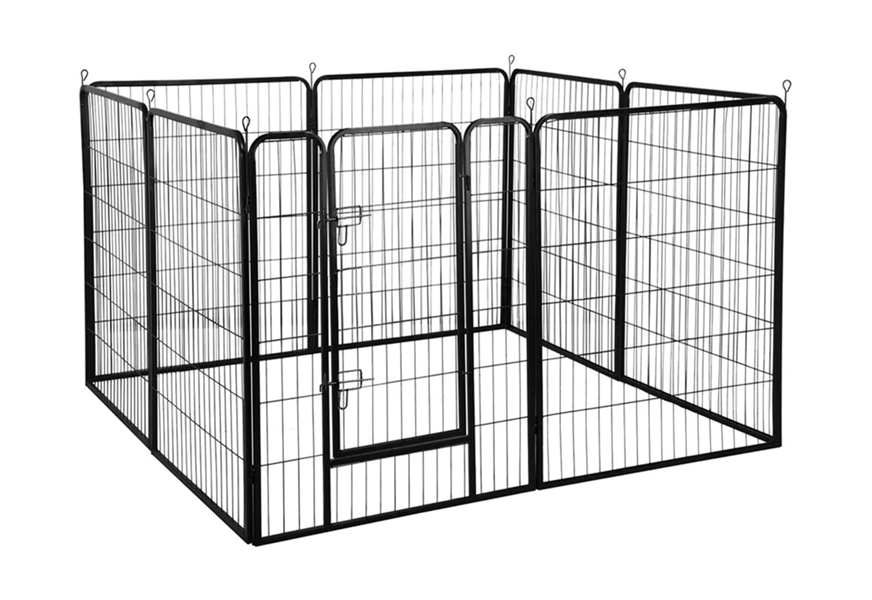 Versatile products like the Yaheetech Heavy Duty Foldable Metal Playpen Kennel are valuable to dog-lovers. Unlike many traditional dog kennels, the Yaheetech Heavy Duty Foldable Metal Playpen Kennel is a simple square shape. The metal is rust-resistant and heavy-duty; it can withstand abuse and is long-lasting. With the partitioned design, you can adjust the size to create more or less playroom for your pooch. This partitioning makes the entire kennel foldable so that you can easily transport it from place to place.
The absence of a top cover poses the risk of security for stubborn canines that relentlessly climb. But Yaheetech Heavy Duty Foldable Metal Playpen Kennel scores high marks on all of the other fronts. To keep your pet active and entertained, choose a quality dog agility tunnel for our list.
Key Features:
Foldable, partitioned design
Versatile build
Heavy-duty metal
Specification:
Brand

Yaheetech

Weight

43.6 Pounds
PawHut Galvanized Metal Outdoor Dog Kennel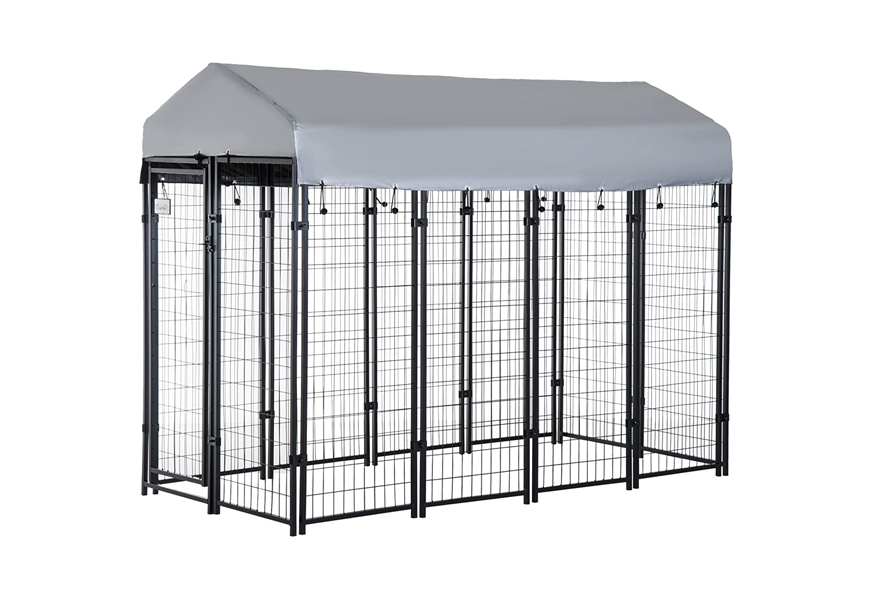 Another outdoor dog kennel you should not overlook is the PawHut Outdoor Galvanized Metal Dog Kennel. The standout feature of this outdoor dog kennel is the spacious interior, housing several dogs, no matter their size. The enclosure measures 97″ in length and 46″ in width and made of galvanized steel, providing the longevity and durability that you need from an outdoor dog kennel. The UV and the water-resistant canopy connects to the cage with durable elastic cords, and you receive an additional tarp covering for the summer months.
The PawHut Outdoor Galvanized Metal Dog Kennel comes with expandable panels that allow it to grow with your dog. While the kennel itself is incredibly spacious, you'll need to contend with the fact it lacks some durability. The tarps can rip during heavy storms, and the company doesn't sell replacement parts. If you want to make sure your pet is healthy and happy, choose any of these fun dog ball launchers that won't let you down, for sure.
Key Features:
Galvanized steel
Lightweight design
Collapsible build
Specification:
Brand

PawHut

Model

D02-011

Weight

75.9 Pounds
AmazonBasics Welded Outdoor Dog Kennel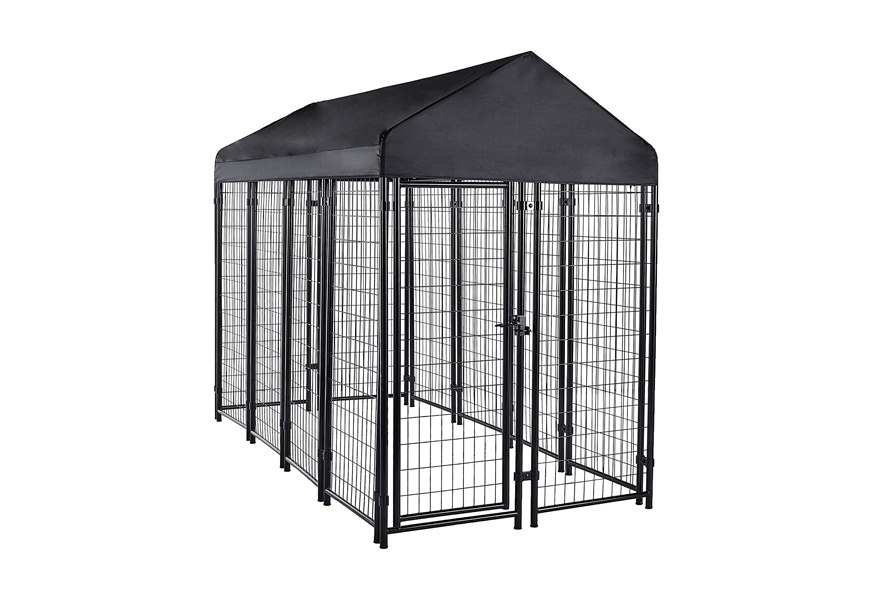 Amazon brands just about everything, so it's only right that they get into the outdoor dog kennel business. The company's entry, the AmazonBasics Welded Outdoor Wire Crate Kennel, is a reliable option, regardless of a few cons. This large outdoor dog kennel provides enough space for your dog, and it's great for both indoor and outdoor use. It has a collapsible design that makes transportation a breeze.
Amazon fitted this outdoor kennel with a sturdy iron door welded to the cage, but the latch on the door lacks a locking mechanism. While you can make up for that with an alternative solution, it isn't very reassuring. The kennel comes with a protective cover made from polyester that provides enough shade on hot days, but the cover doesn't fit tightly on the frame. It can keep the sun out but don't expect any form of coverage when its breezy or rainy. If you are spending a day at the beach or on a boat with your pet, don't forget to keep him safe and protected with a reliable dog life jacket.
Key Features:
Seamless door opening
Easy assembly
Strong and durable design
Specification:
Brand

AmazonBasics

Model

9080M

Weight

87.5 Pounds
Advantek Pet Gazebo Outdoor Metal Dog Kennel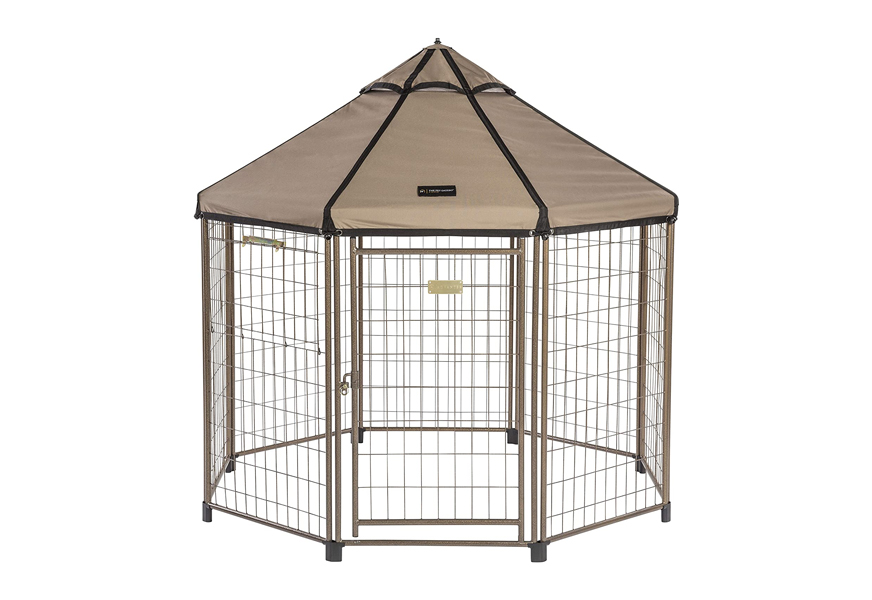 It's not the most important consideration, but the Advantek Pet Gazebo Outdoor Metal Dog Kennel gets top marks for innovative design. The product looks great, and it features a "gazebo" style build with a waterproof cover. The brown hue gives the outdoor dog kennel a great outdoors look–especially in the summer months.
The kennels are available in several sizes so that you can choose based on your dog's size and the easy-to-setup and take-down design that makes it an excellent fit for those living on the go. As for pricing, the dog kennel is quite affordable. It costs around $150 to $300 from the smallest to the roomiest version. 
The poly-based material for the top cover seems to be a little flimsy; water resistance may be better than other materials, but the durability might be suspect. There's about a two-foot gap between the bottom of the door and the floor. The manufacturer didn't provide a reason for it, but customers have complained about its susceptibility to dogs digging under the door and escaping. If you love taking long walks with your furry friend, make sure to always have a dog water bottle at hand.
Key Features:
Water-resistant polyurethane cover
Easy assembly
Secure build
Specification:
Brand

Advantek

Model

23200

Weight

55.5 Pounds
SMONTER Heavy Duty Dog Crate Strong Metal Pet Kennel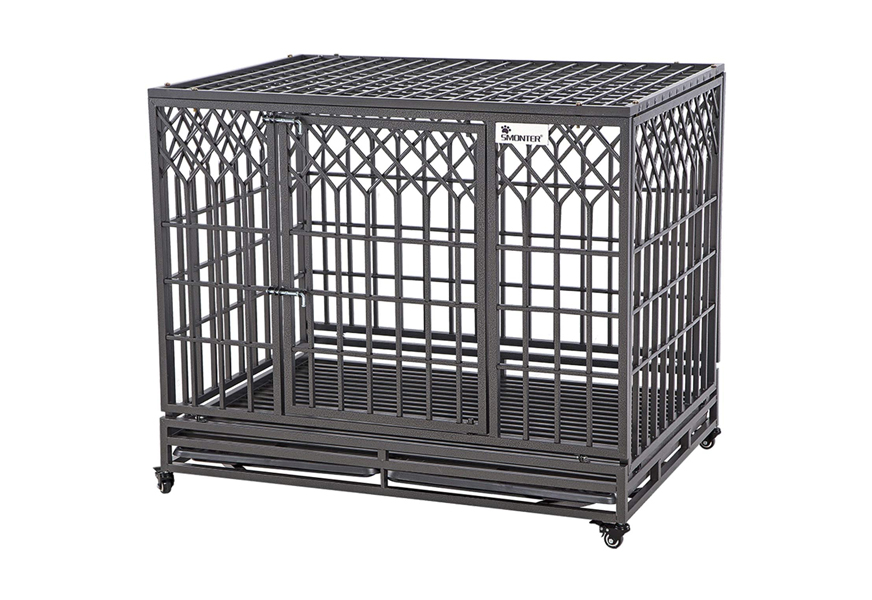 The first noticeable part of the SMONTER Heavy Duty Dog Crate Strong Metal Pet Kennel is its small size. It's not a large outdoor dog kennel, so if you've got an above-average sized dog, you should skip this one. The manufacturers of this outdoor dog kennel call it a "crate."
The steel bars are welded and non-toxic, and it's worth noting that the metal frame is sturdy too. Combine that with a simple-to-build frame and a high-quality assembly, and you have an outdoor dog kennel that makes good on its promises. The SMONTER Kennel comes with an anti-escape lock, which the manufacturer claims does a better job than the usual double locking mechanism. If your dog has broken out of his cage or destroyed wire crates in the past, this kennel is a viable solution.
The design is noticeably different from what you can see in the other outdoor dog kennels. It comes with a Y-shaped wall design, which will do an excellent job of keeping your dog safe inside. However, the model may provide less ventilation than the typical straight bar build. Size and potential ventilation issues aside, this is a robust product offering from SMONTER. To keep your pet clean and shiny, make sure to use one of these highly recommended dog shampoos from our list.
Key Features:
Y-shaped walls
Suitable for small and medium-sized dogs
Anti-escape lock
Specification:
Brand

SMONTER

Model

GL-42YS-PLUS

Weight

82 Pounds
BestPet Dog Crate Pet Kennel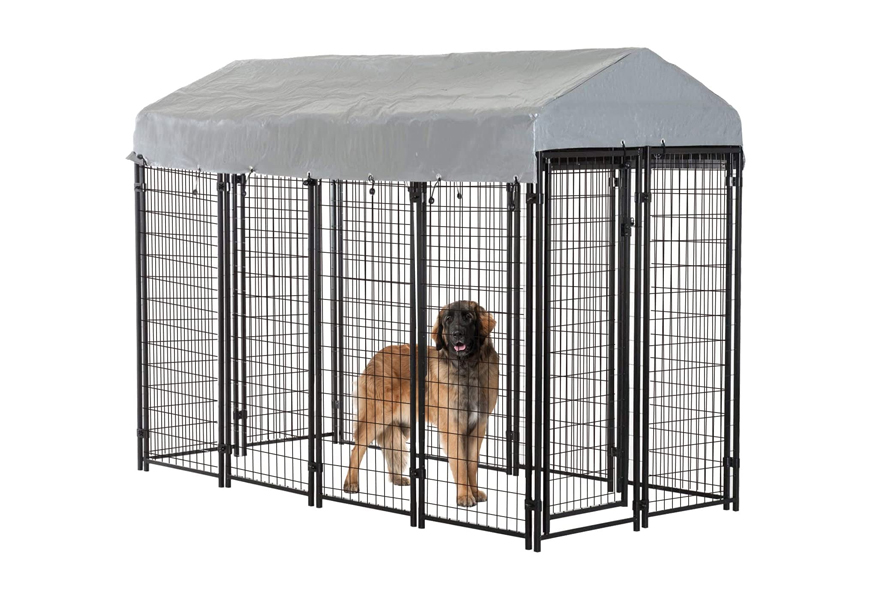 The BestPet Dog Crate Pet Kennel qualifies to be called a large outdoor kennel without a doubt, accommodating several dogs. The waterproof cover has enclosed ends, fastened with bungees; it should protect your dogs from the weather. If you live in a region where it's incredibly hot, you might want to replace the cover with a breathable and shading fabric.
This kennel is lightweight; while this makes it easy for you to move the kennel around, you may wonder whether it holds its own against larger energetic dogs. The manufacturers claim the kennel is strong enough, but if you've got a huge or athletic dog, you might want to look elsewhere. For those of you who have long-haired pets, here are some of the most sought-after pet deshedding tools that will certainly come in handy.
Key Features:
Sun cover included
Lightweight design
Easy assembly
Specification:
Brand

BestPet

Weight

108.8 Pounds
Lucky Dog Chain Link Boxed Kennel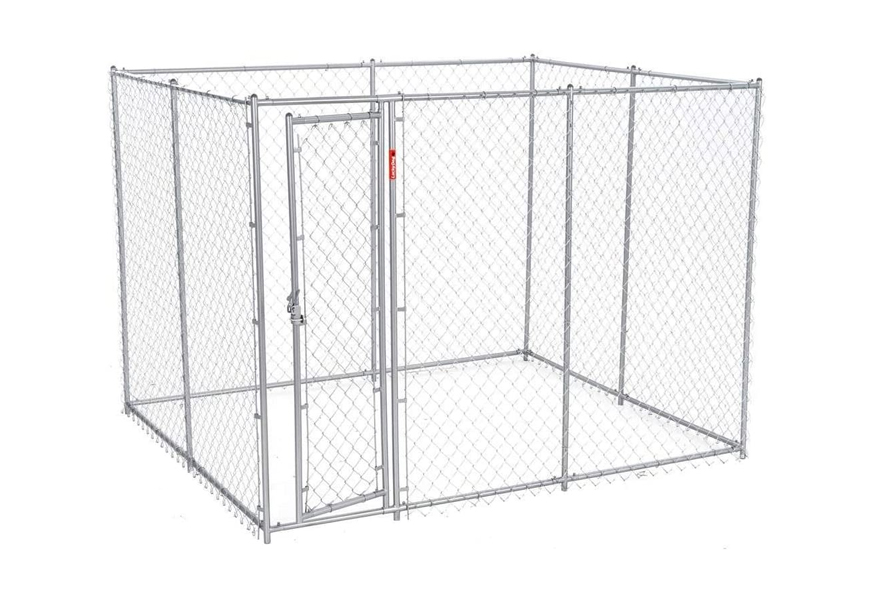 The Lucky Dog Chain Link Boxed Kennel looks a bit like a jail cell. But if you can get past the different aesthetic and the fact that it doesn't come with a tarp cover, you'll find that this outdoor dog kennel can work well. The Lucky Dog Chain Link Boxed Kennel is more like a play area than a dog kennel. There are steel wire ties that help to protect the entire frame, and the framework of the enclosure itself has been powder-coated to ensure longevity and prevent corrosion.
The kennel comes with a detailed instruction manual, and the parts are labeled. Past customers have complained about the materials used in the build. The framing, fence wall, and lack of top cover are sources of concern. Some users complained about having to reinforce the cage to keep their big dogs from escaping. For more must-have products for you furry friend, browse our list of the best toothbrushes for dogs on the market.
Key Features:
Steel wire ties
Powder-coated frame
Galvanized steel
Specification:
Brand

Lucky Dog

Model

CL 61028EZ

Weight

99.2 Pounds
Outdoor Dog Kennel Buying Guide & FAQ
Features To Look For In Outdoor Dog Kennels
Size - The size of the outdoor dog kennel is a notable factor.
Consider that your puppy will likely continue to get bigger. To prevent your dog from outgrowing the kennel, buy a kennel that will fit your full-grown dog from the get-go. Spacious enclosures create room for your dog to exercise and play outside. If you have a pint-sized dog that won't get bigger in the future, you're better off with a standard-sized cage.
Material - The material is relevant when it comes to determining the durability and how well the kennel will withstand the elements and harsh weather conditions. Is it made of mesh wires, iron, or wood? Some kennels are made from light materials for easy transportation, while others are sturdy enough to keep strong and intelligent dogs inside. Choosing an enclosure made from weak materials could result in having your canine running loose around the house, or worse, in the neighborhood.
Covered Roof - The covered roof has been a standout addition to outdoor dog kennels. With a tarp covering, a kennel offers adequate shade, preventing heat exhaustion, and shelter from rainfall. In today's market, you'll find that even large outdoor dog kennels come with covered roofs. Beyond the tarps, examine the material it's made with and how it's fastened to the cage.
Weather Resistance - It would be best if your dog has an outdoor dog kennel that can withstand the effects of harsh weather conditions, increasing the longevity of the outdoor kennel.
Flooring -  A floor might affect your ability to quickly move the kennel from one point in your yard to another. Flooring isn't the most important consideration when getting a large outdoor dog kennel, but keep it in mind.
Locking System - The locking system is a feature that manufacturers rarely highlight, but look out for them. Many dogs don't necessarily like being locked in, but if they do try to get out and the kennel doesn't have a lock, you potentially won't know they're missing.
Outdoor Dog Kennel FAQ
Q: What is an outdoor dog kennel?
A: An outdoor dog kennel is a structure constructed to keep your dog safe and secure outside if sleeping inside is not an option.
Q: What size outdoor dog kennel do I need?
A: This factor depends entirely on the size of your dog. If your dog is big, then a large outdoor dog kennel is the best bet for you. If the dog is small, focus on lightweight and smaller cages.
Q: Are outdoor kennels good for dogs?
A: Yes, they are. Besides providing security, most outdoor dog kennels double as play areas for your dog to have fun and stay comfortable.
Q: Is it cruel to keep dogs outside?
A: Many experts advocate for keeping dogs inside, but there's nothing wrong with keeping your dog outdoors. Sometimes, a dog is too big to be kept inside overnight, or you need to have your dogs outside due to indoor activities. For restless dogs, concerns arise over preventing them from damaging items in your house. In such cases, an outdoor dog kennel might be suitable.
Sign Up Now
GET THE VERY BEST OF GEARHUNGRY STRAIGHT TO YOUR INBOX