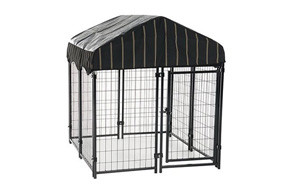 Lucky Dog Uptown Welded Wire Kennel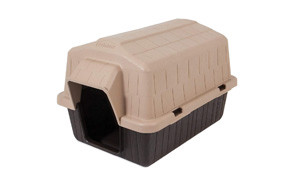 Petmate Aspen Pet PetBarn 3 Outdoor Dog House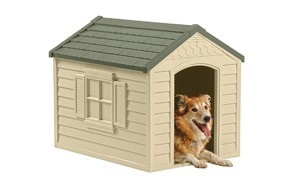 Suncast Outdoor Dog House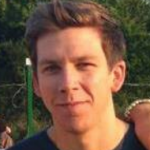 What better way to spoil your beloved pooch than with a brand-new outdoor dog house? Because he might sleep in bed with you or on the couch, but any dog that respects itself needs a private residence. Whether you're looking for a summer-suitable option or a heavier-duty shelter for the colder months, you might just find your favorite among the best outdoor dog houses featured below.
The Best Outdoor Dog House
Outdoor Dog House Buying Guide
Featured To Look For In An Outdoor Dog House
When your pooch spends most of its days and nights outdoors, providing him or her with adequate shelter is essential. Here are a few important features to check before buying.
Material – Nowadays, most dog houses are made from either wood or plastic materials. Each come with their pros and cons. Wood provides better thermal insulation and can maintain its great look for years, but it's usually harder to assemble and maintain than plastic. Plastic might fade quickly and become brittle, especially if placed under direct sunlight. It also provides poorer insulation, but it's more waterproof than wood, easier to assemble, and needs little to no maintenance.
Removable roof – Keeping the kennel clean is one of your dog parent duties, and a removable roof – or at least one that opens – will make it easier for you to wash out dirt and grime.
Resistance to elements – Most outdoor kennels are waterproof, but this shouldn't be your only concern. The best outdoor dog houses are sturdy enough to resist wind, rain, sun, snow, and anything else the weather might throw at them.
Assembly – Never underestimate this part. A dog house that requires you to be an architect or engineer to put it together will never be your best bet.
Insulation – If your main concern is to provide warm shelter to your pooch in winter, know that some kennels feature double walls filled with foam insulation.
Size – Last but not least, always check the size of the shelter and make sure it's big enough for your dog. The pooch should have enough room to lay down, sit, stand, and turn around. Instead of following the manufacturer's indications for sizing, we recommend to always check the actual dimensions before buying.