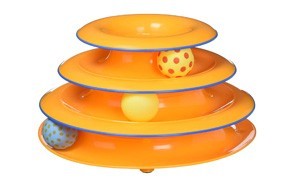 Petstages Cat Tracks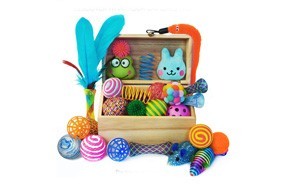 Cowfish Cat Toy Assortments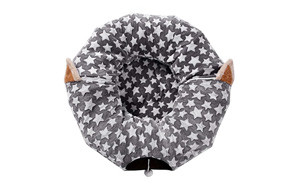 Luckitty Cat Tunnel Bed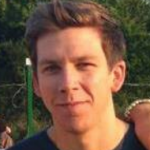 Even if though they seem to sleep all hours of the day, cats need physical and mental stimulation to keep them occupied when they grace you with their presence. The best cat toys are the solution to this. While they may not boast the strength, size, or power of their prehistoric ancestors, cats still love to play, hunt, chase, and explore, and cat toys are a superb way of ensuring they stay busy and burn off all that energy for their afternoon nap. Whether laser pointers, catnip mice, robotic balls, or scratch posts to keep their claws sharp (and your carpets safe), these toys are ideal for any kitten and cat around.
The Best Cat Toy
Cat Toy Buying Guide & FAQ
Features To Look For In Cat Toys
Before deciding which of the best cat toys is the perfect gift for your favorite four-legged friend, check out these key features to consider in our selection.
Benefits - Cat toys offer a broad range of benefits depending on the style of the toy. Track and ball toys can help your cat stay active and encourage their hunting instinct, which will keep them happy. Conversely, a scratching post will keep their claws sharp while also stopping them from scratching up your furniture or carpets.
A cat bed or hammock gives them somewhere to sleep when they are tired out and wands, while toy fish or mice give them something small to play with. If there is anything particular that your vet has recommended for your cat, such as improving mental stimulation for physical activity, it's best to look for a toy that provides such a benefit.
Engagement - As cats are so intelligent, they can get bored easily, so you can't find a toy that provides long-lasting engagement without it becoming annoying for you. Consider how irritating dogs can be when 0laying with a squeaky toy for hours, it could be the same for cats.
An engaging toy should do enough to distract them for a while and tire them out so they go back to their regularly scheduled nap. A toy that isn't engaging enough will cause them to get bored quickly and act out.
Battery operated or manual - Robot cat toys are useful for when you are out of the house as it keeps your cat busy and will stop them from missing you so much. Manual toys are better for when you are around and you can play with the cat. Depending on your cat's personality, it may be best for you to purchase both styles of toy for all occasions.
Feeder toys - Feeder toys are toys that reward your cat with a treat or food once they 'solve' the puzzle. Much like robotic cat toys, they are excellent for times where you know you will be out all day and giving your cat an additional snack option should they finish all the food in their bowl. These feeder toys will also prevent them from bothering you first thing in the morning because they are hungry.

Cat Toy FAQ
Q: What are cat toys?
A: As the name suggests cat toys are things for cats to play with. Much like squeak toys and tennis balls for dogs or wheels for hamsters, cat toys are designed to stimulate the mind as well as encourage them to exercise. Cats have a reputation for being lazy. They skulk around, sleep a lot, and are perfectly happy to laze on your bed while you're happily watching TV. It's a pretty good life, but lying around doing nothing isn't good for them.
With cat toys, they can stay active and prevent boredom, which could lead them to act out or experience behavioral issues. Keeping cats entertained, at least when they deem it suitable for them, will ensure your cat stays healthy and happy. It can also help to keep you busy.
Q: How do I keep my indoor cat entertained?
A: Outdoor cats have all the fun. They can explore the neighborhood, chase, and maybe even catch, prey that they stumble across, while also expelling pent up energy that indoor cats don't get the chance to.
However, cat toys are an excellent solution to this. You can give them catnip mice for them to play with, but also use things such as laser pointers which they will, forever, try to catch to zero success. Other options include toy wants with fluffy items on the end which catches their attention. These are like laser pointers, but as they are physical toys, your cat can feel accomplished catching one.
You can't always be in the house, though, and if you are concerned about your cat getting bored while you are at work or out for the evening, remote control cat toys or similar electronic battery-powered options are useful. Typically, these come with set run times so your cat doesn't get overly familiar with it, which could cause it to get bored.

Q: What kind of toys do cats play with?
A: While dogs aren't the fussiest of animals when it comes to playing with toys, they are just as entertained with a squeaky bone as they are a disused plastic bottle, cats can be a little different.
Arguably, they are more intelligent (to a degree) and therefore more calculating. With this extra intelligence, they demand slightly more than any old sock that you leave lying around after a wash load. The toys need to be small enough for them to hold in their mouth after catching it, and it's a bonus if it resembles something that cats traditionally prefer, such as fish or mice. With fish cat toys, they can feel like they are skulking by the river and succeeding in the reason they were put on this earth, even if you don't live anywhere near a river.
While your cat may not realize the significance of why they are playing with fish, mice, red dots, or feathers, it's something for you to show off to your friends.
Q: What is an interactive cat toy?
A: Interactive cat toys are products that encourage your cat to move around, use their brains, and generally have fun. You will find this with cat track items, which contain a ball that runs around a track that your cat bats and then chases.
However, this is a less-advanced type of interactive cat toy, and more high-tech options are also available. These electronic toys will react to your cat, and they may come with motion sensors that engage the cat as it tries to outsmart it. For cats who are bored of the same old catnip mice and red dot on the ceiling, these toys are an excellent option to inspire activity and provide both mental and physical stimulation to keep them on their toes.

Q: Are laser pointers really safe for cats?
A: Laser pointer toys are safe for cats as long as you don't direct the beam into their eye, just like you wouldn't with a person. Even though most high-quality pointers are still safe for cats like they are for people because of the design, you still don't want to risk it, and it will also irritate your cat, which could upset them.
Because cats, regardless of whether they are indoor or outdoor cats, will embark on as many as 10 hunting adventures every day, laser pointers are an excellent way to keep them active if they are cooped up inside all day long. It gives them a novel way to play and encourages their hunting instincts to kick in. they may never capture the dot, but they will feel like they are close every single time, and that will only encourage them to keep on trying whenever you switch it on.
Laser pointers will also help to strengthen the bond between you and your cat. You both have fun, and they realize, on some level, that you are trying to help them fulfill their hunting needs. Still, it's best not to play with the laser pointer for too long, as the lack of success could make them anxious, and this may lead to destructive behavior.
Q: Are toys with catnip safe for cats?
In a word, yes, toys with catnip are safe for cats. They are safe to play with, and even safe for curious cats to ingest if that's the kind of cat they are. However, too much could cause vomiting, but this is no different from a cat overeating anything else.
You should know catnip can cause aggression in some cats, especially male ones, as the connection to mating rituals. If this is the case, then it's best to ease off providing your cat with catnip.
Sources:
Cat Puzzle Feeder | Why Your Cat Needs A Puzzle Feeder | DIY - Cat Behavior Associates