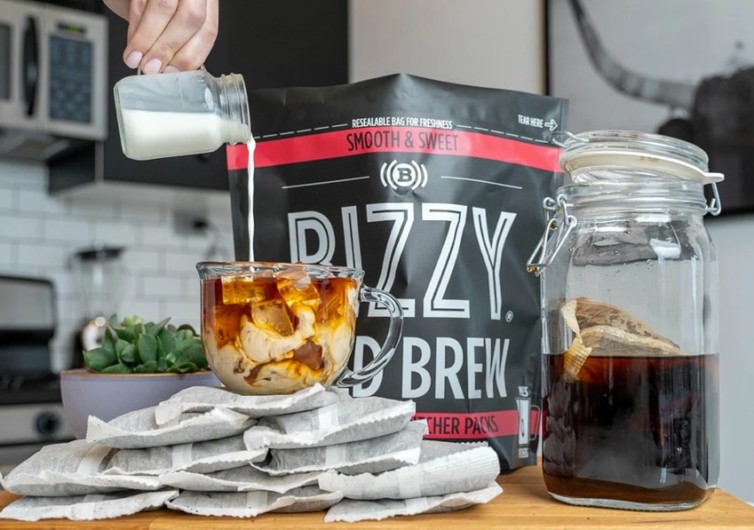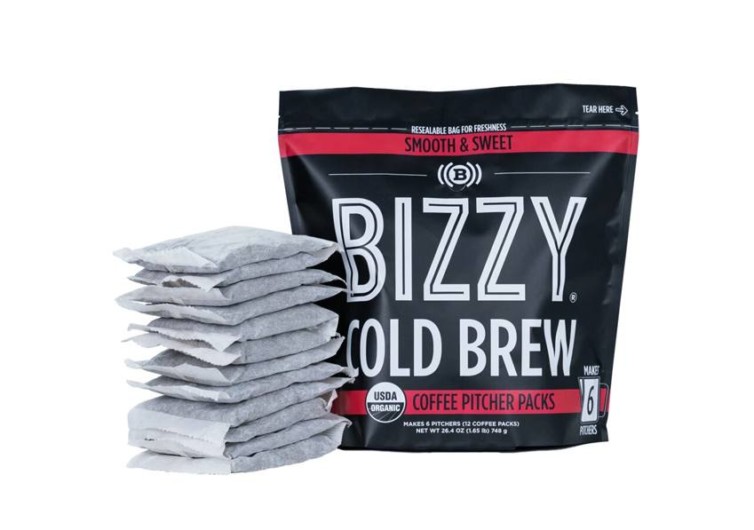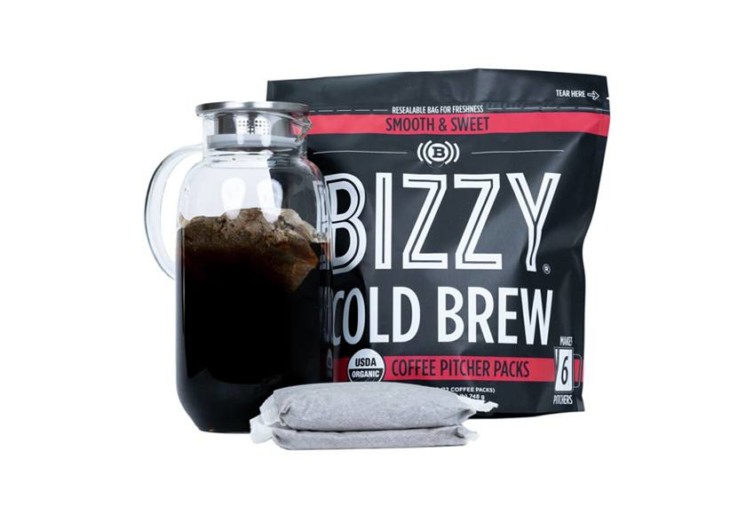 GearHungry may earn a small commission from affiliate links in this article.
Learn more
Bizzy Cold Brew Smooth & Sweet Pitcher Packs
Your Cold Brew, Your Way
These pitcher packs allow you to craft your cold brew the way you like it, without the hassle of explaining your order through a drive-through telecom. Want your cold brew batch sweeter? Want it stronger? Don't want it as strong as the coffee shop? Now you can make your favorite caffeinated beverage to your specifications for much, much cheaper.
When we tested out these Smooth & Sweet pitcher packs, we experimented with each batch — the first batch was made exactly to Bizzy's instructions on the bag, the second batch was double-strength, and the third batch was half strength. The first batch tasted great on its own but lost strength and flavor with ice cubes or milk. The second batch was too strong for our liking straight out of the pitcher but made a perfect pairing with different kinds of milk and flavors for more of an iced latte. This second batch was also the hands-down favorite of those who prefer to ice down their coffee on-the-go. The third batch was far too weak for us unless you prefer tinted water. But we digress. All of this to say, it's fine (and encouraged) to experiment with your cold brew pitchers. You can also experiment with how long you let your coffee brew (they recommend 14-18 hours, but we let ours sit for close to 24 hours for the first batch).
The Scoop (Get It?)
Twelve pitcher packs should get you close to six batches of cold brew unless you experiment outside of the recommended brewing instructions. (We made four batches with our 12 packages.) This Smooth & Sweet blend is made with medium-roasted Arabica beans, the world's most popular coffee beans. The Ethiopian-native coffee plants give you delicious caramel and hazelnut notes for exactly what Bizzy promises — sweet and smooth cold brew.
Coarse ground coffee beans give you a consistent and smooth cold brew, rather than oily or debris-filled cold-brew coffee, as can happen if you grind your beans too finely. Rather than mess around with over or under-grinding your own beans, Bizzy gives you the best grind to release the roasted coffee bean oil into cold water so you can get the best of your cold brew.
Flavor Notes
At the end of the day, we would say — stick with the instructions to the letter unless you really know your preferences. The ratios have been measured out well, and they give you a great starting point to make your cold brew sipping perfection. We will warn you, though, to be careful fishing these packages out of the pitcher. These packages are meant to be soluble to release the best of the coffee; that also means they can easily tear. While we wouldn't suggest reaching right in with your fingers (for hygiene's sake), using a wooden spoon or spatula is better than metal spoons to keep your pitcher packs from ripping apart.
Brew It Up
Bizzy Coffee's Smooth & Sweet 12-count pitcher packs retail for $24.99, but you can also subscribe to an auto-cold brew delivery and pay $23.74 per bag. However you craft your cold brew, we'll raise a smooth and sweet cold brew coffee to that.