Way back in the 20th century tattoos were rare, body piercings were even rarer and men's grooming was a decidedly head-centric past time. Today however, there are dozens of different devices on the market designed specifically to tackle back, leg, arm and chest hair. As well as hair in places your dad probably never thought needed grooming. To deal with all that fur you're going to need a body groomer you can rely on and we've got the 9 best body groomers in 2018.
9 Best Body Groomers (Our Top Picks)
1. Philips Norelco Bodygroom Series 7100
See More Reviews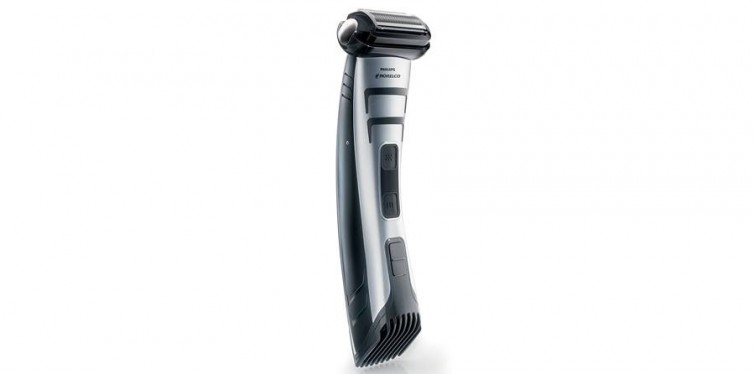 The BG2040 from Philips Norelco is a handsome, effective personal grooming device that's comfortable to hold at any angle and has a pivoting head that effortlessly follows the contours of your body. The BG2040 is designed specifically for men and completely safe to use in the shower. The 5 length settings allow you to achieve exactly the effect you want in any given area while the trimmer provides the finishing touches with nary a nick or scratch. Fully rechargeable, lightweight and built to last.
Key Features:
Pivoting head follows the contours of your body
Designed specifically for men
Water resistant case
Specification:
Brand

Norelco Philips

Model

BG2040

Weight

0.5 lb
2. Gillette Fusion ProGlide Body Groomer and Beard Trimmer
See More Reviews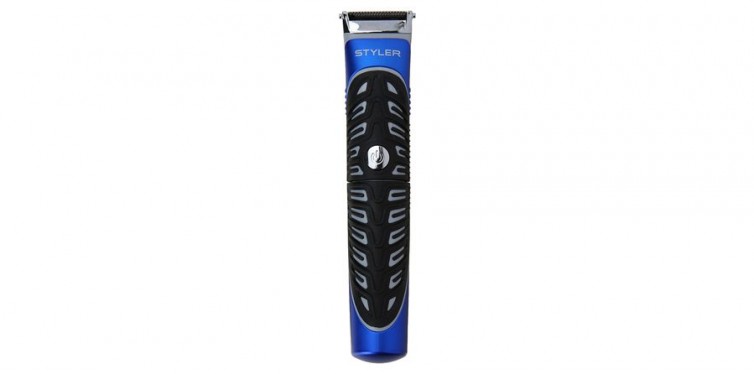 For the ProGlide Gillette reached out to Braun to help with the grooming technology and the 2 personal grooming powerhouses wind up producing a device that has both style and substance. The ProGlide is completely waterproof, has 3 combs to achieve differing lengths in different areas and an aggressive, ribbed style that actually does wonders in helping you maintain a solid grip in the shower. Great for fast touch-ups or achieving a complete look.
Key Features:
Easy to hold at any angle
Great for creating nice sharp edges
Completely safe for the shower
Specification:
Brand

Gillette

Model

NA

Weight

1.09 lb
3. Remington PG525 Head to Toe Lithium Powered Body Groomer Kit
See More Reviews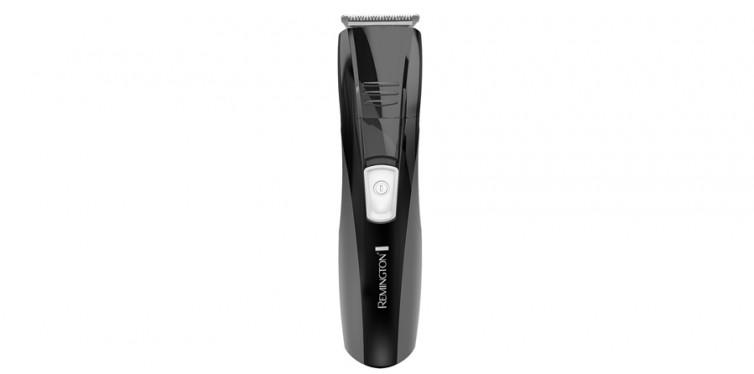 Unlike some battery powered groomers that deliver 15 or 20 minutes per charge the Remington PG525 provides you with a full 70 minutes. The PG525 has 3 beard combs, a full sized trimmer, a trimmer for your nose, ears and details and a hair clipper comb. While the grip you'll get on the PG525 is not as solid as on some other groomers, especially in the shower, the quality of the cutting and trimming tools is beyond reproach and earns this groomer a spot on our best body groomers list.
Key Features:
Charge stand accommodates all components of the kit
Provides a best in class 70 minutes per charge
Self-sharpening blade
Specification:
Brand

Remington

Model

PG525

Weight

0.5 lb
4. Philips Norelco OneBlade Face and Body Trimmer/Shaver
See More Reviews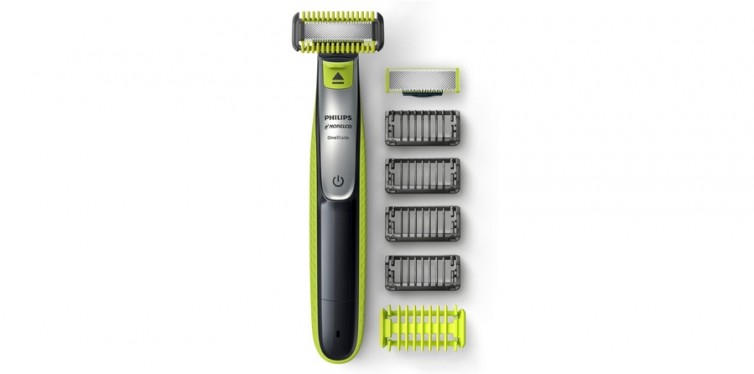 With the OneBlade the emphasis is on protecting your skin – particularly skin that is not accustomed to having razors dragged across it – from irritation, nicks, scrapes and cuts. You'll get as close a shave as you want, wherever you want to shave because the company's "dual protection system" combines a fast moving blade with a skin-friendly design. OneBlade is not designed to shave you clean as a whistle. Instead it's designed to be used a couple of times a week by those want to trim back the hair they have.
Key Features:
Different blades for face and body
Won't tug on longer hairs
Equally effective used wet or dry
Specification:
Brand

Philips Norelco

Model

QP2630/70

Weight

0.8 lb
5. Mangroomer Ultimate Pro Back Shaver with 2 Shock Absorber Flex Heads
See More Reviews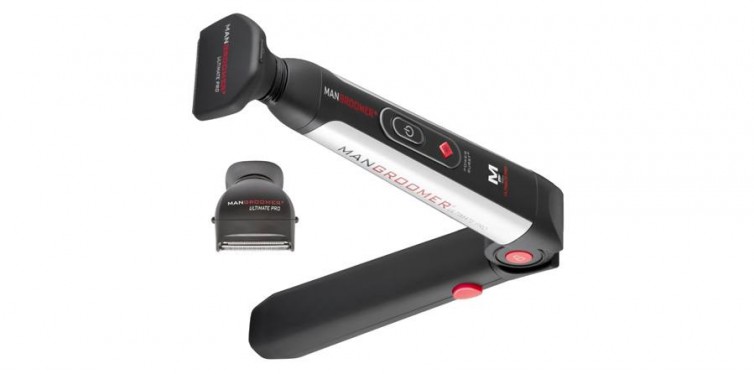 With the Mangroomer Ultimate Pro Back Shaver the shave is close and clean. But it's really its ability to provide access to previously underserved areas of the back that makes the Mangroomer such a must have tool. There are 2 groomer heads: one for large areas the other for smaller or more delicate areas. There's a quick charge battery feature and an easy to use mechanism in the hinge that lets you lock in any angle you need. Much lighter than it looks.
Key Features:
Patented design reaches all parts of your back
Locks in at any angle you choose for best results
Rubberized grip for an effective control
Specification:
Brand

Mangroomer

Model

ULTIMATE PRO

Weight

1 lb
6. Panasonic Men's Cordless Wet/Dry Hair, Beard and Body Trimmer
See More Reviews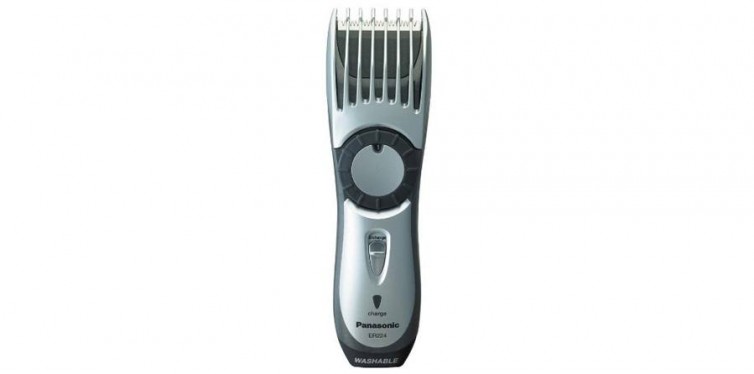 Panasonic hits it out of the park with this waterproof body groomer. It cleans up in seconds, has one of the more comfortable handles you'll find on a men's personal groomer and there's more than a dozen settings for trimming your hair or beard. It's light, provides about 40 minutes of use on a full charge (which typically takes 8 hours) and comes with its own lubricating oil (directions included) so that you can keep it running smooth for years.
Key Features:
100% waterproof and perfect for the shower
Precision honed, spring action blades for irritation free grooming
Full bodied, masculine design
Specification:
Brand

Panasonic

Model

ER224S

Weight

0.42 lb
7. Philips Norelco BG2034 Body Groomer
See More Reviews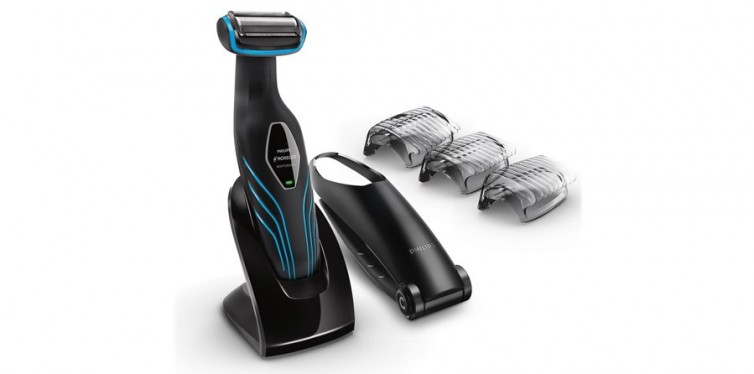 If all body groomers worked as well as the BG2034 looks it would be a wonderful world indeed. Fortunately the performance of the BG2034 lives up to its own looks by providing clean, close shaves, 50 minutes of run time, a variety of heads to produce different length effects and an extension that allows you to reach those hard to access areas in the center of the back. You'll be surprised how deftly the BG2034 handles your sensitive areas as well.
Key Features:
3 removable combs for different length hair
Outstanding 50 minutes when fully charged
Self-sharpening blades
Specification:
Brand

Philips Norelco

Model

BG2034

Weight

0.75 lb
8. Philips Norelco BG1026/60 Body Groomer
See More Reviews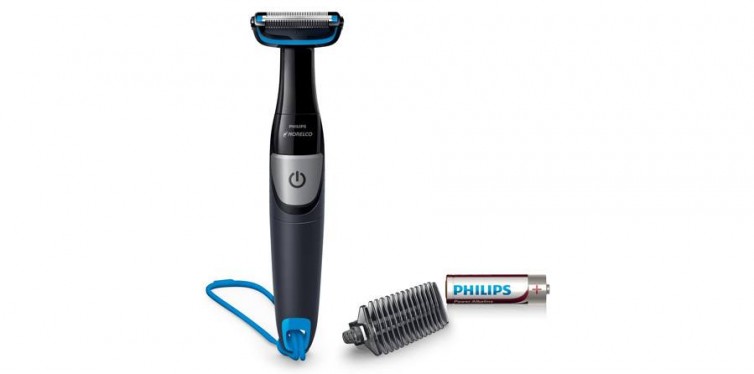 The BG1026/60 is the little brother to the 2034 profiled above. The 1026/60 is light and compact and runs on a single AA battery which should be good for a couple of months. This is a great tool for on-the-go touch ups and every guy that works in a professional environment should have one of these in their desk, just in case. The skin protectors do their job, the two-way trimmer produces crisp clean results, the rig is showerproof and the whole thing costs less than a large pizza.
Key Features:
Trimmer is bi-directional for ease of use
Slim, ergonomic design fits in most grooming kits
Effective wet or dry
Specification:
Brand

Philips Norelco

Model

BG1026/60

Weight

0.75 lb
9. Braun Cruzer 5 Body Shaver with Travel Case
See More Reviews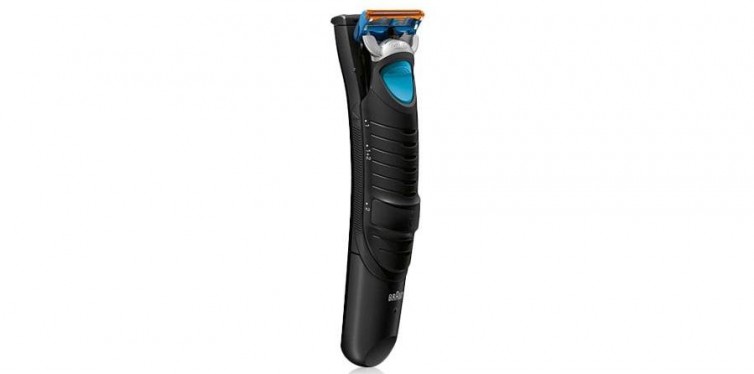 This is a sharp looking grooming tool that you can take right into the shower with you on your next manscaping expedition. It's a little heavier than some other body groomers but the Braun designers put the extra heft to work so that you barely need to exert any effort to produce a nice clean skin surface. This is a beautifully balanced tool that allows you to effortlessly switch from shaving to trimming and back again without skipping a beat.
Key Features:
Trim and shave in a single stroke
Legendary Braun quality
Works with either Gillette Fusion blades or Gillette Fusion Pro-Glide blades
Specification:
Brand

Braun

Model

CruZer 5 Body

Weight

1.06 lb
Buying Guide & FAQ
What is the Best Shaving Technique for Grooming Body Hair?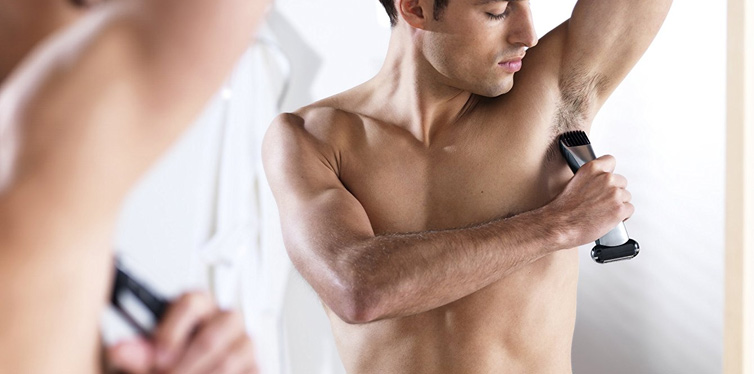 There's a right way and a wrong way to manscape (that is, address body hair from the shoulders down). Below is the right way.
The Chest - A completely hairless chest might be useful if you're an Olympic swimmer but for everyone else it looks a bit strange and self-involved. Trim your chest hair back to about half an inch in length and taper it as you move toward the edges of your torso.
The Back - The back is where we separate the men from the sasquatch and the one place on the torso where stubble may be forgiven from time to time. Shaving it all off right down to the skin is the only way to go. You might even want to consider waxing, which should keep your back hairless for 4-6 weeks.
The Butt - You're going to look pretty silly with a silky smooth back and a hairy butt. Butt hair doesn't serve any purpose so use your body groomer to take it down right to the follicle.
The Armpits - Some guys like to leave a bit of fuzz under the arms but really, what's the point? Typically what underarm hair does is trap bacteria and lead to unpleasant odors. Shave them clean.
Pubic Hair - There aren't a lot of guys who can pull off the hairless look down there. At the same time giving the forest free reign isn't going to work either. Instead, trim things back to about ¼ inch long and then use your grooming tool to establish new boundaries for your bush that are closer to your stuff.
Can I use a normal razor for body hair?
You can but you'd be much better off using a professional grooming tool designed to handle body hair, which is typically coarser and thicker than facial hair. If you decide to go ahead and use a standard straight razor on, say your butt or your pubes, just make sure you don't shave your face with it afterward. You don't want to be transferring bacteria from your butt to your face.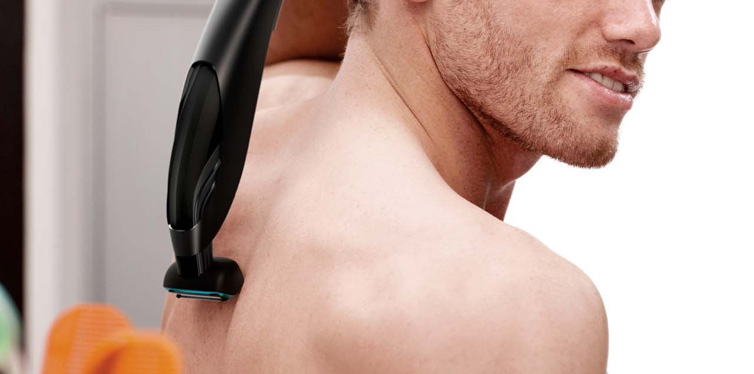 Do I Need to Keep the Body Groomer Oiled and Clean?
Although you may well use it in the shower to remove hair from your back your body groomer is actually a precision instrument and needs to be properly maintained. You should make sure you clean the heads after every use and also perform regular maintenance on it, including lubricating it well and properly. Exactly what that maintenance will entail can vary significantly from maker to maker so be sure to consult your owner's manual to get specific care instructions and then follow them to the letter.