Best Bocce Ball Sets In 2022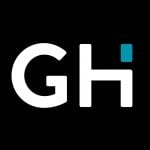 This product guide was written by GearHungry Staff
Last Updated
May 22, 2020
GearHungry Staff
GearHungry Staff posts are a compilation of work by various members of our editorial team. We update old articles regularly to provide you the most current information. You can learn more about our staff
here
.
GearHungry may earn a small commission from affiliate links in this article.
Learn more
Bocce ball is a high-paced fun outdoor game that has graduated into an international sport with official regulations. As such, if you're interested, you'll likely fall into the category of a casual player, a professional, or an aspiring professional.
No matter where you fit in, buying a good bocce ball set can be a task because there's a ton of things to consider before it'll actually suit your individual needs. Not to worry, we have created a careful selection of the best bocce balls the market has to offer, as such, your journey from desire to purchase can be an easy one.
The Best Bocce Ball Set
Hey! Play! Bocce Ball Set
Whether it's on grass, sand, on your lawn, or all the way to the beach, Hey! Play Bocce Ball Set has got all you need for your outdoor fun. You've got kids? That's perfect, because whether they are teens, pre-teens, and even adults; anyone can have a go. The Hey! Playset further features 4 green, 4 red 3.5 inches balls, and one 1.5-inch Pallino ball for all-round enjoyment. It even gives dual scoring patterns accommodating at least two to four-player engagement.
The balls themselves are made of a high-quality poly-resin compound material that guarantees long usage with repeated pressure from gameplay. This poly-resin material also gives the balls that solid-feel you'd expect during the game. Furthermore, they weigh just around 1.5 oz each excluding the small, white Pallino ball and you'll also like that it comes with a high-quality bag for easy carrying – just in case you want to take the bocce ball action somewhere else. Even better, they weigh just around 14 lbs as such, it's quite easy to carry them around. 
Overall, the Hey! Play ball set is suitable for different classes of players ranging from beginners to people who are already used to the game. At a fairly affordable price of $28.62, it spells fun for everyone. If you love outdoor sports like this one, you will love these beach volleyballs as well.
Key Features:
Poly-resin material
3 set of balls
Carrier bag
Specification:
Brand

Hey! Play!

Model

80-10602

Weight

10 Pounds
Good for beginners
It is affordable
Accommodates an easy grip
Suitable for different playing surfaces
Balls might prone to cracking
Not scratch-resistant
Not for professionals
No warranty
GoSports 90mm Backyard Bocce Ball Set
Now you and the gang can catch up on some premium action with the GoSports 90mm Backyard Bocce Set. The package itself contains a durable bocce ball set made out of premium poly-resin. Be rest assured this isn't one of those poorly constructed products that'll crack or chip-off after a couple of rounds. Like many bocce balls, the set is designed in different colors so you can benefit from the variety it offers. However, this set comes with enhanced color-coding that can accommodate up to eight players. i.e two green, red, blue and yellow and of course the small white Pallino ball. Furthermore, each color set is designed as a circle or square cut.
Also, it has this beautiful glossy finish that gives the balls a unique look, making them stand out from the rest. That's not all, the balls deliver a whole lot of versatility too. As such, if you choose to play on grass or harder surfaces it rolls just fine. They are equally efficiently designed with the right density to give you that solid grip when you throw. And in terms of dimension, the larger balls measure up to about 90mm while the Pallino ball is about 40mm. 
So, if you are a professional, or perhaps just getting ready for the pro leagues, this might not be ideal as they are a bit smaller compared to the regulation-sized balls used in standard tournaments. However, don't take this the wrong way, the size doesn't impair the fun in any way. No doubt, it's a little more pricey than your regular cheap bocce ball, but it's still affordable and it still offers great value for every cent. If you prefer soccer, here are our reviews of the best portable soccer goals.
Key Features:
Premium poly-resin crafted
Multi-color coding
Carrier bag
Specification:
Brand

GoSports

Model

BOCCE-90-01

Weight

14.4 Pounds
Accommodates more players
It is durable
Relatively affordable
Good grip
Non-regulation size – not suitable for professional play
The bag has no handle
Carrier bag not padded 
The balls prone to scratch
Play Platoon Bocce Ball Set
The Play Platoon Bocce Ball Set is another one-stop for those ready for the bocce ball action but not quite set for the pro leagues. At a finished size of 84mm, this play platoon set might not measure up to some other bocce balls or even the regulation-size. But that's even an advantage for kids, teens and beginner level players. What's more, there's no setting where you cannot enjoy this game, whether it's with family and friends at home or at the beach where you've got tons of sand.
The set further offers more player engagement with its multiple colored balls (red, green, blue, and yellow). Each color has two balls asides the Pallino ball and the entire package comes with a measuring rope. This is good news because you don't have to spend extra on buying a rope or tape to determine which team is closer to the target ball during the game. 
Furthermore, Bocce ball is a competitive game and surprisingly quite addictive, but fret not, it's a healthy addiction. You can use this set to engage your kids at home, at recreational facilities, camps, and so on. In addition, it comes with a carrier bag so you can safely store your bocce ball and equally carry them from place to place without the risk of getting misplaced. A generous 365-day warranty automatically comes with your purchase. Even more, get registered online for a lifetime warranty offer, you'll easily agree it doesn't get better than this. If you prefer indoor activities, make sure to check out these bowling balls.
Key Features:
Multicolored balls for more players
Flexible carrier bag
8 pieces 84mm sized balls
Specification:
Brand

Play Platoon

Weight

7.7 Pounds
Allows 8 players
Versatile play surface engagement
Easy-grip
It is affordable
Not for professional gaming
Carrier bags are not padded
Outer paint prone to wear
Prone to crack
Franklin Sports Bocce Ball Set
Wherever the Franklin Sports Bocce Ball Set goes, fun is sure to follow. This durable set was designed to withstand the elements of nature and the pressure while you play. That's enough assurance especially if you've experienced cracking or chipping from other cheaply made products. Furthermore, the Franklin Sport set features 8 balls with 2 sets of sporting the same color for a more interactive game.
In terms of construction, they are made out of a durable resin material and equally falls just a little below regulation-sized balls but that translates more fun for everyone including the kids. What's more, the small, white Pallino ball is just about 50mm, a little larger than some but still small enough to fit into the mouth of a kid. So, it may be for the best to keep toddlers and young children away.
Furthermore, the weight is also less than regulation weight, but decent enough for intense practice. With this package, you have no worries when it comes to moving this set from point A to B. The bag is also fully equipped with an easy to grip handle, so it's no hassle to transport it around. If you love to stay active, check out the best dodgeballs on the market.
Key Features:
Quality resin
Durable craft
Carrier bag
Specification:
Brand

Franklin Sports

Model

50112

Weight

19.5 Pounds
Relatively affordable
Decent weight
Offers easy grip
Many players can engage at a time
Comes short for professional use
No measuring rope
Weight might be heavy for kids
The bag feels a little lazy
Harvil 90mm Bocce Ball Set
Just looking at the carrier bag that comes with it and you'll absolutely love the Harvil Bocce set. Talkless of when you get a hold of the ball, you'll be glad you made the purchase. The Harvil 90mm Bocce Ball Set comes in handy for skilled players who can't quite afford a professional set. Considering the construction, finished at 1.6 pounds the Harvil bocce ball set is specially designed to deliver the perfect weight and feel altogether.
You can credit all this to the quality poly-resin material used in its design. Furthermore, the resin also makes the balls durable so they don't crack whenever they hit surfaces. Even more, if you love the signature sound bocce balls give off when they hit another ball, you'll get plenty of that with this set. No doubt, Harvil wants you to get in the game immediately when you pull the set out of the bag, so it comes with a measuring rope furnished with plastic arrows on both ends to aid easy measurement of the distance between the team's ball and the jack. 
It also comes with an instruction manual in the case that extra support is needed on the rules. And for increased portability and safekeeping, the stylish carrying bag comes in handy. Even more, if your product is delivered defective, you do not have to worry because you'll get a replacement. Now, add the 90-day warranty that covers your purchase for the repair of any broken or chipped parts. If you are a fan of bowling as well, check out these convenient bowling ball bags.
Key Features:
8 durable ball & 1 Pallino
Poly-resin material
Measuring rope
Specification:
Brand

Harvil

Weight

14.8 Pounds
Good for multiple players
Has a carrier bag for easy transport
Good grip
Generous warranty
Falls short in terms of Pro specs
Prone to some wear
Small kids might not be able to grip it well
Prone to crack upon impact
ROPODA 90mm Bocce Ball Set
This ROPODA 90mm Bocce Ball Set is another well-made piece that you can acquire without breaking the bank. The eight colorful balls and one Pallino package is a one-stop for all your bocce ball needs. It doesn't feel small in the palms at all, with a grip at a diameter of 3.5 inches. Furthermore, it offers a dense/ solid feel, but this doesn't come as a surprise since the bocce balls are made out of a quality resin material.
The material also ensures that the balls don't crack or chip easily upon impact with other balls, walls, or gaming surfaces. Best of all, the package comes complete right out of the bag with all you need to get the action going once you have at least two people. It also comes with a measuring rope, so there's no need to spend any more cash on measuring tapes. 
You'll also like the fact that you can engage anywhere you want as the balls are adapted for varying surfaces. And in the case that you want to take the entertainment far from home, it's no hassle as the carrier bag makes it easy to transport your bocce balls. If you are looking for some other outdoor sports to play, here are some top basketball hoops.
Key Features:
8 durable bocce ball & 1 Pallino
Colorful design for more  player engagement
Carrier bag
Specification:
Brand

ROPODA

Weight

14 Pounds
It's affordable
It is easy to handle
Measuring rope
Multiple player engagements
Too light for professional games
Prone to scratch and wear
Prone to crack
Not ideal for small hands
AmazonBasics Bocce Ball Set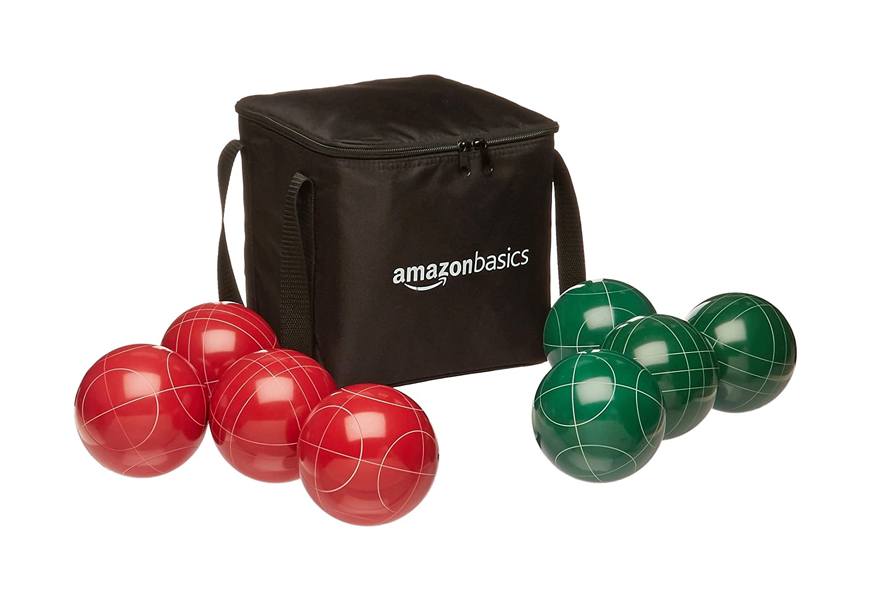 The AmazonBasics Bocce Ball Set is a beautifully finished set of eight large green/ red, 100mm balls, and one white Pallino ball. These happen to be just about the same size as tournament balls. It equally delivers that full grip you'd expect from professional gaming equipment. While it's not quite suited for tournaments, it can still be used for hardcore practice sessions. Even more, players of all ages and skill levels can jump in on this source of outdoor entertainment.
In terms of durability, the balls are crafted using durable poly-resin which does not only ensure the ball withstands pressure from repeated use, but it also contributes to that good-feel grip. Additionally, the material used to craft it makes it ideal for virtually any surface, from grass to sand and even hard-textured surfaces.
On top of this, you can carry your bocce balls easily with the accompanying bag which also has a sturdy handle for easy grip. Furthermore, another thoughtful feature from AmazonBasics is the added measuring tape, as such, you don't need to cough up money for one. Altogether, it's a great buy, but note that it doesn't come with a warranty. If you still prefer indoor games, make sure to check out the best air hockey tables to buy.
Key Features:
8 dual-colored balls & a Pallino
Resin-crafted
Travel bag
Specification:
Brand

AmazonBasics

Model

AMZSM100BBSET

Weight

2.47 Pounds
It's affordable
Easy-grip
Easy to transport around
Comes with a measuring tape
Doesn't come with a warranty
Prone to chip-off
Balls are dual-colored
Might not be suitable for kids grip
Hey! Play! Full Size Bocce Ball Set
With quite an affordable price, you can acquire the Hey! Play! Full-Size Bocce Ball Set and enjoy unlimited bocce ball action with family and friends anywhere. The balls are made constructed so that they can roll quite easily on grass, dirt, or sand. As such, you can take the fun anywhere you want as soon as the package arrives. And although the bag supplied isn't well-cushioned or partitioned to hold the balls separately, it'll hold up just fine. And unlike some bags, it comes with a handle that offers easy grip as you transport your balls.
With only two colored ball types; four green and four red,  it doesn't accommodate many players at once but the fun doesn't diminish with either two or four players. Furthermore, the balls are made out of poly-resin compound material to ensure the balls don't crack or chip easily. However, high-speed impact with other balls or walls can still cause some damage. All in all, at 3.5 inches diameter, you'll experience a good grip during the game, unlike some bocce balls that feel awkwardly small in your palms. If you want to play some other fun and easy game, don't forget to browse our list of the best dartboards.
Key Features:
Poly-resin crafted
8 dual-colored balls & one Pallino
Comes with a carrier bag
Specification:
Brand

Hey! Play!

Model

80-751214

Weight

18 Pounds
Easy to transport with its bag
Easy to grip during the  game
It's affordable
Suitable for a small group of 4
The bag is not very durable
Cannot be played by large groups
No warranty
Prone to crack
GoSports 100mm Regulation Bocce Ball Set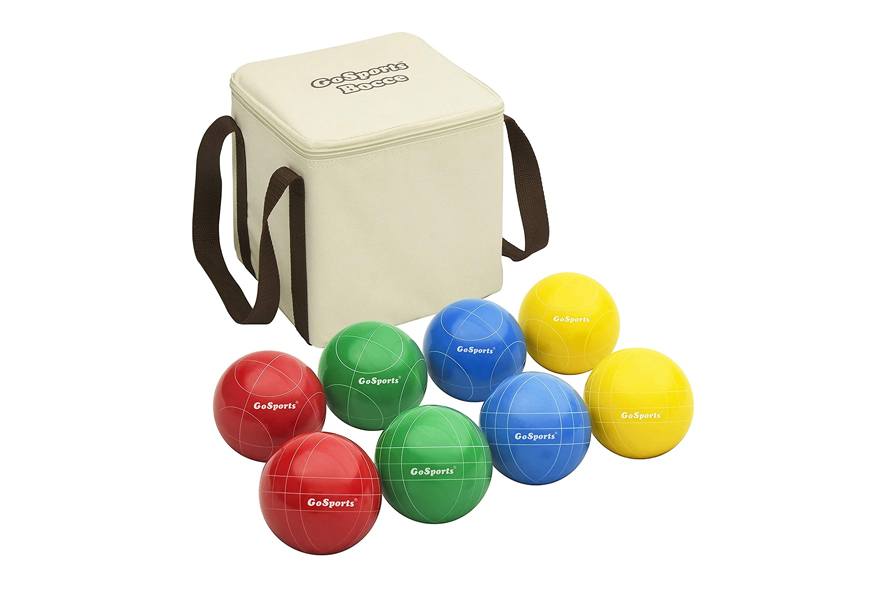 You don't have to spend too much to get something close to an expert ball for your practice or leisure.  At 100 mm, it's a regulation-sized ball, so be rest assured that your user experience will be nothing short of fantastic. Talk about dense and perfectly weighted, the GoSport 100 mm Regulation Bocce Ball Set checks all the boxes. Each Bocce Ball weighs two pounds two ounces. That's another plus because most regulation-sized balls come in at two pounds as well.  The GoSport is further highly recommended for anyone looking into playing professional bocce ball and would like to get used to the playing conditions at a reasonable cost.
All eight balls come in a four circle cut and four square cut design, in addition to the Pallino. They further come in a beautiful stylish bag, well partitioned so the bocce balls won't just sit roughly in the bag. That's not all from this manufacturer, you'll also get a measuring rope with your package. Considering all the professional specs incorporated into this GoSports set, it's still affordable. Make sure to check out these quality baseballs as well.
Key Features:
Poly-resin crafted
8 dual-colored balls & one Pallino
Stylish carrier bag
Specification:
Brand

GoSports

Model

BOCCE-100-01

Weight

1 Pound
Easy to transport using the bag
Firm-grip during play
Professional-weight balls
Suitable for small groups of 4
It is pricey
Not for large groups
There's no warranty
Prone to wear & scratches
Playaboule Patented 4 Color Lighted Bocce Set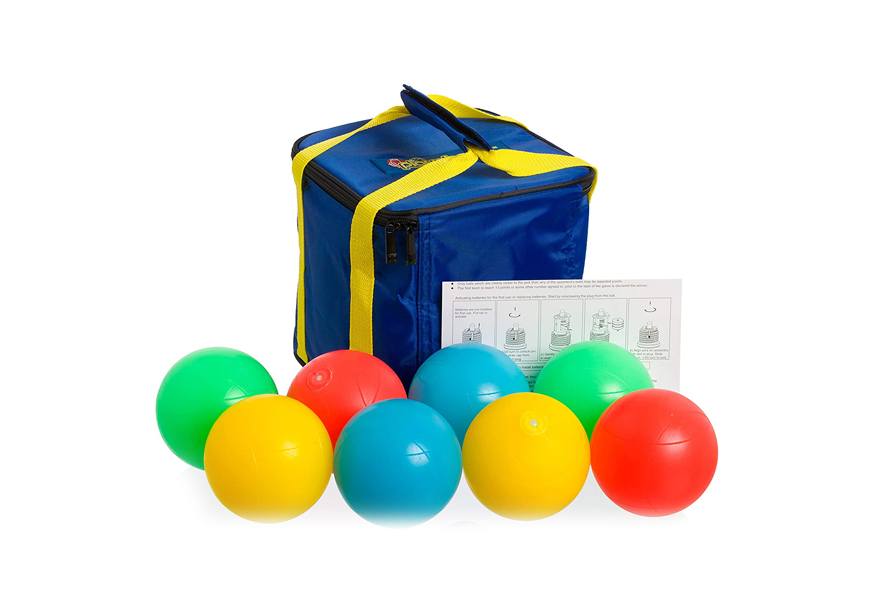 This Playaboule Patented 4 Color Lighted Bocce Set comes with all the bragging rights. This bocce ball is delivered as a full-sized set with a diameter of 4.2 inches or 107mm. As such, if you are pro, this is a good stop. Even more, if you are a bocce ball beginner, but also like to add some class and style to it, look no further. With this product, the manufacturers really took it up a notch in terms of the features.
The all-around design includes an LED glow light display. With just a push of a button, you'll light up the yard and the games can begin. Not to worry, it's equally fully water-proof, so there's really no risk of there's a little dampness, the  LED balls won't be affected. It further comes preloaded with a battery so you can simply take it out of the bag and get started. However, it's important to note that replacements will have to be purchased. All in all, enjoy yourself and creative with this set. There's also an instruction manual included for easy and straightforward use. If you like playing games similar to bocce, you might also like to check out these best putting mats as well. 
Key Features:
Contains 8 multicolored balls
Full-sized balls
Comes with a transport bag
Specification:
Brand

Playaboule

Weight

11 Pounds
Can be used at night
Allows for large group play
Easy-grip balls
It is waterproof
The LED light prone to damage
The battery needs repetitive replacement
Doesn't come with a warranty
Not for pool-use
Bocce Ball Set Buying Guide & FAQ
Features To Look For In Bocce Ball Sets
It's alright if you don't know where to start once you've decided to get a Bocce ball set. For one, a good buying guide is not a bad way to start. Let's run you through the things to look out for when you want to purchase a set.
Size - You must have heard that saying before that "size doesn't matter", but in the game of bocce ball size is everything. You don't want to get something that will feel awkwardly small in your palm or too big. As such, if you are shopping for fun and casual use, a full-size ball which is 100-107 mm used by professionals is not a must.
You see, the fun isn't impaired and in any way with a smaller ball. So, any size from 75-95mm will do just fine. However, if you are getting ready for the pro leagues, you'll want to practice with standard conditions. A ball sized 107mm or something higher is ideal.
Weight - If your bocce ball is too light, it will be influenced too easily by elements of weather, such as wind. Besides, gameplay will feel increasingly awkward and annoying, requiring extra force to make a meaningful throw. Standard regulation-sized balls weigh about two pounds and over. But if you are not a professional, any size between 1.3-1.5 pounds won't feel awkward for casual fun. You could come lower than 1.3pounds if it's for kids or seniors.
Storage - These are balls we are talking about, they are notorious for rolling off easily. But that's not all if you want to play on the beach or somewhere else that's far from home, a good transport bag is ideal. Make sure you check for a good deal, get a bag furnished with a good handle for easy movement. There's still more to the storage, many bags don't come internally partitioned for neat arrangement. So you might want to ensure your bag is not only durable but also equipped to hold balls in a non-lazy fashion.
Durability - Many bocce balls are made using wood, stone, or even metals. However tournament- approved balls are usually made of quality plastic. But most cheaply made balls are made using low quality plastic. The durable bocce balls, on the other hand, are either made from solid resin materials. As such, they are sure to withstand pressure over time.
Some manufacturers also make use of polyurethane which is an important factor to look out for. Why? Well, it may cost money to change damaged balls repeatedly.
Balance - Balance is a combination of weight/ durable materials and size. As such, a good bocce ball cannot just have a wide diameter and must not be made of cheap materials. This will make it annoyingly light yet big. Furthermore, the imbalance will make the gameplay awkward and uninteresting.
Bocce Ball Set FAQ
Q: What are bocce ball sets?
A: A bocce ball set is a complete package required to play the game. It comes with 8 large balls and a smaller white Pallino ball. Some manufacturers throw in a measuring tape or rope, while others don't. This is needed to measure the distance between the player's ball and the jack.
Q: What size bocce balls should I get?
A: If you are a pro or looking to join the pro leagues, a full-sized ball is ideal (100-107mm). But if you are just playing for fun with friends and family, any size from 75-100mm won't impair the fun.
Q: What are bocce balls made of?
A: Bocce ball can be made of wood, metal, and plastic. Nevertheless, quality bocce balls are made from resin material.
Q: Why do some bocce ball sets have 4 colors?
A: Bocce ball sets comprise 8 balls, 4 on each side. The colors are there to differentiate one team from the other. With this arrangement, two or four players can engage on each side.
However, some manufacturers make their balls with 4 different colors, with 2 sets sporting the same color. With this color arrangement, a maximum of eight players can engage.
Sign Up Now
GET THE VERY BEST OF GEARHUNGRY STRAIGHT TO YOUR INBOX