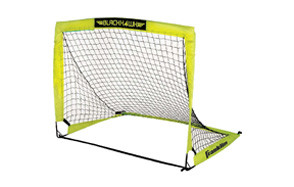 Franklin Sports Blackhawk Portable Soccer Goal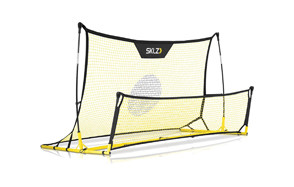 SKLZ Quickster Soccer Trainer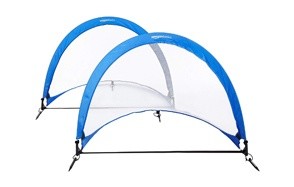 AmazonBasics Pop Up Goal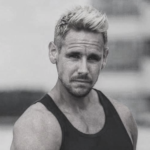 With spring in full force and summer just around the corner, there's no time like the presence to invest in some new equipment to get your sporting kicks going. We've collated a list of the best portable soccer goals around so that you can make the most appropriate purchase for you before the soccer season begins. Soccer equipment doesn't have to be bulky and professional – these portable soccer goals are the perfect excuse to train hard and play a game of soccer whenever and wherever you are. There are lots of different features that you should look out for when buying your pop up goals, so make sure you read up and make the right decision, hitting the back of the net.
The Best Portable Soccer Goal
Portable Soccer Goal Buying Guide
Although it might be tempting to choose the first set of soccer goals you see, there are a few things to bear in mind before you buy. In our handy buying guide, we've outlined exactly how we chose the above list, looking at reviews, price point, and providing you with a range of brands, as well as pinpointing the exact features that your pop-up soccer goals need to incorporate.

How We Chose Our Selection Of Portable Soccer Goals
Whether you're a soccer coach or budding parent, choosing the right portable soccer goals can be tricky. In our list, we've collated our information from the very best and the very worst reviews, as well as considering the price point, and giving you a wide selection of brands.
Reviews are a great way to see how well a product has worked for other people as well as seeing exactly what the downfalls are. However, with so many reviews out there, it's best to take some of the worst with a pinch of salt, and they can sometimes come from disgruntled customers who are out to cause problems. We've looked at some of the most common points that customers have made about the goals and given you the information you need to make that all-important decision.
Price is always an essential element when it comes to making a decision and it's not always the cheapest product that should get your attention. That's why we've given you a range of portable soccer goals to look at, all at differing price points and each with their own quality level.
We don't want to be biased when it comes to providing you with a list of products, which is why we include a range of different brands. This gives you a chance to see which company best suits your needs and whether they have any other products that might catch your eye too.

Features To Look For In Portable Soccer Goals
If you're new to the soccer world, you might need some advice and pointers when it comes to buying your first portable soccer goals. And if you're more experienced, get clued up on what features you should be looking for when it comes to choosing the right type.
Anchoring – your soccer net needs to be able to withstand powerful kicks and if it can't anchor into the ground properly, this can be a problem. Ensure you look at how your goal net anchors, whether it needs pinning into the ground or can hold its own weight. Sometimes self-standing nets are a better option if you don't have turf or grass to pin into. Think about when and where you'll be using your portable goals to ensure that you choose the right anchoring for your needs. You'll also need to think about ease of assembly too. If you're not keen on the idea of having to anchor the goals into the ground or don't have the options to do that, then go for a net which takes five minutes to assemble, without any further instruction.
Portability–portability is extremely important when making your buying decision, regardless of how professional your soccer skills are. If your posts are too heavy and cumbersome, you won't be able to pack them away easily, which adds time on to your day, potentially making you late for your next training session (or home in time for dinner!). Some portable soccer nets come with storage bags, which makes it easier to pack away.

Material– if you're looking for something more durable that can withstand powerful kicks and lots of activity, then metal soccer goals might be the right option for you. Metal soccer goals tend not to be as portable as plastic, which can be a problem if you're hoping to move them around a lot or take them to the park. If you are after something a little less professional, then plastic soccer goals are your best bet. They're ideal for kids, as well as beginner level soccer players. They can also be easily installed too – as well as moved about as much as you need. This is great if you're hoping to try something that can be assembled as quickly as it can be taken down. Of course, plastic soccer goals tend to be less durable, so you won't be able to get the wear out of them like you can with metal posts. Still, it's better than a sweatshirt on the ground!