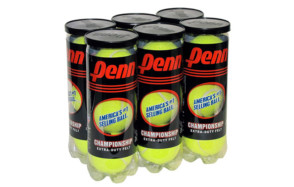 Penn Championship Tennis Balls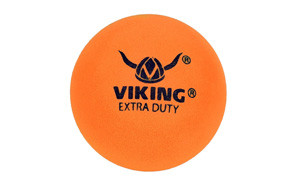 Viking Sports Extra Duty Platform Tennis Balls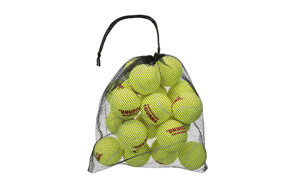 Tourna Mesh Tennis Carry Bag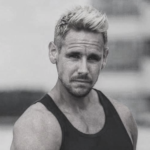 Anyone who's read David Foster Wallace's comprehensive mid-nineties tome Infinite Jest knows just how much the weight of expectation can sink even the most talented and ambitious tennis players. From recreational enthusiasts to professionals, tennis requires incalculable hours of intricate practice which demands the best tennis balls to master one of the most physically strenuous sports you can play.
Whether you're someone who could have gone pro but now just enjoys a casual game, or a parent of a budding tennis prodigy, ensure that you do everything you can to turn dreams (vicarious or not) of being the next Federer, Djokovic, or Nadal into a reality and finally knock them off their perch. This means investing in the highest quality tennis accessories, balls and all. So, let's see what we've got to serve you today in today's game.
The Best Tennis Ball
Tennis Ball Buying Guide And FAQ
How We Chose Our Selection of Tennis Balls
Brand - Everyone knows the best tennis brands out there, so first we focused on those and identified the best products and deals before moving onto slightly lesser-known, but just as reliable brands to help give you a more well-rounded selection.
Quality - Finding the best quality tennis balls meant searching through hundreds of results before making our final decision. To determine this quality, we looked for consistency, durability, control, fuzziness, and bounce.
Reviews - We're no tennis pros so we didn't have the chance to have a quick set with Roger Federer. Instead, we looked at reviews from tennis enthusiasts (and some pet owners) to trim the fat and pick out the best reviewed and most widely lauded products.
Price - People who aren't into tennis may not understand the difference between expensive tennis balls and cheaper practice tennis balls. We do and so we found a range of prices to serve all your tennis needs from a quick warm up to a proper competition.

Features To Look For In Tennis Balls
Tiers - Not just any tennis ball can suit any player or purpose. Practice balls differ from competition balls as they help you focus on certain aspects of your game such as serves, lobs, or returns.
You can compare these tiers to Driving Range vs. Full Course golf balls. You wouldn't use a driving range ball during a proper round of golf, and so you shouldn't use a practice ball during a competitive game, recreational or not.
Playing Surface - You must make your tennis ball decision based on what kind of surface you play on. Hard ground requires Extra Duty balls while soft clay ground or grass demands Regular Duty.
If you play on a variety of grounds, then All Purpose balls will save you looking for both types.
High Altitude - If you play tennis at high altitudes (anything above 4000 feet), invest in High Altitude balls, which are usually around 6% bigger than your average tennis balls. This counterbalances the drop in air pressure, so you'll have no excuse for having a bad game.
Pressurized vs Pressureless - Pressurized tennis balls are perfect for professionals and those who play more seriously than a casual game here and there. They provide better bounce, speed, and spin than pressureless, but because they are pressurized, they will lose this effectiveness over time.
Pressureless tennis balls are more common with recreational players and for practicing. Unlike pressurized balls, they don't lose their bounce (they bounce better the longer you use them) and last much longer, but they aren't considered 'proper' balls for competitive play.
Durability - A long-lasting tennis ball means you won't have to keep buying new packs every other week and allows you to get comfortable with a certain ball. If your tennis ball splits after every fast serve, it's not much use to you, is it?

Types Of Tennis Balls
Professional Level Balls - Professional tennis balls are typically identifiable by the word PRO emblazoned on the can. They are the most carefully constructed and offer the best spin, bounce, and speed. You'll find these are most commonly used by professionals and in tournaments as they yield the best, most competitive results.
Intermediate Balls - An intermediate tennis ball is somewhere between professional and beginner. It's not yet as fast-paced as pro balls, but also not as slow as a beginner. They are good for games between proficient friends who want to play competitively but aren't skilled enough to get a good game out of a professional ball.
Beginners Balls - The best tennis balls for beginners are designed to slow the game down to make it easier for newbies to get to grips with the game. New players use them to work on their service, returns, and shots. They are especially good for encouraging rallies.
Balls Classification Based On Your Kids Age
Colored tennis balls are not just to spike kids' interest in tennis. Instead, they distinguish the level of the player and what court they should play on.
Stage 3 - Red balls used in mini tennis
Stage 2 - Orange balls used on a 3/4 length court
Stage 1 - Green balls used on a regular court with less bounce than a normal tennis ball

Tennis Ball FAQ
Q: What are tennis balls made of?
A: Tennis balls used to be made of leather and stuffed with wool and a stuffed sheep's stomach and similar animal parts (and putty and human hair) in some parts of the world. Now though, they are made of a rubber casing filled with air, pressurized, and covered with woven, durable felt.
As the technology and science behind tennis balls have evolved, the manufacturing techniques have become more sophisticated to ensure the most precise and consistent performance and provide players with the best opportunities for an exciting game and, hopefully, victory.
Q: How are the tennis balls made?
A: Tennis balls are made over several steps before they appear at your local sports store.
Rubber is prepared over three days before being rolled into thin strips, split, and then crafted into half-shells.
These half-shells are cured and solidified by heating them up to 316℉ at pressures of 160 kg per square kilometer.
Sandpaper buffs the sides and glue is applied to the seam
The half-shells are combined to create the ball shape you know and love. It is then pressurized, and the core is both heated and cooled.
Felt is applied to the whole ball following an adhesive coating. It is specially cut to slot together like a jigsaw.
The felt is flattened to remove wrinkles
Final curing takes place with that bonds the felt together, which results in the rounded seam pattern you find on every tennis ball.
Finally, the batch of balls is given a steam bath to get it ready for sale.
The company stamps the ball with their logo so you know where it came from.
Q: Why do tennis balls come in cans?
A: They used to come in paperboard boxes, but in an effort to better keep their pressure and bounce, they are now sold in sealed pressurized cans. Pressureless balls do not need this pressure retention though so you'll likely see those sold in bags.

Q: Why do tennis balls have numbers on them?
A: Tennis balls have numbers on them to distinguish them from a set of balls of the same brand when used on a nearby court. This is to ensure rogue balls do not end up being played by different players which - some would argue - could impact the fairness of the game. Aren't tennis players a superstitious bunch?
Q: Pressurized Vs Pressureless Tennis Balls?
A: Pressurized tennis balls are better for competition and professionals while pressureless ones are preferred for practice or casual matches between friends.
Q: What are the best Tennis Ball manufacturers?
A: The best tennis ball manufacturers are considered to be:
Dunlop
Wilson
Slazenger
Penn
Babolat
Viking Sport
Which brand you use is a matter of preference, so we can't tell you which of these is the best.
Sources: