The Bounce Test: The Best Tennis Balls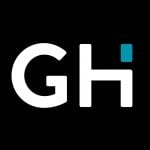 This product guide was written by GearHungry Staff
Last Updated
September 9, 2021
GearHungry Staff
GearHungry Staff posts are a compilation of work by various members of our editorial team. We update old articles regularly to provide you the most current information. You can learn more about our staff
here
.
GearHungry may earn a small commission from affiliate links in this article.
Learn more
A quality tennis ball can make or break your game from wee tennis tots to adult amateurs and pros. Additionally, some balls are better for different courts and environments. With tennis courts in every state and nearly every city, we know there are tennis players across the nation itching for new gear, and we've got the guide for you. Sports technology has come far in the last nearly 150 years since tennis made its debut in 1873, meaning that even small changes in the ball you use can change the way you play and can alter the quality of your game. Whatever your skill level, this guide to the best tennis balls has a wide variety of information and options to improve your game.
The Best Tennis Ball
Penn Championship Tennis Balls – Extra Duty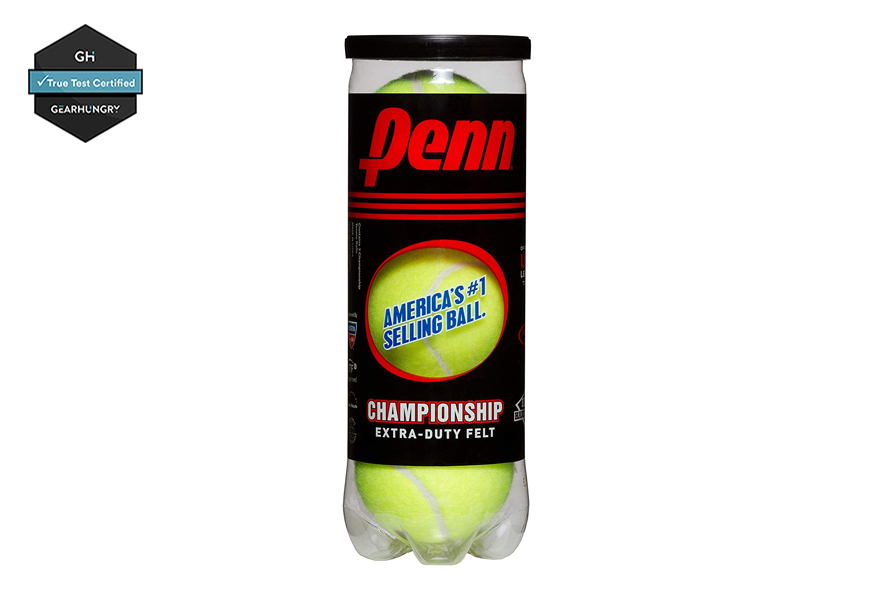 Our best choice and one of the best-selling tennis balls in the United States is the Penn Championship Tennis Balls-Extra Duty. These balls have over 100 years of engineering and product testing behind them to ensure the best quality ends up in your hands. The natural rubber creates a consistent feel and reduced shock as you play while providing a consistent bounce. 
Durability is essential with this product. The interlocked wool fibers make this product suitable for all court surfaces but especially hard outdoor courts. I played with these balls on a hard outdoor court multiple times and saw minimal wear throughout the testing phase. These balls are also available in a few other varieties, including regular duty for soft surfaces and high altitude for elevations over 4,000ft. For more quality equipment for tennis players, check out our guide to the best tennis rackets.
Key Features:
Interlocked wool fibers for durability
Natural rubber core
Great for hard surfaces
Three balls
Specification:
Brand

Penn

Model

521019

Weight

2.8 pounds
Wilson US Open Extra Duty Tennis Ball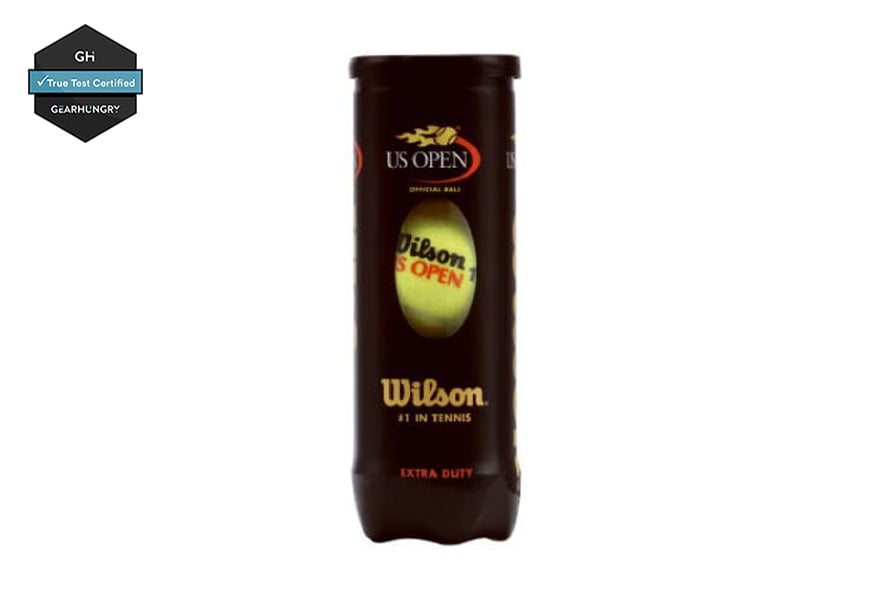 The Wilson US Open Extra Duty tennis ball is the official ball of the US Open and the Australian Grand Slam—if the pros play with it in some of the biggest tournaments on the planet, there's a great chance it's good enough for us too. I played with this set of three balls on two local outdoor hard courts and noticed they move quickly, are durable, and have a consistent bounce. 
The Tex Tech Industries felt provides durability for heavy days of play on hard courts. You can also use this ball on soft courts, and it's likely to last longer when used indoors or on hard surfaces. I tested the extra duty because I play on hard courts, but there are also high altitude and regular duty options in this line of cool tennis balls. Be sure to also browse our list of the top tennis shoes on the market, and pick your favorite pair.
Key Features:
Extra-duty felt
Three balls
USTA and ITF certifies
Official ball of the US OpenWilson
Specification:
Brand

Wilson

Model

WRT106204

Weight

2 pounds
Wilson Triniti Tennis Ball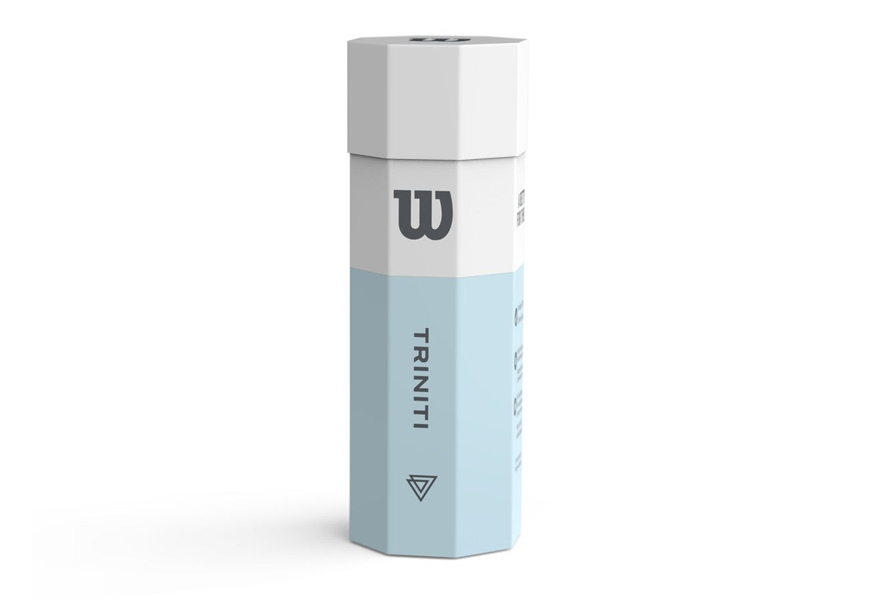 Reimagining the tennis ball nearly 150 years after its inception is no easy feat, but Wilson has done it with the Wilson Triniti Tennis Ball. The Triniti comes in 100% recyclable packaging that is non-pressurized, making it significantly more environmentally friendly than all other balls on the market. 
The core has been completely reimagined with a plastomer material instead of rubber. A more flexible felt allows this ball to make it through transit without the need for a pressurized can while also being ready to play right out of the package. Many reviewers agreed this ball had more bounce than other balls, but it was functionally the same as a regular tennis ball and that the durability is twice and three times that of a traditional ball. It sounds like Wilson is truly onto something here, and we are excited to see what the Triniti does for the world of tennis. You may also be interested in some of the top-rated tennis racquet covers from our list. Take a moment to check them out.
Key Features:
100% recyclable packaging
Plastomer core
STR flexible felt
Approved for ITF and USTA play
Wilson US Open Tennis Ball – 3 Ball Can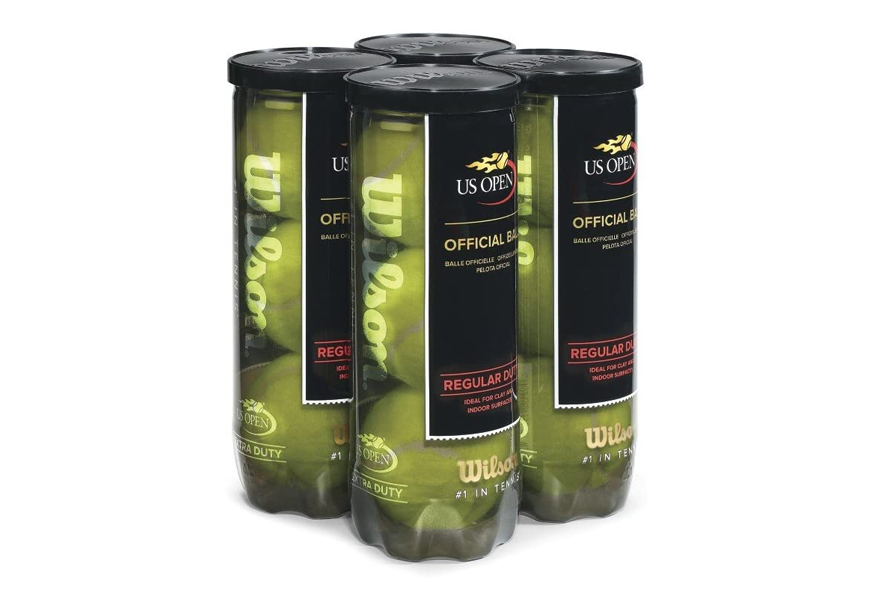 For your child who is stoked on tennis and just getting into the game, the Wilson US Open Tennis Ball in Red/Yellow is the perfect option. The red/yellow colorway gives a visible indicator of your young athlete's skill level. These balls have low compression and different size to make play more approachable. 
These quality tennis balls also slow the game by about 75% to allow little ones more reaction time and a chance to develop their skills in a less pressured environment. These balls are also approved for USTA and ITF play and come with the same quality and dependability as all Wilson tennis balls. Here are some top-selling golf balls you may also find interesting. Be sure to browse them.
Key Features:
Best for ten years and under
Red yellow colorway
Low compression
Slows the pace of play
Specification:
Brand

WILSON

Model

WRT107304

Weight

2 Pounds
Penn Pressureless Tennis Balls Bucket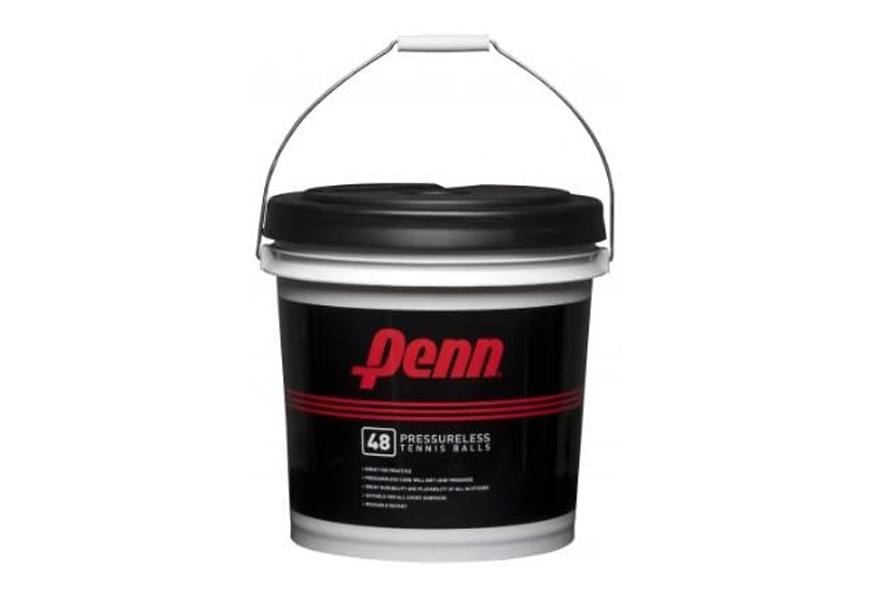 While pressurized balls reign supreme during matches, pressureless tennis balls still have a place with ball machines and practice. The Penn Pressureless Tennis Balls Bucket comes with 48 tennis balls and a convenient bucket for carrying and is our favorite pressureless ball. If you practice with a pitching machine, this product is your one-stop shop for a set of durable tennis balls. 
One of the things we love about this product is that the bucket provides a great way to transport the balls, and when you are done with this product, You can reuse the bucket for other purposes. The durable felt ensures a long-lasting ball on all types of courts. 
Key Features:
Vegan
Synthetic down
100% post-consumer recycled plastic bottles
Penn Championship Extra-Duty Optic Orange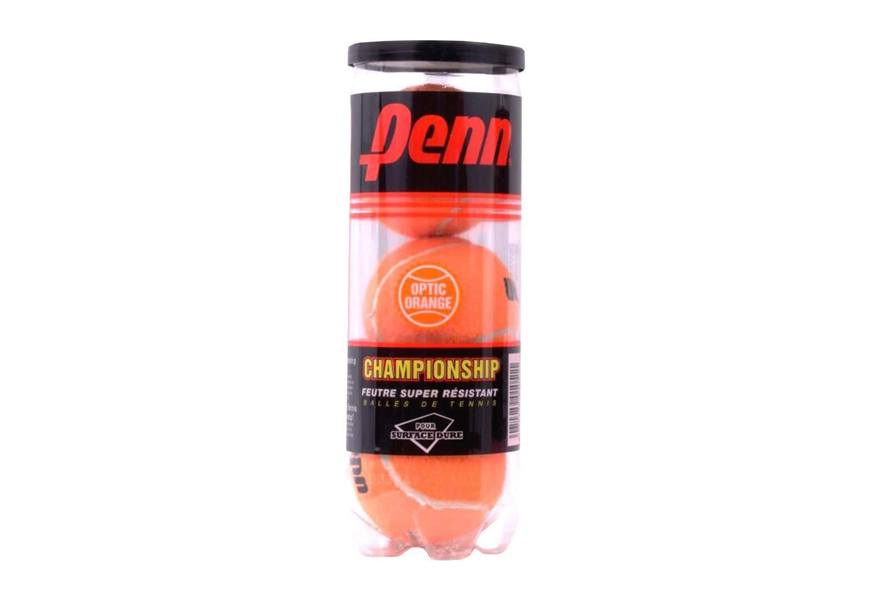 Whether you want to be able to quickly tell your balls apart, stand out from the crowd or play more easily in low light scenarios, the Penn Championship Extra Duty Optic Orange tennis balls are the vibrant and vivacious choice for you. The optic orange color allows you to see the ball more easily among a sea of other balls or as sunset begins to impede your game. 
While these balls appear different, they come with the same quality and durability as our best choice product in this guide—just with a different look. These balls likely won't be allowed in regulation play due to their color, but they are a fun change of pace for practice or a day of playing tennis with friends. If orange isn't your favorite, you can also find these balls in pink for some extra flair. For baseball fans, we have prepared our selection of the most popular baseballs on the market. Be sure to browse them.
Key Features:
Orange and pink colorways
Three balls
Great for hard surfaces
Excellent in low light conditions
Why Trust Us
The scope of this test was broad, and the research was in-depth. A lot of work went into this guide and ensuring the quality of your game stays at an all-time high. Novice players to former college players were consulted for this guide and assisted in testing to ensure we covered a vast scope of players and skill levels. 
How We Tested
Testing tennis balls is straightforward—I played tennis! I took these balls to several local tennis courts with my friends, and we played until we were so tired we couldn't lift our rackets anymore. Then, I enlisted former college and high school tennis players and novice friends to get various opinions on each ball. 
How We Picked
I researched the best tennis ball brands, read plenty of guides and reviews, and focused on the most well-respected tennis ball manufacturers. After the research element was complete, I took some time to consider the variety of spaces in which people play tennis and the folks who would end up using these balls. The result was a collection of products for use on various courts, various players, and a focus on the best manufacturers. 
Who Is This For
This guide is for novice to professional tennis players. Most professional tennis players may already have their favorite balls chosen, but for everyone else, there is something in this guide for you. We have products for hard and soft courts, newer players, practice, the environmentally conscious, and more.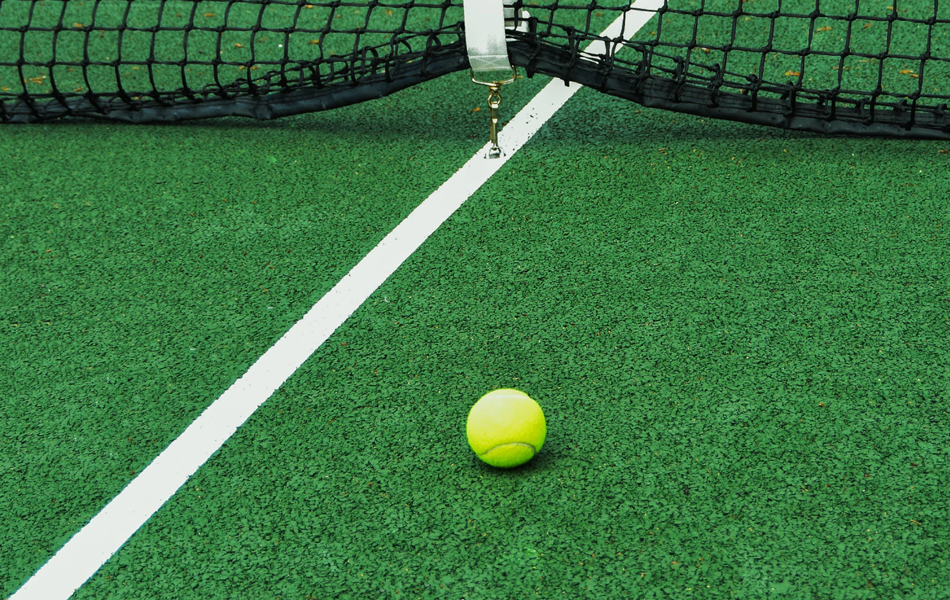 Features to Look For in Tennis Balls
Brand - The two most revered tennis ball brands are Wilson and Penn. Our guide features products exclusively from these two brands. Dunlop also produces quality products, but the research is clear: Wilson and Penn stand above the rest. Other brands may have excellent balls for your dog, children, or other uses, but you should only use the best for intermediate to advanced players. 
Quality - If you want your tennis balls to last, you'll need to ensure they meet a certain quality standard. That unbranded bag of rock-hard balls from your local big-box store might be great for your dog, but they'll be unpleasant for you if you try to play tennis with them. A quality ball fit for your skill level and terrain can make a world of difference in the way you play. 
Price - Everyone has a budget, and we know it can be hard to justify expensive tennis balls--especially if you play often and burn through balls fast. Our guide ensured that various price points existed for those who want the best and those who want the best value. 
Tiers - There is a wide variety in the quality of tennis balls on the market. We review some of these later in this guide. However, before making your purchase, you should see which category you fall into and select products that best fit your skill level and terrain. 
Playing Surface - Some balls are better for specific surfaces. For example, extra-duty tennis balls are great for hard court play, whereas regular-duty balls are best for softer court surfaces. 
High Altitude - With the air less dense at higher altitudes, there is less resistance to slow the ball's speed, and bounce and pressurized balls feel this the most. If you are playing at higher altitudes, you will need quick reaction times to a faster ball. Using a less powerful racquet might make it easier for you to chase down adventurous balls. 
Durability - No one wants a ball that falls apart after a day of play. You should select a ball that matches the court surface you are playing on for the best durability and avoid playing in the rain and on wet surfaces, as your balls could mildew if they don't get a chance to dry out. 
Pressurized vs. Pressureless - Pressureless balls are great for ball machines and specific practice drills, but they don't offer the same speed, spin, and bounce as a pressurized ball. In general, your practice should look like your performance, and you will always play your matches with pressurized balls, so it's best to use them in your practice. However, we have included some pressureless balls in our guide if you need them for your ball machine or training. 
Types of Tennis Balls
Professional - Professional balls have more speed, bounce, and spin than beginner or intermediate balls. The word "pro" on the can will indicate a pro-level ball designed for advanced players and professionals. 
Intermediate - Intermediate balls are great for the average or amateur player. They offer more speed than beginner balls but not as much as a professional ball. Higher-level players can also use these balls to work on particular skills. 
Beginner - Beginner tennis balls are ideal for new players or children. These balls slow down the play and allow novice players a chance to hone their skills and reaction times. 
Ball Classifications
The following ball classifications are in relation to children's tennis. The color of the ball indicates the skill or age of the player and what size court they are currently playing on. 
Stage Three - Stage three tennis balls are red balls for use in minis tennis with small children. 
Stage Two - Stage two indicates an orange ball for use on a 3/4s length court. 
Stage One -Stage one balls are green balls that most closely resemble regular adult tennis balls but have less bounce and speed than a traditional ball.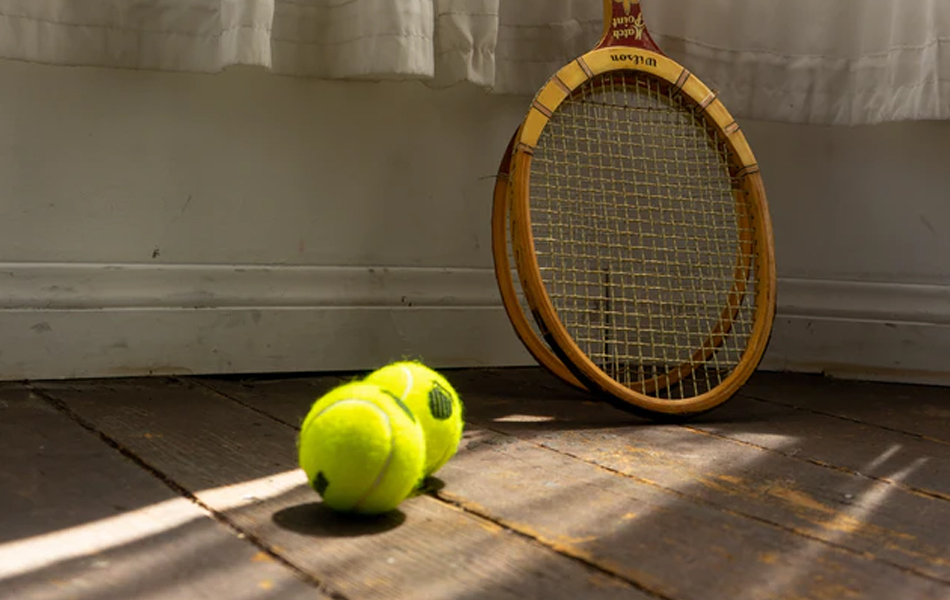 Tennis Ball FAQ
Q: What are tennis balls made of?
A: Tennis balls are made out of a rubber core, nylon, and wool felt. Additional materials include adhesives. The in-depth process of the creation of a tennis ball is below. 
Q: How are tennis balls made?
A: Good tennis balls start with high quality rubber. Steel rollers thin out and knead the rubber, which gets cut into sections comprising a rough half shell. The sections are heated in a mold to 316 degrees Fahrenheit, which creates a rounded half-shell. The rims of the half-shells then get sanded, and adhesive is applied. Two half-shells are then placed together in a mold that heads to a hydraulic press, and the core is pressurized to 18 psi and goes through a curing process to solidify the adhesive. Next, the core is placed in a drum lined with sandpaper which preps the surface for adhesive and felt. Sheets of wool and nylon felt are cut into sheets and dipped in a yellow vat of adhesive. Now that the felt and ball are coated in adhesive, a special machine applies two pieces of felt to the core, and another flattens any wrinkles or bumps. A final curing process heats the adhesive and connects the two pieces of felt, leaving a ridge, and voila—your cool tennis ball is complete! From here, the balls are fluffed and branded, then scanned and sent off to the store shelves, where they eagerly wait for you. 
Q: Why do tennis balls come in cans?
A: Tennis balls come inside cans due to air pressure. Because the air pressure inside the ball is greater than the air around it, the pressure will slowly leak over time. By pressurizing the container, the balls come in the manufacturer can ensure equilibrium while the can is on the shelf, preventing leaking until the can is opened to begin play.
Q: Why do tennis balls have numbers on them?
A: The numbers are to avoid confusion on side-by-side courts. If one court is playing with balls with a two on them and the court to the right has balls with a 4 four on them, then the balls can't be confused if they end up on the other court.
Q: What are the best tennis ball manufacturers?
A: Penn and Wilson are most commonly regarded as the best tennis ball manufacturers.
Sources:
Tennis - Britannica
Tennis Fun Facts - Elite Clubs
Sign Up Now
GET THE VERY BEST OF GEARHUNGRY STRAIGHT TO YOUR INBOX