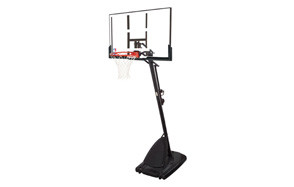 Spalding Pro Slam Portable NBA Basketball System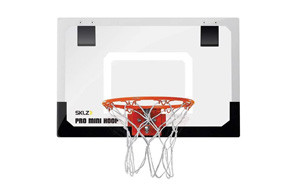 SKLZ Pro Mini Basketball Hoop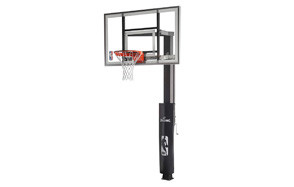 Spalding In-Ground Basketball Hoop System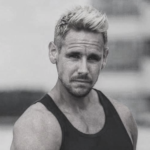 If you've ever tried your hand at basketball, you will appreciate that it is most definitely one of those sports where practice makes perfect. If you or one of the younger members of your family have hopes and dreams of slam dunking a 15-foot high net with a successful and mighty leap as you hear the buzzer sound during those final dying minutes of the NBA Championship, then you most definitely need your own hoop at home! Yes, there are plenty of outdoor and indoor courts around, gym classes and pickup games in the local park you can or your child can join but if you really want to impress the new five on five team you've just joined then you need to get as much hoop practice in as possible to wow your new teammates. Even if it's just a friendly post work game with your office colleagues or a kids school team, nothing compares with having your own driveway basketball set-up so that you can shoot some hoops and wow them all with your laser-sharp accuracy. Up today we have ten of the Best Basketball hoops which will soon have you crowned the new King of the Court.
The Best Basketball Hoop
Basketball Hoop Buying Guide & FAQs
Features To Look For in Basketball Hoops
You might think on the surface of things that shopping for a basketball is easy, but there are a number of features that you should take into consideration be on the lookout for. Including but by no means limited to the key points below.
Size and Materials – What space do you have to fill and are you intending keeping the hoop outdoors all year round. You can get 54", 60" and 72" as standard and go for either a portable or a fixed design. Work out which one is best for you first.
Playability – If you know that you have an aggressive style and want to really perfect that slam dunk technique, then you need to be on the lookout for a breakaway rim that will be both sturdy but flexible under pressure too.
Assembly – The larger style in the ground, permanent hoops are going to require more set up to get them into the correct position as once they are in, they're in so you need to ensure that you are measured up correctly and have your pole in the right place. Portable units are good options and can be quicker to assemble and be up and running. Sorry, what we should say is playing!
Installation Costs – Check into the option of getting your hoop professionally installed. It might cost a bit more but could end up saving you time and money in the long wrong by ensuring that you are perfectly set up from the get-go.
Pricing – Determine your budget first before you start browsing. You can pay anywhere from sub $50 to way over $1500 so set your expectations in the right ballpark to avoid disappointment when you realize that the 72", automatic height adjusting, tempered glass backboard that you've set your heart on is well out of your little league.

Basketball Hoop FAQs
Q: What Surface Area Do I Need For A Basketball Hoop?
A: You can work with whatever space you have, but as a general rule of thumb, especially if you are planning on using your basketball hoop outside in a driveway or yard, the following is a good guideline based around how many cars your garage could hold! So for a 1 car garage, a 54" hoop will do just fine whereas if you have a 2 car width garage, then your driveway can probably comfortably handle a 60" hoop. Going for the big guns at 72" then you either live in a palatial mansion with a fleet of cars, or you've just got a really big backyard! Just go for something that's proportional really relative to the space that you intend to position it. More importantly, make sure that you have a flat and even surface, preferably one that's made of cement or asphalt. While you can use basketballs on grass, you just won't get the required bounce from this kind of surface.
Q: How Do I Maintain My Basketball Hoop?
A: Chances are you will have invested good money in your hoop, and while most are made with outdoor conditions in mind and designed to be rust-resistant and weatherproof, it still pays dividends to properly maintain your hoop to ensure an extended service life and many happy years of play time. If you have invested in a portable style hoop, it will require either water or sand to keep it stable and secure. Keep in mind that over time, water will evaporate so it's a good idea to keep your base regularly topped up, that way it will remain safe and stable. If you already know that you are going to be using your hoop periodically and also have an aggressive style of gameplay and love a good old athletic jump and dunk, then make sure you go for a system that has a sturdy breakaway rim.
When it comes to maintenance, routinely check your net for signs of wear and tear. A net will need to be replaced anywhere from every 1-5 years depending on usage, quality, and conditions. You might also find that over time the paint detailing fades or gets scratched or chipped so touch that up with a satin black outdoor spray paint like a Rust-Oleum if necessary.
If you do have to keep your hoop outside in adverse weather conditions, it's also a good idea to remove any pole padding if that's possible and make sure you check and tighten all the nuts and bolts once a year. Follow these general maintenance rules, and you should be able to enjoy your basketball hoop for years to come.