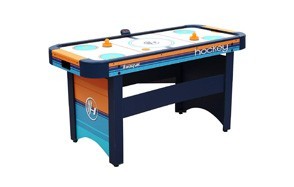 Harvil 5 Foot Air Hockey Table
Sport Squad 40 inch Tabletop Air Hockey Table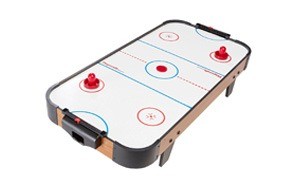 Playcraft Sport Table Top Air Hockey Table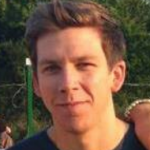 Ah, air hockey. The staple of childhoods spent at the arcade popping penny after penny into the slots while hyped up on soda and, for many, still loved well into adulthood, where many nights of friendly competition soon morphed into something much more serious. You are never too old or too young to enjoy the back-and-forth battles that require quick thinking, a speedy hand and more strategy than you might expect. An air hockey table is the perfect addition to any rec room or games room and are ideal for parties, practice or just a bit of fun now and then, so here's a comprehensive look at the best air hockey tables available.
The Best Air Hockey Table
Best Air Hockey Tables FAQ
Q: What Is An Air Hockey Table And How Does It Work?
A: An air hockey table is a tabletop game that pits you against a buddy in a battle of wits, speed,  skill and reflexes all from the comfort of your own home or the bar. Using a pusher (also known as a striker, goalie, mallet or paddle) players strike the puck back and forth across the field in an attempt to be the first one to whatever score you have agreed on before, but this is usually somewhere between 8 and 10.
Much like regular hockey (both ice and field) the objective is to score by hitting the puck past your opponent and into their goal to earn points, all without worrying about taking a elbow or stick to the face when you lose your concentration. It has proven a highly entertaining and addicting game that is fun for young and old, hockey fans and non-hockey fans, as well as people who just love to smash things across tables at one another.
The table is fitted with little holes (as many as 1500 or more, depending on size) all across a smooth surface which blow air, creating an air pocket and keeping the puck hovering above the playing field. This allows it to move across the table in fast, fluid motions that can often be unpredictable and requires a keen eye, concentration and being (at least) one step ahead of your opponent at all times.
For people who don't have the skill or opportunity to play hockey, or don't want to be able to have a few drinks while also cementing yourself as the undisputed air hockey champion, air hockey tables are the way to go for endless hours of fun and competition.

Q: How Do I Clean And Maintain An Air Hockey Table?
A: To extend your air hockey table's life span, it is essential that you undertake regular and thorough maintenance so you get the most from it without risking parts failure. It is recommended that you clean the surface with sandpaper or cloth every two weeks, as well as using sandpaper on the puck to guarantee smooth movement.
When it comes to the pushers, you need to keep an eye on how the fabric pads on the base of these accessories are holding up. There will be times where you might accidentally catch the edge on the side of the table (perhaps in a fit of rage) which if left unchecked, can cause damage to your table by scratching it. If you do find the fabric coming away, then some people have used fabric or wood glue in the past to keep it in place for the time being while looking to arrange a replacement pads if they are damaged beyond repair.
While it can be tempting to smash the puck across the table, take care not to strike it too hard, as that will cause the puck to deteriorate quicker. Ensuring that you treat the table with care means that you can keep it operational for years to come, and with it, have many nights that you won't forget.

Q: Can I Use Any Pucks And Paddles On My Table?
A: You would think that it would not matter what kind of pucks and paddles you use on your air hockey table or mini air hockey table. However, due to the varying sizes of the playing field, goals and, of course, players hands, it does indeed matter what accessories are used.
Tables of 7 feet or above require puck size to be between 80 - 63mm, medium tables (6 feet) require 63mm, while smaller tables such as those that are 5ft or shorter only need a puck that is 55mm in diameter.
With pushers, it is recommended that those with 5 foot tables choose the 75mm model for increased challenge and dexterity. But this all depends on the person, and pushers can be as wide as 95mm.
Like most sports - regardless of your definition of sport - there are regulations within the world of air hockey. The main difference is between causal use and tournament use, where the pucks and paddles need to adhere to specific rules regarding size. This is because of the strength of the blower underneath the table which, as the table gets more expensive, will be stronger and therefore require a heavier puck along with paddles of a certain size to play properly.
There is also the aspect of competitiveness. Even if you are just playing for fun, there will still be a part of you that wants to win (no matter how much you try to hide it) and so having the correctly sized puck and paddles for the game is vital.
If you are using a larger table, you need a puck that is heavy enough to remain on the table when struck across by older, stronger or more advanced players. Using a smaller puck could cause it to fly off the table, interrupting vital gameplay and potentially causing injury.
Likewise, smaller pucks and paddles for smaller tables are essential in making the game fun. No one enjoys a game that they cannot score in, whether this is due to the puck getting stuck due to its weight, or being too large to actually fit through the goal. The puck being small enough to achieve this will go along way towards making the game fun for whoever you rope into playing against you.
The size of the puck and the paddle all depend on the consumer. If you are someone seriously considering getting into air hockey competitively, then investing in bigger, more powerful tables - and in turn heavier pucks and paddles - is the way forward, but this will also cost more money. For casual players, like those who just want a bit of relaxation with family and friends, you will more than likely be content with what is provided with the smaller, cheaper hockey tables on the market.
Sources
Everything You Need to Know About Air Hockey - Air Hockey Place
Small vs. Large Pucks - Bubble Air Hockey
How to Choose Pucks and Pushers - Liberty Games Blog