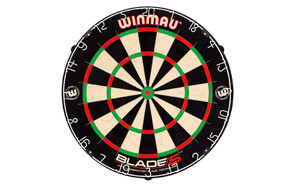 Winmau Blade 5 Bristle Dartboard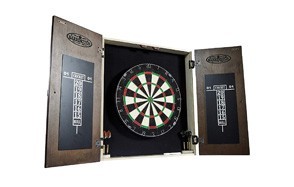 Barrington Premium Bristle Dartboard Cabinet Set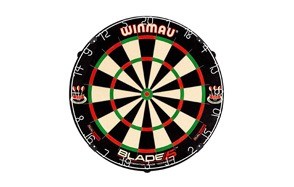 Winmau Blade 5 Dual Core Bristle Dartboard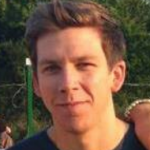 Whether you're a darts aficionado or just looking for a new hobby, you need to ensure you hit the bullseye with the quality and style of your chosen dartboard. It's not a purchase you'll make often, so taking a look at some of the best dartboards on the market is a great place to start, getting the best quality piece of equipment for you. There's lots of unique features to look out for, but luckily for you, we've created this handy list of the best dartboards going. Whether you want to practise everyday or just use it as a social hobby, choosing the right dartboard is vital. From electronic dartboards to cabinet sets fit for the local boozer, our list gives you the choice you need to have high performance, high quality, engaging fun.
The Best Dartboard
Dartboard Buying Guide
Our dartboard buying guide gives you all the information you need to make the best decision for you. From board types to fewer bounce-outs, there's a lot to think about. Luckily, you don't need to do the research as we've done it for you. More time for you to start perfecting your throw.

Whether you need something fun and quirky for the office or to give your garage a much-needed makeover, choose the right dartboard for your needs and your location. Many dartboards come with extra features and requirements, so ensure you look at the manufacturer's specifications before making your purchase. Size and weight are very important when buying a dartboard, as you need to be able to install it successfully, as well as fit it into the space you want. A bulky and cumbersome dartboard will not only look bad, but it will also put you off your game if you have to install it somewhere you didn't originally want it. Size also indicates how much of a serious player you are. If you want a regulation, tournament sized board then bear this in mind, but if you're a recreational player, you won't need something so large.
There's also different types of dartboards, such as bristle, which is probably the main type you've come across before. These are usually used in major tournaments too, so you know they're serious. They're low maintenance and more often than not, tend to be self-healing, meaning you can keep throwing until your heart's content. You need to keep in mind though that the less you pay for a bristle board, the more likely it is that it won't be very high quality and won't last as long as others on the market. You can also purchase electronic dartboards too, which is why we've included one on our list. They're new and not for everyone, but do come with their own benefits. For instance, they can automatically keep your score, which is beneficial if you can't remember what someone just threw or you don't have a cabinet chalkboard to write it down on. However, many professionals do not favour the electronic dartboard, simply because they don't often allow you to accurately throw and they utilise soft head darts, which can't be used on bristle boards. They're also a lot more expensive than your average dartboard, making them a serious investment, that sometimes isn't worth it.
We've not included these on our list, but you can also buy magnetic and wooden dartboards. These certainly aren't for everyone, and magnetic boards tend to be for fun and games, rather than serious darts. Wooden boards used to be the gold standard when it came to the game, but with advances in technology and bristle boards on the market, these are slowly being wiped out. They take a lot of time and effort to maintain and often cause a lot of bounce-outs.

How We Chose Our Selection Of Dartboards
If you're new to the world of darts, it can be daunting to find the best board for you. The best way to ensure you're getting an appropriate board is to evaluate a few different things. We focused on reviews, taking into account the good, the bad, and the downright weird, so that you have an unbiased opinion of the best dartboards. Remember, reviews aren't always right, and one person's experience can differ dramatically to other people. So, take them with a pinch of salt and read up as much as you can.
Price is also another important factor when it comes to buying a dartboard. Although you might not want to splash out, you also need to be aware that you get what you pay for. Cheaper dartboards come with a hook to hang off a nail on your wall – this isn't high quality enough to get the most out of your dartboard, so look for ones with a bracket, that can be installed properly. This might increase the price, but also increases your chance of getting that bullseye.
There are so many different brands within the darts world, many of which are well-known and high quality. That's why we've included a whole host of different ones, so we're not being biased towards any.