Fun In The Sun: The Best Water Guns In 2022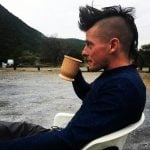 This product guide was written by Sam Anderson
Last Updated
September 9, 2022
Sam Anderson
Sam Anderson has followed a passion for well-told stories and nature's beauty from university classrooms to mountain adventures. After earning a bachelor's degree in literature, he leaned into a life fueled by road tripping, rock climbing, coffee and beer, and renegade camping. He has worked as a chainsaw operator, house carpenter, and window cleaner, at one point running his own window cleaning business. He has finally settled with his girlfriend and small zoo in the western American desert, trading his tool belt for a keyboard.
GearHungry may earn a small commission from affiliate links in this article.
Learn more
Nothing says old-school fun in the sun like water fighting in the backyard. From cheap and cheerful water pistols for younger kids to giant blasters for adults that are sure to give you the upper hand in any battle, the best water guns will give you and your friends and family hours of unforgettable outdoor fun.
And no, you don't have to be a kid to enjoy water wars – you're still allowed to have fun as an adult! And if simple fun isn't cutting it for you, here are a few cold-hard facts to reassure you it's totally fine to enjoy soaking your friends and family with a water pistol from time to time: for one, you're outside, which means you're getting some vitamin D, two, you're running around, so you're getting some exercise, and three, you're getting some much-needed stress-relief. There, now go forth and enjoy your guilt-free water fun!
With squirt guns included in our review that can fire up to an impressive seventy-foot range and some with the capacity to take on board 100 fluid ounces of water, get ready for a total soaking and, of course, a whole lot of summertime fun. The dog days may be over, but September can be just as sweltering as August, so make sure you enjoy those late summer days while you still can! This is also the perfect time to get yourself some water blasters, as many are enjoying discounts because Fall is approaching.
We have everything covered from pistols to shooters to cannons to jets. All you need to decide is what your water weapon of choice is going to be. So get ready to "put 'em up" as we take you on our quick-fire rapid review of the best water soakers around.
The Best Water Gun
Nerf Super Soaker ZipFire 2 Pack Combat Blaster
The Nerf Super Soaker Zipfire is an old-school Nerf water gun and one of our personal favorites. It's discontinued but, thankfully, still available on Amazon and other second-hand websites and stores. This awesome blaster delivers a quick jet of water stream up to a distance of about 15 feet. It is both fun to play with and is also your ideal and effective way of dissuading your pets from undesirable habits. What's more, this will surely add a lot of fun to your poolside entertainment events, especially when lots of kids are involved.
The gun itself is relatively small, but it fits well in most sizes of children's hands. There is no need to pump the gun ahead of time, as is the case for most other water guns; all you need to do is aim straight at the target and pull the trigger to blast water at your opponent. With a water capacity of 3.3 fluid ounces, ZipFire holds a small amount of water that is ideal for smaller kids. While compact, the gun is tough and durable and will not break when dropped on the floor accidentally.
You may also like some of these amazing horseshoe sets from our list, so check them out.
Key Features:
Two pack of water guns with a 3.3 fl. oz. capacity
Quick-soaking trigger; no pumping needed
Compact size for sneak attacks
Ages 6 and up
Specification:
Brand

Nerf

Model

E2155

Weight

6.6 Ounces
X-Shot Fast-Fill Water Blaster by Zuru
The X-Shot Fast-Fill Water Blaster is one of the best singular water guns on the market. If you or your kid want to be king of the water battlefield, the X-Shot is the blaster to get. It's an ultra-large gun that can hold around a liter or around 30 ounces of water, so you won't need to refill it constantly. Speaking of which, refilling this bad boy is a piece of cake. All you need to do is dunk the blaster in water, and it will seal itself the moment you pull it out – it takes about a second! You can also adjust the nozzle at the top of the gun to change the velocity of the water stream.
The key to winning a water fight is being able to shoot from a distance. Thanks to the pump-action design, the X-Shot blaster can shoot up 34 feet, which is further than most other water gun brands on the market. If you're buying a water gun for yourself or your teenager, we recommend a large or medium size gun as it has a larger capacity. The X-Shot Mirco Fast Fill, on the other hand, is ideal for small kids as it's lighter, more compact, and has a smaller water tank.
Fan of paintball? Take a peek at these awesome paintball guns from our best-of-the-best list!
Key Features:
Ultra-fast 1-second refilling
Shoots water up to 34 feet
Pump-action design 
Water capacity of 30 ounces
Easy to refill
Specification:
Brand

XShot

Model

56296

Weight

1.3 Pounds
NERF Fortnite HC-E Super Soaker Toy Water Blaster
Inspired by the blaster in the Fortnite battle royal game (Hand Cannon to be exact), this compact Nerf Super Soaker is ideal for sneak attacks. Quick to fill and easy to carry as well as conceal, the Nerf Fortnite HC-E Super Soaker Toy Water Blaster is one product in the range that will definitely make your children feel like professionals as they load up, aim and shoot in a non-violent and fun-loving combat battle.
This water gun holds a small amount of water – 7.4 fluid ounces – but that is plenty for sneak attacks. It's also easy to fill and fun to fire – open the cap to fill the tank, close it, and you're ready to start shooting. Speaking of shooting, this toy may be small, but it is mighty, capable of producing a thin but powerful stream that reaches quite a few feet (we've read reviews claiming it shoots anywhere from 10 to 30 feet). When it comes to light and portable Super Soakers, this one takes the cake and is an excellent choice for your next beach trip, pool party, or old-fashioned backyard water game.
Key Features:
Based on Fortnite's Hand Cannon
Holds up to 7.4 ounces of water
Compact and light, ideal for sneak attacks
Trigger action
Specification:
Brand

NERF

Model

E6875

Weight

9.9 Ounces
NERF Fortnite TS-R Super Soaker Water Blaster
Did you really think we'd feature only one Fortnite-inspired water blaster in this guide? Not a chance. This Nerf Fortnite TS-R Super Soaker Water Blaster had to be included because it's a) a large-capacity water gun that won't run out after a few blasts, b) pump-operated, so more powerful than other water guns, and c) Fortnite-inspired, enough said.
The TS-R is a high-range water shotgun that can reach anywhere between 20 to 40 feet, making it a great choice for both adults and kids. Still, it's more suited to teens than smaller kids due to its large size. With a water tank that can hold 36 ounces of water, this Nerf Super Soaker can shoot about 41 times before you have to fill it again. Made of durable, hard plastic, it should last at least several seasons even if you use it practically every day.
Key Features:
Fortnite-themed water gun
Large and pretty powerful, best for adults and teens
Features a 36 fluid ounce tank
Pump action soakage
Specification:
Brand

NERF

Model

E6876

Weight

1.7 Pounds
Nerf Super Soaker Scatterblast Water Gun
If you want to bring the big guns to the backyard battle, get this Nerf Super Soaker Scatterblast Water Gun. Boasting a barrel with five nozzles, this powerful blaster unleashes five streams of water at everyone in range; just move the handle back and forth to unleash a deluge of floodtastic fun!
We love this particular model not only because of its 5-stream water firing pattern but also because of its easy-to-operate design, making it ideal for children. It's also light, with a relatively small water tank, so it's easy to hold. While its water capacity isn't the greatest, 22 ounces is still plenty for kids. Made from durable plastic, the Scatterblast is also sturdy, so it shouldn't break under rapid water warfare. Besides being quite accurate, its range is also pretty impressive – up to 34 feet. Overall, an awesome and powerful Nerf water gun suitable both for kids and adults.
Be sure to also check out our list of the best Nerf guns for more great items like this. 
Key Features:
Shooting range of up to 34 feet
Holds up to 22 fluid ounces of water
Easy to operate pump handle dispenser
Delivers 5 streams at once
Suitable for kids and adults of all ages
Specification:
Brand

Nerf

Model

A5832

Weight

1.06 Pounds
Joyin Super Water Blaster Water Gun
Get ready to aim and fire with this Super Water Blaster water gun set from Joyin, which has been hand-picked by us today for its exceptional value and quality. You get not one but two high-capacity water soakers ready to blast those opponents out of your backyard! These are bright and colorful-looking water guns that are perfect for some good old-fashioned outdoor summer fun and are perfect for all the family to enjoy around the pool.
The Joyin water guns couldn't be easier to operate and have a fast and easy pump fire mechanism that can blast water up to 36 feet. It has a water capacity of 25 ounces, which is ideal for kids but may be too small for adults. Manufactured to meet US toy safety standards and made from durable and non-toxic high-quality plastic, these two water guns are our budget picks and guaranteed winners with your little ones.
Key Features:
Shooting range of up to 36 feet
Holds up to 25 ounces of water
Easy pump-action operation
Budget-friendly pack of two water guns
Specification:
Brand

JOYIN

Weight

1.85 Pounds
Nerf Super Soaker Soakzooka Water Gun
For a Super Soaker of this size, the aptly named Soakzooka does just what you expect it to: drenches your opponents and makes them run for cover. It produces a massive water blast delivered from the enormous onboard tank that can hold up to impressive 55 fluid ounces of water, meaning that you can literally drench your competition before they have a chance to get anywhere near you!
This is a monster of a Super Soaker, but that doesn't mean it's not suitable for small kids; au contraire mon frere. With an easy-to-operate firing mechanism – you just move the handle back and forth to blast water – the Soakzooka is one of the easiest-to-use water guns out there. Its range is pretty decent too, and it can hit targets up to 30 feet away. Just be quick on the draw and move that handle to blast a powerful water jet. Brilliant for all outdoor situations, including around the pool, backyard, or beach, it can deliver a gargantuan blast of water.
Key Features:
Holds 55 fluid ounces of water in the tank
Shoots up to 30 feet
Easy handle operation
Suitable for ages 7 and upwards
Specification:
Brand

SUPERSOAKER

Model

E0022

Weight

1.85 Pounds
Stream Machine Double Barrel Water Launcher
Your competitors don't stand a chance with this quick-to-reload 24-inch long barrel-style water launcher. The Stream Machine Water Launcher is comprised of high polymers and vibrant colors that won't peel or chip, no matter how many times you submerge the launcher in water. Best of all, though, the Stream Machine squirt gun is pinpoint accurate, capable of reaching targets up to 50 to 70 feet, and it reloads in a matter of seconds – just submerge it and pull back the handle, and you're ready to super-soak your opponents!
While it doesn't have a dedicated water tank, this awesome water gun holds a lot of water in the barrel, so you won't have to refill constantly. It's suitable for ages eight and upwards so grab yourself a few so that all the family can enjoy the fun. No doubt this is one of the best, if not the best squirt gun on the market!
Key Features:
24-inch double water barrel water gun
Shoots up to 70 feet
No reservoir, holds water in the barrel
Quick and easy reload function
High-quality construction designed to last
Suitable for all ages eight and upwards
Specification:
Brand

Stream Machine

Model

80009

Weight

1 Pound
JOYIN 3 in 1 Aqua Phaser High Capacity Water Gun
Your kid can't have a water fight on their own, which is why we've included this rad three-pack of water guns from Joyin. Get this pack, and your little one and their friends can have hours of healthy outdoors fun! These compact water pistols might not look like much, but they're surprisingly powerful. The high-capacity design allows them to shoot water up to 35 feet, but they have a 15oz water bottle integrated into the design that will need filling up pretty regularly. Fortunately, they're super easy to refill.
Made from thick, non-toxic plastic, they're also designed to be durable. You can use them in the yard, pool, and beach – they should last a good while. While not the most powerful water guns around, they're ideal for kids and even toddlers as they're compact, light, and super-easy to use.
Key Features:
Pack of three water guns for kids
Made from non-toxic, thick plastic
15-ounce water tank 
Shoots up to 35 feet
Specification:
Brand

JOYIN

Weight

2.2 Pounds
Max Liquidator 6-Pack Water Blaster Set
The best water fights involve a lot of kids. Sure, it's fun to have a wild-west-style duel, but things get a lot more interesting when there are more kids. Problem is, that buying water guns for everyone can get expensive. That's why we love this six-pack of Max Liquidator Water Blasters. Designed to be affordable yet durable, these water guns are a great choice for a kiddie pool.
One of the best things about these water blasters is how easy they are to load. Simply submerge the blaster in water, pull back the handle, and push it back in to squirt. That's it! They also have a decent range, around 30 feet, but they don't hold much water as they don't have a reservoir. On the plus side, the guns are super lightweight and float in the pool, so there's no need to worry about putting them back.
Key Features:
Value pack of 6 water guns
Shoot up to around 30 feet
Pull back the handle to load 
Best for water fights in the pool 
Float in water
Specification:
Brand

Max Liquidator

Model

8027H-6

Weight

16 Ounces
Why Trust Us
To bring you and your kiddos the best water guns, we scoured the internet, reading hundreds of reviews, comparing the best-sellers, and analyzing their features (build quality, water capacity, and range included). The water blasters you see featured here were thoroughly vetted by our researchers and yours truly to make sure they are some of the best ones on the market.
Who This Is For
Anyone who enjoys good ol' water battles! Whether you're an adult organizing a big water gun battle royale or you're trying to encourage your kids to spend time outside, this guide has water guns for everyone.
How We Picked
We paid close attention to each model's design and features to separate the awesome water guns from the duds. When it comes to water guns for adults, we looked for models with bigger water tanks so you don't have to refill your blaster over and over again. Kids require smaller and lighter squirt guns that are easy to operate, so that's where our focus was when selecting models for children. In both cases, we kept price and build quality in mind.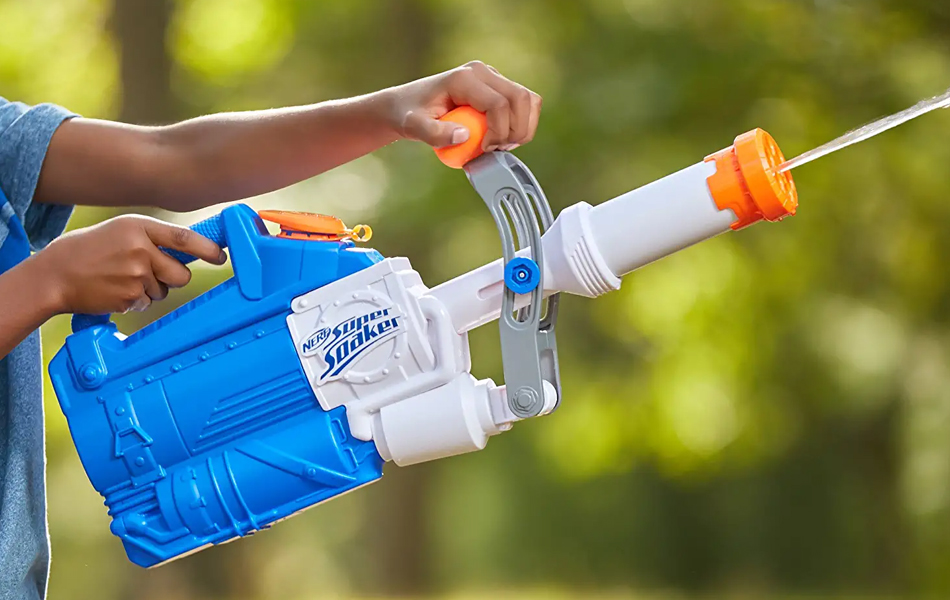 Features To Look For In Water Guns
Tank capacity - If you are buying a blaster for a child, look for a lightweight model with a smaller tank capacity (around or less than 30 ounces). That will, of course, mean that you need to have a nearby water source so your little guy or gal can regularly replenish their water gun.  If you're shopping for yourself or know that you are going to want to enjoy extended water battle sessions but you don't have a pool, then it's best to invest in a larger water blaster that has a generous water capacity so that you don't have to constantly refill it. You could also consider purchasing a separate backpack accessory that you can fill with an additional handy water supply so that you can quickly and easily reload on the go.
Ease of use - No one wants a water gun that's uncomfortable to hold or complicated to use, but you'd be surprised at how many such models we've encountered when researching this guide. Naturally, we chose only easy-to-operate blasters, but you still want to check how heavy/light a model is before you purchase it, especially if you're shopping for a child. You can get a trigger squeeze-release type water gun that releases a long flow of water that stops when you release the trigger or the water source is depleted. There is also a pump-action style soaker that fires a jet of water each time you activate the pump. Finally, there's a plunger-style soaker that you can refill from a pool, ocean, or even a bucket.
Weight of the soaker - For adults, the weight of the soaker may not be that (if at all) important, but for kids, weight is everything. Heavy, bulky super soakers with large water capacity may be fun for adults and teens, but they're going to be uncomfortable and too heavy for children. When shopping for a water gun for kids, stick to light and compact models.
Spray distance - An average water blaster can fire a distance of around 10 to 40 feet, but the majority of water guns fall somewhere around 30 feet. If you're looking for water guns for children, 30-ish feet is plenty, but the best water guns for adults should have a greater range. This said, if soaking power is your main focus, a shorter range is totally fine.
Practical Uses For A Water Gun
As we've already mentioned at the beginning of this guide, water guns aren't just for kids; plenty of adults also enjoy the thrills of water battles! However, there's more than just fun to be had with your investment. If you do go ahead and purchase a water gun, there are plenty of practical uses for your gun that go above and beyond shooting the kids and animals in the backyard. We appreciate that many families these days are cost conscious, so it can't always be about fun. So, if you are still sitting on the fence and are concerned about purchasing something that the kids might either get quickly bored of, here are some totally practical uses for a water gun.
Targeted garden soaker - You might not have a garden hose, or you might be on a hosepipe ban. It does happen, and there's nothing worse than dried and shriveled up flower beds and herb gardens because you've had a brutally hot summer and not been able to tend your crops with your usual green-fingered magic touch. With your water gun, you can deliver some much-needed and very targeted water relief to specific areas of your garden and backyard with localized problems with parched, dry soil. You can also bring your water gun indoors and quickly go around your home, giving all your indoor plants a good old watering too.
Blast off that sand at the beach/mud from your shoes - We all love going to the beach, but how many of us like going home with the sand still between our toes or stuck to the tops of our feet that we then trail into the car? Problem fixed! Just take out your water gun and hose down all your family's feet before you jump into the car, ready to head home for the day. The same principle applies if you've taken the dog out for a fun but muddy Fall walk. Hose down everyone's outdoor boots before loading up the car, and you will save yourself a considerable amount of cleaning up later.
Training your domestic pets to be better behaved - Water has long been used as a convenient means to train young cats and dogs and to deter unwanted behavior. Used on the gentlest setting, you could use your water gun as a harmless means of encouraging good behavior in your cat, whereas your dog will love the cooling effect of being sprayed gently with water on a hot and sticky summer's day.
A fun way to enjoy your favorite cocktail - Kids, cover your eyes; this one is for adults only! Load up your squirt gun with your favorite cocktail, and squirt the mixture directly into your poolside partygoers' mouths. Just make sure you have cleaned and sanitized your gun first before adding that Tequila!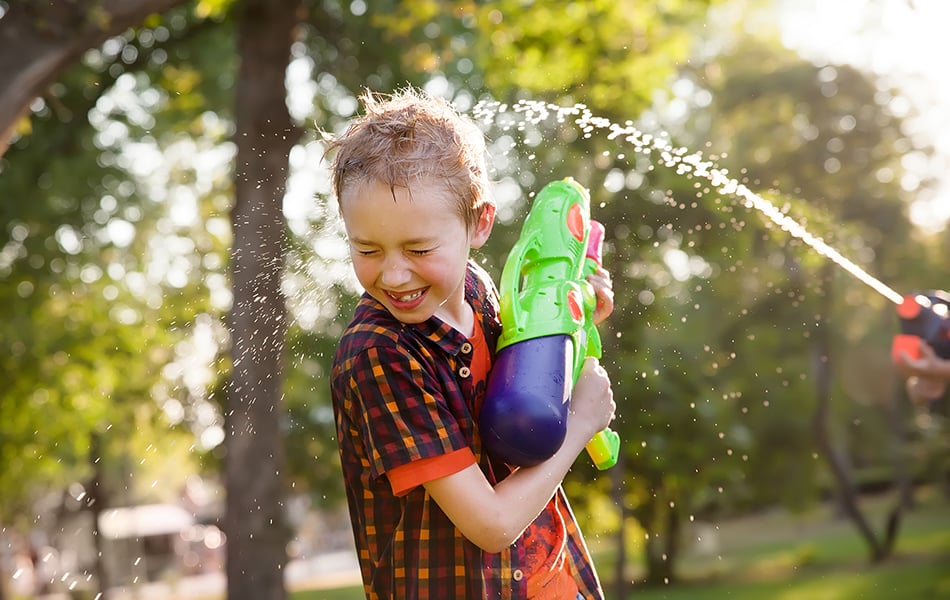 Water Gun FAQ
Q: What is a water gun?
A: You might be surprised to learn that water guns have been around for a long time - they were even mentioned during the Civil War. Yes, seriously! The oldest reference to a squirt gun is from 1896 and it comes from General William T. Sherman: "Why, you might as well attempt to put out the flames of a burning house with a squirt gun."
Back then, squirt guns were made from cast iron and they resembled actual handguns. Manufacturers soon picked up on the trend of liquid-style pistols and started manufacturing them out of plastic for the kid's market.
Today, water guns are a summertime staple that comes in all shapes and sizes with various release mechanisms and designs. You can get anything from a water blaster, a pistol, a squirt gun, and even a grenade-style water blaster. The primary function, other than to shoot water and thoroughly drench your opponent in water, is just to have lots of good old-fashioned outdoor fun.
Q: How to fix common water gun problems?
A: No matter how much you spend on your new water gun, it will eventually start experiencing some problems. But that doesn't mean you have to abandon it and purchase a new one! Many of the common issues can be very efficiently and cost-effectively fixed.
If your gun is leaking, it might just be that the spring inside isn't being depressed sufficiently or that the trigger has fallen off its groove. Try quickly pumping and pulling the trigger release in quick succession and this should on most occasions snap it back into place.
If on the other hand, your pump seems to be jammed, try lubricating it with a silicone spray or a bit of vaseline. Either of those should do the trick, but if not, you might need to quickly unscrew your rifle and just check that there is nothing internally that has become clogged.
If your water gun cracks a little, try sealing it with a bit of epoxy putty which is water-proof and should do the trick and give you several more months of fun.
Sources:
Squirt Guns Predate The Civil War - Mental Floss
Sign Up Now
GET THE VERY BEST OF GEARHUNGRY STRAIGHT TO YOUR INBOX