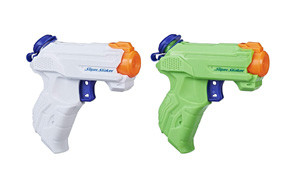 Nerf Super Soaker ZipFire Water Gun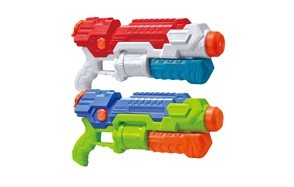 Joyin Super Water Blaster Water Gun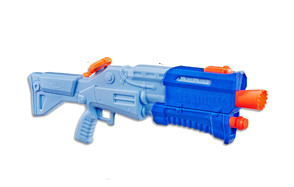 NERF Fortnite TS-R Super Soaker Water Gun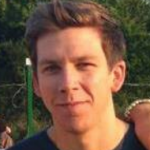 Warning, this review is not just for your kids. You might well find yourself tempted to engage in your own adult "friendly fire" backyard battle once you get your hands on one of our powerful water guns. With water guns included in our review that can fire up to an impressive seventy-foot range and some with the capacity to take on board 100 fluid ounces of water, get ready for a total soaking and of course a whole lot of summertime fun with this Best Water Gun review. We have everything covered from pistols, to shooters, cannons to jets! All you need to decide is what your water weapon of choice is going to be! So get ready to "put em up" as we take you on our quick-fire rapid review of the best water soakers around.
The Best Water Gun
Water Gun Buying Guide & FAQ
How We Chose Our Selection of Water Guns
All of our selection of Water Guns have been specially chosen because they offer quality construction as well as delivering a good soaking! What's the point of a Water Gun if it doesn't get your opponent wet! Both these two factors are crucial when selecting a water gun whether it's for your kids to use in the backyard or you are getting in on the poolside action yourself.
We've also included a selection of the most popular brands so you'll, of course, see some models from the perennially popular brand Nerf on the list but we've also selected many more besides.
As always, our recommendation offers a range of price points to suit all budgets, and we've also included some fantastic double offer sets too because let's face it, who wants just the one Water Gun really!! You can also be assured that our Best of Reviews have been well researched and compiled taking on board all the consumer feedback we could find.

Features To Look For In Water Guns
There are plenty of different looking Water Guns that you can go for from a machine gun style that has a separate water loaded tank to a long-range rifle style water gun. Some even represent traditional style pistols too so pick the one that you feel looks good and is also easy to handle and operate. Go for a Design style that appeals to you.
If you are buying for smaller kids, you will need something that is Easy to Use and Lightweight to operate so you might go for a smaller Tank Capacity, but that will, of course, mean that you need to have a nearby source of water to more regularly replenish your water gun.  If you know that you are going to want to enjoy extended water battle sessions and have a backyard with no pool and only access to an indoor water supply, then it would be better to invest in a larger capacity water blaster that has a generous capacity water chamber so that you won't always be refilling. You could also consider purchasing a separate backpack accessory that you can fill with an additional handy water supply so that you can quickly and easily reload on the go.
Roughly speaking there are three different main categories of water blasters that you can choose from all with their various features and benefits and their key discerning merits. In our Best Water Gun review, we've featured examples of them all as we appreciate that everyone has different likes and dislikes and will be using their water guns in different outside settings too.  Perhaps space might be at a premium so a large water jet may not actually be practical, even though it is undoubtedly a lot of fun! You may need something smaller and more contained, especially if you have smaller kids and lots of pets running around too.
You can get a trigger squeeze release type water gun that releases a long flow of water which stops either when you release the trigger or the water source as depleted. There are also pump-action style soakers that fire a jet of water each time you activate the pump. These are easy to use and great at targeting a close-range combatant! These are what you might see described as "fill and fire" guns. Finally, you might prefer a plunger style soaker which is going to hold a much larger capacity of water that you can refill from a source like a bucket or pool that gets sucked up into the onboard reservoir ready to be powerfully and rapidly deployed. Whichever is your preference, we have it covered in our Best Of Water Gun's review today.

Water Gun FAQ
Q: What is a Water Gun?
A: A lesser known fact is that the origins of the Water Gun can actually be traced back to the Civil War. Yes, really. It was first patented though in 1986 by Russel Parker and was known as the USA Liquid Pistol. Back then it was made from cast-iron and resembled a handgun. Manufacturers soon picked up on the trend for liquid style pistols, manufacturing them out of plastic and developing them for the kids market. Today they come in all shapes and forms with various release mechanisms and designs. You can get anything from a water blaster, a pistol a squirt gun and even grenade styles. The primary function, other than to thoroughly drench your opponent in water, is just to have lots of good old-fashioned outdoors fun!
Q: How to fix 3 most common Water Gun problems
A: It's inevitable, no matter how much you've spent on your new Water Gun, that it will experience some of the more common problems at some point, but that doesn't mean you have to abandon it and purchase a new one. Some of the most common issues can be very efficiently and cost-effectively fixed.
If for example, your gun is Dribbling it might just be that the spring inside isn't being depressed sufficiently or that the trigger has fallen off its groove. Try quickly pumping and pulling the trigger release in quick succession and this should on most occasions snap it back into place.
If on the other hand, your pump seems like it is Jammed, then try lubricating it with something like a silicone spray or using perhaps a bit of Vaseline. Either of those should do the trick, but if not, you might need to quickly unscrew your rifle and just check that there is nothing internally that has become clogged.
The other common issue that you more likely to come across is a Minor Crack. If that's the case, again, rather than just abandoning your Water Gun to the bin, try sealing it with a bit of epoxy putty which is water-proof and should do the trick and give you several more months fun and enjoyment from your Water Gun.
5 Utilitarian Uses for a Water Gun
You might recall at the beginning of this review we said that Water Gun's weren't just for kids and that plenty of adults also enjoy the outdoors fun and water battles that they offer. However, there's more than just fun too to be had with your investment. If you do go ahead and purchase a Water Gun, there are plenty of other every day and utilitarian uses for your gun above and beyond shooting the kids in the backyard. We appreciate that many families these days are cost conscious and so it can't always be about fun. So if you are still sitting on the fence a little bit and concerned about purchasing something that the kids might either get quickly bored of or that you can't really afford, we've got some great ideas about how you can additionally continue to get some benefit out of your Water Gun. Actually, we have five of them to help you make up your mind!
Either you might not have a garden hose, or you might be on a garden hose ban. It does happen, and there's nothing worse than dried and shriveled up flower beds and herb gardens because you've had a brutally hot summer and not been able to tend for your crops with your usual green fingered magic touch. It's not just the kids that need to cool down in the summer heat, so too do those roses and hedgerows. With your Water Gun, you can deliver some much needed and very targeted water relief to specific areas of your garden and backyard that are having localized problems with parched dry soil. You can also bring your Water Gun indoors and quickly go around your home giving all your indoor plants a good old watering too. This way you are going to save both on time and money by not having to drag out the hose pipe.
Blast off that sand at the beach or the mud and dirt from your shoes in the winter
This is a convenient utilitarian function of your Water Gun and shows just how multi-tasking it can be. We all love going to the beach, and a Water Gun is a great fun item to take with you for the day. Plus, there is, of course, a constant on tap water source at your convenient disposal in the form of the ocean! However, how many of us like going home with the sand still between our toes or stuck to the tops of our feet that we then trail into the car? Problem fixed! Just take out your Water Gun and hose down all your families feet before you jump into the car ready to head home for the day. The same principle applies if you've taken the dog out for a fun but muddy Autumnal walk. Hose down everyone's outdoor boots before loading up the car and ready for off and you will save yourself a considerable amount of cleaning up later.
A fun way to enjoy your favorite cocktail
Now, this is one that is definitely for the adults! Load up your Water Gun with your favorite cocktail, and you can squirt the mixture directly into your poolside partygoers' mouths! Just make sure you have cleaned and sanitized your gun first before adding that Tequila!
Use your Water Gun as a replacement for an oil can
You could try filling up your water gun chamber with lubricant so rather than struggling to really get oil into a small crevice when it's needed, you can simply take out your gun and get the oil exactly where you need it, and fast! We should probably add at this point NOT to then use the same Water Gun to administer cocktails!! Even if it has been sanitized and do make sure you store this gun safely away from the kids too.
Training your domestic pets to be better behaved!
Water has long been used as a convenient means to train young cats and to deter unwanted behavior. Used on the gentlest setting, you could use your Water Gun as a harmless means of encouraging good behavior in your cat whereas your dog will love the cooling effect of being sprayed gently with water on a hot and sticky summers day.