Best Blackhead Remover Vacuums In 2022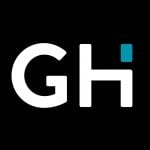 This product guide was written by GearHungry Staff
Last Updated
June 23, 2020
GearHungry Staff
GearHungry Staff posts are a compilation of work by various members of our editorial team. We update old articles regularly to provide you the most current information. You can learn more about our staff
here
.
GearHungry may earn a small commission from affiliate links in this article.
Learn more
Whether those annoying zits and blackheads started surfacing at puberty, or many years later, the point remains, they are significant insecurity for many. Instead of trying every natural face mask on the market, vacuum blackhead removers seem to be the new terminators when it comes to getting rid of blackheads effectively. Even though it's a niche market, they are selling well, so the challenge is deciding which one to pick, and which model is more reliable. We've done the hard part for you; here are some of the best blackhead remover vacuums on the market.
The Best Blackhead Remover Vacuum
June Julien Facial Pore Cleanser Blackhead Remover Vacuum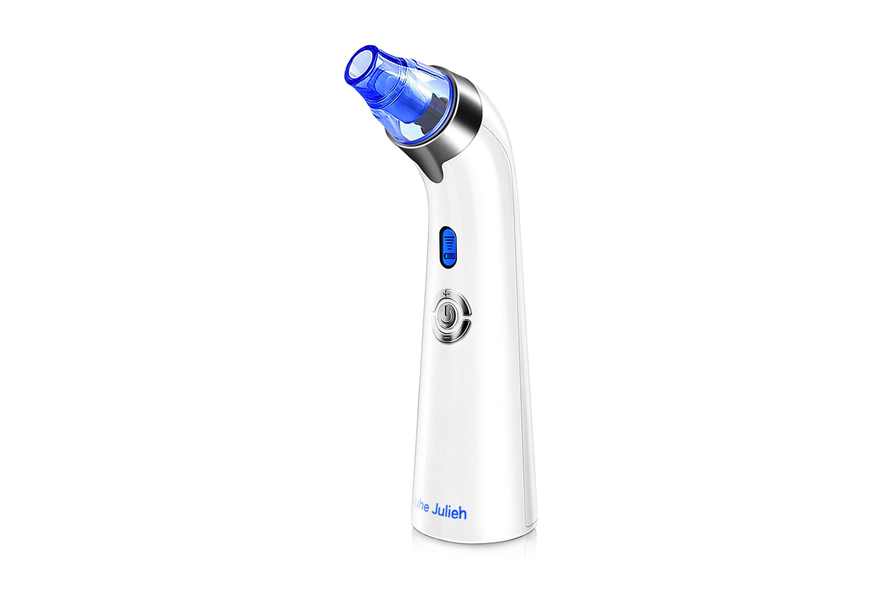 Everyone is looking for that skincare routine that works, especially when dealing with facial impurities, dark spots, discoloration, and blackheads. While facial masks, toners, and various natural and botanical creams are great for evening out the skin, blackheads are more stubborn to get rid of with such measures. Trusted by over 1000 users, the June Julien Facial Pore Cleanser has proven to be one of the best facial cleansing tools anyone could add to their arsenal.
This vacuum boasts of effectiveness in removing blackheads, whiteheads, dead skin while smoothing wrinkles in a seamless, painless operation. It has five levels of suction for sensitive, neutral, mixed, and oily skin, respectively. Plus, it comes with four multifunctional replacement heads that work to extract blackheads, remove build-up, clear up dead skin and fine lines and also massage and tighten the skin. Rocking an 'r' shaped design, the vacuum is easy to hold, comfortable in the hands, and thanks to 1000mah lithium rechargeable battery, it's suitable for use wherever you are.
Key Features:
Armed with five suction levels for all types of skin
Powered by 1000mah lithium battery for lengthy operation
LCD display for easy access
Made with ABS material and devoid of toxic content
Specification:
Brand

June Julien

Weight

11.2 ounces
POPPYO Blackhead Remover Vacuum
Any product meant for your face has to be as gentle, non-toxic, and as safe for the skin as possible, and this is where products like the POPPYO Blackhead Remover Pore Vacuum shines. Rocking the popular 'r' shaped design, this blackhead remover vacuum boasts solid ABS material and is suitable for use on the skin after using a facial exfoliator. It makes use of innovative technology and a user-friendly design to safely extract blackheads and other skin impurities plaguing the faces of many.
This device promises to smooth wrinkled skin with continued use while rejuvenating the skin. There are five beneficial suction levels, so it's suitable for all skin types. The LED displays allow you to view which level of suction is operating at the time. If it's a reliable blackhead remover you want, many users have sworn by the POPPYO, and it has proven to be both affordable and efficient.
Key Features:
Lightweight and easy to transport
Features four suction heads for various skin conditions
Removes blackheads, grease, and oils with ease
Robust battery that works for over two hours per charge
Specification:
Brand

POPPYO

Weight

12.8 ounces
Alin&Alan Electric Blackhead Remover Vacuum
If you're looking for something sleek, smooth on the hands, and relatively easy to hold, then the portable Alin & Alan Electric Blackhead Remover Vacuum fits that criteria and more. It comes with four replaceable heads that work for different skin types and purposes. The large probe head is excellent when targeting stubborn blackheads that have proven difficult to remove via other methods.
Then there's a smaller probe head suitable for sensitive skin, and blackheads situated in those sensitive areas. This oval suction head can even out wrinkles around the eyes, while the silicone probe head offers gentler suction for delicate skin. With different probe heads that target areas on the face plagued with blackheads, acne, dead skin, and oil, this blackhead remover can ensure brighter, clearer skin for almost anyone. For some more quality skin-care products, check out our list of the best SPF moisturizers for men.  
Key Features:
Armed with four modes that effectively clear up most skin issues
Sleek design that attracts potential users
Powerful suction system that rids your skin of blackheads
Convenient display panel
Specification:
Brand

Alin&Alan

Weight

11.2 Ounces
Microderm GLO MINI Diamond Microdermabrasion and Suction Tool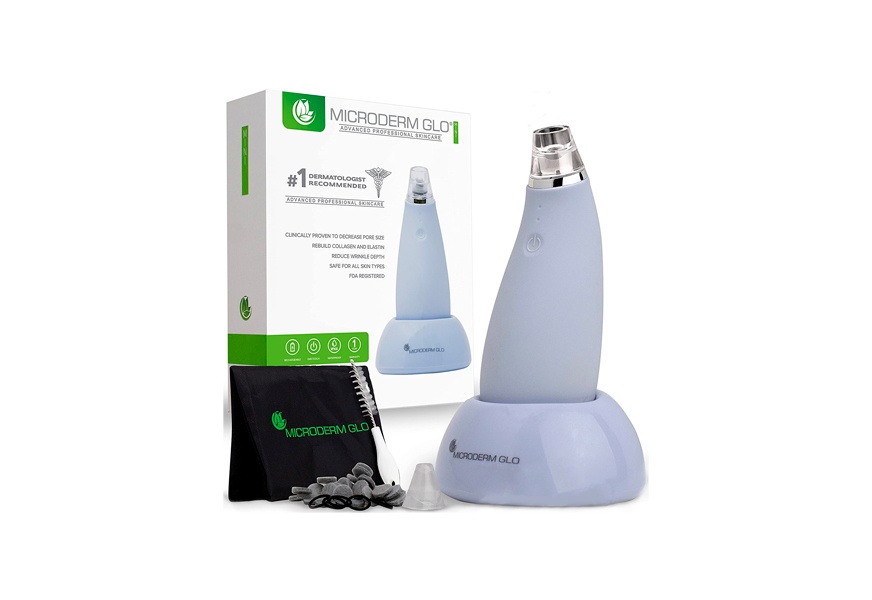 This pear-shaped vacuum device would probably be one of a woman's best friends; it's no secret how blackheads and acne make women feel insecure. Now, there's a powerful suction tool that can be delicate at the same time, ready to clear those blemishes and get skin shining again. The Microderm GLO Mini Diamond Suction Tool isn't just practical; it fits perfectly in the hands, and clinical tests prove actual results.
The all-white suction tool comes with an equally fancy charging pod, which makes it easier to use at home, or practically anywhere. It easily fits into any travel bag, so you can unclog those pores in whichever city, state, or country you are. More so, there is an additional advantage of using this product; it can rebuild collagen and elastin to tighten the skin. With this little portable unit, you get a spa-level facial anytime and anywhere, without spending the extra cash. After using this handy tool, make sure to use your favorite serum, too.
Key Features:
Dermatologist-recommended suction tool
Tightens and brightens the skin
Includes a filter replacement pack of 20
Suitable for all skin types
Specification:
Brand

Microderm GLO

Weight

1 pounds
Kingwell Blackhead Remover Pore Vacuum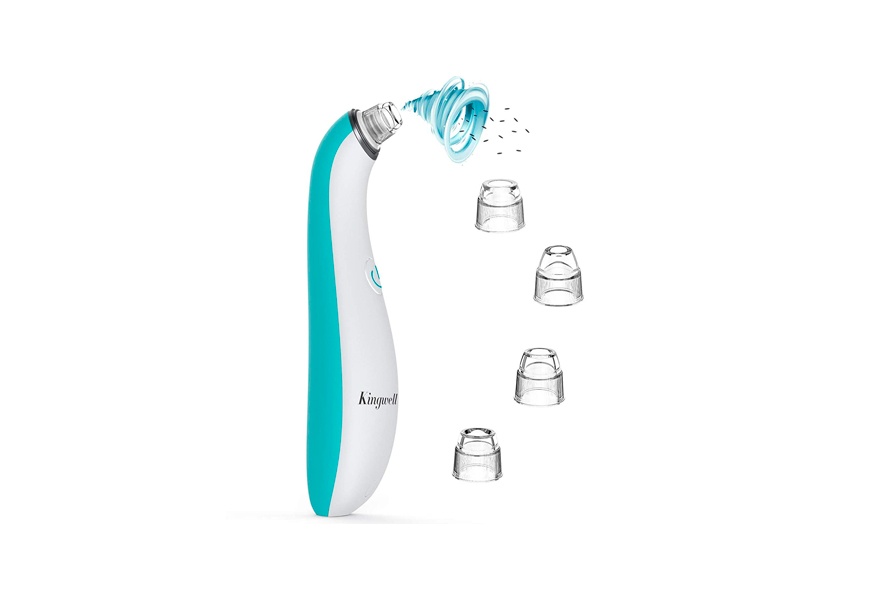 This blackhead remover and pore cleaner vacuum had to make it on the list because of its powerful suction, simple easy-to-use design, and exceptional performance.
The Kingwell Blackhead Remover Pore Vacuum uses eco-friendly ABS plastic, which is safe for you and the environment. Plus, this makes the extractor a lot safer for all skin types. No matter how much contact it makes with the skin, there's no concern for toxicity or irritations on the face.
It comes with four replaceable suction probes that serve specific purposes and helps this tool provide professional results. Verified users who have used the product extensively attested to how effective and powerful the suction is. Users saw all the debris and impurities this blackhead remover had extracted when cleaning out the tool after use.
Our buying guide on top face moisturizers features some more must-have products for skin-care, so make sure to check them out.
Key Features:
4 replaceable probes
Powerful suction
Light and portable
Free cleaning brush included
Specification:
Brand

Kingwell

Weight

5.6 ounces
Blackhead Remover Vacuum Buying Guide & FAQ
It's normal to be skeptical about how reliable these blackhead removers are, and more importantly, which one to buy. The skin on the face is very delicate, so it's essential to read up on every product that touches it. However, blackheads are very stubborn, but where face masks and home remedies have failed, remover vacuums have excelled.
Plus, using one without the other may be the reason those zits are clearing out as fast. The facial scrubs and masks may be doing a great job at opening up the pores and clearing the black spots, but since annoying blackheads are more rooted in the skin, something more powerful has to bring them out. Blackhead removers have become quite popular, so it's only reasonable that many brands have jumped on the trend, saturating the market with the good, the bad, and the not-so-effective.
To help you make a more informed choice before purchasing a blackhead remover vacuum, we put this guide together to give you useful tips that will help decipher between a reliable product and an unsuitable one.
Features To Look For In Blackhead Remover Vacuum
Vacuum - The way a blackhead remover vacuum works is almost synonymous to how a domestic vacuum cleaner works. The blackhead vacuum, of course, is a much smaller and gentler version. However, the vacuum should powerfully suck out the clogs and other blemishes in the skin. If you're opting for a vacuum instead of a serum or face mask, then it has to be able to remove these impurities from the skin mechanically. Pressing the skin on your face together isn't hygienic or practical, plus it might even cause irritation and scarring.
If the blackhead remover vacuum leaves blemishes behind after use, it's probably not that effective. The good thing about these vacuums is their one-time purchase feature, as opposed to facial masks and creams, which you have to purchase regularly for a lasting effect.
Vacuums are also less invasive than using tools to extract the blackheads that could wound and irritate the skin. The June Julien Pore Facial Cleanser comes with four different suction tubes suitable for all skin types and helps users focus more on trouble areas when using the vacuum tool.
Suction - The type of aspiration the vacuum will generate largely determines how effective it is when it comes to removing blackheads. It's like dragging out a plant with its root and all; a little more energy gets the whole thing out. The power a vacuum requires to suck up the clog from your pores is dependent on several factors, but you want suction power to be at least 30pka. Most vacuums come with an adjustable power level that allows users to set the intensity levels accordingly.
If you already know how sensitive or soft your face is, you'll know what level to put the vacuum on. Some have up to 4 or 6 levels, that gently or powerfully suck out those clogs, leaving behind blemish-free pores. Moderate levels are suitable for people with soft and sensitive skin. In contrast, those with more hardened skin can use the higher levels depending on the severity of the blackheads and their preferences.
Material - Anything that touches the skin has to be delicate enough to prevent irritation or injuring the skin. However, the durability of this electric tool is also a concern, and it's up to the manufacturer to strategically combine design and performance using suitable materials to make an all-round durable and reliable product. Most brands stick to eco-friendly ABS plastic because of its durability as it's non-toxicity to the skin or the environment. Others prefer using silicone materials because it's generally softer on the skin, preventing any irritation or damage.
Batteries - Some blackhead remover pore vacuum uses batteries to operate, while others allow recharging via USB, and some are corded. While many prefer corded models, battery-powered vacuums are more suitable when you are on the move, traveling to a new city or country, or in rooms that don't have convenient power sockets close to the mirror.
Going with battery-powered or corded blackhead remover vacuum tools is totally up to you. Make sure you check what kind of batteries come with the vacuum tool if any. You'll also have to consider how many minutes the charge lasts; some devices operate up to 120 minutes while others exceed that time.
Waterproof - Most electric tools used on the face are waterproof. Skin routines usually require washing the face or using a warm towel over it before any other product is applied or used on the skin. This requirement sometimes involves performing such tasks in wet environments like the bathroom, so if this is a must-have feature for you, ensure you check the specifications.
Design - Blackhead remover vacuums broadly appeal to most potential users. Unfortunately, not all brands think of this. It's one thing to make a fancy vacuum tool that looks exceptional and high tech, but another to make it easy to grip, comfortable on the hands, and light enough for one-hand use.
The design requirements mandate being smooth on the hands, slender enough for even small to wrap around, making it easy to hold when near the face. If it's too heavy, the design will induce fatigue, and a vacuum tool with a design that doesn't make it easy for use will soon get left in a drawer.
Other Features - You can also look out for good LED displays, multi-functional probes that come with the device, and the overall design. The multi-functional probes allow users to change the suction lobes to what is the most suitable.
Blackhead Remover Vacuum FAQ
Q: What is a blackhead remover vacuum?
A: This is a modern tool that uses innovative suction similar to that of a vacuum cleaner, to gently or powerfully clear out blackheads without damaging the skin. There are no chemicals involved, and they are less invasive, sitting lightly on the skin while absorbing the clogs.
Q: Do blackhead remover vacuums work?
A: A face blackhead vacuum will work effectively if the blackheads aren't buried deep in the skin. To assist the process, some use a hot or warm towel to open up the pores before using this device. Not all models work equally well, so do your research to make the best investment.
Q: Are blackhead vacuums bad for skin?
A: As stated before, using a blackhead remover vacuum is less invasive on the skin, and what most people are concerned about are unsatisfactory results and not necessarily any real damage to the skin. However, too much suction can cause bruising, so it's best to stay within limits best suitable for your skin type.
Q: What should I put on my face after a pore vacuum?
A: After using the pore vacuum, first, place a cold towel on your face to close and relax the pores, then use a cleanser to clean off all residue left on the skin. Afterward, you can follow up with a toner or moisturizer.
Sign Up Now
GET THE VERY BEST OF GEARHUNGRY STRAIGHT TO YOUR INBOX