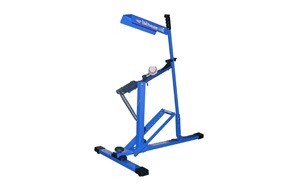 Louisville Slugger UPM Flame Pitching Machine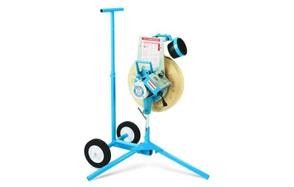 Jugs Softball Pitching Machine with Cart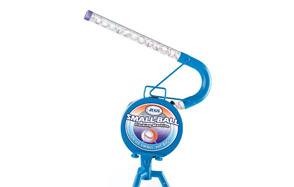 Jugs Small Ball Pitching Machine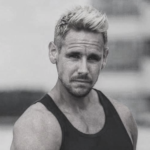 At every baseball or tennis match, one of the most common and vital pieces of equipment we identify is the pitching machine. Many players, both beginners and professionals rely on the use of a pitching machine to build upon their sense of timing and good rhythm while facing hundreds of pitches. Pitching machines also come in handy for coaches or parents, who don't have to be physically present to pitch to their kids. However, although helpful and essential, they don't come cheap; thus, many factors must be considered before purchase to ensure that you receive the best value for your money. The various factors have led to the creation of a list of the best pitching machines on the market that coaches and parents must take a look at.
The Best Pitching Machine
Pitching Machine Buying Guide & FAQ
How We Chose Our Selection of Pitching Machines
Brand - Many brands were considered in the curating of this list, to ensure that both well-known and lesser-known brands were adequately represented.
Reviews - Before the creation of this list, many reports from various sites were read and analyzed to come up with the perfect list for all readers.
Quality - We looked for pitching machines that are made from high-quality materials with top-notch technologies and construction methods.
Durability - Regarding durability, the quality of a pitching machine can determine its strength. Most of the tools in our collection are durable and also come with a guarantee for repairs and replacements.
Price - Concerning pricing, the cost of pitching machines varies greatly, depending on the type, brand, and the size. Some devices are always on sale, making them more affordable.

Features to Look for in Pitching Machines
Getting a pitching machine and a batting cage are the first steps to developing your batting skills, which is why we have provided you with some factors to consider looking out for when selecting your first or next pitching machine.
Power Source - The power source is yet another significant factor to consider when picking the perfect pitching machine. Whether it uses batteries or a power outlet, ensure that the power source of the selected device works well for you, your training field and your team.
Adjustability - Many tools used for pitching provide you with the chance to adjust its height and the pitch distance. This is an excellent feature as it means you can use one machine for various age groups. It also makes the device a cost-effective one.
Ball Compatibility - When selecting a pitching machine for your team, pay attention to the types of balls it can accommodate. Some tools enable to use balls from different brands, while others are made to work only with their specific brand ball.
Pitch Speed - The speed of a pitch made a pitching machine is one of the least critical facts one must consider, as this speed will always be affected by the distance at which the device has been set.
Pitch Types - Pitching skills required by beginners, and professional players differ considerably thus it is critical to consider this when selecting a machine. Identify your needs, the group you're training and how the pitching machine can help them develop their skills. Some pitching machines enable you to switch between pitches, and these are great for coaches who train different groups.
Pitch Frequency -  Electric and automatic pitching machines have certain intervals at which balls are pitched, and this helps hitters practice independently. Most often, this interval cannot be adjusted.
Portability - Getting a portable machine makes it easier for you to move it around the field or from one area to the other. This is helpful if the device requires connection to a power source or an electrical outlet. Try looking out for pitching machines that come with wheel kits to enable you to move them around with ease.
Control - There are two types of power concerning pitching machines manual and automatic. Manual requires an external force to help in its operations, whereas the automatic machines rely on the use of electricity or batteries.

Types of Pitching Machines
Armed Pitching Machines - These machines are used mostly by high schoolers and even by some professionals. They can alternate between baseball and softball, and they throw accurately straight balls at a speed of 25 to 85 mph. These machines cannot, however, be moved from place to place.
Wheeled Pitching Machines - You probably have one of these in your backyard or your college. They come with a motor which propels its rubber wheels, a steel frame which is attached to a tripod and electronics that have direction and speed adjustment knobs.
Spring-loaded Pitching Machine - This type of pitching machine is manually operated requiring another person to pull the lever. The spring then propels the ball to the player. It's said to be more suitable for younger players due to its lack of versatility for different types of pitches.
Compressed Air Pitching Machines - Said to be highly portable, air compressed pitching machines work by pushing air through the machine so that the force enables the spring to pitch the ball. A device like this will also require a second user to press to the button.

Pitching Machine FAQ
Q: What is a Pitching Machine?
A: A pitching machine is sporting equipment used by baseball and softball coaches to train their team in hitting techniques. It is used to prevent them from manually throwing the ball which reduced the risk of injury.
Q: Can Pitching Machines be used for both softball and baseball practice?
A: There are many pitching machines available on the market that are designed to toss both softballs and baseballs. Many more can pitch other types of balls so your selection must be based on your training needs.
Q: What types of balls work best in a pitching machine?
A: Depending on the brand, a pitching machine will do well with any ball, made from materials such as plastic, leather or any other metal. Some brands design their pitching machines to use only their specially crafted balls, and this must be taken into consideration before your selection.
Q: What age should kids be when they start practicing with a Pitching Machine?
A: Pitching machines are suitable for children of many ages, depending on the brand. Whereas some brands have devices set at only high speeds, others make way for low speeds such that children can be introduced to the art of hitting slowly. Mostly, pitching machines are recommended for children aged eight and above.
Q: How Fast Is the Pitching Machine?
A: Pitching machines are set at various speeds, and most often, these speeds can be changed, either by an increase or a decrease.
Q: Does the Pitching Machine need to be portable?
A: Yes, portability is an essential factor to consider when picking a pitching selection. Portability means training can be done anywhere without any hassle, thus eliminating any form of training limitation.
Q: How much does the Pitching Machine cost?
A: Concerning pricing, the cost of pitching machines varies greatly, depending on the type, brand, and the size. Some devices are always on sale, making them more affordable. Others are generally affordable to all budgets, and they function extremely well.
Q: How to clean a pitching machine wheel?
A: To thoroughly clean the wheels of a pitching machine, it's best to first read the manufacturer's instruction and warnings to avoid any mishaps. A general clean will consist of the following;
First, begin by heating up any build up of dirt on the wheels with a hair dryer or a heat gun on a high setting. Then with the use of a wide putty knife, scrape off the build up. Any remaining residue can be wiped with a wet paper towel.
Sources
Stainless steel - Wikipedia
How to Hit a Baseball - Wikihow
Putty knife - Wikipedia