Best Chess Sets for Kids in 2022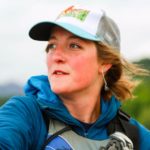 This product guide was written by Josette Deschambeault
Last Updated
December 29, 2020
Josette Deschambeault
Josette is a professional outdoor guide who lives and works in Southeast Alaska, Colorado, and Maine. When she's not rafting, hiking, skiing, or camping with her dog, she writes and edits for multiple outdoor and lifestyle publications.
GearHungry may earn a small commission from affiliate links in this article.
Learn more
It's the gift that keeps on giving — a game that teaches your children the analytical, the methodical, and the creative strategies involved in chess! The best chess sets for kids are hot-ticket items this winter, and for good reason. The grown-ups show, The Queen's Gambit, has made chess the new "it" game of the season. A royal game reaching back more than 1500 years, chess brings out the best in all of us — but especially the kids. Get them thinking critically while they're young, and they'll never regret it. Our list includes some of the best, coolest, and most unique chess sets for kids available now.
Check out our options for Harry Potter chess sets, buildable Lego chess sets, Star Wars collections, Super Mario Brothers, and even oversized chess pieces to engage with every age! Chess engages both sides of our brains and stimulates our decision making; what better way to help your child develop and grow than by learning the king of board games — chess!
The Best Chess Set for Kids
The Noble Collection Harry Potter Chess Set For Kids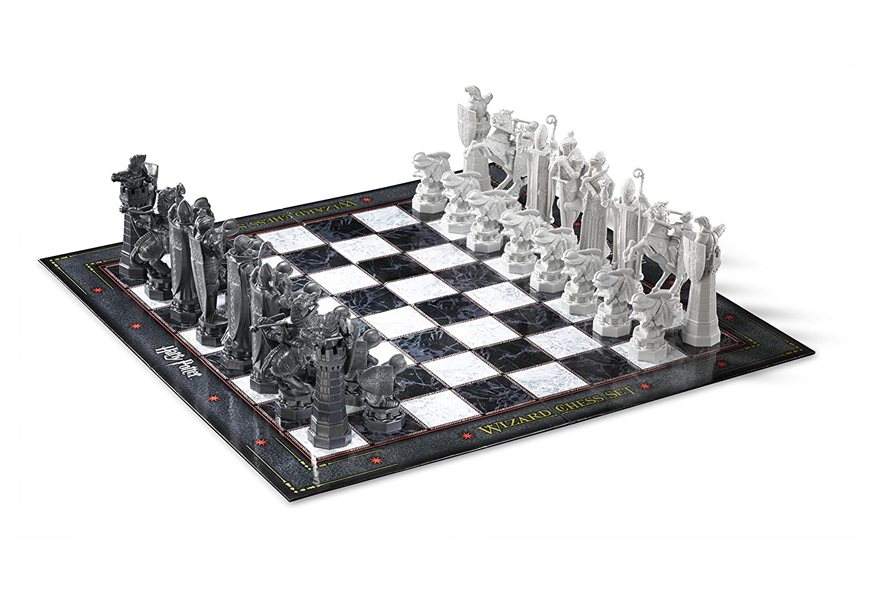 The noblest of games designed to mimic the most beloved of children's novels? Count us in. Relive the best of Harry Potter and the Chamber of Secrets with your very own Wizard's chess set. Of all of the Harry Potter chess sets for kids, The Noble Collection Harry Potter Wizard Chess Set For Kids stands out— the exquisite detail in each chess piece looks as if it were carved by magic. (Maybe it was; who are we to say?) The pieces measure between two and four inches in height, while the chessboard itself measures 18.5 by 18.5-inches. Carry the pieces with you on holiday travels with two drawstring bags to hold your white and black pieces.
Key Features:
Splendid recreation of the Harry Potter Wizarding Chess set
32 pieces
Drawstring bags to carry pieces
Pieces between 2 and 4 inches tall
Flat board measures 18.5 by 18.5 inches
Specification:
Brand

The Noble Collection

Model

NN7580

Weight

3.75 pounds
Brain Blox Fun Family Chess Set For Kids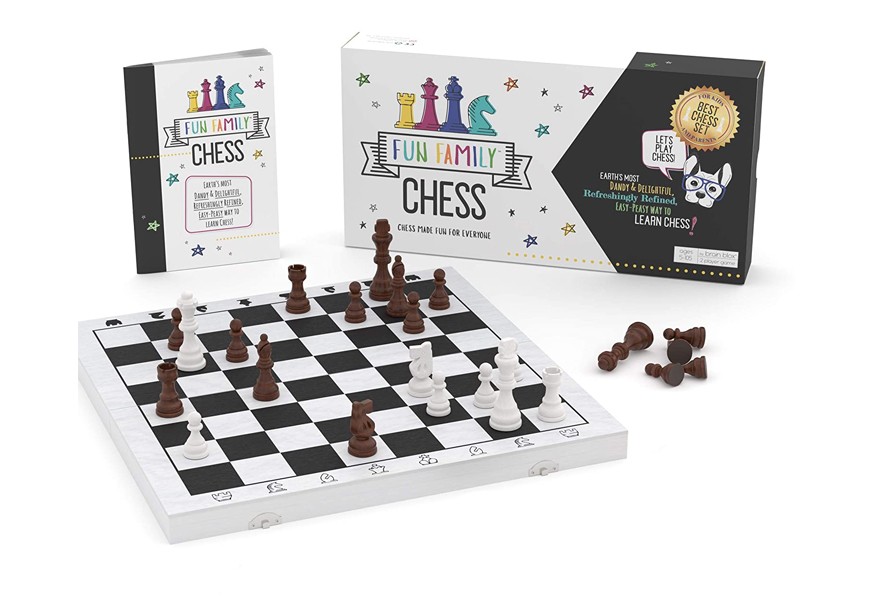 Feeling a little rusty on your chess skills as an adult? Brain Blox Fun Family Chess Set  For Kids is the perfect way to teach your kids to play the greatest game on earth—and brush up on your own knowledge at the same time. While this chess set includes all of the standard chess pieces, it also includes an instruction book and a color-coded, learn-as-you-play system for learning the game. Roll the chess cube, match it to the symbol on the reference sheet, then move your pieces. This will help you learn how each piece works and different strategies to conquer your opponent. (There's also an entire online library that players can access that will give visual demonstrations on how each piece moves, how to set up the game, and more!
Besides the obvious mental benefits of this interactive game, the family connections forged in the chess duels between parent and child are unmatched. Spend more time with the family and less time on your screens with this family chess set that will last you a lifetime.
Key Features:
Includes "fun family" and standard chess equipment, instruction book, raised board, and all pieces
Whitewashed board lined with velvet
Solid wooden pieces come in velvet pouches
King measures 3 inches tall
Board measures 15.31 x 8.11 x 2.4 inches
Specification:
Brand

Brain Blox

Weight

2.05 pounds
Winning Moves Games No Stress Chess Set For Kids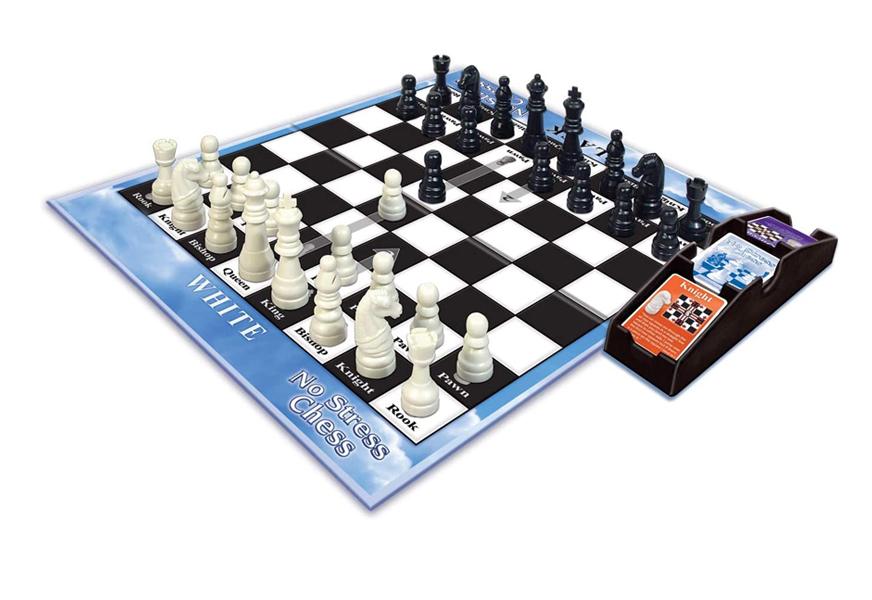 Does the idea of teaching your kids a new game raise your stress levels dangerously high? Winning Moves literally takes the stress out of learning chess with their easy-to-use instructional chess set. Winning Moves Games No Stress Chess Set For Kids uses 56 instructional cards to teach you how and when to move your pieces; the two players take turns drawing cards, which outline how your chosen piece is destined to move, creating a strategy for you. Once you advance, you can flip the board over, ignore the cards, and play the old fashioned way—with just your wits to guide you. At less than a pound and a half, this is the perfect chess set to pack up and bring with you on road trips or even just waiting at the DMV. If you are looking for some more games the whole family can enjoy, check out our list of the best family board games.
Key Features:
Includes 56 instructional cards to gradually learn the game while you play
Positions marked on board
Two-sided board
Flat board
Packed box measures 2.1 x 10.7 x 12.3 inches
Specification:
Brand

Winning Moves Games

Model

1091

Weight

1.45 pounds
Hasbro Gaming Star Wars Chess Set For Kids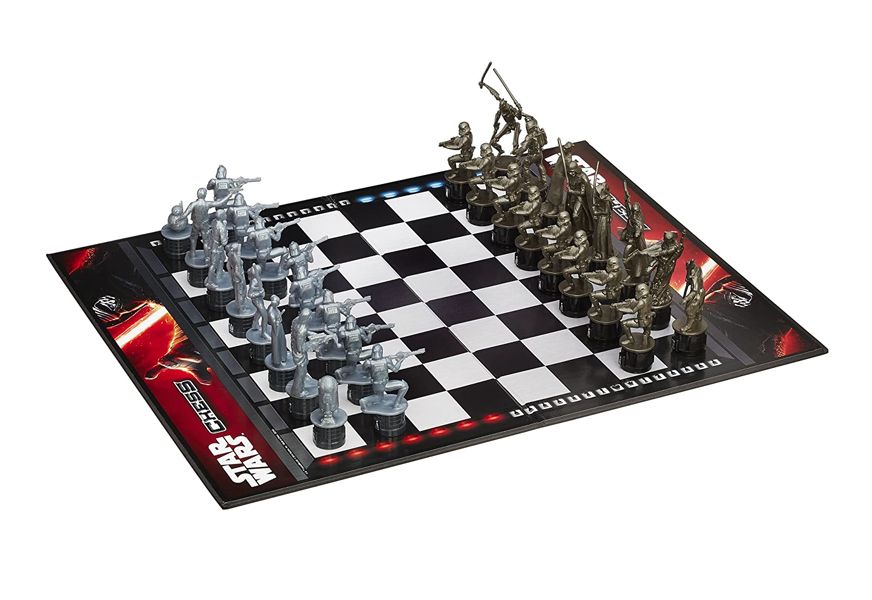 The battle for the galaxy just got better. Whether you choose to dominate the chessboard with the help of the Imperial army or battle for justice with the Rebel Alliance, this Hasbro Gaming Star Wars Chess Set For Kids will conquer two birds with one stone—your kids will learn the art of chess while playing as their favorite Star Wars characters.
Ivory pieces are replaced by silver members of the Light side of the Force, while traditional black pieces are replaced by dark embodiments of the Dark Side through all nine of the saga films. Characters include favorites like Luke Skywalker, Darth Vader, Princess Leia, General Grievous, Kylo Ren, Han Solo, R2-D2, Chewbacca, Rey, BB-8, and more. The pawns consist of Clone Troopers for the Rebels and First Order Stormtroopers for the Imperial side. The flat board allows you to move this set anywhere and everywhere, so you can play around the house or wherever you may travel. This is an amazing gift not only for chess lovers but also a perfect gift for Star War fans.
Key Features:
Pieces are all Star Wars characters (dark pieces – Imperial, silver pieces – Rebel)
32 Star Wars chess pieces along with 32 bases
Flat board
Packaged box measures 2.52 x 15.75 x 10.51 inches
Specification:
Brand

Hasbro Gaming

Model

B2345

Weight

2 pounds
BulbHead Battle For The White House Chess Set For Kids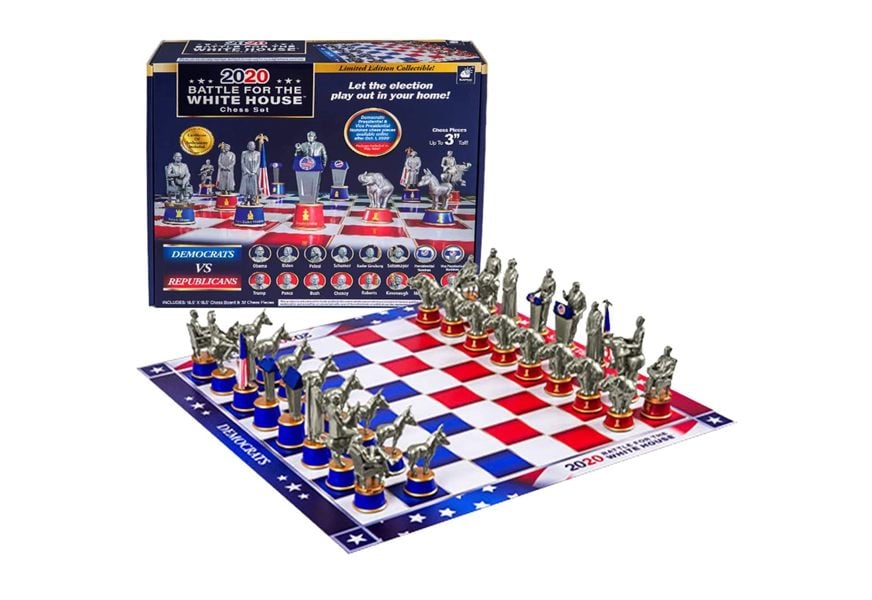 It's never too early to learn about politics, is it? If your kiddo is leaning towards a future in political science, teach them strategy (and maybe a dash of humor) early. In this BulbHead Battle For The White House Chess Set For Kids, Republicans face off against Democrats. Iconic figures representing each party, such as Presidents Donald Trump and George W. Bush for the Republicans, and President Barrack Obama and President-Elect Joe Biden for the Democrats. (Players must note: this set was released prior to the 2020 election results: therefore, the king and queen in the Democratic set remain Symbolic Empty Podiums. There are options to purchase updated pieces.) Pawns for each side include elephants for the Republicans and donkeys for the Democrats.
Each piece is silver-toned to highlight each key player's life-like features, which can measure up to three inches tall. They're each weighted for more sturdy pieces. Play across a star-spangled flat board and "bring the election into your home," as they say. It makes an amazing gift for board game lovers, and it is one of the best kid's chess sets.
Key Features:
Pieces are represented by key Democratic and Republican party members like President Trump, President Obama, and Supreme Court Justice Ruth Bader Ginsburg
Flat, star-spangled board
Pieces are up to 3 inches tall
Comes with a certificate of authenticity
Specification:
Brand

BulbHead

Weight

2.55 pounds
Top 1 Chess Electronic Voice Chess Set For Kids
Your electronic chess instructor has arrived. The Top 1 Chess Electronic Voice Chess Set For Kids uses computer-generated voice instructors to coach your kids in chess rules, skills, and strategies. Simply press a button to explain where your piece can go, what it does, and why it's important. But don't worry—once your kids have mastered the basics, you can play against each other or compete against the computer.
This board is unique in that it uses magnets to keep your pieces on the board and identify what pieces are where to the computer. This means an accidental bump of the board won't knock your game out of place. This chess set includes 30 multi-player modes to really stretch your brain, or keep it in single-player mode to hone your strategy. If you're not thrilled with your purchase, you have 30 days to return it for a refund. You may also like some of these fun solo games from our list, so be sure to check them out.
Key Features:
Electronic chess set with teaching voice
Innovative way to learn to play chess
Play against computer or against real-life partner
Magnetic pieces so they don't get knocked over
Includes step-by-step to the rules, skills, and strategies
30 multi-player game modes
13.03 x 8.86 x 1.61 inches
Specification:
Brand

TOP 1 CHESS

Model

Top 1 Chess

Weight

1.69 pounds
USAOPOLY Super Mario Chess Collectors Edition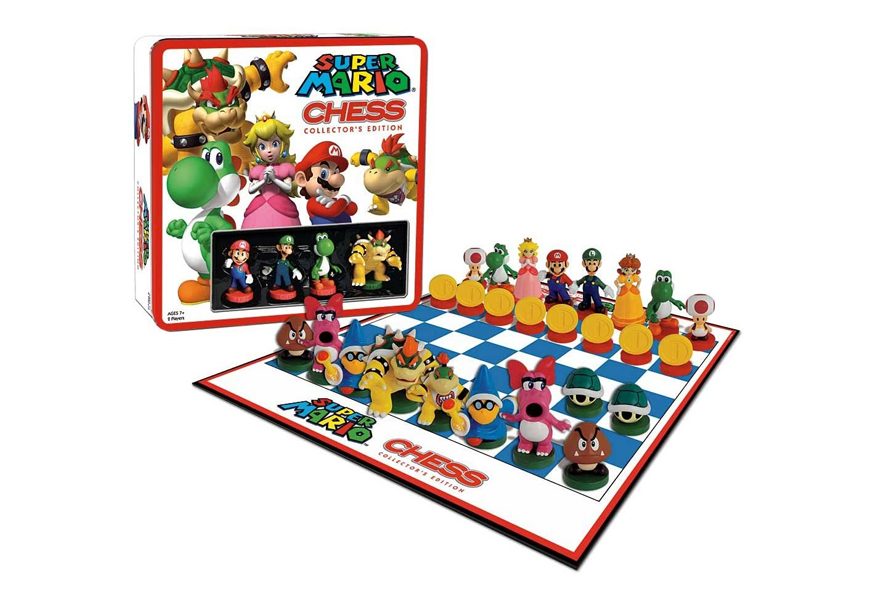 The most beloved video game comes to life in the world-beloved game of chess. Battle the heroes of Mario's troop (like Luigi, Princess Peach, Princess Daisy, and more) against the villains in Bowser's league (like Bowser Junior, Magikoopa, Birdo, Goomba, and more). Each of the 32 figurine pieces is hand-painted to reflect the genuine characteristics of each video game character.
The entire USAOPOLY Super Mario Chess Collectors Edition comes in a beautiful, collectible, and classic tin box. Pass this along to your kids (or keep it for yourself) and play out the beautiful game of chess with your favorite Super Mario Brothers characters. (Extra lives not included.) This beautiful set makes a perfect gift for boys and girls who love challenging games.
Key Features:
Mario vs. Bowser in the greatest game set
32 hand-painted Super Mario Brothers figurine playing pieces
Red "heroes" include Mario, Luigi, Princess Peach and Daisy, Yoshi, Toad, and Coin pawns
Green "villains" include Bowser, Bowser Jr, Magikoopa, Birdo, Goomba and Koopa Shell pawns
Comes in collectible tin box
Flat board
Ages 7+
10.6 x 10.6 x 3.1 inches
Specification:
Brand

USAOPOLY

Weight

2.7 pounds
Winning Fingers Beginners Chess Game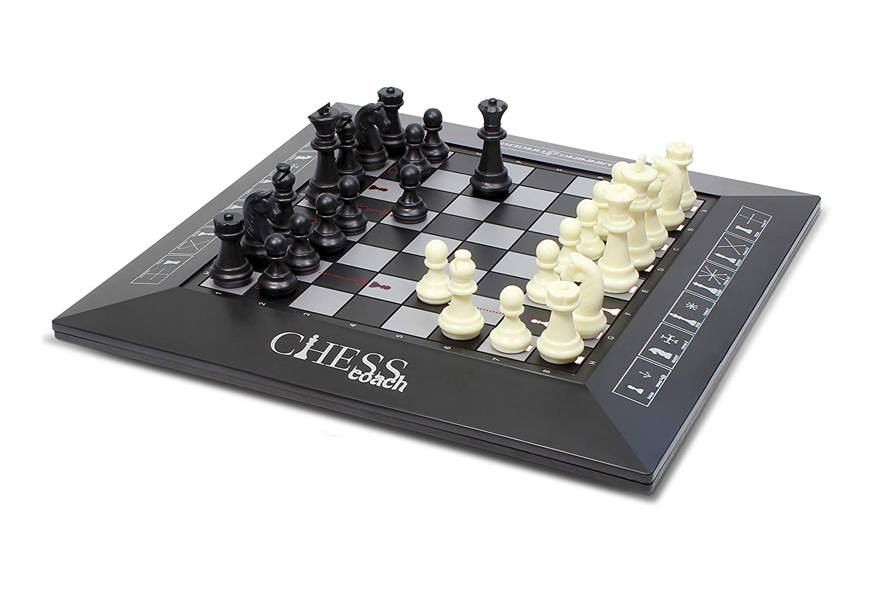 Simple-to-learn strategies that will last your kids a lifetime? Yes, please. This Winning Fingers Beginners Chess Game for kids includes a step-by-step instruction guide, along with a spinner wheel to learn as you go. Simply spin the wheel when it's your turn, and move whichever piece the arrow indicates. Not only will this keep the game flowing—without the adults getting frustrated—but it allows the kids to learn visually, physically, and audibly as you explain what a "rook" is and how it moves.
This sturdy, durable board is magnetized to keep the pieces on top, even when the toddlers shove their way through your game. Not completely satisfied with your purchase? There's a money-back guarantee. You're welcome. Our buying guide on the top trivia board games features some more similar products, so be sure to check them out.
Key Features:
Step-by-step guide included
Ages 7+
Magnetized chess pieces
Spin the wheel and move the chess pieces indicated
Durable construction
Specification:
Brand

Winning Fingers

Weight

1.63 pounds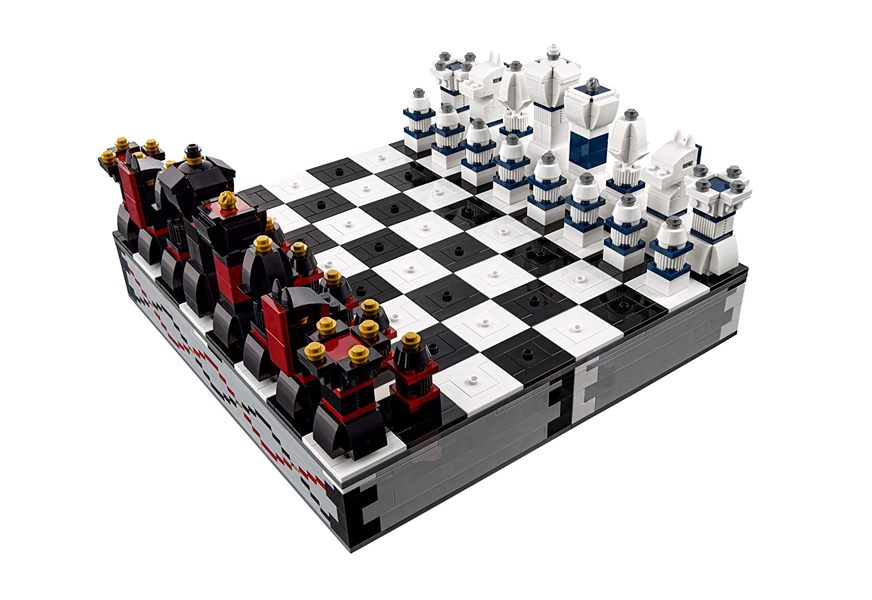 Combine the two best board games of all time in one incredible, challenging, and exciting buildable Lego board. If your child loves Lego construction and you're ready to challenge them even further, build the board together, build the pieces, and learn the game! When you're ready to store your pieces, place them inside the board and neatly tuck them out of sight. When you're ready to play, each square has a Lego-specific block to hold your piece in place—you'll never have to worry about your game being ruined over a bumped board. White and blue pieces battle for dominance over the red and black pieces in a beautiful, classic Lego fashion.
Not quite ready for the intricacies of chess? LEGO Iconic Chess Set board also comes equipped with red and blue checker pieces to switch up your playing style. Who could say no to such variety?
Key Features:
Buildable chessboard and buildable playing pieces
Board stores all the playing pieces
Can also be used for checkers
Set includes over 1,400 Lego pieces
Board measures 10 inches square
Specification:
Brand

LEGO

Model

43234-108

Weight

3.31 pounds
EasyGoProducts Giant Matt Chess Game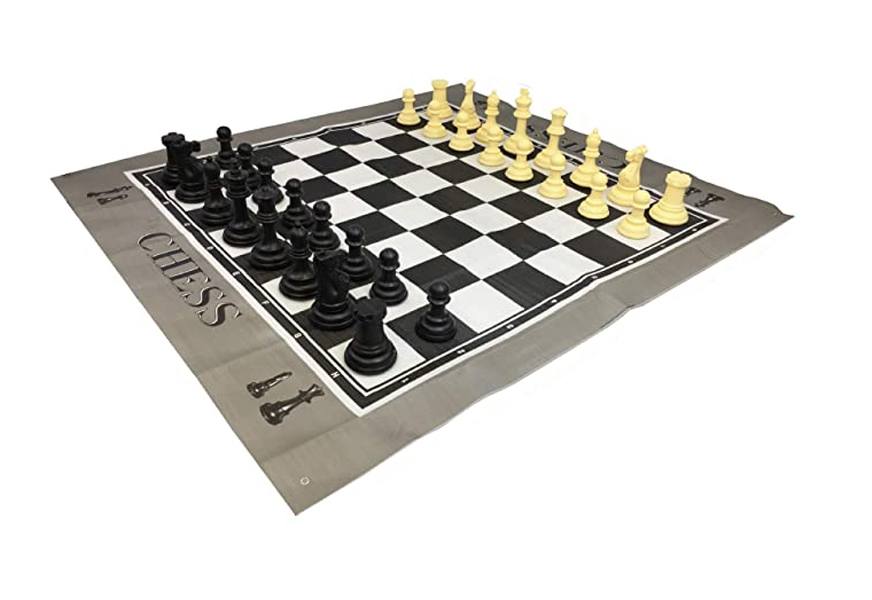 This is our favorite choice for younger kids—who might think smaller pieces would be a great thing to chew on—or family gatherings. This indoor/outdoor, 5-foot by 6-foot board is great for life-size, interactive chess playing. The pieces measure between six inches and ten inches, so even your youngest can play safely. The EasyGoProducts Giant Matt Chess Game is made from tear-resistant material, making it perfect for little feet to run over and safe to use around pets.
Break out this chess set at a picnic, in the classroom, or at an outdoor brewery (so the parents have fun, too) for immediate enjoyment and entertainment. When it's time to go, easily fold up the board and pack away the pieces in the included plastic storage tote. If you don't love it, you have 30 days to procure a refund! And for more amazing options, be sure to browse our list of the top travel chess sets that you can bring with you wherever you go.
Key Features:
Oversized rug board, 5 feet by 6 feet
Great for BBQs, parties, picnics, or classrooms
Comes with a plastic storage box
Rug board is made from tear-resistant, rip-resistant plastic material
Chess pieces range from 6 inches to 10 inches tall
30-day refund
Specification:
Brand

EasyGoProducts

Model

EGP-TOY-018

Weight

11.94 pounds
Chess Set for Kids Buying Guide & FAQ
Features to Look for in Chess Sets for Kids
Size — This is a highly personal decision based on the space you have available and the age of your kiddos. If you have very young children, you don't want to tempt them with tiny pieces that can easily become choking hazards; an oversized, floor-based chess set might be a better option for your family. However, if your kids are older, you might want a portable kids chess set to make waiting at doctor's offices or road trips more bearable. In that case, a smaller, more portable board will serve you better.
Weight — We would say, the lighter, the better. However, classic wooden chess sets might be heavier, as will interactive, electronic chessboards. Take into consideration how often you'll be traveling with your chess set or if it will sit in your game closet at home.
Material — Of course, we all love the look of beautiful wooden chess sets. However, that's not always practical. Plastic is much cheaper, but metal can also be a sturdy option. Whichever cool kid's chess set you choose, make sure it comprises a durable, high-quality material. (That's also safe for kids who might still like to chew on the pieces!)
Age — Be age aware when searching for your child's newest chess set. If they are young, small pieces aren't a great idea. Some chess sets are designed for kids as young as four to learn the basics of the game, while others are geared more towards children seven and older with interactive study guides. Each chess set should have an age rating associated with it; make sure to check that before purchasing.
Skill Level — There are never-played-before-in-my-life chess sets, and then there are increase-my-IQ chess sets. If your child has never played the game before, we would recommend the former. There are plenty of beginner sets to choose from on our list, as well as more intermediate sets that will challenge your child even more. Unless you, yourself, are a confident chess player, don't start off with an advanced set; use the study guides, learning tools, and chess coaches to help ease your child into the chess world.
Chess Set for Kids FAQ
Q: What chess products are best for children?
A: You want to look for chess sets targeted at beginners,  which use high-quality, child-safe materials in their construction, and include some kind of easy-to-follow instructions that cover the basics. We have found that the best chess sets for children are explicitly marketed as such or involve beloved characters with which children will be thrilled to interact.
Q: What is the best size chess board for children?
A: That depends on the age of your child. Younger kids may enjoy the oversized 5-foot by 6-foot floor games, as they can pick up bigger pieces and move them around, engaging both physical exercises with mental exercise. For older kids, it may be easier for them to reach across a 10-inch board while sitting at the table with you. When it doubt, a smaller board will be an easier board — if it's age-appropriate.
Q: What are instructional chess sets for kids?
A: Most instructional chess sets for kids will include some form of interactive learning, whether that be a spinner that teaches them how each piece moves, a computer game that shows them different moves and strategies, or a push of a button that says which piece is the queen and which piece is the rook. Make sure that the instructions are easy to read or follow and especially easy to use. There's no point in building up frustration when there are so many resources out there to teach your child about chess!
Q: What are the benefits of playing chess for kids?
A: So many! Not only does chess engage both sides of your brain (which can actually help with brain development and possibly raise your IQ), it teaches important lessons like patience, strategy, critical thinking, memory, and self-confidence. Rather than dull their brains with a repetitive video game, chess requires knowledge of the pieces and how they are allowed to move, what happens after you move that piece, and how you respond to your opponent. You are constantly challenging your children to think critically, which will help them with school work and careers later on in life.
Q: Is chess too hard for kids?
A: Not if taught patiently! Many of the best chess sets for kids that we included in our list use multiple resources to interact with your kids so that they learn at their own pace, rather than forcing them to learn everything immediately and causing undue stress, which ultimately leads to failure. Children as young as 4 can memorize the pieces, while an instruction guide or help from an interactive board can tell them how to move it. You know the child best, but it's never too early to get them thinking!
---
To fill your chess quiver with more arrows, take a look at the following guides:
Sign Up Now
GET THE VERY BEST OF GEARHUNGRY STRAIGHT TO YOUR INBOX