Shred 'til Your (Battery is) Dead: Best Electric Skateboards of 2022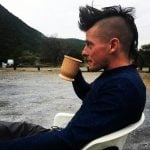 This product guide was written by Sam Anderson
Last Updated
May 10, 2021
Sam Anderson
Sam Anderson has followed a passion for well-told stories and nature's beauty from university classrooms to mountain adventures. After earning a bachelor's degree in literature, he leaned into a life fueled by road tripping, rock climbing, coffee and beer, and renegade camping. He has worked as a chainsaw operator, house carpenter, and window cleaner, at one point running his own window cleaning business. He has finally settled with his girlfriend and small zoo in the western American desert, trading his tool belt for a keyboard.
GearHungry may earn a small commission from affiliate links in this article.
Learn more
The best electric skateboards share one definitive quality: they're exciting. How do I know that? Because they have to be, or you won't ride them.
Electric skateboarding is not exercising; you just stand there. They're commuter machines, sure, but everybody who's tried or considered alternative commuting methods goes back to the default when they realize their new way isn't fun (in fact, if you're a commuter and you're reading this, I bet that's the reason). They're a little expensive, so they have to be fun.
That being said, there are also practical reasons why the tide of motorized skateboards is rising. The work-from-home revolution keeps eliminating commutes, and people increasingly look for new ways to get outside. People seek out carbon-reducing ways to run errands or get from A to B.
As with any emerging product, there are new players, fierce competition, and many unknowns. We spent some time testing and comparing electric skateboards to identify the most useful — and, of course, the most entertaining — entries.
The Best Electric Skateboard Review
Verreal RS Electric Skateboard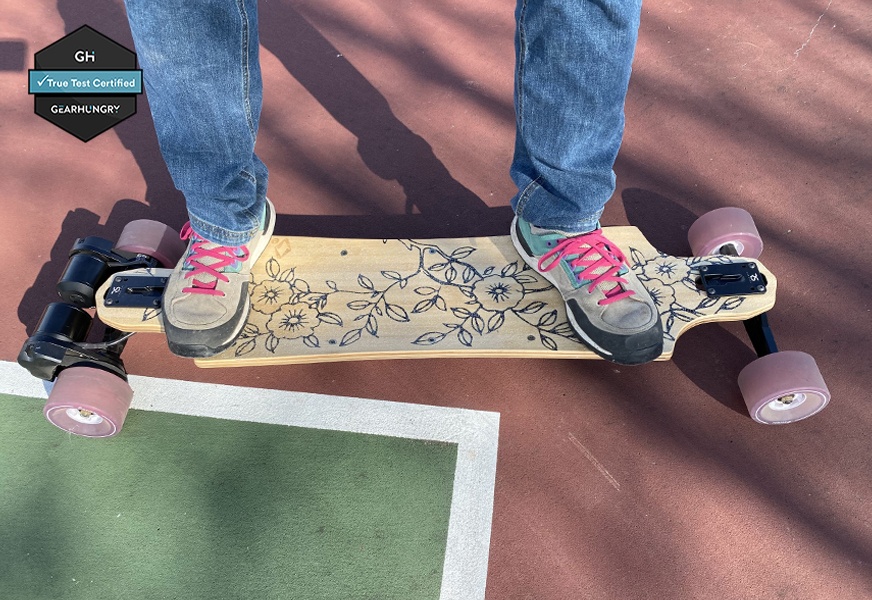 According to our tester, the dual 1500-watt motors and belt drive of the Verreal RS electric skateboard never left him longing for more power; the torque, acceleration, and speed were plenty for him, even on the second of three riding modes. He reports that even on a rolling terrain, his healthy fear of concrete limited his top speed, not the board.
For our man, the Hobbywing ESC controller felt intuitive and responsive, and the inconspicuous size felt just right. Acceleration and braking rates felt spot-on for urban carving, and he experienced zero connection failures or inadvertent disconnections.
Our tester perceived the concave maple and bamboo deck as appropriately grippy, albeit extremely stiff, due to the battery pack covering most of the undercarriage. The dual kingpin trucks had a visually impressive wide and low stance and, combined with the 97-mm glow wheels, provided a great combination for wide radius turns, bump compliance, and straight-line speed. The truck bushings did soften over time, and he did tighten them to reduce instability at the top of his speed limit.
Our tester found battery life for the middle-of-the-road, 16Ah Verreal option impressive. On a wide array of terrain — from smooth parking garages to chip sealed country roads, board flat to continuous rollers — the RS carried his 168-pound "carcass" (his word choice, not mine) for 2.5 hours and a touch over 20 medium-intensity miles.
All that battery life did come at a cost — the Verreal RS was hard to carry. At 23 pounds, it's not easily schlepped under an arm or on the shoulder. The weight is also distributed unevenly, which further challenged portage. For our tester, it was easiest to roll the board via one set of wheels, which he pointed out may not work in many situations.
Portability problems aside, the Verreal RS electric skateboard ticked all the boxes and then some. Our intrepid tester punched it to top speed a handful of times and never longed for more. The thing was a gazelle, one of the fastest electric skateboards on the market. And he said he quit before the battery did every time but one (and Verreal offers an even bigger battery pack). Read his full, in-depth review here.
The Verreal RS satisfied all of our Gear Hungry needs and desires in an electric board, and the writer who scored it predicts it will remain in his stable of toys for years to come.
The RS can often be found for much less than its stated MSRP — which is already a good deal on arguably the best electric longboard you can get. 
Key Features:
Dual 1500W belt-driven motors
38" deck
97 mm wheels
16Ah or 20Ah battery available
Specification:
Brand

Verreal

Weight

22-26.5 lbs.

Deck Material

7-ply Canadian maple, 2-ply bamboo

Drive Type

Dual 1500W belt-driven motors

Wheels

97 mm or 105 mm
Powerful
Long battery life
Handles a wide range of terrain
Heavy
Moderate/high price point
Nesaila Electric Skateboard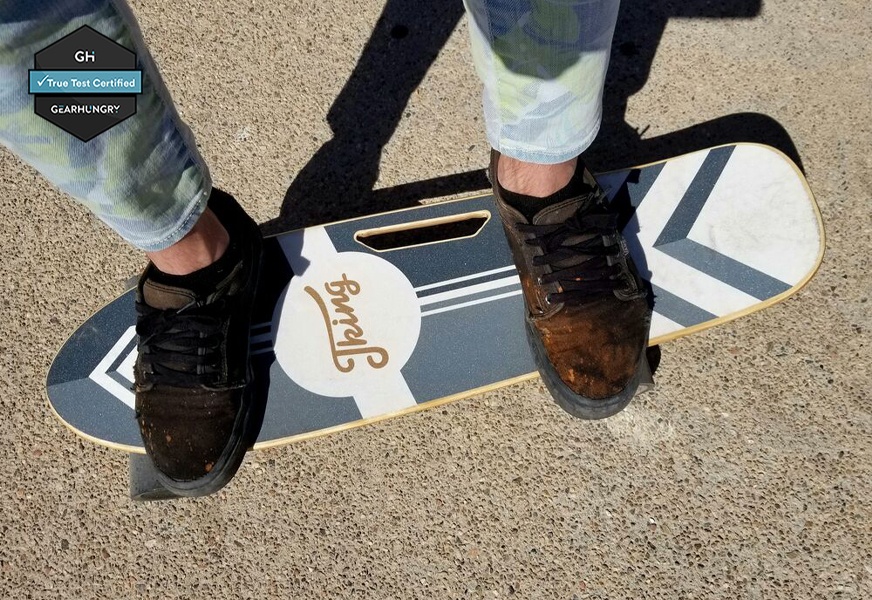 The Nesaila makes an affordable electric skateboard with a hub-mounted motor that was ideal for running errands, making short commutes, or taking casual cruises. The board's wide stance over 51-mm wheels made it stable, it trucked over surface inconsistencies, and it never felt too slow or too fast. It's inexpensive, solid, and didn't overwhelm me as an e-skateboard noob.
Nesaila's 28-inch maple deck felt stiff but not totally rigid, and its concavity was deep enough to add control. It was nice that both the board and the controller arrived with a partial charge because I was psyched — the Nesaila Electric Skateboard was my first powered skateboard, and I got right after it.
My first impression was that the trucks were loosey-goosey as installed. I was all over the place until I snugged them a bit with the included skate tool. The next thing I had to get used to was the acceleration; it took me a while to make the hand-controlled acceleration agree with my normal push start. But there's an adjustment period with everything, and within five to 10 tries, I could kick off reliably. I ate it once in my parking lot on the first day, but that's another story (available in the in-depth review).
Nesaila's controller uses a spring-tension wheel you operate with your thumb. Forward for go, back to stop. Words of the wise, be careful with the brake at first! In the palm of your hand, you hold more power than you realize. After that, I found the controller intuitive and responsive, and the board agile, with just enough power.
The acceleration was always smooth and easy to calibrate. I did use only the "high" speed setting because when I tried "medium" or "low," victrola music would start playing, and everything would turn black and white. But once the board was spooled up, I could cruise comfortably at a speed that felt close to or just over Nesaila's claimed top speed of 12 miles per hour.
I measured the Nesaila's range at 3 miles (again, "high" speed setting), which was well below the board's claimed 11. But that didn't bother me; instead, I settled into using the board for errands around the block (up to and including light grocery and beer runs) or just for fun.
The board is accessibly priced under $300, and I recommend it for new e-skateboarders, short-distance commuters, or kids.
Key Features:
28" board with a kicktail
Single hub-mounted motor
3 miles range (as tested on "high" setting)
Specification:
Brand

Nesaila

Weight

7.72 lbs.

Deck Material

7-layer maple

Drive Type

350W single hub-mounted motor

Battery

2200 mAh 29.4V lithium ion

Wheels

72 x 51 mm (soft)
Affordable
Handles rough surfaces well
Controller tested as easy-to-use
Slow up hills
Not suitable for long-range
Backfire Ranger X2 Electric Skateboard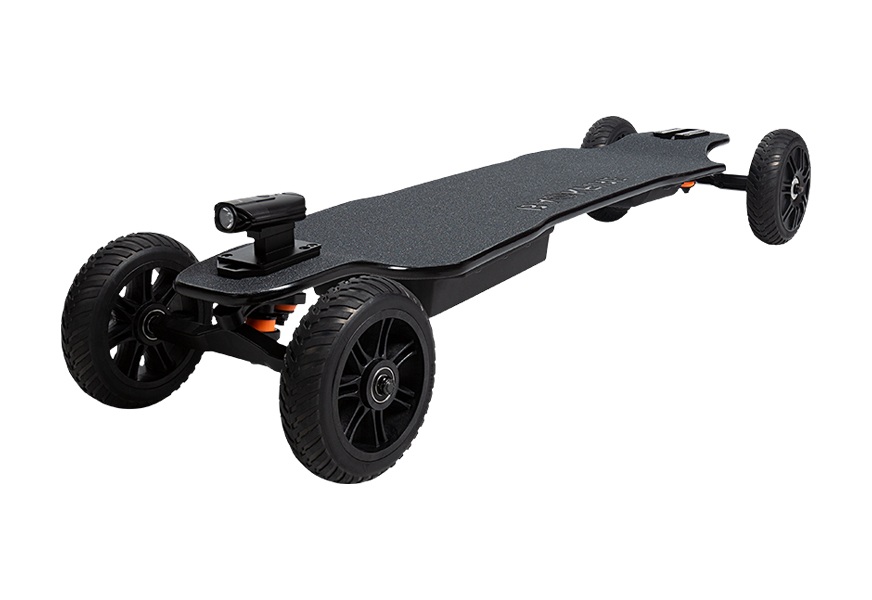 Backfire's Ranger X2 is a badass all-terrain electric skateboard. Actually, calling it a 'skateboard' doesn't quite seem right — does it have to have a gas engine to be an all-terrain vehicle, or is an electric motor enough?
Either way, the Backfire Ranger X2 Electric Skateboard can go anywhere. It throws down torque with two 1200-watt hub motors. Its drop-through deck maximizes stability. And it has 6.5-inch replaceable rubber tires on 165-mm wheels (that's bigger than the setup on my most recent push mower). Though beefy, it weighs a moderate 24 pounds, which is around the weight of electric longboards designed for road use.
Look closer, and it only gets more enticing. Each 1200-watt motor is fully sealed to prevent water, grit, or other trail hazards from intruding. Its electronic system is high efficiency, leveraging 50.4-volt batteries that regulate a low current for long life. Its double kingpin truck minimizes turning radius without sacrificing stability, as riders can independently tighten each kingpin.
It comes with various tools, plus a minimalistic controller with a deeply grooved thumb wheel and TURBO MODE (!!!), a battery diagnostic cable, and an LED light. Go anywhere on the Backfire Ranger X2 off-road electric skateboard — down your front steps, onto the street, over the curb, through your neighbor's yard, over their privacy fence, and into the adjacent thicket, and then ride off into the sunset or anywhere else for up to 18.5 miles. You might be tempted to do things on the Ranger X2 off-road skateboard that could seriously injure you; who cares? Wear a helmet.
The only possible deterrent? The price — considering the board's beastly capability and the mischief capacity hinted at above, the barely-quadruple-digit MSRP doesn't seem like a lot. But for a lot of folks (me included), it's a paycheck.
Key Features:
Dual 1200W weather-sealed motors
Replaceable tires
15+ mile range with 50.4V battery
Double kingpin trucks
Specification:
Brand

Backfire

Weight

23.8 lbs.

Drive Type

Dual 1200W hub motors

Battery

50.4V (454 Wh)

Wheels

165 mm with 6.5-in rubber tires
Rugged
Specifically curated feature set
High torque
Expensive
Could lead to hijinks or injury
Meepo Mini 2 Electric Skateboard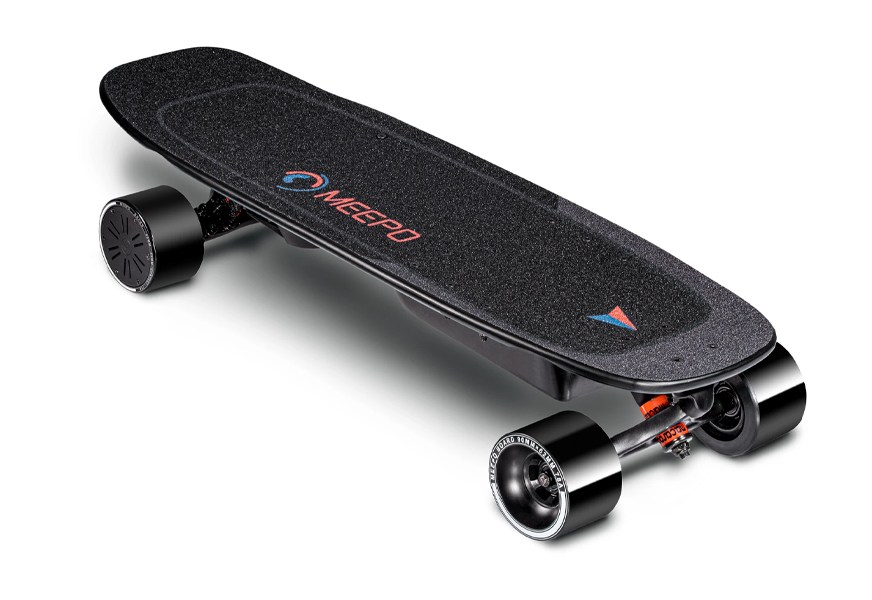 Meepo's Mini 2 Electric Skateboard doesn't go a long way to explain itself, and I like that. Companies that jump into the shark tank usually tend to defend themselves; when they let their product speak for itself, it's usually a good sign. So far, this has been the case for the Meepo Mini 2, which enjoys a highly positive, if shallow, review pool.  
We know the raw specs for the Meepo Mini 2:
– It has a 30-inch 7-layer maple deck with a 300-pound weight limit
– It has dual 540-watt hub motors
– It weighs 17 pounds
– It claims an 11-mile range (or 20 for the "ER" variant)
– It claims its top speed is 29 miles per hour and that it can climb hills up to 30% grade
– It has 90-mm by 60-mm 78A (soft) wheels
– And it comes with a 6-month warranty
And that's it! It's rated a bit low for stability among Amazon users, but not concerningly so. In fact, the front truck is mounted super close to the board's nose, increasing stability and giving the rider a better chance to control their stance. Many reviews say the remote is easy to use. 
Even on its website, Meepo shrugs off any marketing materials or promo videos, opting instead to post real-world reviews, gritty user photos, and all. Every review is five stars, which suggests that Meepo screens reviews. This is highly possible: most negative reviews elsewhere entail electronics that abruptly stopped working or never did work, with the bigger problem that customer service is nonexistent.
The upshot: you get what you get, and don't count on the warranty. But most buyers are five-star psyched on the Meepo Mini 2 in its early going. Its MSRP is firmly at the lower end of the category, but it could be a sticking point for those who expect a sure thing for their money.
Key Features:
30" deck
11- or 20-mile range
29 mph top speed
Stripped-down company marketing
Specification:
Brand

Meepo

Weight

17 lbs.

Deck Material

7-ply Canadian maple

Drive Type

Dual 540W hub motors

Wheels

90 mm x 60 mm 78A (soft)
Powerful (as claimed); high top speed, aggressive hill-climbing, long range
Brand leads with its product
Customer service has a bad reputation
Relatively untested product
Skatebolt Tornado II Electric Skateboard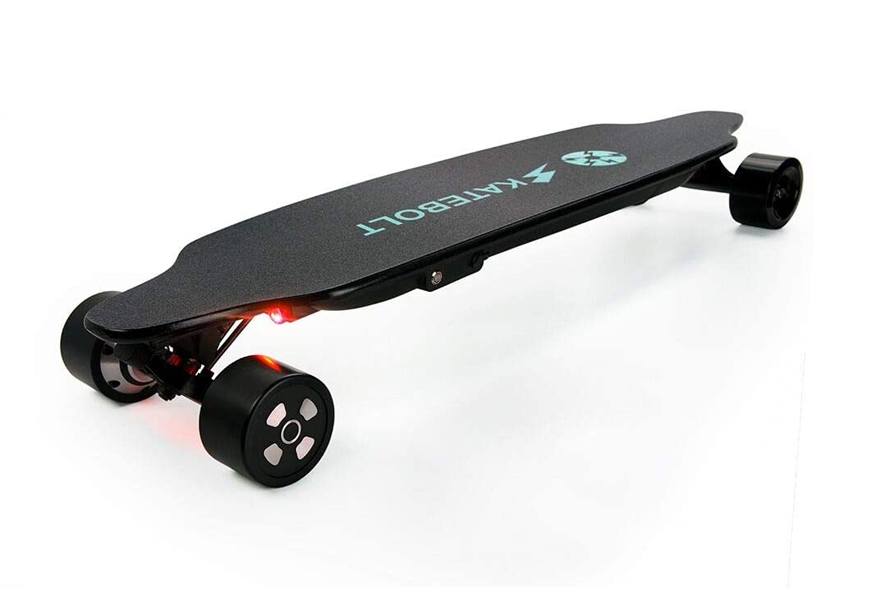 The Skatebolt Tornado II Electric Skateboard constitutes an affordable longboard option in the e-skateboard category. It has solid performance specs and a generally positive reputation among users. Skatebolt is unusually proud of its L.A.-based customer support center, which by the looks of it, either does not exist or has not been used.
Skatebolt's cutaway deck is 8-ply maple and supports 280 pounds (verified through a certain review, in which one 250-pound user says he can hit 25 mph!). Dual 500W hub motors should give it plenty of power. It has three speed ranges and stands on 90-mm wheels. Skatebolt mentions the Tornado II's "upgraded" 7500 mAh battery, which it says should take you 22 miles.
That brings us to the bizarre customer service center. Skatebolt has clearly identified American customers' expectations for reliable customer service, so the company touts its "U.S.A. Support Center" on its Amazon profile. There's a short paragraph accompanied by a candid of an unmarked, not obviously occupied office/industrial suite with a lone car out front. Location: "LA." Skatebolt invites customers with product questions to "just let us know; we will provide the satisfied solution." So I did. There was no answer at the listed 626 number during business hours.
More so than an insult, I considered it a plucky and fairly harmless ruse by a company that's scrapping near the bottom of its category price range. The Tornado II's reputation is decent, and its specs check out. Buy one and "enjoy" the associated customer service for a price that's near the low end by comparison.
For more exciting rides like this one, browse our list of the best hoverboards.
Key Features:
38" cutaway deck
Dual 500W hub motors
22-mile range (claimed)
Specification:
Brand

Skatebolt

Weight

25.45 pounds

Deck Material

8-layer maple

Drive Type

Dual 500W hub motors

Battery

7500Ah

Wheels

90 mm
Can handle heavier riders (as reviewed)
Long deck for stability
Amusing "customer service"
No actual customer service
Remote has no wrist strap; some users find it cheap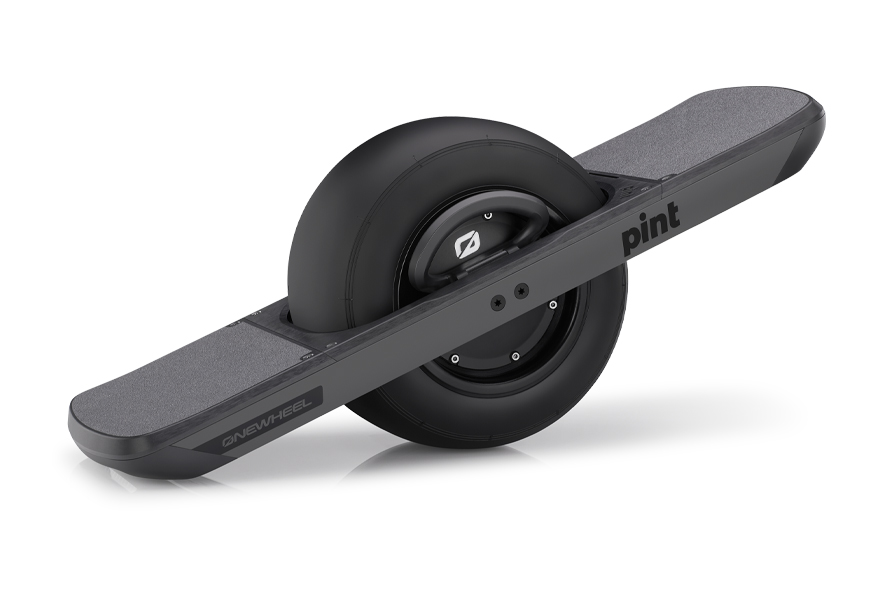 I'll be transparent: I covered the Onewheel Pint because it seemed like a one-wheel board would unavoidably surface when anyone thought about the category of electric skateboards. They're not popular enough yet that everyone knows someone who knows someone who has one, but everybody's seen someone riding one. It is an intriguing design, and it has a brushless motor and does not use a remote.
Ok, I've talked myself into being interested in it. There has to be something to a nearly thousand-dollar e-skateboard with a modest 16-miles-per-hour top speed and 6- to 8-mile range — and not just that, it's almost half the price of the original Onewheel XR.
The line is app-controlled, and the motor engages when the user equalizes pressure between their front and back foot. It is an electric board, but there is no remote. Instead, the user controls the board intuitively by shifting their weight — in other words, like a real skateboard! This is pretty cool, interesting to me, and a major advantage of a Onewheel over a typical e-skateboard.
Experienced users tout the Pint for its accessibility to beginners, especially its smooth braking and high maneuverability. One-wheel electric skateboards are prone to speed wobbling at high speed, so the Pint's low top speed isn't necessarily a drawback.
Onewheel constitutes a unique innovation in its electric "skateboards" that give the user body control instead of remote control. The Pint appears to be the company's bid to lower the price gates and draw in more riders on the fence about buying.
Key Features:
Single wheel design
No remote control; control with bodyweight
Associated app
Specification:
Brand

Onewheel

Weight

23 lbs.

Drive Type

Single brushless motor

Wheels

Single wheel with replaceable rubber tire
The more natural ride feel than other e-skateboards
Good for beginners with easy braking and maneuverability
Expensive
Low top speed and range
Reputation for speed wobbles near the top of the range
Why Trust Us
We researched and shredded. Each tester put upwards of 20 miles on his board before putting pen to paper, evaluating the board's capability for every metric he could think of. And that was only after we chose boards.
It's not a light-duty decision for most, with typical entries clocking in at $500 to 1000, so we dug into the internet to learn as much as we could about the advantages and disadvantages of various build elements.
Hell, I rode a shortboard. I'm not a good enough skateboarder to do that, but it was the right thing to do for our testing, so I did. (And I only busted my ass once.)
Who This Guide Is For
Commuters, kids, mischief-makers, skateboarders, anyone looking for a carbon-reducing way to run errands, make alternative beer runs, or get outside. Plus students, travelers, teachers, professionals, and misfits. Get it?
How We Chose
We chose a range of the top electric skateboards, including outliers: Top-of-the-line and value entries, longboards, shortboards, and unicorns like an off-road and one-wheel design.
How We Tested
We shredded, man! ...Or tried to. In fact, we learned how to ride electric skateboards by testing them for this article. In many ways, our noob status helped inform our reporting process: justice is blind, and so were we when we first stepped onto our boards.
Because we also knew we had to establish some experience for credibility, we also rode a lot. Each tester put in 20+ miles on his board, riding it over and over again in the course of a few weeks. By the end of it, I wasn't even worried about falling off anymore...too much.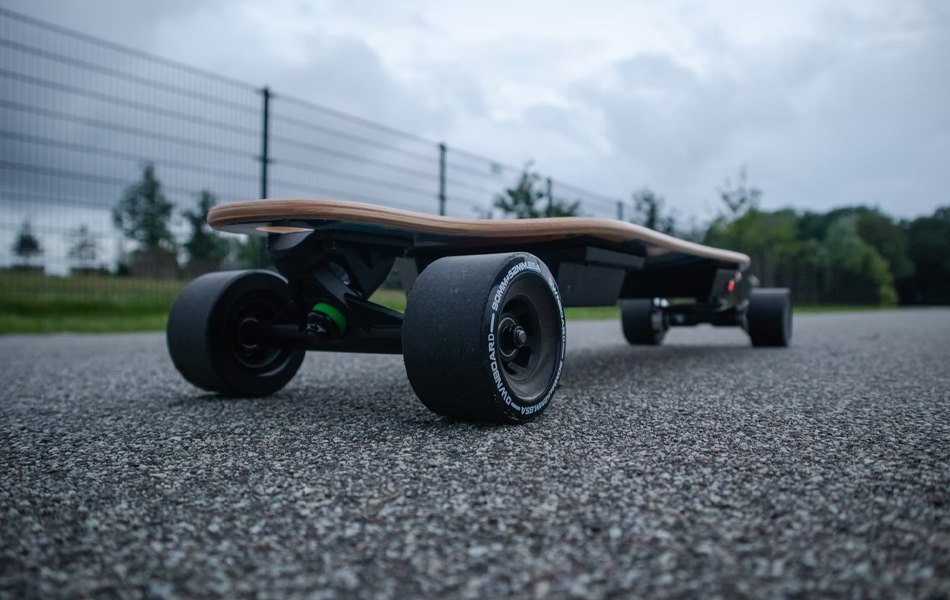 Features to Look for in Electric Skateboards
Size — Generally, a longer board gives you more stability and a higher top speed. Shortboards are more maneuverable but often require more balance and practice. Personally, I would use whatever size skateboard I normally liked riding. Just like with, er, analog (?) skateboards, you're going to pay more for a longboard if that's what you like.
Speed — Generally, every electric skateboard lists a top speed. If you don't know, I'm here to tell you: 25 mph is really fast. 10-15 mph is plenty for most people's casual cruising. Keep in mind that you're never going to push an e-skateboard to its top speed while riding it uphill.
Battery Life — Highly variable. One tester found his board's battery life almost perfectly matched the manufacturer's claim, but the board I tested fell about 50% short of its claimed range. We recommend testing your board in a controlled situation beforehand if you want to do any ride that approaches its max range.
Connectivity — The effective range between the controller and the board. Just hold onto the controller; you'll be fine. (There is — at the time of writing — no such thing as a Smart electric skateboard).
Wheel Quality — Skateboard wheels are generally made from polyurethane at varying hardnesses. 78a-90a will feel relatively soft, and 99a or higher is considered pretty hard. Softer wheels are way better for street cruising because they absorb surface inconsistencies like pavement cracks and gravel.
Brakes — These vary widely and should be tested in a controlled scenario before being relied on for safety. One tester observed that he could only use his board's brakes to slow him down gradually; on the other hand, a board I tested fully threw me off until I got used to the controller's sensitivity.
Weight — You're gonna notice it. Heavier generally means more stable and sometimes faster, but a heavier board will put more strain on any battery and motor, plus be harder to tote around. 
Portability — I didn't understand the carrying handle until I tried to carry my e-skateboard for the first time. Because the bottom is so much heavier than with a normal skateboard, it doesn't balance under your arm the same way. Note the presence or absence of a carrying handle and take weight and length into account.
Water Resistance — You shouldn't ride most electric skateboards willy-nilly through puddles or rainstorms. Some off-road boards are built to handle more water intrusion. But water will eventually eat anything and everything on earth, so as with anything that's "water-resistant," take care not to abuse it.
Material — Most skateboard decks are made with maple, which is more durable than bamboo. Some include both. Sustainability note: bamboo grows faster and is more renewable than maple trees.
Warranty — Most electric skateboards offer "warranties," but I'd use my spidey senses to determine which ones hold water. You can kind of tell — the warranties of most upstart/obscure companies, especially the ones who don't use proper spelling or grammar, are bunk.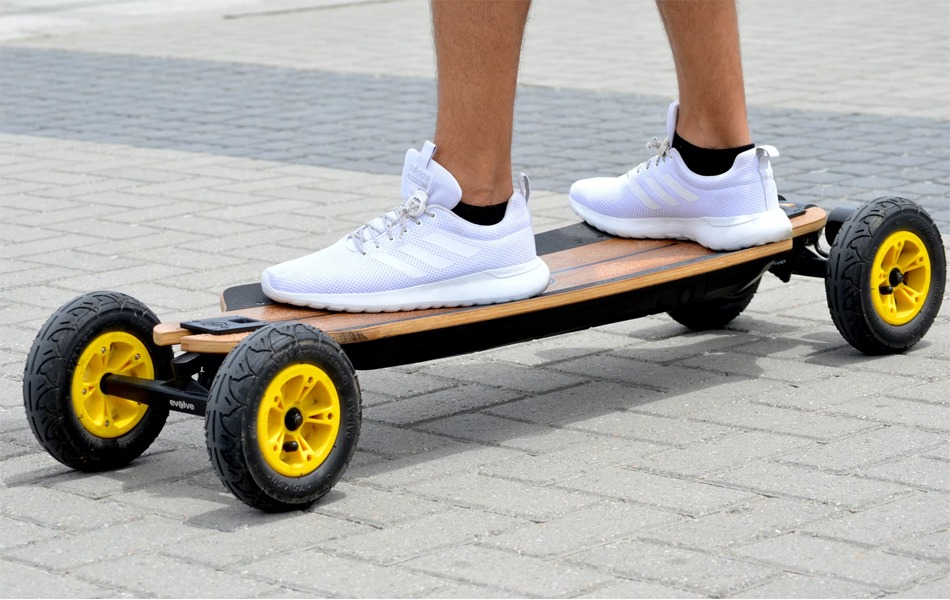 Electric Skateboard FAQ
Q: Why do you need an electric skateboard?
A: Because they're rad, man. Personal mobility is on the upswing, as more folks work from home and commute less. Shopping online diminishes the need for motor transportation even more.
The upshot is that a lot of us can occupy smaller orbits most of the time (especially city-dwellers). In many locations, it's totally reasonable to e-skateboard to the park, around the neighborhood, or to the convenience store.
People who commute into a city and then walk to work can also use a good electric skateboard.
Q: Can you bring an electric skateboard on a plane?
A: The short answer: mostly no. According to TSA, you cannot put a lithium-ion battery of any kind in a checked bag.
However — and I'm interpreting bureaucratic language here, so take this with a grain of salt — you can put either one or two lithium-ion batteries in a carry-on. If you have one battery, it can't exceed 300Wh. If you have two, they can't exceed 160Wh each. Navigate here to read TSA's characteristically confusing explanation.
With that cryptic fragment at least somewhat decoded, here's how to calculate watt-hours and determine whether you can fly with your e-skateboard. First, the mAh capacity of your board's battery should be available. Find it and divide by 1,000 to get Ah. Then multiply Ah by volts to get Wh or watt-hours.
My fairly light-duty test board comes in at ~60Wh. So I should be fine, but, as TSA puts it, "The final decision rests with the TSA officer." The last thing I want to do is lose my board to the discretion of the fuzz, so I'll probably leave it at home.
Q: How do you control the board and brakes?
A: With a wireless hand controller! And also with your feet and the rest of your body. Each tested controller performed well enough to attract the tester's praise.
Q: Which deck size is right for you?
A: It ain't the size of the boat; it's the motion of the ocean. Experiment, enjoy.
Q: What kind of maintenance issues will I see?
A: I didn't perceive any unusual issues beyond the normal skateboard maintenance program: keep the trucks as loose or tight as you want 'em, clean and lubricate the bearings if you get a sticky wheel, and swab the deck when it gets grimy! That's it, cowboy.
Any battery or electrical issues are well beyond my maintenance capacity. However, many brands offer free troubleshooting and repair info specific to their products. 
Q: How long do electric skateboards last?
A: Consumer-grade lithium-ion batteries have a lifespan of about 300 to 800 discharges as of this writing. So, if you rode your e-skateboard every day, it should last 1 to 3 years. Fully delving into the details of lithium-ion battery care is beyond our scope, but consider these tips:
Never store your battery or board in extreme temperatures. Doing so shortens battery longevity.
Store your board with at least a partial charge.
Ride your board at least every once in a while, even if you're not super active. Regular charging and discharging help battery longevity.
Q: Can you ride an electric skateboard in the rain?
A: I wouldn't (except in the case of an all-terrain board), but I'm sure it would work in the short term. Be mindful of any weak points where water could seep into the guts of the battery or motor.
Q: Do electric skateboards go uphill?
A: Yes, but sometimes a lot slower than they'll go otherwise. Boards with belt-drive motors have a reputation for handling uphill better than those with hub-mounted motors because they have higher gear ratios.
The hub motor is stuck at a 1:1 gear ratio by design, so it can't compensate for a situation that demands more torque to maintain velocity. In testing, this checked out.
Sources:
How to Prolong Lithium-Based Batteries - Battery University
Sign Up Now
GET THE VERY BEST OF GEARHUNGRY STRAIGHT TO YOUR INBOX