Best Laundry Detergents in 2022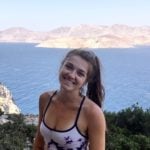 This product guide was written by Chloe Matthews
Last Updated
October 20, 2020
Chloe Matthews
Based in Austin, Texas, and bred in the Midwest, Chloe joins our team with a background in Health and Human Physiology, team management, and a wealth of customer service knowledge. After years of personal writing and journaling, her enthusiasm for the outdoors, travel, and continued learning has brought her to a professional journalism career. Chloe is an avid rock climber, currently enjoying the Texas limestone bluffs, and a passionate, lifelong runner. When she's not seeking sunshine outdoors, you can find her reading history books, volunteering at running events, or working on her latest automotive project.
GearHungry may earn a small commission from affiliate links in this article.
Learn more
Since we live in a world where we can't gander around in our birthday suits, we have to clothe ourselves and do the deed of laundry. And if you don't want to continue to dish out dough for new clothes, you need the best laundry detergent to keep your whites, well, white, keep the colors vibrant, and remove stains. All the while sticking to your moral guns and taking care of your skin.
So, there's plenty to consider when choosing a laundry detergent – scent, powder versus liquid, ingredients, your household, and what's going to suit your laundry habits the best.
The Best Laundry Detergent
Tide Liquid Laundry Detergent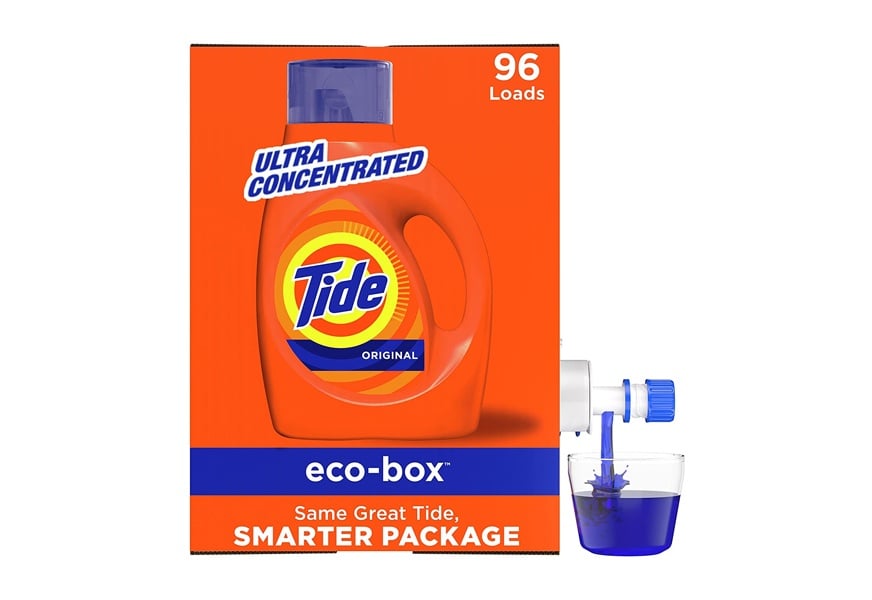 Our first choice best laundry detergent goes to the household name, Tide Liquid Laundry Detergent. Not only for the detergent, but the lengths Tide has crossed to bring a more environmentally friendly product, from the concentrated detergent to the recyclable box. It's the Tide clean you've come to love but with a re-focus on the sustainability of laundry as well.
The 100% recyclable Eco-box comprises 60% less plastic and 30% less water. The liquid detergent offers 30% more cleaning per ounce versus a 50-fluid ounce original detergent. The 105 fluid ounces of concentrated detergent will last 96 medium-sized loads, the same amount as three 50-fluid ounce bottles, saving you trips to the grocery store and two fewer bottles in the recycling bin. An easy to use a no-drip tap with the included dosage cup ensures you pour the correct amount of detergent, and there's no mess to clean up afterward.
If you want to try some quality pods, too, check out our selection of the best laundry pods on the market.
Key Features:
96 loads
Liquid
Easy to use no-drip tap
Concentrated formula; 30% more cleaning per drop
Created with 60% less plastic and 30% less water
Specification:
Brand

Tide

Weight

7.19 Pounds
ECOS 2-Pack Liquid Laundry Detergent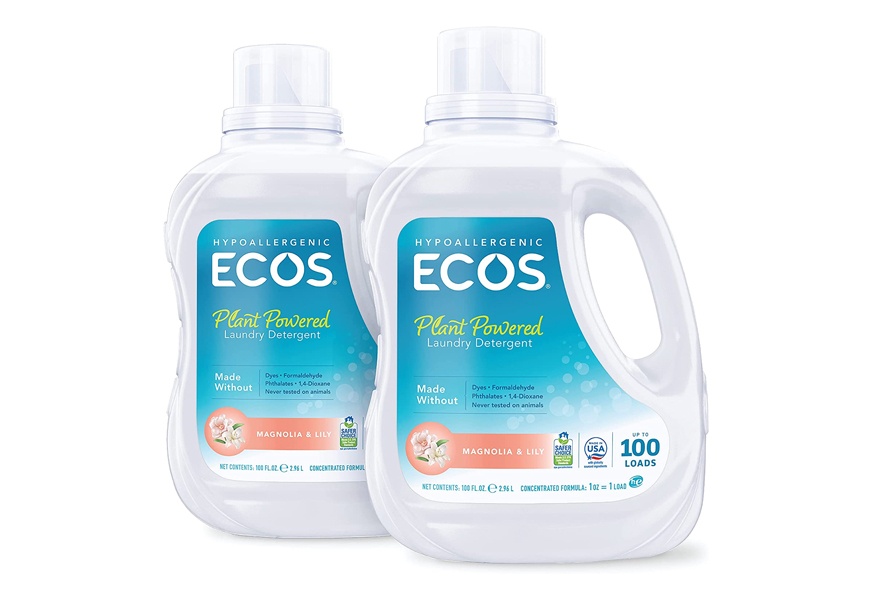 If you'd like the floral scents, but your allergies get the best of you during Spring, the Earth-friendly ECOS 2-Pack Liquid Laundry Detergent is for you. The Magnolia and Lily scented detergent is hypoallergenic, greywater and septic safe, and has a built-in fabric softener and static guard. The 4-in-1 plant-based 2X concentrated formula is a detergent you can feel confident using.
The highly-concentrated liquid detergent is compatible with all washing machines, including high efficiency (HE) machines; just double the bottle-cap for different dosages based on what kind of machine you have. The two 100-fluid ounce bottles will last a combined 200 loads, perfect for your family's clothes, sheets, robes, and towels.
For more must-have products to keep your clothes in perfect shape, check out our guide to the best laundry whiteners.
Key Features:
Magnolia and Lily scent
Liquid
100 loads
Plant-powered concentrated formula
Hypoallergenic
Dye Free
Built-in fabric softener
Greywater and septic safe
Specification:
Brand

ECOS

Model

3143054

Weight

12.5 Pounds
Persil ProClean Liquid Laundry Detergent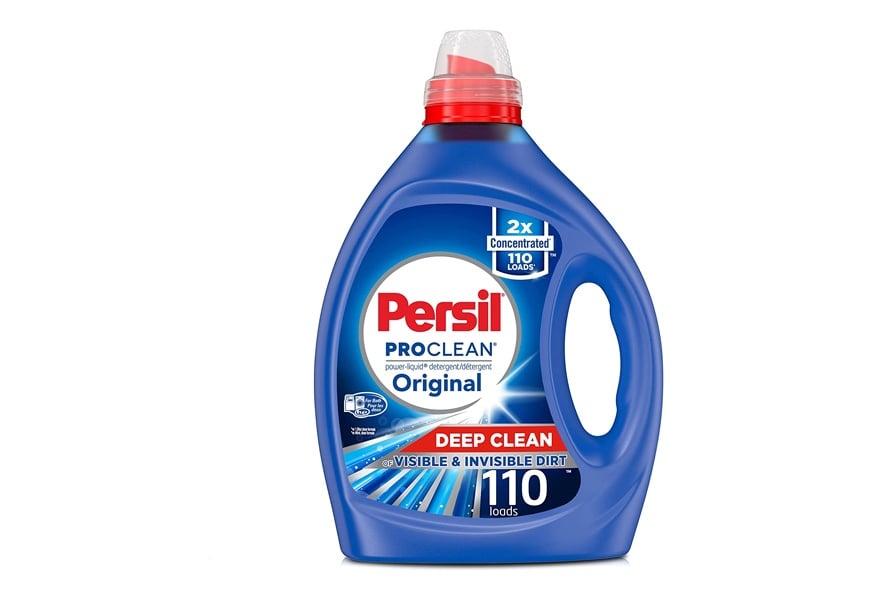 If you've got muddy teenagers in your house, the Persil ProClean Liquid Laundry Detergent will be your go-to laundry detergent. It has the original fresh ProClean scent, and the active ingredients will fight teenage odors and whiten and brighten their football jerseys before next Friday's night game. The Persil ProClean has 2X more stain-fighting power than the standard Persil detergent. The concentrated detergent is safe to use with standard and HE washing machines. An 82.5-ounce bottle will be enough for 110 medium loads from your laundry hamper.
Key Features:
ProClean original scent
Liquid
110 loads
Concentrated
Odor-fighting
Whitening and brightening
Safe for standard and HE washing machines
Specification:
Brand

Persil

Model

2427287

Weight

5.64 Pounds
Seventh Generation 2-Pack Liquid Laundry Detergent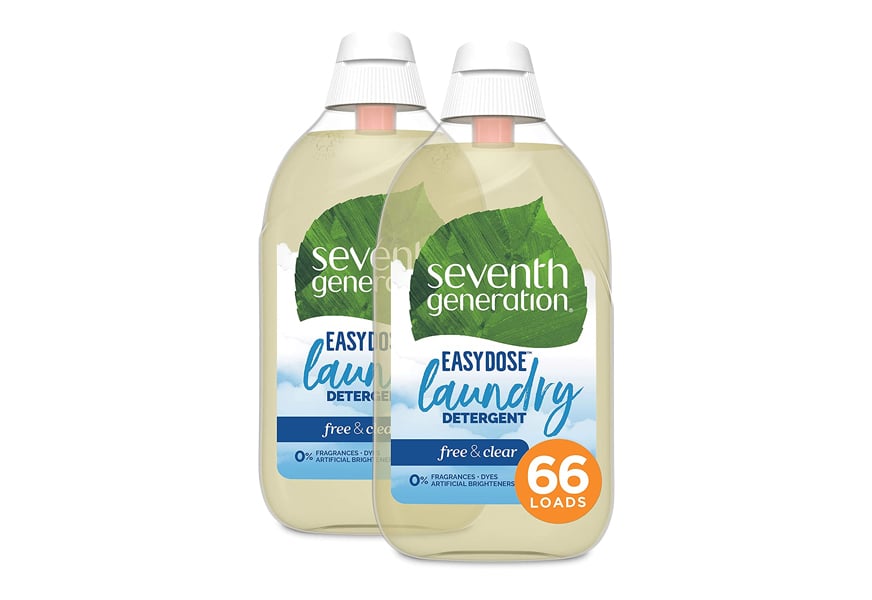 If laundry day is too much – separating colors from whites, finding the right dosage and water temperature, no patience to pre-treat stains – Seventh Generation 2-Pack Liquid Laundry Detergent is the answer to your woes. It's a two-pack, each with enough for 66 loads of laundry. The ultra-concentrated liquid detergent is scent-free, and the container features an easy-dose lid. The lid does the dosing for you; just open it up above the detergent compartment, give it a firm squeeze, and close the lid! The detergent is 50% less water, made with 60% less plastic.
To keep your clothes extra fresh, use any of these fantastic steam presses from our list.
Key Features:
2-pack, 66 loads/bottle
Easy dose technology
Ultra concentrated
Scent-free
Specification:
Brand

Seventh Generation

Model

PP-HOHH29382

Weight

3.71 Pounds
All Liquid Laundry Detergent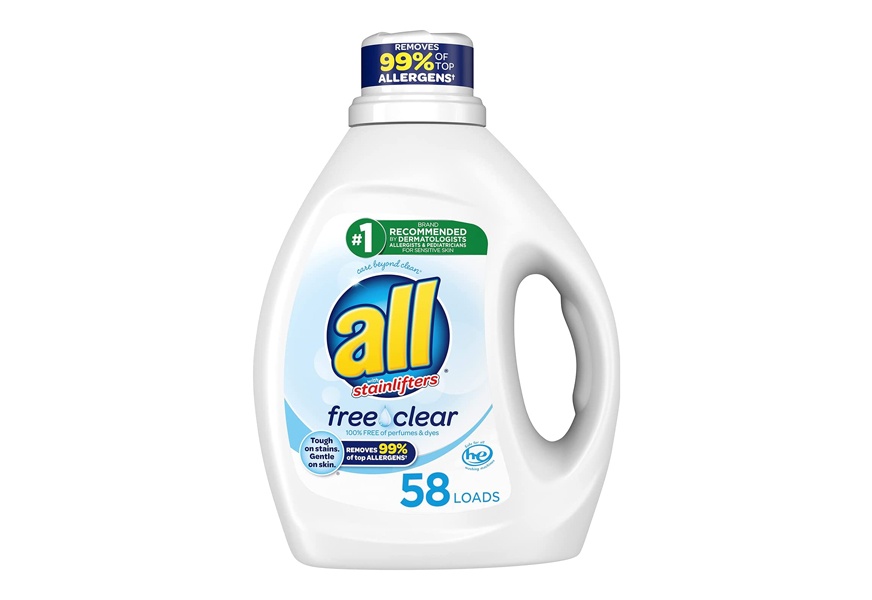 Sensitive skin can drastically limit your laundry detergent options, but the All Liquid Laundry Detergent is an excellent option for those individuals. It is fragrance-free, hypoallergenic, and is the number one recommended brand for sensitive skin by dermatologists, pediatricians, and allergy specialists. All detergent is compatible with all washing machines at any temperature and is safe for your septic system. The bottle is enough for 58 regular loads, measured dosing cap. Just because it is sensitive on your skin doesn't mean it's not tough on the stains.
Make sure to also check out these versatile steamers for clothes.
Key Features:
Skin-sensitive
Septic safe
Fragrance-free
58 loads
Hypoallergenic
Compatible with all washing machines at any temperature
Specification:
Brand

All

Weight

5.74 Pounds
Purex Liquid Laundry Detergent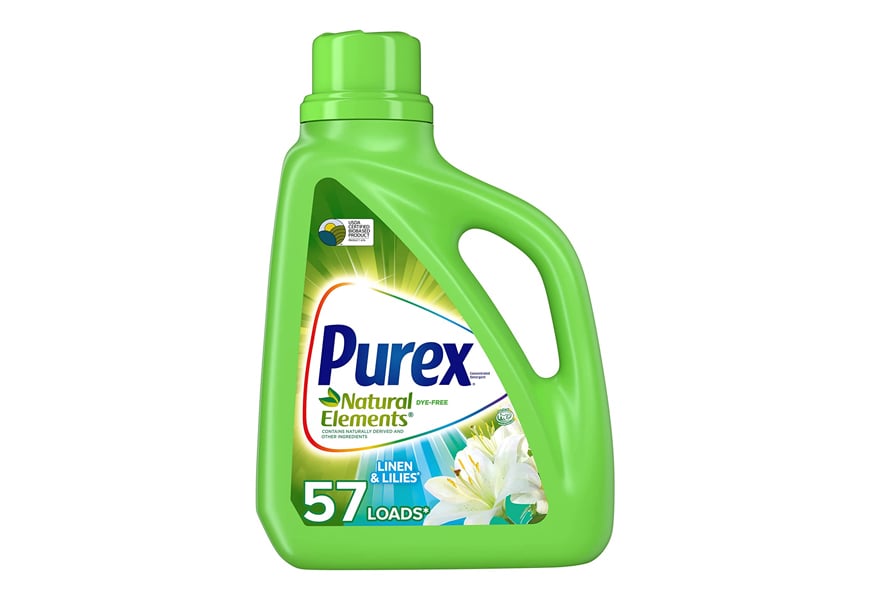 For natural laundry detergent, go with the Purex Liquid Laundry Detergent. If you've been making your own detergent, it's a great segway back into the world of commercial detergents. It has a light linen and lilies scent. The detergent is free of dyes, hypoallergenic, and made with natural and plant-based ingredients. The cap marks the appropriate dosages based on load size, and the bottle will is enough for 50 medium-sized loads. This natural detergent is compatible with all washing machine types.
For more products that can make your life easier, some handy clothes drying racks are perfect even for small spaces.
Key Features:
Linen and lilies scent
liquid detergent
Natural and plant-based ingredients
Hypoallergenic
50 loads
Use with all washing machine types
Dye-free
Specification:
Brand

Purex

Model

01120

Weight

4.68 Pounds
Persil ProClean Power-Liquid Laundry Detergent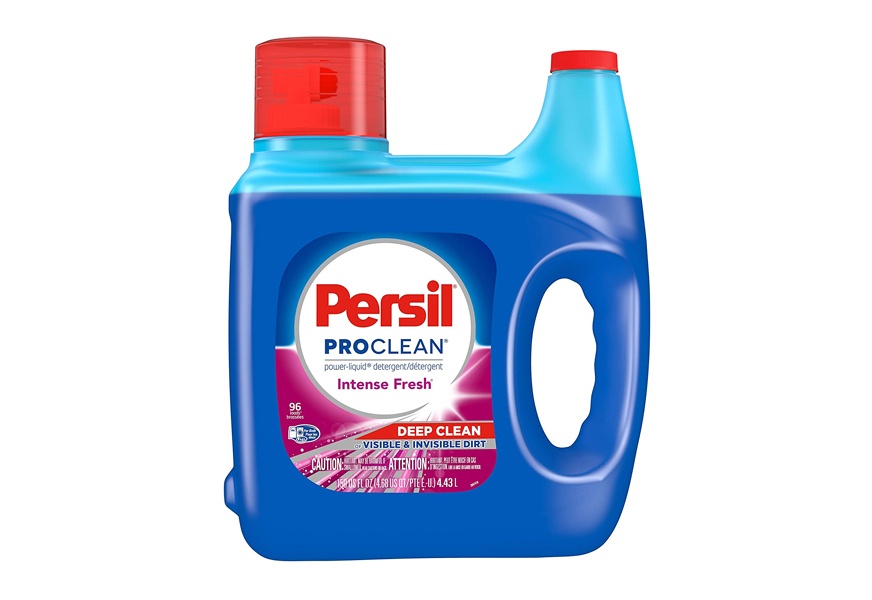 The Persil ProClean Power Liquid Laundry Detergent sounds strikingly similar to our third choice. Both offer the same cleaning qualities – brightening, whitening, powerful stain-fighting – but this bottle of Persil ProClean detergent has the added Intense Fresh scent and an easy pour spout. The detergent fights odors and offers clean rinsing and odor-fighting qualities. Rid 96 loads of dirt, grime, and hard to ignore odors. Get ready to work wonders on gym shorts and yoga pants. Persil ProClean Power detergents are compatible with all standard and HE washing machines.
Be sure to check out our selection of the best wool dryer balls for your dryer that can save you money and decrease energy usage.
Key Features:
96 loads
Intense fresh scent
Whitening and brightening
Powerful stain-fighting
Safe for all washing machine types
Specification:
Brand

Persil

Model

1916066

Weight

9.4 Pounds
Arm & Hammer Powder Laundry Detergent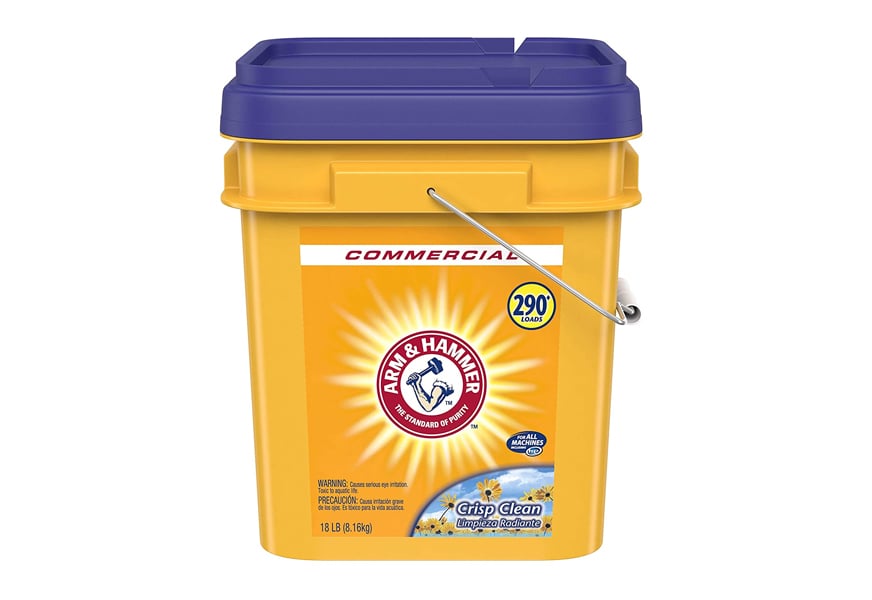 The only powder detergent on our list is in the form of Arm & Hammer Powder Laundry Detergent. The pail is big enough for 290 loads! The detergent is tough on stains and leaves clothes smelling like the Crisp Clean scent and has four powerful stain-fighting ingredients with an active baking soda deodorizer. The Arm & Hammer Powder Laundry Detergent is ideal for larger households and those with multiple pets. It is compatible with standard and HE washing machines and is safe for septic systems.
For more handy devices that can make chores easier, check out these top steam irons every home needs.
Key Features:
290 medium loads
Compatible with all washing machines
septic system safe
Crisp clean scent
Powder detergent
Specification:
Brand

Arm & Hammer

Model

33200-01001

Weight

19.5 Pounds
Gain 2-Pack Liquid Laundry Detergent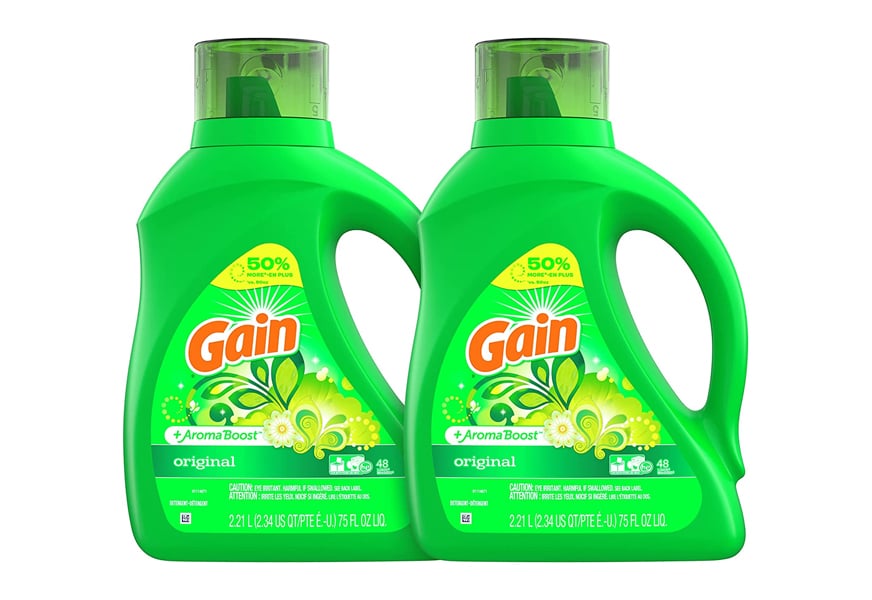 This Gain 2-Pack Liquid Laundry Detergent is the gift that keeps on giving. The original scent boost will last 6 weeks on your hangers until you're ready to wear those duds again – perfect for big closets or special-occasion clothing. The formula is free of phosphates and works in all types of washing machines and any cycle. Between the two bottles, you'll have enough detergent for 96 medium-sized loads, and the dosage caps mark the correct does for different load sizes.
For the ultimate finishing touch to your clothing, consider picking up a high-quality ironing board.
Key Features:
Original Gain scent
Long-lasting scent
Two-pack (96 loads)
Liquid detergent
Works in all washing machines
Phosphate-free
Specification:
Brand

Gain

Weight

10.24 Pounds
Laundry Detergent Buying Guide & FAQ
Features to Look for in Laundry Detergents
Scent - If you already wear perfume, cologne, or use a strongly scented body wash, the scent of your detergent may not be a deal-breaker for you. But if you have a strong body odor or pets in your house, consider a scented laundry detergent. The scents usually stick to clothes for 2 to 3 weeks post wash but remember, something is 'sticking' to your clean clothes for the scent to stick.
Active Ingredients - Active ingredients are components that undergo a chemical change under specific conditions. Active ingredients in laundry detergents range from surfactants that bind to stains and impurities in fabrics to enzymes, ethanols, bleaching agents, and polymers, all working to pull contaminants from your clothing.
Washing Conditions - Different forms of detergent and various washing machines will need specific conditions to maximize effectiveness. HE washing machines generally use less water, so not all concentrated detergents will work as effectively as they should in a standard machine. Temperature and water levels will affect the detergents' ability to work its magic, be sure to know what conditions your washing machine provides.
Types of Laundry Detergents
More than one or two brands can make a choice overwhelming, let alone three types of the same product from more than one brand. Powder, liquid, and single-dose detergents each offer pros and cons; consider the price per load, environmental concerns, personal preferences, and cleaning differences when choosing what medium of detergent you'd like to use.
Powder - Powder detergent is the oldest type of detergent in the book. It offers the lowest price per load, and the cardboard packaging is usually easily recyclable. The formula is more stable than liquid or single-dose pods, abling you to add additional cleaning products for tougher stains. Powder detergents work better in warm and hot water due to the ability to dissolve versus in cold water; the powder might not dissolve completely, leaving your clothing unwashed and covered in a residue.
Liquid - Liquid detergents are the most versatile. The endless scent options, water solubility, and ease of pre-treating stains without a different product are among the reasons to utilize liquid over powder detergents. If you do choose a liquid detergent, be sure you're using the correct dosage, usually easily noted on the bottle cap, but most often, the advice is mute. It is less expensive than single pods but does contribute more plastic to landfills, as some bottles are not recyclable or if they are, the city has mandates against detergent bottles. Be sure to check with the local pick-up if recycling is near and dear to your heart. One last thing, look for concentrated liquid detergents; otherwise, you're paying for water, which is already provided by the washing machine.
Single-Dose - Offering the most convenience is the single-dose pods, but with the least versatility. Pods don't suffice for pre-wash stain removal, and you cannot change the dosage based on load size or soil level, potentially leaving you with no choice but to use two pods. You're already paying the most money per load, and then to add salt to the wound, you need two pods??
Laundry Detergent FAQ
Q: How do laundry detergents work?
A: Surfactants in laundry detergent have two ends, a hydrophobic tail that is attracted to grease and dirt and a hydrophilic head that is attracted to water. The surfactants' tails pull stains and dirt out of your clothing, and the heads suspend particulates in the water, keeping them dislodged from your clothing.
Surfactants will be the primary cleaning agent while naturally occurring enzymes break down food particles from last week's lunch, and additional components will provide brightening and whitening properties.
Q: Are powder laundry detergents better than liquid?
A: There is no better or worse; it depends on the types of stains you mostly see. Liquid detergents are tougher on grease stains because of the alcohol ethoxylates present in the ingredients. These components are tougher on oily based stains versus the surfactant present in powder detergents, linear alkylbenzene sulfonate, breaks through mud or grass stains.
If you've got wild teenagers or are an outdoor enthusiast, stick with powder detergents. Suppose you or a household member is a chef or mechanic, liquid detergents all the way.
Q: Does laundry detergent kill bacteria?
A: You would assume so, but no, laundry detergents do not kill bacteria, and the hot water cycle does not get hot enough the kill off harmful pathogens while your load is spinning.
Q: Does liquid laundry detergent damage the washing machine?
A: Both liquid and powder laundry detergents can damage your washing machine, but mostly its user-error. If you use powder detergent not treated for cold water cycles, the detergent can end up as undissolved chunks trapped in the drainage system.
Liquid detergents can cause issues when improper dosages cause excess suds. Different interpretations of what classifies small, medium, and large loads cause various discrepancies in how much detergent is needed to adequately clean your clothing. While most people air on the side of 'more is better,' the excess suds cause longer cycles and eventually leaks.
Sign Up Now
GET THE VERY BEST OF GEARHUNGRY STRAIGHT TO YOUR INBOX