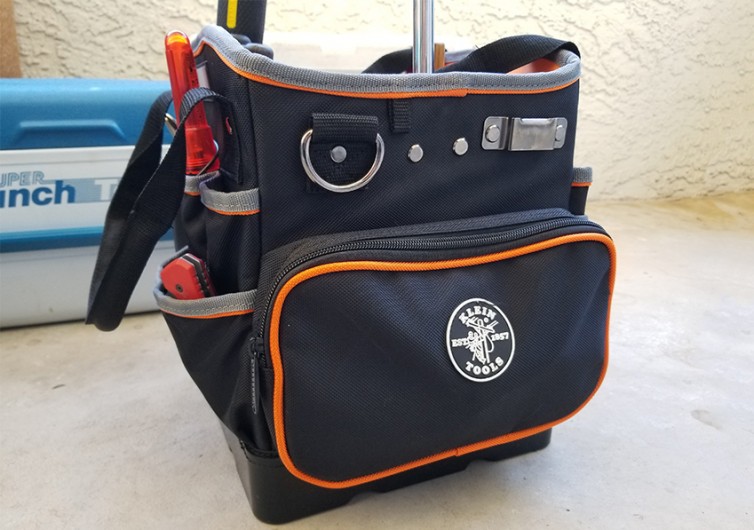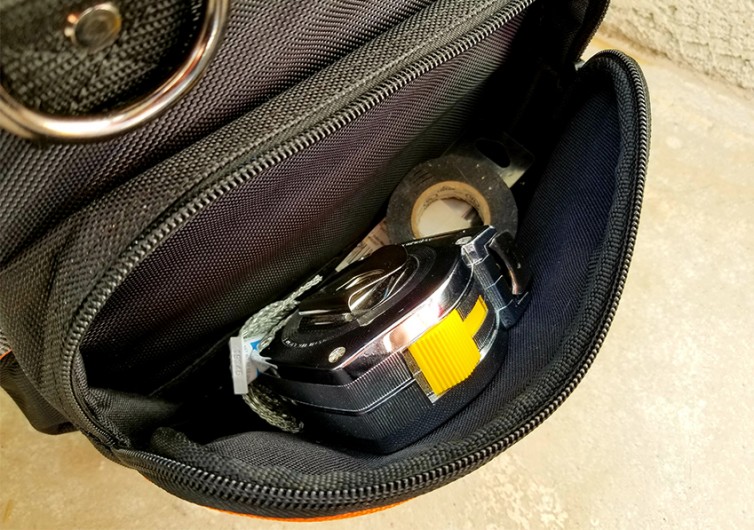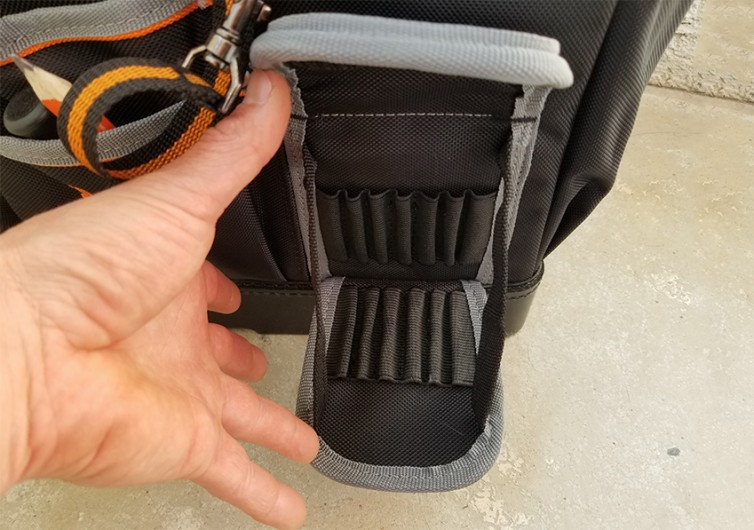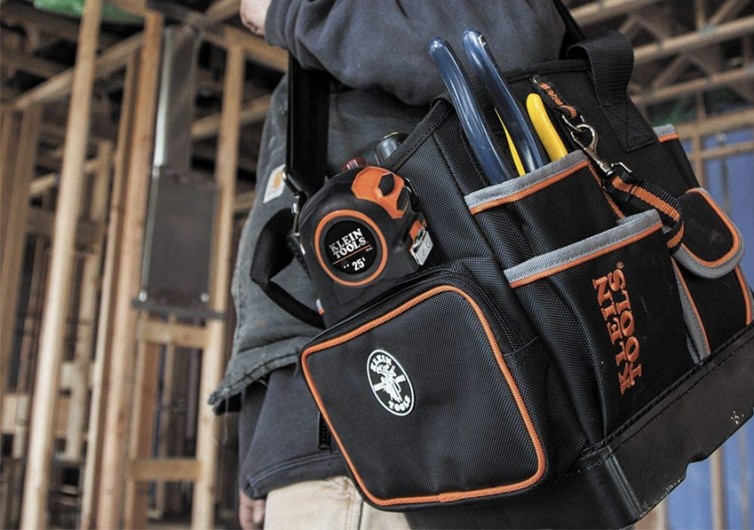 GearHungry may earn a small commission from affiliate links in this article.
Learn more
Klein Tools Tradesman Pro Tool Bag: Tough but Tight
The Klein Tools Tradesman Pro is a stout 10-inch tool bag that promises long-term durability. The tote-style Tradesman Pro's vertical orientation makes it ideal for organizing handled tools, and an external zipper pocket catches odds and ends. A molded, bucket-style bottom keeps the bag stable and dry. Rivets back up two stitched carrying handles, and Klein includes a padded shoulder strap.
I got a chance to test the 10-inch tool bag, which I found well-constructed but somewhat narrow. Here's the job site review.
The Right Tool for the Job: What a Tool Bag Should Do
Before I get into technical details, it will help to know my expectations for a quality tool bag. Think of this as the article's 'measure twice, cut once' section.
My litmus test for a tool bag is whether its pockets reshape over time according to the specific tools in them. I never want to force a tool into a pocket or struggle to get it out, so I always choose a specific pocket for a specific tool. Every time, that tool goes in that pocket. That way, I always know where to find each tool, and the pocket has a chance to conform to the tool's shape.
After a month or two of steady use, each tool should slide into and out of its assigned pocket effortlessly. The method also helps me determine a tool bag's quality: the right materials and construction techniques (like pleats and reinforced seams) help tools fit securely but not too tightly.
Tool Time: Klein Tool Tradesman Pro Review
I tested the Klein Tools Tradesman Pro tool bag with my assorted home toolkit. I've got various tools suitable for different trades: a bunch of screwdrivers, a 20v impact driver, locking pliers, a rubber mallet, a stud finder that always lights up when I point it at myself, a breaker bar — you get the idea. In my opinion, the Klein tool bag is a great choice for anyone with a lot of narrow, handled tools like screwdrivers, wrenches, or chisels.
I was very satisfied with the Klein tote's construction. No component flopped open or lost tension during testing, and it was clear that pockets would reshape over time according to the tool stored in them. Its 1680d ballistic nylon shell (inside and out) was more than tough enough to handle abrasion. Highly reinforced seams kept pockets from sagging. Some narrow pockets are wider at the top than the bottom, and some exterior pockets are pleated at the bottom, helping tools fit easily.
I also liked the bag's generously long carry handles. My hand wasn't too close to the bag while I carried it, so I didn't bang my knuckles on handles jutting out of the top. The tool bag's walls were supportive and rigid, critical for any bag that relies on vertical storage.
However, the Klein Tools Tradesman Pro displayed a few shortcomings that didn't strike me well.
To me, the bag's most critical issue was its excessive depth and narrow dimensions. The taller inside pockets are very deep; they easily swallow a standard screwdriver well past the handle. For the most part, I could stick the tool's blade in the pocket and leave the handle exposed, but the bag has so many deep pockets that eventually, I ran out of things to put in them.
I needed more short pockets (think needlenose pliers, stubby screwdrivers, etc.), of which the bag only has five — four on the inside and one on the outside.
Another problem was that once I filled the bag's inside pockets with tools, the interior space pretty much disappeared. On one side, I fit hammers and a speed square. On the other, only a few c-clamps. The space is too narrow for a drill (even a little 12v home driver), batteries, or a charger.
My final complaint about the Klein Tools Tradesman Pro is a bit of a personal preference. However, I still think it's important: the only place to put a tape measure, other than the exterior metal clip, is the zipper pocket. Tape measure clips seem useless to me. Since I have a tool bag, shouldn't my tools go in it rather than hang off it? I would be ok with storing my tape in the zipper pocket if the pocket didn't hang open widely under the weight of a standard 25-foot tape. I know you could say, "just zip the pocket," but my answer would be, "why?". I shouldn't have to zip a pocket to secure my tape measure.
Still, Klein Tools builds the tool bag with outstanding materials and obvious field experience — visible in features like the long carry handles and specifically shaped pockets. So, despite some space management issues, I considered it a quality bag overall.
Finishing the Job: Conclusion and Purchasing
The Klein Tools Tradesman Pro tool bag is ideal for anyone with many long, handled tools. The design reflects Klein Tools' history as a favorite among electricians and linemen — however, anyone with a more diverse or heavy tool kit may find the bag narrow. MSRP for the Tradesman Pro, as reflected by most online prices, is $90.