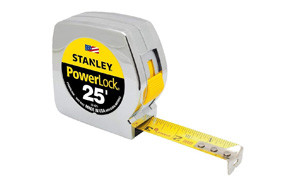 Stanley 33-425 25-Foot by 1-Inch Measuring Tape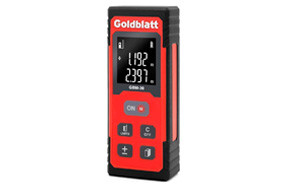 Goldblatt Laser Tape Measure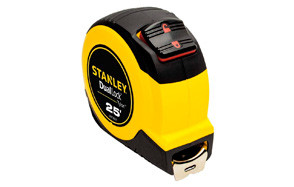 Stanley DualLock 25' Tape Measure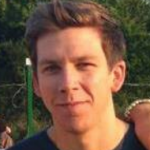 Everybody needs a tape measure in their home. As a product that's been pretty much the same for the past 100 years they are a staple of any tool box owned by any well-together dude, just like you. Even if you never do any DIY around the house, you still need a tape measure. You never know when that day might come where you need to find measurements. They're such an inexpensive addition it seems foolish not to have one, so if you're after the best tape measure, we've got the list for you. Whether you're looking for one for professional projects, or just something that will save you in an emergency – and saves you admitting that you don't own one – we've compiled a concise but awesome range of potential options to think about, and help you feel a little more prepared should something need measuring. You can't use your kids' school rulers forever, man.
The Best Tape Measure
Stanley 33-425 25-Foot by 1-Inch Measuring Tape
See More Reviews

Established in 1963, the Stanley Powerlock did nothing short of revolutionizing the humble tape measure, introducing the world to its innovative slide lock technology which made the process of measuring faster and easier than ever before. The design has stood the test of time and the Powerlock 25" is still loved the world over, delivering reliable performance combined with a classic design.
Featuring a Tru-Zero end hook, it doubles as a pivot if you need to trace out circles and arc designs. The tape measure is housed in a high-impact, attractive chrome ABS case for durability while the tape itself is coated with a polyester film known as Mylar which helps to protect the lifespan of the entire blade against abrasion and repetitive use. Other features include a belt hook for easy access, an easy to read and highly visible 1-inch blade plus 16-inch and 19.2-inch stud markings. It's highly portable, consists of a lockable blade and allows you to carry out precise measurements with minimal slippage.
Specification:
Brand

Stanley

Model

33-425

Weight

0.96 ounces
QuickDraw DIY Self Marking 25′ Foot Tape Measure
See More Reviews

There's little that had been done to reinvent the measuring tape until Quickdraw came along with their built-in pencil feature. No more fumbling around, tape measure in one hand, trying to locate a pencil so that you can take a marking. With built-in graphite dispensing wheel right at your fingertips, the job of quickly making your marks with pinpoint accuracy just got a whole lot easier. To activate this function, simply lock down the Try-View Sight, move the measuring tape back and forth on the spot and a precise, visible mark will be made.
The tape measure is fast and easy to reload delivery a strong recall every time and the blade itself is highly durable and is coated with a rugged nylon finish. The locking design is easy to use and with 25-feet of steel tape, it should be more than adequate to accommodate most professional needs and those of DIY'ers around the home.
Specification:
Brand

QuickDraw

Model

23456

Weight

15.2 ounces
Komelon SL2825 Self Lock 25-Foot Power Tape
See More Reviews

If you're looking for a tape measure that puts you entirely in control, the Komelon Self Lock with its innovatively engineered self-locking mechanism may well be the tape measure for you. Part of the brands Self Lock Series, this 25-foot tape measure extends and retracts again smoothly with just the touch of a button. This makes it the ideal measuring tool for all kinds of professions as well as keen hobbyists and committed DIY'ers. It comes in additional sizes should you require something more specific to deal with the project you're working on.
The case itself is made from impact-resistant rubber to provide an even higher level of protection and it's comfortable to hold and operate thanks to its ergonomic design. The deliberate choice of a highly visible green color should also mean that you are highly unlikely ever to lose your tape measure. No more fumbling around to try to find it in your tool bag. For ease of use, durability and impact-resistant, this tape measure is hard to beat.
Specification:
Brand

Komelon

Model

SL2825

Weight

3.2 ounces
Klein Tools 25-Foot Double Hook Magnetic Tape Measure
See More Reviews
See More Reviews
It's rough, it's tough, and it looks like the tape measure that'll outlast us all. The Klein Tools Double Hook Magnetic Tape Measure provides much of what we've already seen, but for some reason, it still has a gripping allure we can't seem to resist. For many construction workers, DIY-extraordinaires, and architects, a tape measure only needs to do one thing: measure. This tape measure, at 25 feet, can do exactly that.
The stripped down and simple approach to the design is perhaps what we like so much about it. The blade doesn't feel over cluttered, and the markings are straightforward for quick, easy reading, even in low-light situations. Each marking – noted at every ⅛ of an inch are bold, clear, and ultimately precise. These marks appear on both sides, contrasted in a useful yellow or white color, helps you calculate offsets and saddles, too, giving you greater options and measuring possibilities.
Specification:
Brand

Klein Tools

Model

86225

Weight

1.76 pounds
Stanley DualLock 25' Tape Measure
See More Reviews
An accurate tape measure is somewhat of a redundancy, and we've already covered a variety of tape measures that will ensure this accuracy. What we've missed out on, though, is good value. Though only about fifty cents less than the Gripper, this Stanley DualLock 25 inch Tape Measure offers a lot more than you'd expect for its price, and is a staple of any tool box throughout the country. As our selection for the best value tape measure you can find, you'll be happy to learn it comes with a dual-locking mechanism, giving you both excellent traction in delicate measures and smooth and comfortable retraction.
Along with this, it's easy to read and lock in place for expert precision which is enhanced by the unique Tru-Zero hook which offers clear and accurate readings both internally and externally. The fractional blade markings add to this accuracy and allow straightforward measurements every single time. This blade is also durable, coated in Tylon to ensure long life, which is an essential for any tool. Even if it does not last a lifetime, you're still covered thanks to the Stanley Limited Lifetime Warranty.
Specification:
Brand

Stanley

Model

STHT36031S

Weight

12 ounces
See More Reviews
This Kutir tape measure may well look pretty standard but it has plenty of features you'll appreciate and is a brand frequently chosen by experienced professions including carpenters and builders. One of the reasons for this is that it's highly reliable and durable too, featuring a powerful magnetic end that makes taking a precise measurement a breeze. The blade itself is made from stainless steel with large, easy to read markings so that you can record precise measurements.
The outer case is made from a durable ABS and designed with a shock-absorbing rubberized coating so not only does it hold and grip well, but if you do happen to drop your tape measure from a height, you won't damage the tool itself. It's also designed featuring a magnetic hook which you'll find useful in plenty of scenarios. Printing on both sides and in both metric and imperial measurements is also a highly useful feature you're sure to appreciate. If you're looking to add a new tap measure to your tool collection, this Kutir option could well be the best one for you.
Specification:
Brand

Kutir

Model

KUTIR 56-7525

Weight

14.1 ounces
Komelon 7125 Monster Maggrip 25-Foot Measuring Tape
See More Reviews

This entry from Komelo is their Monster MagGrip, a 25-foot measuring tape with a powerful magnetic end for easy one person, precise measurements. It's also conveniently printed on both sides to ensure accurate marking and measurements can be recorded no matter what position you're in.
The nylon coated blade is durable and hard-wearing, protected by an impact-resistant rubberized casing. The coating provides rust-resistant protection and ensures the longevity of your purchase. The actual blade is made from high-grade carbon steel for consistency and uniformity which goes through both a cold rolling process and a subsequent heat treating stage to provide superior resistance against kinking and bending. Suitable for a wide range of professions from electricians to plumbers, heating engineers to framers, the Komelo Monster is an excellent choice.
Specification:
Brand

Komelon

Model

7125

Weight

8 ounces
See More Reviews

See More Reviews



While not as futuristic of a tape measure as the eTape16, you shouldn't over the classic design for its simplicity and effectiveness (and price!) There is a few things you need to think about when buying a new tape measure. They include durability, reliability, and length. At 25 feet, this is one of the longer tape measures on the market, and is ideal for those planning substantial projects, or just like hearing the clattering slither of the tape rolling back into the case.
The exterior case is sturdy, and Kutir have designed it to be entirely drop-proof from pretty much any height – it hasn't been tested on the Burj Khalifa yet – thanks to a shock absorbent rubberized material protecting it from damage. It might not have the fancy LCD screen, but the bold numbers and markers are easy to read and contrast with the tape itself like you'd expect.
Specification:
Brand

Kutir

Model

KUTIR 56-7525

Weight

14.1 ounces
eTape16 Digital Tape Measure
See More Reviews

The eTape16 is a digital tape measure that's likely to completely transform the way you look at tape measures. It's basically the tape measure of the future, and while looks like it took design inspiration from the iPod Nano (don't tell Apple), it does a little more than play music. This is the original digital tape measure and is at the forefront of taking the indecision out of your measurements. With the LCD display, it presents clear and accurate data that ensures you're never off by a couple of millimeters.
Completely revolutionizing the industry, it is the most accurate tape measure you can find. The days of rounding up between markers are gone. The days of using random people off the street to hold the tip for you while you get it straight are gone. With the eTape16, you're in total control. It's simpler, more straightforward, and a heck of a lot easier than ever.
Specification:
Brand

eTape16

Model

ET16.75-DB-RP

Weight

9.8 ounces
Komelon Speed Mark Gripper Tape Measure
See More Reviews

For a tape measure that gives you simple and comfortable features and a design that feels like tape measures of your youth – because we're sure you spent many weekends playing with one instead of out on your bike with friends – the Komelon Speed Mark Gripper is a great, inexpensive option. Able to measure up to 25 feet, it provides ample distance for a variety of projects both professional and domestic, showing a versatility and purpose you may miss out on with other brands.
The Gripper design is well-regarded around the construction and architect community, and some consider it a revolutionary improvement in the world of tape measures, which is either super cool or totally uncool, depending on how you feel about tape measures. Either way, it's heavy-duty and has an easy-to-read tape with large, bold numbers, making it an essential budget addition for anyone putting together their first tool box.
Specification:
Brand

Komelon

Model

FBA_SM5425

Weight

2.08 pounds
Komelon Monster MagGrip 30-Feet Tape Measure
See More Reviews

See More Reviews



While 25 feet is a decent distance to measure, for unrivaled and stress-free measuring ability, you'll need something like the Komelon Monster MagGrip Measuring Tape. You might not think an extra 5 feet would do much difference, but having this extra distance can completely transform your projects. Not only will you win those silly, uber-masculine Whose Is Bigger? Contests, you'll also save time and have the accuracy you need to ensure you complete your work with no issues.
The first thing that catches your eye is that it's more lightweight than the Gripper, despite providing further distance in its measurements and feeling much larger. We know that tape measures aren't the heaviest things you've ever seen, but less weight means it's easier to wear on the tool belt all day, even if you don't think it'll make too much of a difference. The rubber casing also makes it robust and durable and, like the Gripper, the numbers are large and easy to read. Unlike the Gripper though the Monster MagGrip features markings on both sides of the blade for precision and line drawing.
Specification:
Brand

Komelon

Model

7130

Weight

1.05 pounds
Milwaukee Tool Magnetic Tape Measure
See More Reviews
See More Reviews



For true heavy-duty results, an assured long life, this Milwaukee Tool Magnetic Tape Measure could be the one that will survive all the bumps, knocks, drops, and scrapes of intense construction sites and mammoth home improvement projects. For one, it's huge, so not only will you never lose it, it'll also withstand more than your average, perhaps a little weak – in comparison – tape measure ever could. The casing is thick and tough, and as soon as you pick it up, you know you will have this for a long, long time.
It's not just the casing we believe in, though. The tape blade is also durable, and is crafted using a nylon blend that protects it from the elements and the expected wear and tear, especially with tools. This means you don't have to buy and buy again every year (or sooner) and gives you much more for your money than you might expect. As for accuracy, the 5 point reinforced frame helps to stabilize the blade while the magnetic hook keeps in in place at the end target.
Specification:
Brand

Milwaukee Tool

Model

48-22-7125

Weight

0.16 ounces
Century Drill & Tool Big Blue Tape Measure
See More Reviews

Big by name and big by nature, this Century Drill & Tool Big Blue Tape Measure does exactly what you'd expect it to. The blade reaches a massive 33 feet, making it the longest tape measure we've selected, and the widest, measuring one and a quarter inches for clear reading and bold markings. These markings provide both decimal and fractional measurements which increases accuracy and gives versatility, helping you adapt to whatever kind of measurement you require.
For its size, you'd expect it to be durable, too, and it's not surprising to anyone – except maybe someone who doesn't know what any of those words mean – that is is robust enough to withstand, survive and ask for more abuse than your average tape measure. Impact-resistant case keeps it protected from knocks and drop, while the non-slip rubber casing doesn't mark the surface it lands on, keeping both the tape measure and the project safe from harm.
Specification:
Brand

Century Drill & Tool

Model

72833

Weight

1.25 pounds
Goldblatt Laser Tape Measure
See More Reviews
Our final tape measure is not technically a tape measure at all, instead it's a laser measure, which abandons the physical, touchable, readable blade for lasers, just not the cool and ultra-powerful kind you've seen in many a spy movie throughout the years. That's okay though, because they still do a great job when tasked with measuring, and this Goldblatt Laser Measure is in fact the best laser measure on our list (because of being the only laser measure but whatever).
Instead of flicking a button and letting the blade expel by itself (or doing it manually, old school style), this works by pinpointing targets depending on where you are standing. Also, unlike a regular tape measure, it can do a multitude of things without you have to do anything at all. Aside from length, it measures area, volume, and can do addition and subtraction to save you wracking your brain too much.
Specification:
Brand

Goldblatt

Model

GBM-30

Weight

8.8 ounces