Sit, Get Fit with The Best Recumbent Exercise Bikes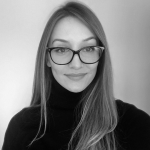 This product guide was written by Jovana Dosenovic
Last Updated
September 24, 2021
Jovana Dosenovic
Jovana is a writer and copy editor living with her lazy calico cat and thousands of (mostly unread) books. She has worked as a copywriter, fact-checker, QA analyst, and librarian, but this has been her favorite gig so far. A bit of a bookworm since she was tiny, she loves nothing more than curling up with a giant cup of coffee or tea and a good book. When not hunched over a keyboard or book, Jovana enjoys going on long walks, short hikes, and occasional camping trips. She also has an unfinished novel she'd like to publish one day. No, really.
GearHungry may earn a small commission from affiliate links in this article.
Learn more
The recumbent exercise bike is an effective, low-impact cardio machine that offers benefits comparable to those of its upright, stationary cousin – better heart health, increased muscular endurance, weight loss, lower blood sugar, and more – but with less strain.  The ergonomic design takes stress off of your neck and shoulders, and supports your lumbar spine, without that after-ride muscle tension and saddle soreness typical of upright cycling. Recumbent bikes are also ideal for folks recovering from injuries, individuals with arthritis, as well as seniors looking to stay healthy and active in a safe and comfortable way.
In keeping with the times, the best recumbent exercise bikes feature technology that controls and records various training regimes and metrics; some models are Bluetooth-capable, allowing connectivity to your other devices and apps.
To help you find the right recumbent bike for your needs and budget, we rounded up some of the best models currently available on the market. We tried to accommodate varying means and needs, so whether you're a complete beginner when it comes to recumbent exercise, an older adult looking for the lowest impact machine, or you want the absolute best that money can buy – we've got you covered. Saddle up and get ready to take these babies for a virtual spin.
The Best Recumbent Exercise Bike
Schwinn Recumbent Exercise Bike
With many features to write home about, it's no wonder the Schwinn Recumbent Exercise Bike stands out as one of the very best recumbent exercise bikes available. You can take advantage of Bluetooth connectivity to sync fitness data with the Schwinn app and many other apps, and the wide range of preset programs makes it perfect for all fitness levels.
It offers 29 preset workout programs and 25 resistance levels for a wide range of workout intensity options, making it ideal for both gym-goers looking for something intense and challenging, as well as seniors looking for comfortable, low-impact daily workouts. There's also a heart rate monitor, so tracking your training zones should be easy. The Schwinn 270 has an adjustable, contoured and padded seat and well-ventilated backrest, plus a three-speed fan to keep you cool during your exercise sessions, making it super-comfortable as well as adjustable – just what you want and expect from a great recumbent stationary bike.
Key Features:
Bluetooth connectivity
29 workout programs
25 resistance levels
High speed/inertia drive system
DualTrack LCD display
Maximum user weight 300 pounds
Specification:
Brand

Schwinn

Model

100515

Weight

86.6 pounds
USB charging port
Media desk for device
Comfortable and quiet
Heart rate monitor does not seem consistent
Nautilus Recumbent Exercise Bike
Anyone who is looking to upgrade their current recumbent bike model should look no further than the Nautilus Recumbent Exercise Bike. Here, you can set, track, and monitor your progress via a number of popular fitness apps, including MyFitnessPal or Explore the World if you enjoy riding through different parts of the (digital) world.
The Nautilus boasts 25 resistance levels and 29 customizable programs for every level of rider. The padded seat with ventilated back is pretty comfy and can be adjusted on the sliding rail depending on your height. The main complaint about the seat is the padding – it seems that for many folks, it's on the thinner side. Other than that, this is a fantastic machine. A top contender for the best home recumbent exercise bike.
Are you looking to take your at-home training to new heights? Check out our list of the best vertical climbers on the market right now.
Key Features:
Enhanced Bluetooth connectivity
Set, track, monitor progress via apps
DualTrack backlit LCD display console
25 resistance levels
29 customizable workout programs
Maximum user weight 300 pounds
Specification:
Brand

Nautilus

Weight

91.9 pounds
Media rack for your favorite device
Track calories and heart rate
Easy to assemble
The seat may not be as comfortable as expected
Marcy Recumbent Exercise Bike With Resistance
If you're on a tight budget and are looking for a cheap but well-designed recumbent home bike, we recommend checking out Marcy Recumbent Exercise Bike With Resistance. While smaller and simpler than more expensive models, the Marcy bike has everything you could possibly want from a decent home recumbent bike – 8 levels of resistance with tension knobs that simulate riding on different terrains (and let us tell you, the highest levels are very resistant), and a small LCD that shows speed, time, calories,  distance and total distance.
The pedals are weighted for foot support and come with adjustable straps for safety. A comfortable seat, smooth-operating counterbalanced pedals, and the detailed display panel (although not backlit) have earned Marcy's Bike a well-deserved spot on our list.
Ready to step up your home gym game even more? Scope our top stepper machines buying guide.
Key Features:
8 adjustable resistance levels
Heavy-duty construction
Small LCD shows all important metrics
Comfortable and adjustable padded seat
Counterbalanced pedals with safety straps
300 pound weight capacity
Specification:
Brand

Marcy

Model

ME709

Weight

61 pounds
Budget-friendly recumbent bike
Built-in wheels for effortless movement
Comfortable handlebars
Monitor is not backlit so tricky to see in a bright room
Only 8 resistance levels
Sunny Health & Fitness Magnetic Recumbent Exercise Bike
If you're looking for a very low-impact recumbent bike that also supports bigger weight capacity, the Sunny Health & Fitness Magnetic Recumbent Bike is a great choice. With 8 adjustable resistance levels, an adjustable cushioned seat with extra padding, and 350 weight capacity, this bike offers excellent value for money. But its best feature? Probably the movable handlebars that help transform this simple recumbent bike to a low-impact, full-body exercise bike that targets legs, arms, back, and shoulders.
While the digital monitor is as simple as it gets, it measures all important metrics, including speed, time, distance, calorie, pulse and total distance. Overall, a great mid-range recumbent bike.
Key Features:
8 adjustable resistance levels
Moveable handlebars increase versatility
Oversized seat and back
Easily adjustable seat
Digital monitor measures important metrics
350-pound maximum weight capacity
Specification:
Brand

Sunny Health & Fitness

Model

SF-RB4708

Weight

94.8 pounds
Tracks time, distance, speed, calories
Multi-control magnetic resistance
Convenient step-through design
Resistance may not be varied enough for some users
Monitor is not backlit so may cause visibility issues
JEEKEE Recumbent Exercise Bike
Well-built, comfortable to use and pretty versatile, the JEEKEE Recumbent Exercise Bike is another excellent mid-range machine to consider. With a long frame and large backrest and seat that has 9 different positions, it's one of the more ergonomic bikes on the market, making it perfect for anyone suffering from lower back pain.
The bike offers 8 resistance levels that can be regulated based on what you're looking to get out of your exercise – blood circulation, rehabilitation program, better endurance or stronger and more stable muscles. Its weight capacity is 300 pounds, which is standard, and the LCD console shows the usual real-time data. The tablet holder is also a nice touch, especially for those longer sessions.
For resistance training on the go, consider these top-of-the-line resistance bands.
Key Features:
Ergonomic design with 9 seat positions
8 levels of magnetic resistance
Alarm system with iPad holder
Heart rate monitor
300-pound weight capacity
Specification:
Brand

JEEKEE

Weight

66 pounds
Comfortable and adjustable design
Great for those suffering from back pain
Makes for a fantastic physical therapy bike
Tablet holder is not as secure as we hoped
Assembly is a bit tricky
Exerpeutic Easy Step Thru Magnetic Recumbent Exercise Bike
Durable and comfortable, the Exerpeutic Easy Step Thru Magnetic Recumbent Exercise Bike boasts an oversized seat cushion and backrest for optimal comfort, while the "Step-Thru" design provides easy on and off capability and comfortable riding.
It offers 16 magnetic tension levels and a whopping 24 preset workout programs, making it perfect for beginners and low-key pros alike. The digital display helps you track time, distance, and calories, while Bluetooth connectivity ensures you stay connected with your favorite apps. One thing worth noting is Exerpeutic's less-than-flattering customer service ratings; it might be a good idea to register the bike warranty.
Want to tone up your core? Peep these ab machines. 
Key Features:
Suitable for users between 4'11" and 6'6"
Comfortable Step-Through design
Bluetooth connectivity
16 magnetic tension levels
24 preset workout programs
310-pound weight capacity
Specification:
Brand

Exerpeutic

Model

4121

Weight

87.5 pounds
Lots of resistance versatility for the price
Oversized seat cushion and backrest
Bluetooth connectivity and app compatibility
Poor customer support
The seat could use a bit more padding
Exerpeutic 2500 Bluetooth 3 Way Adjustable Desk Recumbent Exercise Bike
The Exerpeutic 2500 Bluetooth 3 Way Adjustable Desk Recumbent Exercise Bike features a fully-adjustable desktop so that you can work, read, or binge-watch your favorite shows while exercising. And, true to the name, it's Bluetooth capable.
This bike offers 14 tension levels, silent operation, and an oversized, adjustable seat for comfortable biking. The 'Step-Tru" design means it's easy to mount and dismount the bike, which is always a plus in our book. Fair warning though, despite its 'Step-Thru' design, it's one of the heaviest bikes on our list by a lot. Consider recruiting a friend to help you move this beast around.
Prefer a more basic setup? Peruse our adjustable workout benches hotlist.
Key Features:
Sliding fully adjustable desktop
Smart CLOUD Fitness Bluetooth functionality
14 tension levels
3 angle adjustable backrest
Comfortable oversized seat
250 pound weight capacity
Specification:
Brand

Exerpeutic

Model

7170

Weight

72.6 pounds
Bluetooth connectivity
Quiet operation
Multiple fitness tracking metrics
Large, heavy, difficult to move even with wheels
Only 250 lbs. weight capacity
Recumbent Exercise Bike Buying Guide
Why Trust Us
To give you the very best recumbent exercise bikes on the market, we scoured the internet for top-rated products, spending a little over 48 hours on research. We also consulted with fitness experts on our team who let us know what they liked about recumbent bikes they've used in the past. The products you see reviewed here are the ones we liked the best.
Who This Is For
This guide is for anyone looking for quality recumbent exercise bikes for their home. Whether you're recovering from an injury and cannot put added stress on your joints, are older and don't want to risk an injury, or you simply want to be able to enjoy your favorite shows while biking at the comfort of your home, this guide is for you.
How We Picked
When choosing products for this guide, we tried to find bikes that would appeal to a wide range of users and budgets. We looked at workout programs, frame materials, price, adjustability of the seat and overall design, among other factors. We focused on the most reputable brands and top-rated products and then categorized them according to priorities that our readers may find useful when shopping for a recumbent bike.
Features To Look For In Recumbent Exercise Bikes
Design - In choosing the bike best suited to you, let your goals be the guiding force. Basic models may prove more than sufficient for someone whose focus is on injury rehabilitation. In contrast, those seeking to supplement a dedicated training regimen may benefit from more nuanced models.
Frame - Look for a bike with a sturdy frame of brushed steel or aluminum. Both materials are known for their long-lasting durability. The weight capacity of most recumbent exercise bikes hovers between 220 and 380 pounds. Frames with step-through configurations are the easiest, least gymnastic to navigate.
Footprint - Upright bikes do hold one thing over recumbents — the footprint. The nature of the design means that recumbent exercise bikes occupy more area, an essential consideration if you're working with meager floor space.
Resistance - The majority of recumbent bikes house eight levels of resistance at the minimum; some offer as many as 25 levels. The greater a machine's resistance span, the more you can keep pushing your limits.
Console - If you're someone who likes to track a variety of metrics during your exercise, you'll want a digital readout console. Typical bike consoles feature all the standard metrics — time, distance, speed, and energy expenditure. Less common, but still widely available, is an odometer function. Consoles also house a variety of preset programs, which can be useful if you are unsure of where to start.
Secondary features - Transport wheels, holders for phones, cups and personal items, handlebar-integrated heart rate monitors, and adjustable seats are pretty standard secondary elements. More advanced models boast Bluetooth connectivity and a smartphone app that helps track your fitness by pulling data from the bike.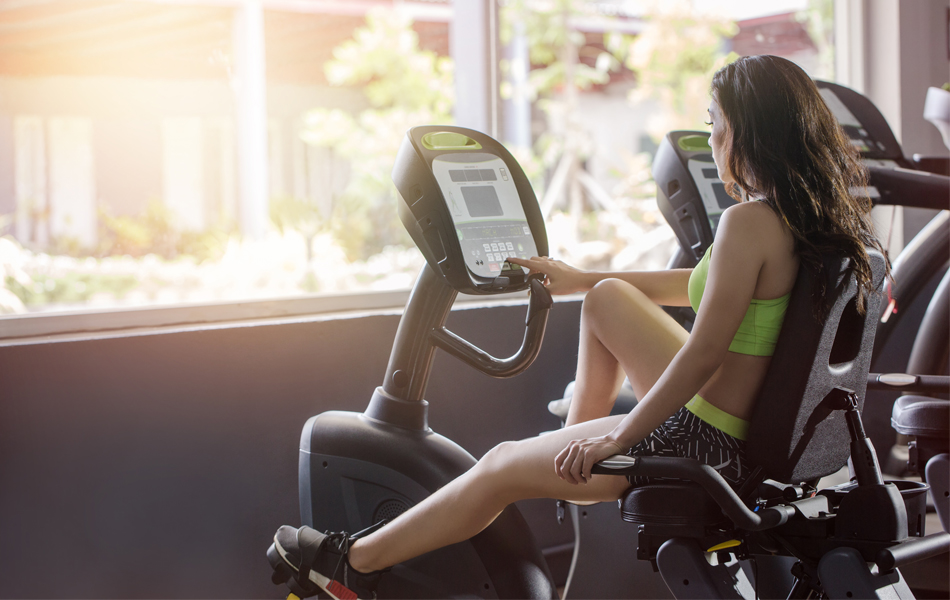 Recumbent Exercise Bike FAQ
Q: What is a recumbent bike?
A: A recumbent bike is an exercise bike that offers more ergonomic seating that the traditional upright bike. The backrest and large seat encourage the rider to sit recumbently, which alleviates pressure on the lumbar spine, neck, and shoulders, and won't leave you saddlesore.
Q: What is the difference between a recumbent bike and an upright bike?
A: While both recumbent and upright bikes provide similar results, there are a few distinctions between the two. The most obvious is that recumbent exercise bikes have a backrest and larger seat compared to upright exercise bikes. This configuration is especially beneficial for those suffering from chronic pain and inflammatory diseases and has proven useful in injury rehabilitation.
Q: Can you lose weight on a recumbent bike?
A: Besides the overall design, the mechanics of a recumbent bike do not stray too far from upright bicycles. You can expect the same potential for weight loss and calorie burning as you would a regular exercise bike, especially if you take advantage of the range of resistance levels.
Q: What are the benefits of a recumbent bike?
A: The best recumbent exercise bikes come with a range of benefits regardless of who you are and what your skill level. These benefits include:
Improved comfort and support.
Low impact on joints and muscles for fewer injuries and injury rehabilitation.
Weight loss and stamina training.
Suitability for beginners, seniors.
Fitness tracking through distance, time, speed, and calories.
Q: How long should I ride a recumbent bike?
A: Daily exercise is something everybody should aim for, but it's often difficult to motivate yourself to go to the gym. With a recumbent exercise bike though, you can get a sufficient workout from the comfort of your home.
However, you might be unsure how much exercise to do, especially if you're not used to doing any activity at all. As recumbent exercise bikes are cardio, the recommended amount is at least 30 minutes, as this will give you enough time to burn energy and get a sweat on. Of course, as 30 minutes is the minimum, you can go for as long as you're able.
Despite this, you shouldn't work yourself too hard, as this could cause aches and pain the next day. If you are not familiar with recumbent cycling or regular exercise, it's best to start small, especially with the tension levels, and then gradually increase depending on what you believe you are capable of doing.
Q: Do recumbent bikes burn belly fat?
A: Recumbent bikes will burn calories, and this enables you to lose weight all over your body, which includes your stomach. However, you cannot rely solely on cardio and recumbent exercise bikes to flatten the tummy and burn belly fat.
You must maintain a balanced diet and combine your cycling with other workouts, such as lifting weights and performing bodyweight exercises such as pushups, situps, crunches, and planks. Yeah, we wish a perfectly flat stomach was easier to achieve too.
Sources:
Recumbent Bicycle - Wikipedia
Sign Up Now
GET THE VERY BEST OF GEARHUNGRY STRAIGHT TO YOUR INBOX