You're not just about getting fit – you want everywhere to be as chiseled, toned, and sexy as possible. Rowing machines are your one-stop shop for a full-body workout, taking care of the legs, calves, biceps, pectorals, triceps, and more. Your home gym is important, your health is your creed; we've found the best rowing machines to keep you in top physical form, as well as a comprehensive guide on the do's, don'ts, and all the burning questions you've had on your mind for ages.
Our Picks Of The Best Rowing Machines
1. Concept2 Model D Rowing Machine
See More Reviews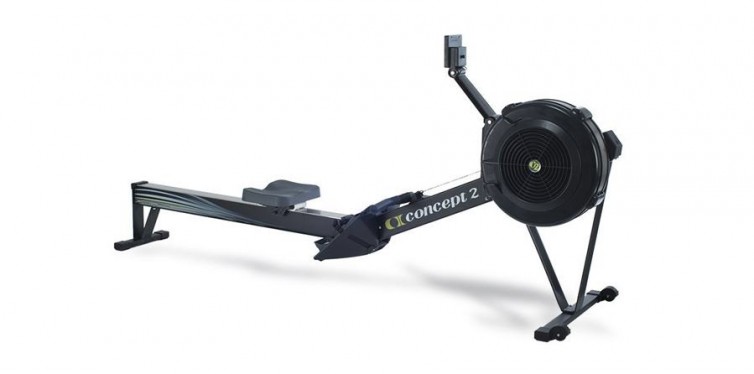 See More Reviews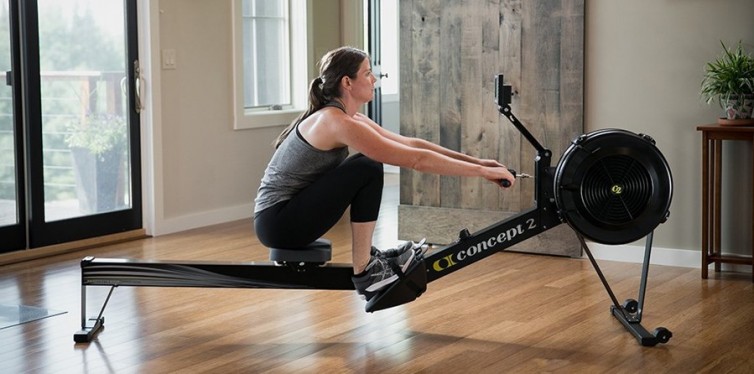 Perhaps one of the most well-recognized rowing machines on the market today, Concept2 took the basic game of rowing machines and turned it upside-down. Turn your Model D into a full-body workout with app syncing, a self-calibrating computer screen to measure your heart rate, and a spacious 9 X 4 setup size, and separates in half to be stored super easily. Assembling this bad boy was probably the easiest time we've ever had putting together any piece of home gym equipment. We're still a little shell-shocked by it.
Your frame is everything – it supports your weight, and is the foundation of your machine. This frame comes with a five-year warranty and 500lb weight capacity guarantee, allowing you to put this thing through hell and back, and still emerge a champion every time. You get plenty of seat space, allowing you to adjust to your comfort and posture level. On top of that, your footrest is also adjustable. Concept2 made this the most comfort you'll ever feel while still getting in a killer core and badass bicep workout.
Key Features:
Real-time data from a self-calibrating monitor
Plenty of seat space
Extremely simple assembly
500lb weight capacity
Five-year frame warranty
Specification:
Brand

Concept2

Model

2712-US

Weight

57 pounds
2. Orbital Rowing Machine by Stamina
See More Reviews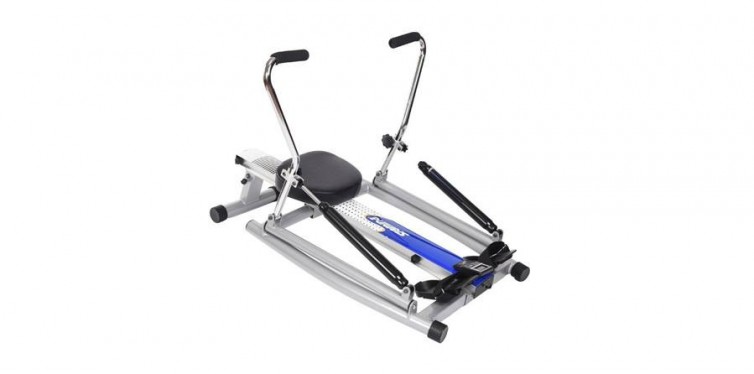 See More Reviews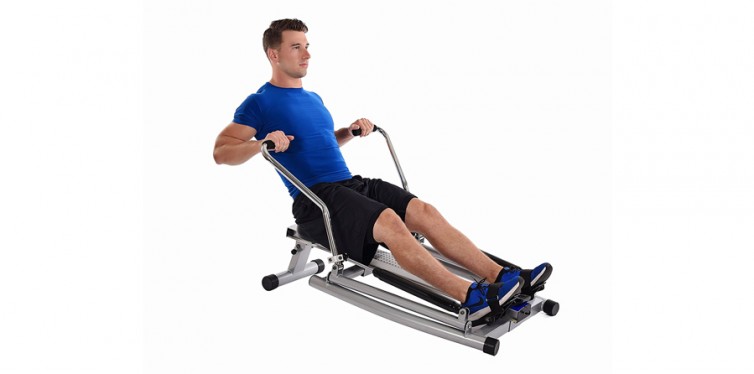 Our runner-up is the ultimate contender, sporting some of the same features of our top pick. You get a five-year frame warranty, and up to ninety days on parts (just in case you don't get around to building it for a few weeks, you're still covered). While Compact2 was the easiest assembly ever, Orbital Rowing Machine comes in at a pretty close second and is actually far easier to store. You get fewer motions you can do, but you're still able to put in an excellent workout to train your entire body. Focusing on the primary rowing pattern, Stamina's Orbital packs a serious punch.
One of the most important parts of any piece of workout gear is adjustments. You're not going to buy ten rowing machines for various parts of your body transformation or maintenance. You want to elevate your game – this machine has just the trick. You get multiple adjustment levels for various degrees of tension control, and a super comfortable seat so you're not killing your butt while you're rowing the night away. Price: perfect. Your home gym: nearly complete.
Key Features:
Thick padded seat for optimal comfort during long stretches
Multiple adjustments for tension control
Compact size for storage
Quick assembly
Five-year warranty on the frame
Specification:
Brand

Stamina

Model

35-1215

Weight

52 pounds
3. WaterRower Club Wooden Rowing Machine
See More Reviews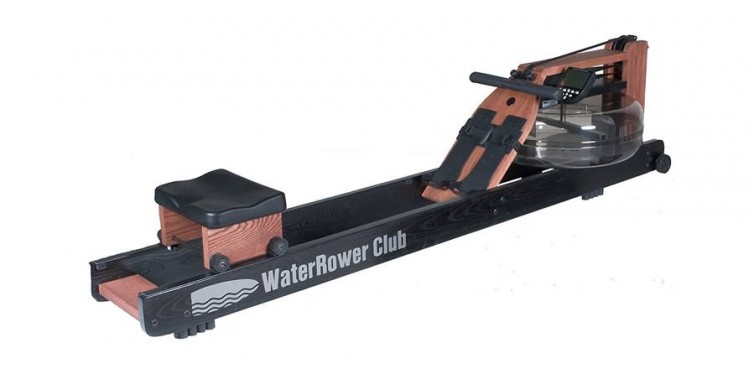 See More Reviews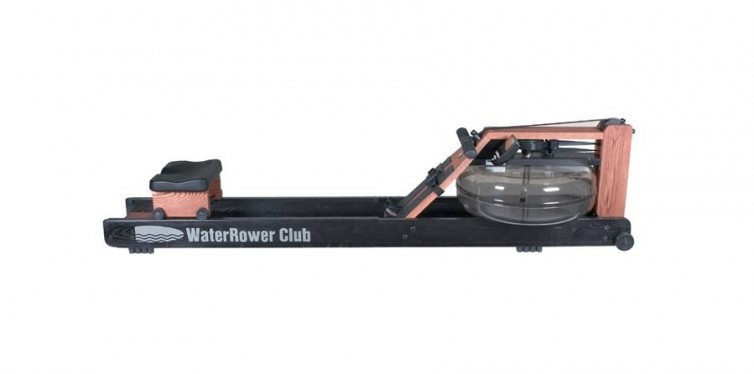 We break down the who's and why's of water rowers in our comprehensive buying guide below, but the key feature that we can't stress enough is the silent operation. While some hydraulic/air rowing machines are going to produce industrial sound effects, water rowers are virtually silent, making them the favorite of home gym users who have to deal with light sleepers in the house. Made of premium ash wood, it's also going to look like a damn centerpiece no matter where you put it.
It's not all about aesthetics, though. WaterRower is designed to hold up to 1,000lbs. If you're looking to shred and trim off the weight, you're in luck, because WaterRower's got your back, no matter what your goal or starting weight is. Higher weight capacities are directly correlated to longer lasting equipment, and this one has been a beloved version by many men looking to cut over a hundred pounds, and still have a reliable rowing machine to keep their bodies sculpted for years to come.
Key Features:
Water flywheel replicates actual rowing feeling
Performance monitor for workout intensity and heart rate tracking
Extremely quiet operation
Weight capacity of up to 1,000lbs
One year warranty for the frame
Specification:
Brand

Water Rower

Model

Club S4

Weight

117 pounds
4. Velocity Exercise Magnetic Rower Machine
See More Reviews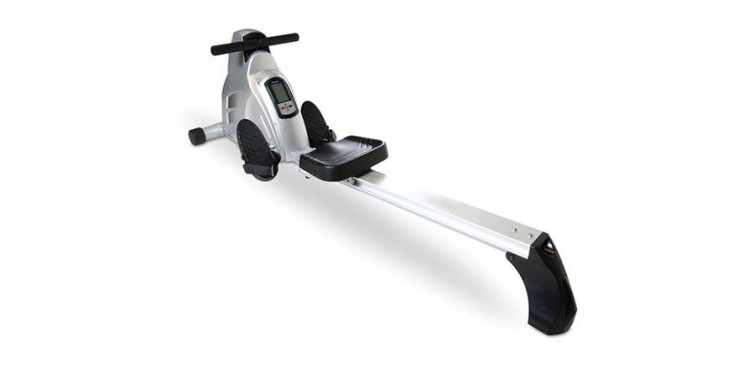 See More Reviews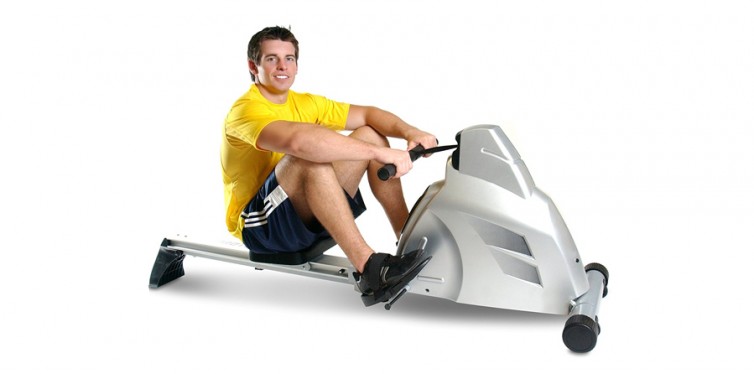 Coming in with a few less dense features than our successors on the list, Velocity Exercise brings us their magnetic rower. You're going to see a lot lower weight capacity on this one, but it's the perfect solution for pricing and training for median-weight gents that want to get toned and stay that way. The newest addition to your home gym equipment lineup includes a heart rate chest strap, as well as a monitor to ensure you're not going to throw yourself into a stroke. The seat is molded of PU leather in a saddle shape, giving you comfort without the anodized aluminum frame rubbing your legs the wrong way.
Adjustable tension comes in the form of electronic input. Simply tap a few buttons, and adjust your tension to meet your specific needs to elevate your game, or plateau and maintain your bomb physique. Velocity Exercise put their top design into play – this looks like it's straight out of the future, which is exactly where you're headed; a healthier, more chiseled you. Easy to store and lightweight (91lbs is evenly distributed, and makes it simple for vertical storage solutions), VE gave us an excellent machine.
Key Features:
Drum magnetic control resistance
Adjust tension with an electronic control features
Heart rate chest strap included
Weight capacity of 275lbs
Anodized aluminum frame
Specification:
Brand

Velocity Exercise

Model

CHR-2001

Weight

91 pounds
5. Sunny Health & Fitness SF-RW Rowing Machine
See More Reviews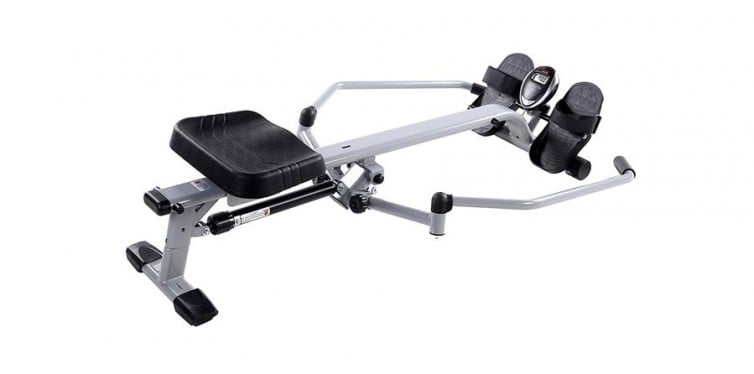 See More Reviews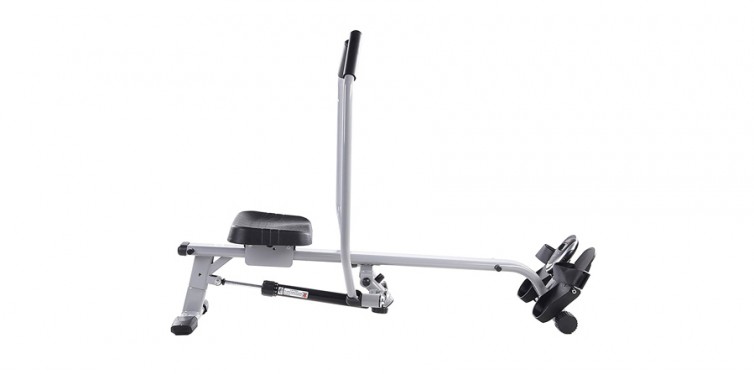 Sunny Health & Fitness sounds like a retirement center, but their machines are anything from geriatric. Amazon's Choice comes at the most alarmly low price we've ever seen for such a high endurance piece of home gym equipment. Supporting up to 350lbs, your new lightweight rowing machine (seriously, it's a whopping 33lbs fully assembled) will also fold up nicely to be stored away, or plopped into a truck on moving day.
As if all that weren't enough, assembly is a total breeze, and you're rocking a hydraulic cylinder power. It's a bit tougher to use, but still gives you the same great workout, and keeps a massive amount of money in your wallet, right where it belongs. From the LCD display and heart rate monitor, right on down to the last nut and bolt, we recommend this to anyone looking to get a full-body workout, and start a home gym with a small budget. Sunny Health & Fitness also outfits you with a three-year warranty on the frame, and ninety days to contact them about mismatched or missing parts.
Key Features:
Supports up to 350lbs
Integrated LCD display
Easy as can be to assemble
Entier machine weighs 33lbs – super lightweight for storage and moving
Hydraulic cylinder powered
Specification:
Brand

Sunny Health & Fitness

Model

SF-RW5639

Weight

33 pounds
Rowing Machine Buying Guide & FAQ
You asked, and we delivered. There's a lot more to rowing machines, (and home exercise equipment in general for that matter) than meets the eye. From noise to type, difficulty to posture, and everything in between, we've provided the most comprehensive guide on rowing machines anywhere.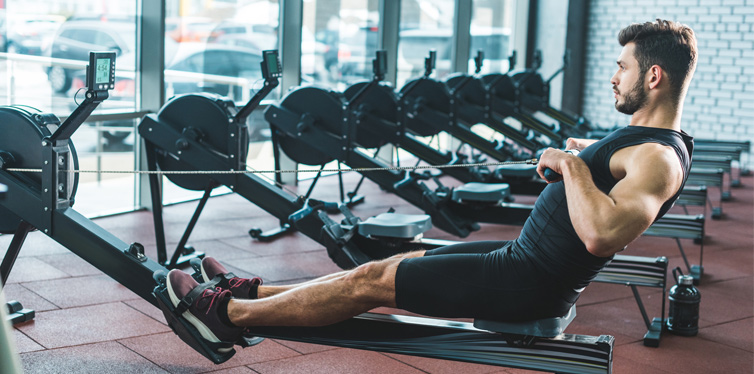 Features to Look For When Buying A Rowing Machine
Noise Level - You've got a home gym, but you also don't want to bother the light-sleeping spouse by making a bunch of noise. Depending on which type you get (which we'll get into in just a moment), you can actually get this full-body workout machine without producing a crazy amount of noise.
Difficulty Settings - Built into your rowing machine, there's steel cable, brakes, and other features that increase tension, thereby increasing difficulty You want a better workout, bigger muscles, and a glazy of victory sweat? Because that's how you get them. Your rowing machine is an investment and should match your fitness goals now, and in the future.
Onboard Computers - A staple in all home exercise equipment nowadays. While we'd argue that this isn't the most necessary feature (since there are a billion apps), it's nice to have the dedicated space to focus on your fitness, and even draw your focus. These range from counting calories burned, to syncing with phone apps that you can use for other activities.
Foldability / Storage - If you're not going to leave it set up all the time, storage is a big one. If you're in an apartment, have flatmates or you're in a cramped condo, you're going to look for maximum power, with minimal storage size.
User Weight - You're not just getting this to maintain your beefy body; you want to lose a few pounds. Your starting weight has to be taken into consideration with your purchase. For the most part, higher quality rowing machines are going to hold upwards of 400lbs of weight. No matter where you're at, a rowing machine can be the full-body exercise you've been needing.
Types of Rowing Resistance
Water - Water rowers are known to be nearly silent, just like another type we'll get into in a moment. Water rowers are traditionally crafted of wood, though commercial-grade machines may be made out of metal. Quiet and frictionless, these provide a unique feeling in comparison to user weight and air models.
Magnetic - Nearly completely silent, magnetic rowing machines are fan favorites for producing zero friction, and utilizing magnetized brakes. They're basically quiet, so you won't be disturbing your partner in the next room.
Piston (AKA Hydraulic or Air) - Tension builds in direct relation to the air, or in some cases, the fluid that builds up in the chamber. With these, you get a lot less pull power than with magnetic or water rowing machines. It's difficult to pull in a straight line, though they're cheaper, and still viable options for a great in-home rowing machine workout.
Benefits of a Rowing Machine
There's so many to list, but we decided to stick to the key reasons that a rowing machine benefits your body. We're sitting at desks for half the day, so exercise and personal health overall is extremely crucial to maintaining a healthy environment. Rowing machines rank among our favorite home gym equipment pieces, and here's why:
Weight Loss - Whether you've had too many doughnuts, or it's just been so damn long, we all have a few extra pounds to lose from time to time. Rowing combines the key calorie-shedding power of cardio with the fat-burning power behind strength training (more on this later).
Upper-Body Workout - Not all of us have an easy time when it comes to exercise. Some have difficulty with traditional exercises, some look at a squat rack and say, "Hell no, I'm not doing that,' and for those folk, your time spent shouting at the screen in horror has been met with an answer. Rowing machines work your upper body, all without wearing you out.
Lower-Body Workout - Bet you didn't see that coming. Rowing machines work out more than just your core and shoulders. You're going to get far more benefits in the thighs, but you do get some pretty nice work to the calves as well. Work out your lower body, and strengthen your posture all in the same motion.
Increasing Your Endurance - Age and health issues take their toll on our daily energy reserve. It's nothing to be embarrassed about, but it's also nothing that comes with an easy cure. Due to the low-impact nature of rowing machines, you'll slowly build muscle and energy, all without bending over backward each day. Endurance increases take time, but with some diligence, it's beyond possible.
No Excuses - Not all of us want to exercise, at least until we start doing it. If one of us (not pointing fingers, but it may, or may not be the guy writing it) going more than four or five days without exercise, it leaves our mind entirely. With the convenience of this high-quality, in-home item, it'll be staring you in the face each morning, and you'll have no excuses to walk away.
Correct Posture And Tips When Using A Rowing Machine
You're going to run into dozen-or-so well-known rowing machine techniques, most of which are going to come with various positions. We can't target every type of rowing machine exercise (at least, not without boring you to pieces). However, if you follow these tips and correct posture reminders, you're certain to stay on top of your stance and positioning.
Remember that you're in control of the stress on your body. Holding in your core is strength training and fitness 101, but when it comes to your shoulders, the last thing you want to do is hold them too tight. You're going through some serious motion with a rowing machine; holding in too tight is a very easy way to pull a muscle. Let your shoulders stay loose. They're shifting position repeatedly through each motion.
Breathing is important - we don't have to tell you that. One of the biggest mistakes that everyone is guilty of, at one point or another, is not understanding proper breathing technique. You're going to feel a sudden drop-off of energy loss and fatigue if you're not breathing properly. Your lungs don't get enough oxygen, your blood doesn't transfer it towards your heart. Inhale, pull, exhale, release, repeat. It's that simple once you get in the proper habit of it.
Lastly, your back should never hurt when you're done. Yes, you're building muscle, but that's a next-day growing pain/ache kind of feeling. If you stand up and your back is in immediate pain, you weren't doing it right. Posture, core, and breathing are difficult to perform perfectly while also exercising, but it's just going to come with practice and determination.
Other Gear Needed With A Rowing Machine
While these are more guidelines than anything else, we highly recommend these items. If you're not keen on using them, you may get a little less out of your rowing machine, though it's not going to render your purchase unnecessary or less effective. These cut down on time, increase comfort, and put you into the full-body workout mood that you need to get things done.
Losing your grip is never fun, but you also don't want to wear full mittens in the gym, either. These give you enough grip, while also providing a masculine look that won't leave you feeling embarrassed. Inexpensive and easy to adjust, you'll want to keep these right by the rowing machine when not in use.
There's nothing like the trendsetting original product, and Chill Pal was the pioneer of cooling towels that really put them on the map. You can use this thing a million times over, and it's not going to show a single hint of wear, or tear. I've owned one of these for about four years now, and it's the best thing to help prevent overheating during a serious workout.
MPOW Waterproof Bluetooth Headphones
You're going to shoot for twenty minutes per session, and for that, you're going to need to stay focused, and hustle hard. Waterproof IPX7 rated earphones from one of the best sound companies on Earth should do the trick. You get between seven and nine hours of use (two months before you need to charge them), as well as a tight fit that ensures there won't be slipping off in the middle of your rowing session. If you simply want to cancel noise out to stay focused, these work for that, too.
Q: Do Rowing Machines Count As Cardio?
A: When we say full-body workout, we mean full-body. Strength training sculpts what's there, while cardio sheds pounds, trims fat, and helps you maintain a healthy body from the inside out. Rowing machines have regained popularity in recent years because they're designed to give you cardio, and strength training.
The funny thing about strength training is that it technically burns calories for longer than cardio, but sometimes burns less overall. When you put in good strength training, you're creating thousands of micro tears along your muscles. Your body amps up testosterone to help build your muscles, which also act as fat-burning agents. After a good strength training exercise, your body will burn fat slowly for up to 36 hours post-workout. It's one of the reasons you're supposed to give a day in between.
Rowing machines offer the benefit of both. Shedding mad calories with cardio, and enjoying the afterburn effect from the immense strength training.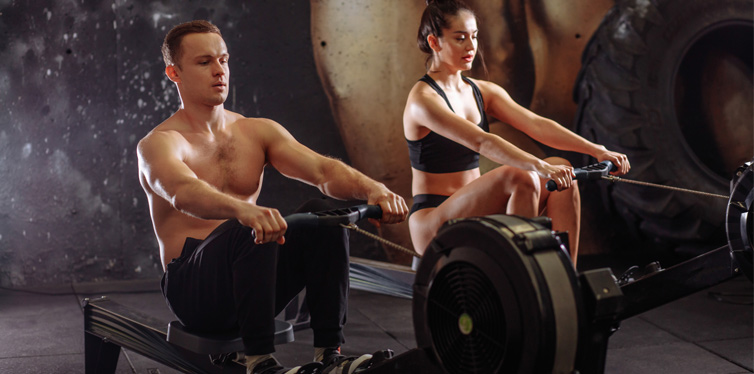 Q: Is Rowing Low-Impact?
A: If you're suffering from RA or a sports-related injury, we understand how difficult it is to find equipment that's not going to do more harm than good. Rowing machines are extremely low-impact, putting most of the pressure and stress on your muscles (which is where it belongs), instead of on your tender spots. Knee problems, ankle issues, and even asthma can all kiss the pavement. Rowing provides a safe, stable, and gradually increasing environment that allows you to monitor your condition/injuries, and decide when enough is enough. Low-impact, high results.
Q: Working Out Is Tough For Me: Does A Rowing Machine Require Less Time And Dedication?
A: The world's a busy place - not all of us have the time, or the patience to work out every single day. If you're not a morning jogger, you can still get killer cardio and super strength training. Due to the information laid-out in previous questions on this article, you should go a day between uses anyway. In fact, using a rowing machine only requires about twenty minutes to get a full-body workout, as opposed to running a trail for an entire hour, or something crazy like that. You'll be able to stick to three times per week (Sunday doesn't count), and still get a killer workout. Sixty minutes a week - you can do that, can't you?