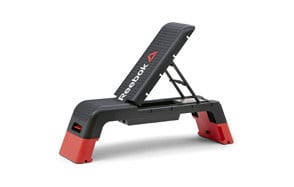 Reebok Professional Deck Workout Bench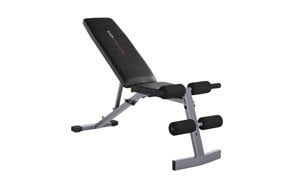 WF Athletic Supply Adjustable Weight Bench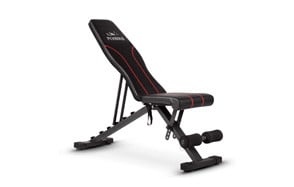 FLYBIRD Utility Weight Bench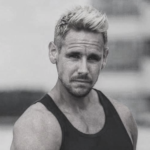 Want to get ripped? Yeah, who doesn't? Sometimes finding the motivation to go to the gym can be hard to muster, so why not buy a weights bench for your home? Then, there's no excuse. The adjustable workout bench is an essential part of any gym or personal trainers' studio. It has a huge variety of uses and allows you to weight train and reduces the risk of injury. So, why not buy one for your home?
You don't need much equipment to create a solid home gym these days. We recently released a detailed buying guide, showing you the best pieces of home gym equipment.
The weight bench plays a crucial part in all weight training programs. They allow you to use different angles and train almost any muscle. In fact, they are probably the most important piece of equipment in the gym. In this buying guide, our aim was to find the best adjustable workout bench and answer some of your key questions about buying a weight bench.
The Best Adjustable Workout Bench
Adjustable Workout Bench Buying Guide & FAQs
How We Chose Our Selection of Adjustable Workout Benches
Brand – The fitness world is full of well-known brands and new kids on the block. Because there is so much money in gym equipment, you have to think about brand reputation before you buy. If a company has just started selling gym equipment, we will take more care checking out the quality of the materials and the company's background. Having said that, we still do in-depth research on even the most well-known brands.
Reviews – Reading reviews on a product is an important way of getting an initial feel for the product. There are two main types of review we look at customer and expert reviews. Customer reviews are essential because customers are the most honest people on the planet. If they're not happy with a product, they will write a review about it and let the world know! Expert reviews, on the other hand, can be biased and are sometimes commissioned by the maker of the product. Still, we can find out more about a product's features and benefits and see if there is anything we could have missed.
Quality – When you're buying an adjustable bench press, you aren't just buying it to last a few months. You are probably going to use it for the next ten years and beyond. That's why it's important for us to select high-quality products. Some companies issue out long-term warranties, which show how confident they are about the quality of the product. Plus, it puts your mind at ease, because you know you can always send it back.
Design – There aren't a lot of noticeable differences in the design of bench press equipment. That's because it's a pretty simple product. However, we notice the small design difference that make a lifting bench stand out amongst its competitors. A good example of clever design is the fact that the  Bowflex Weight Bench is stowable. You can fold it up and place it in the corner of the room if space is at a premium.
Price – You can spend thousands on building the perfect home gym, but sometimes that isn't possible. We don't think the best weight bench is necessarily the most expensive. They can be affordable and still high-quality.

Features to Look For In Workout Benches
Adjustability – Your weight training bench needs to be adjustable. That's what makes it such a versatile and important piece of equipment in any professional or home gym. The most important adjustability is the backrest. The different settings on the backrest allow you to exercise different muscles. The seat is also sometimes adjustable. This is mainly for comfort and is especially important for tall and short people.
Dumbbells vs Bars – This really depends on what you are working on in your weight training program. For bodybuilders and weightlifters having a bar is essential, but it's not always necessary if you are just improving your body.
Leg Brace – The leg hold-down brace is a great addition to a workout bench because it makes it even more versatile. Not only is this useful for weightlifting, as it gives you a secure positioning, but it can also be used to do other workouts like sit-ups. If you're looking to work on your whole body, the leg brace will come in very handy.
Weight Capacity – Most workout benches are built to withstand very large weights. For example, the FEIERDUN Adjustable Workout Bench can withstand a capacity of 882 lbs. That's nearly the weight of a horse. When you're buying a weight bench, you should still make sure that it can hold your weight.
Portability – The great thing about modern bench press machines, is that they can be folded away and moved around. That means, if you want to move the bench outside on a hot day or take it round to a friend's house, that's more than possible.
Multi-Adjustable Benches – The more your bench can adjust, the more workouts you can do. Buying a multi-adjustable bench is one of the best ways of ensuring that you can do a full-body workout.

Adjustable Workout Bench FAQs
Q: What Are The Benefits Of Workout Benches?
A: Support heavy lifters – When you are lifting heavy weights, you need the right support. Workout benches are designed to not buckle under the pressure.
Allow different angles – Without a workout bench, it can be hard to reach some angles. You can also achieve hyperextension using a workout bench.
Target different muscle groups – The different angles on the workout bench allow you to target different muscle groups. This makes it one of the most important pieces of gym equipment.
Versatile workout options – Workout benches provide so many different workout possibilities. They are, without doubt, one of the most versatile pieces of equipment you can buy for your home gym.
Q: What Type Of Weights Do I Need To Use?
A: For the workout benches featured in this list, all you need is a set of dumbbells. You can also invest in a set of barbells to increase the number of possible workouts.
Q: What Is a Good Routine to Start on a Weight Bench?
A: Try doing dumbbell flyes to start. This workout builds you pectoral muscles. Lie on the bench on your back. Then, hold your dumbbells with your arms extended above your chest. Then bring your arms down to a T position at your sides. When you feel your muscles start to stretch, move your arms back up to the start position. Do 10 to 15 repetitions.
Q: How Do Flat, Incline, And Decline Options For A Bench Affect My Training?
A: The different positions on the bench press allow you to target different muscles. The flat position is the most common and allows you to work on your pectoral muscles. The incline bench position is raised from 15° to 50° and works the upper portion of the pectorals and the front of the shoulder muscles. The decline position is the least used position and works the bottom portion of the pec muscles.

Q: Can I Use A Workout Bench Outside?
A: Yes. Although, it is important to cover up your bench press if you are going to leave it outside. They are not meant to withstand weather and the steel tubing with rust.
Q: How Do I Store A Workout Bench?
A: You can leave them set up in your home gym or fold them away after use. If you are going to leave them outside, make sure you cover them up.