Best Playpens In 2022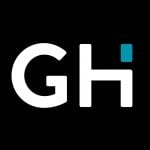 This product guide was written by GearHungry Staff
Last Updated
May 15, 2020
GearHungry Staff
GearHungry Staff posts are a compilation of work by various members of our editorial team. We update old articles regularly to provide you the most current information. You can learn more about our staff
here
.
GearHungry may earn a small commission from affiliate links in this article.
Learn more
Being a parent is a full-time job, that's for sure. They need to be watched continuously to keep them from typically 'acting like babies'. This often means other aspects of your life suffer, like office work and leisure. That is where playpens come in, they don't completely take the responsibility off your shoulders. But, they bridge the gap between your obligation to your child and responsibility to the world or yourself.
Playpens are cheap, simple solutions, and there is an abundance of brands, styles, and levels of quality to choose from, depending on your preferences. Here are ten excellent products we think you will love, with all the features and details that set them apart.
The Best Playpen
Graco Pack 'n Play Portable Playpen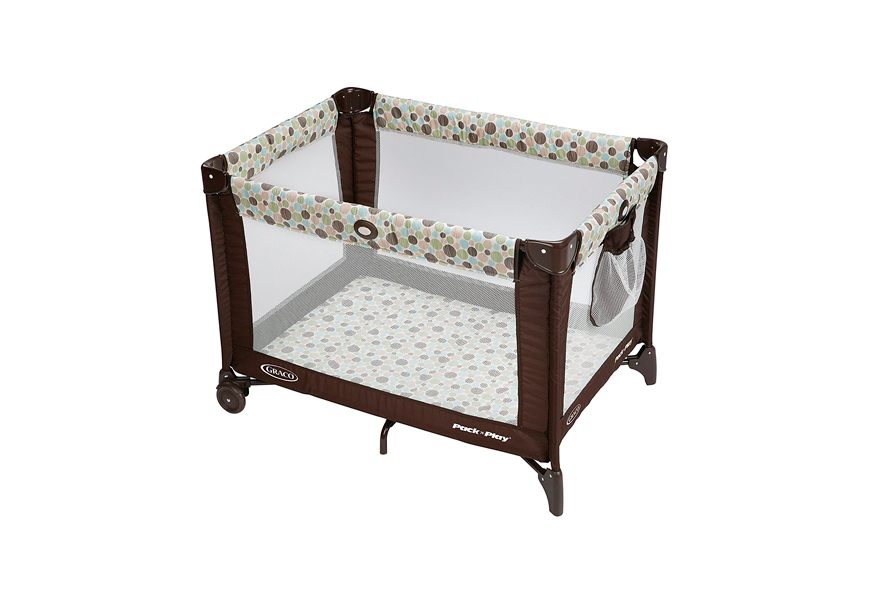 The Graco Pack 'n Play Portable Playard fully lives up to its name as a portable playpen for babies and toddlers. With a dimension of 39.5 x 28.2 x 29 inches (length, width, height), it is small and light enough for you to move around stress-free and large enough for your baby or toddler. Despite having a sturdy steel frame, this playpen folds at the push of a button, ensuring it is exceedingly easy to set up.
The play area itself has airy mesh walls on all four sides, with a cushioned but firm floor pad. The rails of the playpen and the surrounded frame are wrapped in polyester material, providing maximum safety and comfortability. Also, there is a Toybar for you to store soft toys for your child's amusement or even a baby monitor.
At the feet of the Graco Pack 'n Play Portable Playard is two locking wheels and two folding feet. They both provide maximum sturdiness, and the folding feet provide a compact fold for easy storage and transportation. Furthermore, the Playard comes in six color schemes and a removable full-size bassinet at extra cost, in case you need your playpen to double as a changing station.
Key Features:
Signature graco push-button fold
Locking wheels and folding feet
Airy mesh sides
Carrying bag
Specification:
Brand

Graco

Model

1923621

Weight

21.8 Pounds
Regalo Portable Play Yard Outdoor Playpen
The Regalo Portable Play Yard Outdoor Playpen is our next product, and that is due to its sturdiness and versatility. For this reason, the playpen is fitted with six panels, and all of them are supported by an all-steel frame, with reinforced stitching. The design is guaranteed to accommodate your child, regardless of their weight. On top of its impressive, sturdy features is a double locking system, expertly designed to keep your child safe while you take a breather or attend to other issues.
Secondly, thanks to the size and foldable design of this playpen, it has immense flexibility capabilities. With a panel height of 26 inches and a width of 48 inches, the Regalo Portable Play Yard Outdoor Playpen is high and wide enough to hold your baby comfortably while being small enough to fit into a bag like a yoga mat. Not only is it portable, but it is also lightweight, with a weight of less than one ounce. Furthermore, with its nylon bottom and steel frame, it is well suited for anywhere, indoors or outdoors.
Lastly, the Regalo Portable Play Yard Outdoor Playpen is the best because it adds nothing to your chore list. Its ventilating mesh walls and nylon bottom ensure that a simple wash and wipe down with a damp cloth is enough to keep it sanitized. For more amazing products for your kids, be sure to check out our selection of the best bedside cribs.
Key Features:
All-steel frame and reinforced stitching
Foldable design
Double locking system
Ventilating mesh walls and nylon bottom
Specification:
Brand

Regalo

Model

1370 DS

Weight

0.64 Ounces
Costzon 14-Panel Foldable Baby Playpen
If you are looking for something with a lot more room than equally offers a lot more permanence, then consider the Costzon 14-Panel Foldable Baby Playpen. By using all fourteen panels, you and your baby have access to up to 4ft x 4ft of playpen space. The size is more than enough for you to spend time in their world comfortably. But that is just one of several features that make it a great product.
The playpen is equally made with safe plastic, specifically HDPE, which is a non-toxic odor-free material. It is waterproof and wear-resistant, guaranteeing its usage until your child outgrows it, which can be up to six years. Also, because it has a height of 23 inches, a safety lock, and non-slip rubber suction cups that ensure its stability, this playpen doesn't just offer a play area, but also a safe zone. 
Additionally, the Costzon 14-Panel Foldable Baby Playpen has high storage and mobility qualities because of its foldable design. It allows you to fold the playpen away or move it to an ideal place, whether it is your bedroom or balcony. Finally, the best playpens for babies or toddlers are not just play spaces. They also aid in the development of the child. That's why this playpen comes with a game panel and cute rotating flower shapes that attract a baby's attention while enhancing their hand coordination. If you like this product, you will love one of these amazing kids teepees.
Key Features:
4×4 feet play area
Hdpe material
Game panel
Easy assembly and disassembly
Specification:
Brand

Costzon

Weight

26 Pounds
Cribs are perfect. That is why they have been part of the baby care setup for decades. But what if a crib was portable, mobile, and incredibly easy to set up? That is what the Kidsry Portable Playard is, and it is equally one of the best products on the market for babies. It is a highly durable play area for your baby that also doubles as a changing station.
Even more, this playpen has all the features to make your life and baby's life easier. With a mattress, ventilating mesh walls and cushioned rails, comfortability is at the center of its design. Not only does it give your baby a cozy and dedicated space to rest and play, but it is also safe. You can credit this to its joints made of bolted plastic, a steel frame, and two sturdy legs. The Kidsry Portable Playard also has two locking wheels that keep this playpen in place. 
Asides from being a playard, it also has a comfy bassinet, which you can use as a changing station when you need to change a dirty diaper. Furthermore, it comes with a toy holder for you to hang your child's favorite toys and keep them occupied and entertained. Lastly, its foldable frame and one-hand locking mechanism, allows you to pack it up and take it with you to set up anywhere you go. It is definitely one of the best gifts for new dads.
Key Features:
Toy holder
Ventilating mesh walls and mattress
Bassinet
Locking wheels
Specification:
Brand

Kidsry

Weight

25.6 Pounds
A good playpen for babies or toddlers should be able to adjust to available space, securely and safely contain the child, and have a friendly design. That is why the Skip Hop Bay Playpen is one of the best products on the market, with features that check all these boxes and more. Made by Skip Hop, a company founded in 2003 and one of the best-selling brands for baby products, this playpen has all you need to give your baby a fun place to play while you take a breather.
Firstly, it offers more than 20 square feet of play space, thanks to six mesh panels with a dimension of 16 x 25 x 2 inches for width, height, and depth, respectively. The mesh panel, made with a sturdy steel frame, offers visibility between parent and child while giving the playpen a modern and stylish look. Additionally, there is a hinged door panel for easy access and a more secure enclosure. 
Secondly, in addition to offering plenty of space and security, the Skip Hop Baby Playpen comes with a detachable clip-on play surface. The play surface offers eight-play activities for your baby to do, ranging from seated to standing play. Finally, this product is useful for children from six months to six years and comes with a red indicator that alerts you when a door panel is opened.
Key Features:
20+ square feet play space
Hinged door panel
Detachable play surface
Printed mesh panels
Specification:
Brand

Skip Hop

Model

242151

Weight

23.5 Pounds
YOBEST Indoor & Outdoor Baby Playpen
This playpen makes its case as one of the best playpens on the market for babies and toddlers by combining a host of features into a robust entertainment space for your child. The exceedingly large play area, with a dimension of 72 x 56 x 37 inches, is big enough for two or more babies to play or for you to enjoy some quality time with your child.
One of its defining features is the material used in its construction. The YOBEST Indoor & Outdoor Baby Playpen is made with eco-friendly material. The fence comprises resistant-duty oxford material and strong fabric net sidings. Also, it is BPA free, non-toxic, and it has non-slip suction cups on the bottom of the panel to keep the playpen from tipping over or moving. This build helps guarantee the long-term safety of your child. 
Speaking of the bottom of the panel, it has a waterproof fabric, which keeps your baby away from the dirt of the floor wherever you set it up. Also, it is easy to wash. The design structure of this playpen includes visible, soft, breathable mesh, alloy steel pipe frame with plastic joints, and an external zipper as a safety lock. All in all, it is a simple, but effective playpen, big enough for you to use for children between ages six months and six years. Here are some lovely kids alarm clocks you might like as well.
Key Features:
Waterproof bottom cloth
Double zipper design
Soft and breathable mesh
Resistant-duty oxford material
Specification:
Brand

YOBEST

Weight

15.65 Pounds
Summer Pop 'n Play Portable Playard
Like most of the products on our best playpen list, the Summer Pop 'n Play Portable Playard is for indoor and outdoor use. This flexibility is an excellent benefit because it allows you to expand your child's play area beyond the confines of your home, at zero-extra cost. The playpen can do this because of its ultra-lightweight and compact design, allowing you to move the playspace stress-free.
This Playard offers 14 square feet of play area, with a height of 26 inches, meaning it can be part of your child's life when they are a baby till they are a couple of years old. The playpen itself is appropriately designed, with six mesh panels for easy visibility and a folding metal frame for portability. Additionally, it has a water-resistant floor, which makes it easy to clean whenever your child makes a mess. It also protects them when you are outside, keeping them from dirty floors and damp grass. 
Lastly, the Summer Pop 'n Play Portable Playard has a unisex color scheme, and it is fit for any gender. You'll appreciate the fact that it comes with a carry bag. You can even get a full-coverage canopy with zip-open panels to protect your child on sunny days, at extra cost. If you are going camping as a family, don't miss your chance to browse these colorful kids sleeping bags every child will adore!
Key Features:
Foldable metal frame
Six mesh panels
Water-resistant floor
14 square feet play area
Specification:
Brand

Summer Infant

Model

27390

Weight

0.16 ounces
Costzon 16 Panel Baby Play Yards
This Costzon 16-Panel Baby Play Yards is very similar in design to the 14-Panel Costzon we reviewed earlier. The most important difference is it offers a lot more play space. It is also made of plastic, specifically a high-density polyethylene (HDPE) non-toxic material. Also, its 360-degree smooth-burr-free surface keeps it from getting scratched. The 16-panels are connected via a hinge design, and a non-slip rubber pad at the bottom of each panel provides stability.
One other reason why we consider this one of the best playpens for babies and toddlers is the panel design. Because of its colors and shapes imprinted on each panel, and a dedicated toy panel, the Costzon 16-Panel Baby Play Yards is not just a play space for your kids but also a learning area. The toy or game panel has different small toys that challenge your baby's curiosity and improve their hand coordination. 
Additional features of this playpen include a safety lock on the outside of the door panel that keeps the child from running out. It is also easy to install, as such, you do not need extra tools during assembly. In fact, you can easily set it up by tightening the knob. And if your kid is a particularly active one, don't forget to check out our list of top trampolines for kids.
Key Features:
16-panel playspace
Game board
Safety lock
HDPE non-toxic material
Specification:
Brand

Costzon

Weight

31 Pounds
Playpen Buying Guide & FAQ
Features To Look For in Playpens
Although a playpen is not a substitute for adult supervision, it is still an efficient way to control the movement of the child, and in certain cases, keep them occupied. Because of the care that needs to go into picking out a playpen, here are some features to consider before making a decision.
Material - Although there is growing popularity of playpens made of plastic panels or mesh and metal tubing, traditional playpens are still made of wood. Wooden playpens are durable and elegant. A lot of people prefer them because of their aesthetic advantage over other materials. But as we mentioned, the growing popularity of different materials is bridging the aesthetic gap between the materials.
Ultimately, the choice of material comes down to your preferences and the safety quality they offer, especially in wooden playpens. Make sure that the screws and nails are not in a position to hurt the child.
Size - The best playpen for babies or toddlers often comes down to how much space you have. While large playpens are an ideal size for playpens because they offer a lot of play space, you can always manage smaller playpens when you don't have room for it. The most important thing is that whichever size you buy, it should be easy to fold it into compact form so that it requires very little storage space.
It is also worth noting that a lot of playpens, especially those made with plastic material, come with removable panels. This feature allows you to adjust the size of the playpen according to your needs.
Style - When it comes to playpens, style refers to a host of design choices. It can mean the shape, walls,  bells and whistles, features like playpens that double as cribs or changing stations, detachable lids, and so on. For shape, most people go for rectangular playpens. They offer a larger playspace and can be moved around easily. But we also have playpens with hexagonal or octagonal shapes.
As for walls, some playpens have mesh barriers, while some have bars. If you are going for one with mesh walls, make sure that the mesh holes are no larger than ¼ inch. Anything more and the child's fingers and buttons on their cloth are likely to get caught in them. For playpens with bars, you want to make sure that the vertical bars are no more than 2 to 2 ½ inches apart. They should be wide enough for visibility and proper ventilation, but not too spacious that the child's arms, legs, or other body parts get caught between them.
Finally, other features, like changing stations or a detachable lid, are useful. It all comes down to your budget and your preferences. Just be sure the additional features have high safety qualities.
Budget - A playpen can cost between $50 for basic models and $250 for high-end products. You will often find basic playpen models at less than $100. They don't have all the extra features of high-end products, but they are good enough for use, regardless of size. In this category, you might find playpens without floors, often referred to as playpen gates. High-end products come with additional features like a bassinet, toy holders, and can be dual-purpose i.e., can be used as cribs. The right choice ultimately comes down to your preferences and what you can afford.
Playpen FAQ
Q: What is a playpen?
A: A playpen is an enclosed space, typically made of wood or plastic, in which a baby or toddler can play safely. They are usually foldable and can secure a child while the parent attends to other tasks.
Q: Do parents still use playpens?
A: Yes, a lot of parents still use playpens, and it is often encouraged. Despite the suggestions of mental limitations on children that have playpens, they remain an excellent way to keep babies safe while you attend to other aspects of life.
Q: Are playpens a good idea?
A: Some child development experts worry that children who spend a lot of time in playpens might not get enough stimulation or explore their environments. Those concerns can, however, are fixable by controlling the amount of time your child spends in a playpen. After all, too much of anything can be damaging. So yes, playpens are still a good idea.
Q: How long do babies use playpens?
A: A lot of playpens are for children between six months and six years. While active children are more likely to grow out of playpens after a couple of years, plenty of children still enjoy and prefer the comfort of having their play area. There is no ideal length of time for babies to use playpens, but you should wait until they are four to six months old to use them.
Q: Are wooden playpens safe?
A: As a matter of principle, yes, wooden playpens are safe. They are one of the most popular types of playpens among parents. Their safety requirements are no different from other materials. Make sure the bars are well spaced, and the screws and nails are safe away from the child.
Sign Up Now
GET THE VERY BEST OF GEARHUNGRY STRAIGHT TO YOUR INBOX