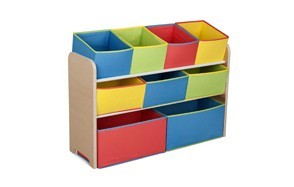 Delta Children Deluxe Multi-Bin Toy Box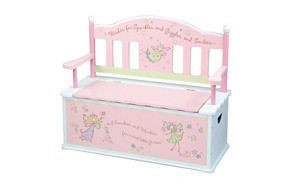 Wildkin Fairy Wishes Toy Box Bench
Katabird Storage Bin For Toy Storage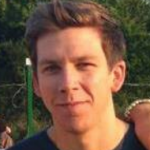 If you take a headcount of the toys and stuffed animals your child or any other toddler possesses, you'd be amazed. The more toys in a home, the higher the likeliness a house becomes very messy. No doubt, homes with smaller children require appropriate storage facilities to prevent cluttering. Luckily, as one of the best toy organizers out there, the toy box makes a storage compartment like no other. These storage boxes are easy to use for children as they enable them to pick up or drop off their toys as and when needed. If you need of the best toy box for your kid's uncountable playthings, you've come to the right place.
The Best Toy Box
Toy Box Buying Guide
How We Chose Our Selection Of The Best Toy Box
Price - The cost of a storage box isn't directly related to its functionality. In the list above, we have provided a wide range of options for users, many of which are affordable for everyone to purchase, no matter their budgets.
Brand - Our team looked into all the popular brands known to produce only the best storage units in the world. These brands execute child-centered designs effortlessly, and this makes them the best among the rest. Some of such brands include Lego Wildkin and many others.
Reviews - The existence of these products for some time means that others have purchased and used them before. To have a piece of in-depth information on each product, we looked at customer feedback on every item, found in various online discussion platforms. These reviews were instrumental in our selection process.

Features To Look For In Toy Box
The search for a toy storage box that fits both your child's needs and your room décor may be tricky considering the full range of options available for sale on the market. To do the shopping and purchasing more straightforward and less tiring, we have listed to vital factors to be considered by potential buyers which ensure that any choice you make will be of great value both now and in the future.
Design - Kids storage boxes for toys and kids play items, in general, are designed for both kids and their parents. Most often, these toys are designed in solitude, and both parents and kids share them. The challenge for designers of kid's products is to create the perfect bridge where both kids and their parents will enjoy using a product. Toy boxes must be designed to help parents teach their little ones about cleaning and organization; thus, they must entice children by use of color and shape variety. They must be designed to fit into any room décor as well, to ensure that no matter where toys end up going, they can be stored without leaving a trace.
Educational Value - Children, in general, tend to be extra messy and chaotic with their toys. The use of a storage box isn't only to help create a more organized space, and it is also to help teach children about the principle of organization, which is a significant part of human development and civilization. Any toy storage box you purchase must be able to help you instill positive organization values in your child from an early stage, which will be beneficial to them as they mature.

Materials - The materials used in building these toy storage boxes are to be sturdy, durable, and high-quality, to ensure that the containers withstand any pressures exerted on them by children or the toys they store. There are fabric containers, those reinforced with cardboard and those made with wood.
Safety - A safe product is the best product for all parents. When searching for the ideal storage box or chest, your child's safety should be of utmost priority to you. Some easy safety measures one can look out for in toy boxes include rounded edges, those with safety hinges and the absence of breakage or splintering.