Best Paper Shredder Oils In 2022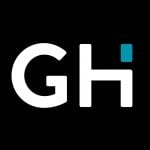 This product guide was written by GearHungry Staff
Last Updated
August 17, 2020
GearHungry Staff
GearHungry Staff posts are a compilation of work by various members of our editorial team. We update old articles regularly to provide you the most current information. You can learn more about our staff
here
.
GearHungry may earn a small commission from affiliate links in this article.
Learn more
The paper shredder has long been considered a valuable asset to company and home offices alike. And why shouldn't it be? In a world plagued with information breaches and identity theft, this well-established machine is perhaps more essential than ever before.
Unfortunately, shredders are susceptible to mechanical failures after extensive use and thrown out in favor of newer replacements. Rather than retiring yet another busted shredder to the landfill, consider a cost-effective way to extend the life level-up its performance: shredder oil.
Over time, small scraps of paper and dust become trapped between the shredder blades. Regular application of high-quality shredder oil cleans and lubricates the blades, returning your shredder to optimal condition safely.
So, what makes for a high-quality shredder oil? We've waded through the various shredder oils available, read in-depth reviews, and condensed our findings to provide you with this buying guide.
The Best Paper Shredder Oils
MBM AC CED21/4 Paper Shredder Oil
This MBM AC CED21/4 Paper Shredder Oil pack of four pint-sized bottles is perfect for cleaning and maintaining any MBM Destroyit model paper shredder. The specially blended non-detergent formula creates the ideal lightweight, viscous oil for your shredder. Not only does it clean the blades brilliantly, but it helps to maintain and extend the lifespan of the cutting cylinders.
Using a paper shredder oil direct from the manufacturer that made your shredder is the best way to guarantee that it will maintain your shredder without causing any damage.
Key Features:
High-cling, non-detergent formula
Lightweight composition
Effectively cleans the cutting cylinders
Formulated for use in all MBM Destroyit paper shredders
Package includes four bottles of one pint (500ml) each
Specification:
Brand

MBM

Model

AC CED21/4

Weight

5 Pounds
Effectively cleans cutting blades
Extends the lifespan of your shredder
May not be as effective on other brands of shredders
Powershred High Security Paper Shredder Oil
If you use a shredder with an automatic oiling system, this 32OZ Powershred Hs Shredder Oil is one of the best products to use. You get a large quantity of oil for the price, and the performance is excellent on even the most heavy-duty paper shredders. The simple twist-off cap makes the oil easy to install with an automatic oiling system. It will stop the blades from sticking while the shredder is in operation and also improve the lifespan of the shredder so it lasts for years to come.
However, it is essential to be careful if using this product with a small home shredder as the oil is relatively thick and can clog smaller cutting cylinders. But even though it is not necessarily the best product for small home shredders, the Powershred High-Security shredder oil is one of the most effective products for heavy-duty office shredders with an automatic oiling system.
Key Features:
Volume: 32 Oz./946 ml
Ideal for tough shredders with massive capacity
Feasible for shredders with automatic oiling option
Plastic bottle with a twist-off top
Manufactured in China
Specification:
Brand

Fellowes

Model

3505801

Weight

1.7 Pounds
Large bottle for the price
Improves performance and maintains heavy duty office shredders
Thick oil may not be well suited to home shredders
Shredcare Paper Shredder Oil Lubrication Sheets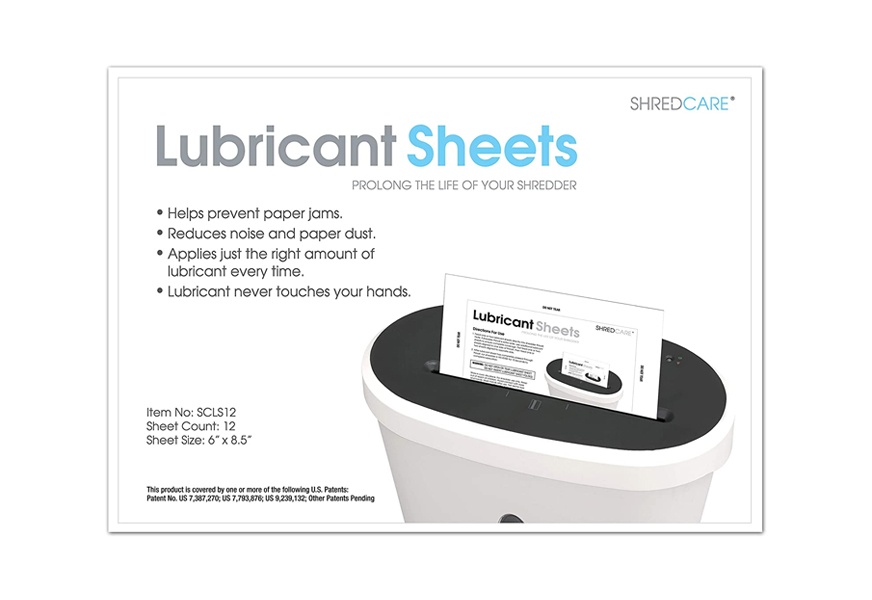 Lubrication sheets are a more straightforward way to oil your shredder, and the Shredcare Paper Shredder Lubrication Sheets are perfect for people that are new to shredders and don't feel confident oiling them by hand.
The sheets come with a pre-measured dose of oil built-in so you can avoid guessing. All you need to do is shred the lubrication sheet like you would a regular piece of paper. It's worth noting that the cost of lubrication sheets is a lot higher than using a standard bottle of shredder oil. They come as a pack of 12 in different sizes, but larger shredders may need two sheets per oiling, so they are not always cost-effective. If you only use a shredder from time to time, they are great, but if you use your shredder regularly, it is best to use a bottle of shredder oil. For more must-have accessories for paper shredder users, check out our selection of the best paper shredder bags.
Key Features:
Pack of 12 sheets
Dimensions: 8.5" x 6"
Safe and easy to use
Help prevent paper jams
Reduces noise and paper dust
Specification:
Brand

BOXIS

Model

SCLS12

Weight

2.4 Ounces
Simple method for oiling shredders
Apply the correct amount of oil every time
No need to worry about mess from the shredder oil
More expensive than standard shredder oil
May not be adequate for heavy-duty shredders or shredders that get a lot of use
HSM 315 Paper Shredder Oil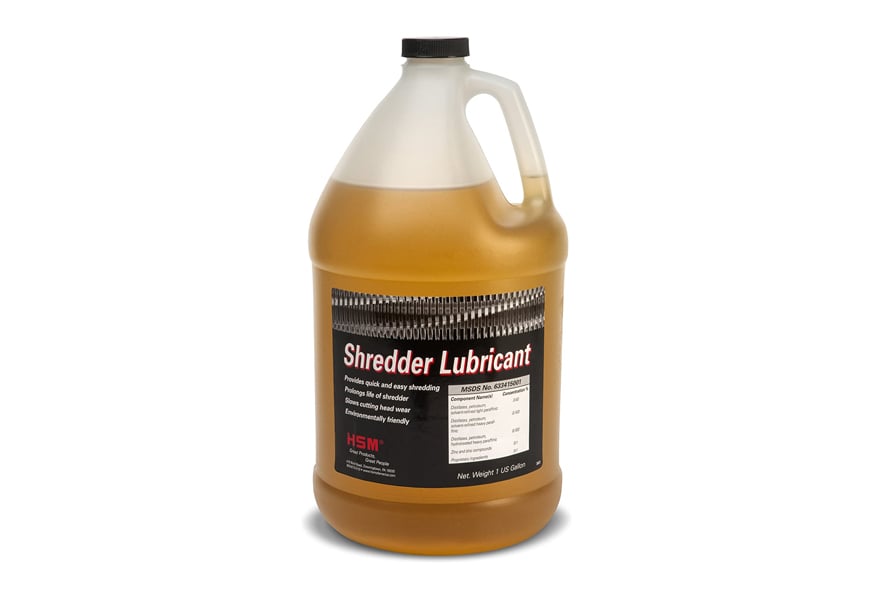 This HSM 315 Paper Shredder Oil is a brilliant budget option for people that run a heavy-duty shredder regularly. The large 1-gallon bottle will last you quite a while, and the price is right compared to a lot of other shredder oils on the market. It can be poured directly into the shredder blades or put over a sheet of printer paper to create homemade shredder lubrication sheets.
The big downside to this shredder oil is that it does smell very strong, especially when running the shredder directly after oiling. However, if you are careful when oiling your shredder and avoid any spills, the smell shouldn't be too much of an issue. This shredder oil is perfect for offices that do a lot of shredding and want a cost-effective option.
Key Features:
12 Oz./1 gallon oil bottle
Leads to quick and easy shredding
Prolongs shredder life
Environmentally friendly
Can be applied directly to shredder heads
Specification:
Brand

HSM

Model

315

Weight

3.99 Pounds
The large bottle is very cost-effective for people or businesses that use shredders on a regular basis
Can be poured directly into the shredder or applied to paper to create a lubrication sheet
The oil has a very strong smell that sticks if spilled
Nuova SP12 Paper Shredder Oil Sharpening & Lubricant Sheets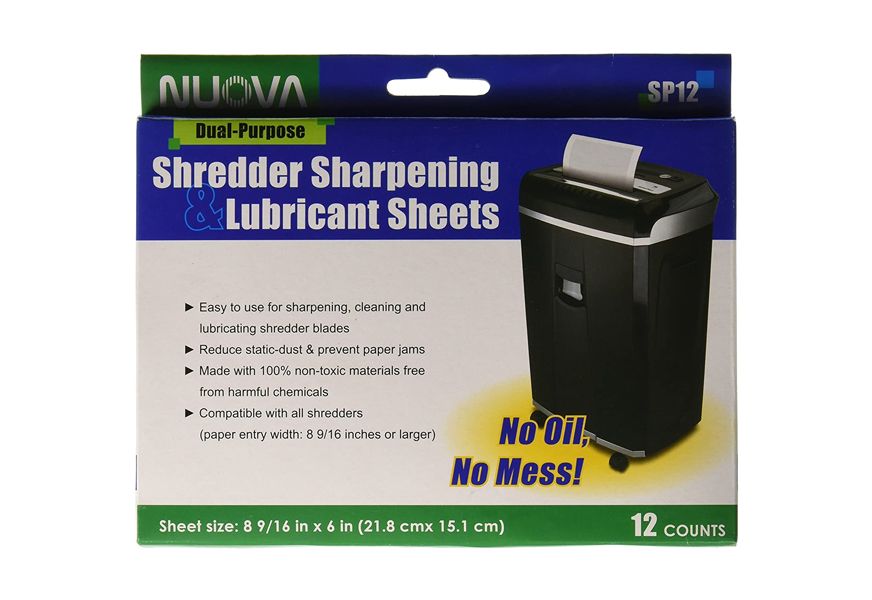 The Nuova SP12 Shredder Sharpening and Lubricant Sheets are an excellent no-fuss option for maintaining your shredder. The primary selling point for these sheets is that they come coated in a non-toxic grinding powder, which sharpens your shredder blades as well as cleans them. Although other shredder oils and lubrication sheets will prevent clogging, they won't sharpen the blades.
If you are looking for an effective way to improve shredder performance and ensure that documents are disposed of properly, these sharpening and lubricant sheets are ideal. They are made entirely from 100% natural, non-toxic materials. For more quality office equipment, check out these top laminators from our list.
Key Features:
Stack of 12 sheets
Grease, sharpen and clean the shredder heads
Each sheet measures 8 9/16" x 6"
Created using natural grinding powder
Improve shredder performance and extend shredder life
Specification:
Brand

Nuova

Model

SP12

Weight

5.6 Ounces
A simple, no mess way to oil your shredder
Sharpens the blades as well as cleaning them for improved performance
Cost of shredder sheets is more than standard shredder oil
Ansoon Paper Shredder Lubricant Sheets
These Ansoon Paper Shredder Lubricant Sheets will appeal to anyone that is trying to reduce their impact on the environment because they use vegetable oil and 100% recycled paper. They are just as effective as other non-recyclable paper shredder oil sheets on the market, and they will help to clean and maintain the blades in all types of shredders. They come in a larger pack of 24, and they are cheaper than a lot of the other shredder lubricant sheets that you can buy. For more cool additions to your office collection, check out our comprehensive guide to the best label makers.
Key Features:
A choice of 12 or 24 sheets
Made from vegetable oil and fully recycled paper
Specification:
Brand

Ansoon

Model

AS122436

Weight

9.6 ounces
Easy oiling solution for your shredder
More eco-friendly option than other lubricant sheets
Cheaper than other lubricant sheets
Not as cost effective as a bottle of shredder oil
AmazonBasics Paper Shredder Sharpening & Lubricant Sheets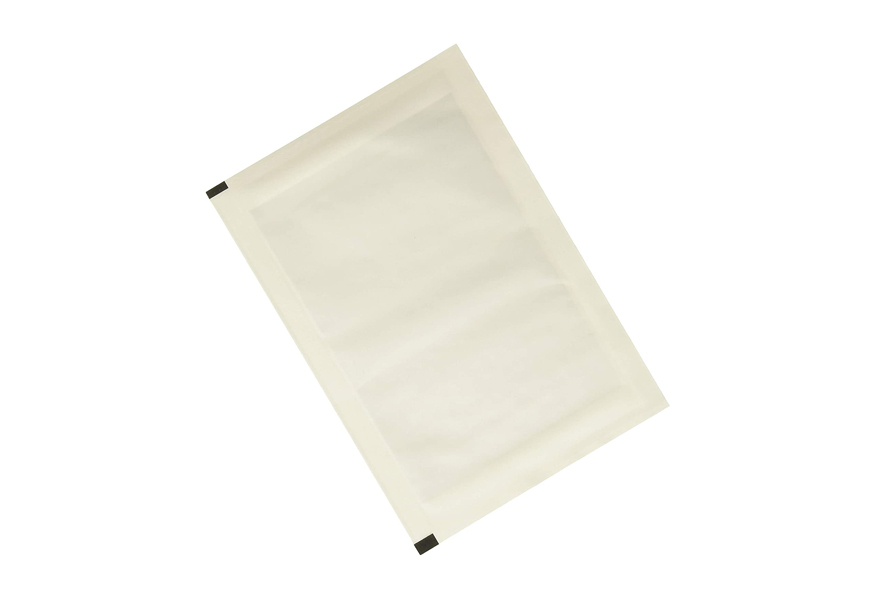 These AmazonBasics Paper Shredder Sharpening and Lubricant Sheets are the cheapest option for anybody that wants a no-fuss, easy way to lubricate their shredder. It is quick and easy to oil your shredder by passing a single sheet through. As well as reducing static dust and build-up from blades, they also sharpen at the same time for improved shredding efficiency. They are compatible with any shredder with an opening 8 – 9/16 inches or larger.
If you don't want to mess around with shredder oil, but you are put off by the high price point of some of the other lubricant sheets that you see, these AmazonBasics sheets are the best choice for you and your coworkers. 
Key Features:
Pack of 12 or 24 lubricant and sharpening sheets
Compatible with any shredder that has an opening of 8-9/16 inches or larger
Specification:
Brand

AmazonBasics

Model

SP12A

Weight

5.1 Ounces
Quick and easy way to oil your shredder with no mess
A much cheaper option than other lubricant and sharpening sheets
Works well with home and office shredders
Even though they are cheaper than other lubricant sheets, they are still more expensive than using a bottle of shredder oil
Fellowes 35250 Powershred Performance Oil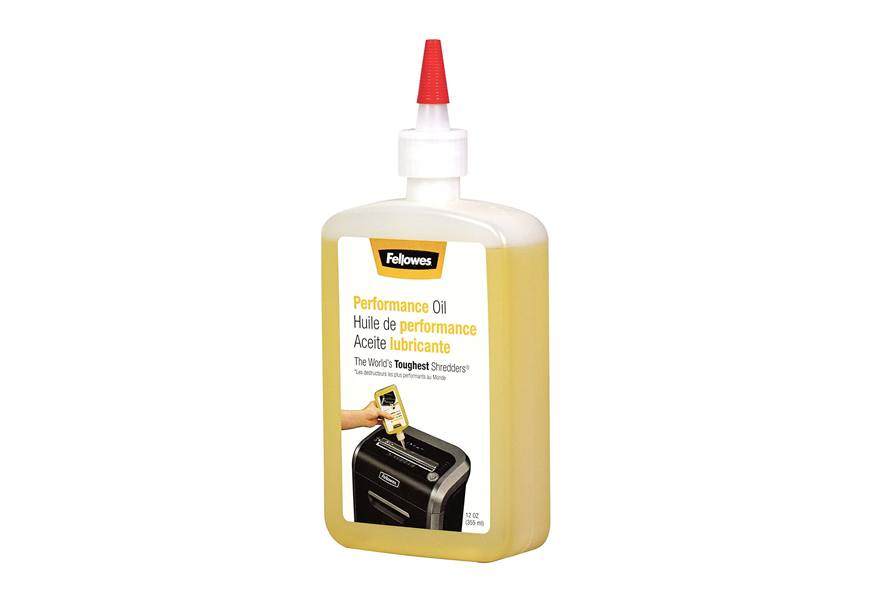 If you use your shredder daily or you run an office with multiple shredders, you should consider buying this Fellowes 35250 Powershred Performance Oil in bulk. It comes in 12oz bottles with a convenient nozzle for easy application, and you have the option of purchasing single bottles as well as packs of anywhere from 2 to 6 bottles.
The bottles will last longer than other brands of shredder oil because the nozzle allows you to apply directly to the shredder blades, so you do not need to use as much.
Key Features:
Multi-packs of 12oz bottles available
Easy to use nozzle for quick application
Specification:
Brand

Fellowes

Model

35250

Weight

9.1 Ounces
Choice of lots of different multi-packs
Easy to use nozzle prevents mess and makes bottles of oil last for longer
Shredder oil does not sharpen blades in the same way that some lubricant sheets do
Small bottles won't last as long in a large office setting
Paper Shredder Oil FAQ
Q: What is paper shredder oil?
A: The tongs and inner workings of a paper shredder are unique, rendering generic lubricating oil unsuitable and potentially detrimental. Paper shredder oil is engineered to clean and lubricate a shredder's delicate mechanics.
Q: Do you need to oil a paper shredder?
A: When you use your shredder, the blades can get clogged up with small scraps of paper and bits of dust. If you leave these obstructions and continue to use the shredder without cleaning it, the blades will eventually seize up, and the shredder will not work correctly.
Using paper shredder oil sheets that come coated in grinding powder will also help to sharpen the blades of your shredder, which you cannot do manually.
Q: What kind of oil do you use for a paper shredder?
A: The most common shredder oils include Solvent Refined Hydrotreated Middle Distillate, Commercial Oleic Acid, Butylated Hydroxy Toluene, Severely Hydrotreated Light Naphthenic Distillate, Canola oil, and some vegetable oil derivatives. You must never use commercial lubricants, like WD40, on a shredder because this can do a lot of damage.
These oils can be applied manually to the shredder, but you can also purchase lubricant and sharpening sheets that have the correct amount of oil already used.
Different shredders require different kinds of oil, so it is essential to check the recommendation of the manufacturer. For example, small home shredders may get clogged if the shredder oil is too thick, but large shredders that you find in office settings can handle a more viscous oil. Many shredders also come with an automatic oiling system, so you need to find products that are compatible with the automated drip system. If you check the user manual for your shredder, it will have guidelines to help you find the right shredder oil, and many manufacturers also sell their own.
Q: Where is the oil applied?
A: There are a few different ways to oil your shredder using shredder oil or lubricant sheets. The first method is the direct method, which involves pouring shredder oil directly into the blades. First, run the reverse function on your shredder to remove any large pieces of paper and then switch it off. Then, you need to pour a thin layer of oil directly into the blades, from left to right in one smooth motion. Once the oil is applied, switch the shredder back on and let it run for around half a minute without putting any paper in. The shredder should now be adequately oiled and ready to use again. When oiling your shredder using the direct method, it is best to use a bottle with a small spout so you can get all of the oil onto the blades and avoid any spillages.
If you do not want to use the direct method, you can use the indirect method, also known as the sandwich method. You create a sandwich of oil between two sheets of paper and feed them into the shredder. First, take a piece of plain A4 paper and apply oil in a cross shape, then let it soak in for a few minutes. Put another sheet of paper over the top and then feed this into the shredder, making sure that no oil spills out of the sides.
Lubricant sheets are the easiest way to oil a shredder, and many varieties will sharpen the blades at the same time. These paper shredder oil sheets come with the correct amount of oil already applied, and they look much like a thin envelope with the lubricated sheet in the middle. All you need to do is feed the sheet through the shredder and then switch it into reverse for a few moments to distribute the oil.
Before deciding on a method, always check the manufacturer's advice to see which method they recommend. If they do not specify a specific way, the sandwich method is probably best because it reduces mess, but it lubricates more effectively than paper shredder oil sheets.
Q: How often should you oil a paper shredder?
A: There is no simple answer to this question because it all depends on how often you use the shredder. As a general rule, you should be oiling your shredder each time you empty the collection bin. If you only use your shredder from time to time and don't fill the container very often, an application once every two months should suffice. For daily users, oil the shredder each time you empty it, even if this means oiling it more than once a day.
The type of shredder that you have makes a difference as well. A micro-cut shredder produces finer particles of paper and has more blades, making it more prone to clogs and therefore requiring more preventative maintenance than a cross-cut shredder.
If you notice that your shredder is not working as effectively as it usually would or it is making strange noises when you run it, that is a sign that it is likely getting clogged up, and you should apply some shredder oil.
Q: Is shredder oil the same as sewing machine oil?
A: Sewing machines need to be oiled just like shredders do, but the products are not necessarily the same. With both sewing machines and shredders, the oils used mustn't be petroleum-based. However, even though some sewing machine oils are quite similar to shredder oils, chemical makeup can vary significantly. The manufacturer will have guidelines about the kinds of products that you should use and note that using a non-specific oil may void your warranty.
Conclusion
Regularly applying shredder oil is a cost-effective and straightforward way to keep your current shredder up-to-snuff far longer than its predecessors. Always refer to your shredder manufacturer's recommendations when selecting shredder oil, and keep in mind that using an incompatible type of shredder oil could do far more harm than good.
Sign Up Now
GET THE VERY BEST OF GEARHUNGRY STRAIGHT TO YOUR INBOX