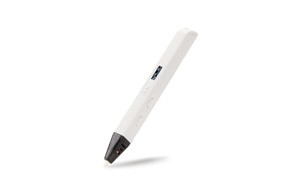 MYNT3D Professional 3D Pen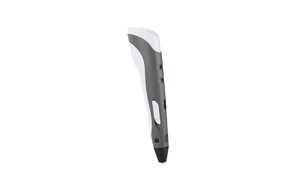 Soyan Standard 3D Printing Pen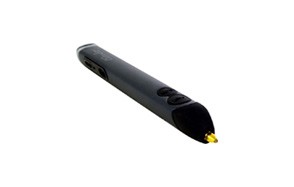 3Doodler Create 3D Pen
The buzz around 3D printers was intense not too long ago but has since dissolved into the background noise. Turns out printing guns, cars and even new limbs isn't as simple as selecting them from a menu and hitting "print". But while 3D printers have gone back to the drawing board 3D pens have actually found a solid niche for themselves, not so much as devices by which you can generate complex machinery, but as an outstanding vehicle for creative expression.
In this review guide we're going to take a look at the best 3D pens currently on the market as determined by our product review panel. Each of these pens has earned its place on this list and any of them would make a great addition to your creative kit. That said, let's get started.
Our Picks Of The Top 3D Pens In 2018
LESHP Professional 3D Pen
See More Reviews

The LESHP Professional 3D Printing Pen is indeed a professional grade 3D pen, in spite of the cutesy balloon in the photo. It offers 8 different feed settings, temperature control, loading/unloading button and an LED that indicates the pen is ready to go. As such it offers some of the most precise control of any consumer grade 3D pen on the market.
The LESHP 3D pen feels just right in an adult hand and allows you the kind of control you need to create finished products with as much polish or texture as you need. It's very light in spite of being fairly large and battery powered. You'll find it easy to release as much or as little material as you need and work it to perfection. With a bit of practice you can create everything from toys for the kids to basic architectural models.
This is an outstanding pen that lets you create a full range of objects both simple and complex. It comes with a 3 pack of PLA/ABS plastic filament and decent instructions on how to use it. Because the 3D pen gets and stays hot it's not for the little ones although with proper training and supervision your older kids will no doubt be able to master it. The pen is easy to load, easy to hold and switching back from one feed rate to another is hassle free. Whether you teach high school arts and crafts or work in an industrial design office you'll find plenty to keep you busy with the LESHP 3D pen.
Specification:
Brand

LESHP

Weight

1.2 pounds
8 different speeds allows you greater control over feed and flow.
LED display lets you monitor pen functions while in use.
Easy enough for older kids to use.
Extremely light weight.
Beware kids. Pen tip gets really hot.
AIO Robotics Full-Metal Premium 3D Pen
See More Reviews

The AIO Robotics Full-Metal 3D Printing pen is probably the most comfortable pen to work with of the dozens we tested. It's light like the LESHP but feels like it means business. You can work with this AIO 3D pen for prolonged periods of time and not suffer hand fatigue. Slim, well-thought out and featuring temperature and feed rate controls it's a pen that anyone interested in exploring 3D modeling would love to have.
The AIO 3D pen has a nice slim design driven mostly by the choice to make this a plug in device. The debate about cord or cordless often comes down to personal taste and there will be a lot of people who just like the feel of the AIO enough to look the other way on the cord. Beyond that you have a lot of control over feed rate and temperature; the 2 key factors in determining output quality. And the OLED display allows you to keep track of what's going on with the pen at any given moment.
The AIO Robotics Full-Metal 3D pen is not perfect but as far as this type of 3D modeling device goes it's pretty close. It's comfortable, versatile and affordable and being able to control temperature in 1 degree increments is a major plus. Yes, it's only compatible with PLA filaments, but you'll find you can devise just about whatever type of finished product you're after with a little practice anyway. Like the LESHP this is a 3D pen more suited to professionals but that doesn't mean your older kids won't get a kick out of it as well.
Specification:
Brand

AIO Robotics

Model

PR1002

Weight

13.6 ounces
Slim, ergonomic design makes for an effortless experience.
Uses standard PLA plastic filaments.
Temperature can be controlled in 1 degree increments so you can achieve precise effects.
USB power cable and 1 year warranty.
Like many 3D pens it gets and stays hot.
PLA only support.
MYNT3D Professional 3D Pen
See More Reviews

The MYNT3D Professional Printing 3D Pen is another fine example of the technology at its best. It has all the features that make for an outstanding 3D pen including flow rate regulator, temperature control in 1 degree increments and OLED display that allows you to monitor the goings on with the
pen. With practice and imagination there's not much you can't do with the MYNT.
The control buttons on the MYNT 3D pen have been well thought out and make for a hassle free experience once you get the feel of the pen. Because it's corded they've been able to make the device slim and easy to handle for young hands. You can also hook it up to any battery power bank with 2A minimum output which means it travels well.
The MYNT won't bowl you over with its looks but once you get used to it you'll appreciate how well it's built and you'll understand why it's one of the best-selling 3D pens out there today. One big plus of the MYNT 3D pen is the replaceable tip which means that if you should wind up making an egregious temperature error there's no need to reach for your multi-tool to try and effect repairs. Just swap out the tip and you're good to go. Good for pros and amateurs alike including kids over 8 if they're properly supervised.
Specification:
Brand

MYNT3D

Weight

12.8 ounces
3 colors of PLA plastic filament included.
Power cord allows for slimmer profile, easier handling for the kids.
Easy to read OLED display.
Full temperature control.
Lowest feed rate doesn't always work as it should.
Power cord could be a bit longer.
See More Reviews

The 3Doodler Create 3D pen is arguably one of the world's best-selling 3D pens and it's not hard to see why. It's slim and comfortable to hold, accommodates 3 different types of source material, is reliable, quiet and affordable and is a popular choice for the kids. Just plug it in, wait for the ambient light and you're good to go.
The 3Doodler Create is something of an enigma. At the same time it provides you the ability to create with 3 different types of filament it doesn't offer precise flow rate or temperature control. One could ask why and we'd like to hear the answer. That said this 3D pen still has enough going for it that it deserves a place on this "Best of" list. Those positive attributes include its build quality and reliability, the consistent quality of the extruded materials and the fact that it's not too complicated for the kids to pick up on quickly.
The lack of precise control over temperature and flow rate mean this is not a 3D pen for professionals. It's aimed squarely at teenage kids who want to explore the possibilities of modeling with something other than clay or cardboard and glue. From a practical standpoint this pen is easy on the hands, heats up quick so you can get right to work and shuts off with a single click of any button. We said the 3Doodler 3D pen was enigmatic and maybe the biggest head scratcher of them all is the fact that, while it provides limited precision in the final output, it's also one of the most expensive 3D pens on our list. Go figure.
Specification:
Brand

3Doodler

Model

3DOOD-CRE-E-US

Weight

12.8 ounces
Comfortable, slim design is good for smaller hands.
Compatible with PLA, ABS and TPU filaments.
Controls are minimal but thoughtfully laid out.
Comes with comprehensive instructions.
Can accept 3 types of filament but doesn't give you temperature control over them.
Soyan Standard 3D Printing Pen
See More Reviews

The Soyan Standard 3D Printing Pen for Kids makes no bones about its intended audience and that's great. Now if only the pen itself were small enough for those kids to use comfortably… But in spite of the fact that the pen is inexplicably bulky it's otherwise an outstanding product that most older kids interested in things creative are sure to take a liking to.
As you might expect from a 3D pen intended for kids you're not going to get a lot of control out of the Soyan Standard 3D pen for kids. The company's literature plays up the wonderful things you can make with it but is noticeably quiet when it comes to things like temperature control and feed rate. This is not a knock on the company, just an observation and mild warning for those who might be tempted to pick one up for their design firm. Pick one up for your kids instead.
Older kids with slightly larger hands will probably find the Soyan Standard to be just fine and that's good because the pen does have plenty to offer as far as ease of use and reliability are concerned. It's also available at a very reasonable price and would no doubt make a great stocking stuffer come holiday time. All in all it's a fine starter 3D pen that will add a new element to your kids' creative endeavors and should hold up a good long time. Just be sure they clean it after every use and don't touch that hot tip.
Specification:
Brand

Soyan

Model

PR006-1

Weight

9.6 ounces
High build quality ensures reliable performance.
Comes with easy to understand "quick start" guide.
Layout is generally logical and practical.
Affordably price point.
In spite of being targeted at kids it's too big for many younger ones.
3Doodler Start Essentials 3D Pen
See More Reviews

The 3Doodler Start Essentials 3D pen is a kid's pen that looks and feels like a kid's pen. It's got a nice rotund shape that's easy for the young ones to take hold of and minimal control options so things don't get confusing for your child. There are no obvious hot components for the kids to burn their fingers on and the package comes with enough stencils to fire their imagination.
The 3Doodler Start Essentials 3D pen is the 3D pen reduced to its most basic components. There's an on/off button, 1 feed rate, 1 temperature setting and no exposed hot parts for your child to burn themselves on. They can use it plugged in or, if you think they'd be better off not having a wire impose itself on their process, it can be used on battery mode for up to 1 hour.
This 3D doodle pen set comes with 48 strands of colorful plastic filament, a micro usb charger system and robust online support where you'll find hundreds of templates and project ideas. The fact that the device is so aggressively aimed at younger kids means two things; they're going to love it at first but if they don't have some guidance about how to put it to good use they'll likely lose interest pretty quick. So be there to unpack it with them and help them get started.
Specification:
Brand

3Doodler

Model

3DS-ESST-E-E

Weight

8.3 ounces
The most kid-safe 3D pen on the market.
Easy to use with basic controls.
Comes with activity guide to get your child started.
1 year replacement warranty.
Same as the pros: limited functionality.
Induxpert 3D Printing Pen
See More Reviews

The Induxpert 3D Printing Pen can be powered either by plugging into an electrical outlet or by utilizing a 2A power bank. And that's just the beginnings of what makes this 3D pen such an outstanding value. It also allows you to create using different types of plastic filament, provides precise control of the speed and quality of extruded material and has a slender, very comfortable girth.
It's pretty amazing that the Induxpert shares so many of the features of far more expensive pens without sacrificing build quality. But somehow they manage to pull it off. The "Sleekpen" as it's also known is not your average kiddie 3D pen; this is a serious modeling instrument for older kids and professionals alike that will have you singing its praises in short order. It's light, versatile and uses less energy than many other comparable 3D pens.
We're not sure exactly how they've done it but Induxpert have managed to produce a professional grade pen at a kid's pen price. You have complete control over temperature and flow rate, can use either PLA or ABS plastic filaments, can plug it into the wall or a power bank and the whole thing is also incredibly light and comfortable to hold. Whether you're an aspiring artist looking for a new expressive medium or an established designer in search of a better way to visualize your concepts the Induxpert 3D pen is the kind of value you can afford to ignore.
Specification:
Brand

Induxpert

Model

642141209418

Weight

13.6 ounces
Compatible with both ABS and PLA plastic filaments.
Allows you to achieve precise control via the temperature and flow rate settings.
Fully compatible with wall sockets or power banks.
Layout is clear and convenient.
Power cord is impractically short.
Buyers Guide
As 3D pens are new technology people typically have questions about them. Below we've compiled the questions we encountered most frequently while researching 3D pens for this review guide.
Are 3D Pens Safe for Kids? – This is a common question and an important one. Since 3D pens generate quite a bit of heat to liquify the plastic you sculpt with they are not typically recommended for children under 14 unless there is a supervising adult present. While the plastic solidifies and cools quickly upon contact with the air the tip of the 3D pen, whether metal or ceramic, remains extremely hot.
Can I Make a Machine Using a 3D Pen? – While 3D printers promised that you could use them create nearly everything at the push of a button (a promise that turned out to be untrue, at least so far) 3D pens have never been touted as something you could use to produce any type of machinery. Instead they're used to visualize an object's overall shape, either for craft or professional purposes.
How Much is a 3D Pen? – Like most things 3D pens & mechanical pencils can be had for cheap or they can be fairly expensive (more than $100). It really depends on the quality of the pen you buy. Some are inexpensive units intended as a way to get kids more fully involved with their creativity, others are more expensive and capable of producing high quality finished products. They are intended to aid creative professionals For instance: those who need to visualize an industrial design before committing too much time and energy to it.
Where to Buy a 3D Pen? – There are any number of online retailers where you can buy a 3D pen, including Amazon, eBay and others. Before buying one however you'll want to read all of our reviews above and, if need be, seek out other reviews as well both from professionals and lay persons.
Things To Look For When Buying 3D Printer Pens
While selecting a 3D pen isn't rocket science there are still plenty of things you'll want to consider before buying one for the kids or the office.
Cord Vs Cordless – As with the wider cord vs cordless debate this typically comes down to a matter of personal preference. While a cordless 3D pen will allow you slightly greater freedom of movement it will be more cumbersome and need to be recharged on a fairly regular basis. On the other hand a corded 3D pen won't need to be charged but you may find the cord to be intrusive.
Design – 3D pens can be somewhat bulky whether they have a cord or not so when considering which design is best who will be using it most is of primary importance. If the 3D pen is intended for your 10 year old you'll want to get one that is as svelte as possible. You might even want to get a corded 3D pen because they're typically less bulky than their battery powered counterparts.
Feed Rate – The more control you have over the feed rate the more detailed and precise you can be with the finished product. If you're buying a 3D pen for the kids feed rate doesn't matter so much. But if you're buying one for your industrial design company you'll want as much control as possible over the feed rate. Some 3D pens offer you as many as 8 or 10 different settings.
Temperature Control – You won't be able to produce the kind of detail you want without control over the temperature as well as the feed rate. The better pens will provide you with both and have an LCD display where you can monitor the temperature then adjust it to achieve exactly the effects you're after. Precise temperature control can also allow you to use a wider variety of plastics.

Conclusion
3D pens are a bit like tactical pens: there's a lot more going on with them than meets the eye. Whether you're in high school or are an established professional designer you'll discover this innovative technology is no gimmick.
We hope you found these 3D pen reviews helpful and are able to use this information to make an informed decision when it comes time to purchase your own 3D pen. Don't forget to stop back regularly and check out more product reviews from the experts at gearhungry.com.