Best 3D Pens in 2022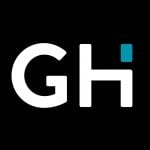 This product guide was written by GearHungry Staff
Last Updated
January 24, 2018
GearHungry Staff
GearHungry Staff posts are a compilation of work by various members of our editorial team. We update old articles regularly to provide you the most current information. You can learn more about our staff
here
.
GearHungry may earn a small commission from affiliate links in this article.
Learn more
The buzz around 3D printers was intense not too long ago but has since dissolved into the background noise. Turns out printing guns, cars and even new limbs isn't as simple as selecting them from a menu and hitting "print". But while 3D printers have gone back to the drawing board 3D pens have actually found a solid niche for themselves, not so much as devices by which you can generate complex machinery, but as an outstanding vehicle for creative expression.
In this review guide we're going to take a look at the best 3D pens currently on the market as determined by our product review panel. Each of these pens has earned its place on this list and any of them would make a great addition to your creative kit. That said, let's get started with the best 3D pens reviews.
The Best 3D Pen
Take your creativity to a whole new level thanks to this new and improved, almost clog-proof 3D pen. The latest artistic tool from MYMTD3D, this Super 3D pen, is packed with features you'll love and which will inspire and elevate your drawings and designs. It's suitable for kids just starting out with design to engineers looking to create 3D models. Featuring a stepless speed glider, it's a joy to use, providing clean and accurate, precise results, thanks to an evenly regulated ink flow.Talking of which, you can also use the temperature adjustment screw to quickly and conveniently switch between using ABS and PLA color filaments.
This slimline and ergonomically designed 3D pen couldn't be easier to use. Plus, you also get access to extensive online tutorials to help fire up the imagination. It uses the same gearbox and replaceable nozzle design as the brands Pro 3D pen but without the OLED display. Just check instead for the red flashing light to change to red, which denotes that the heating mode is ready for use. Then easily dial in using the stepless speed slide to deliver the perfect extrusion speed for the task in hand. For more intricate detailed work, it can be set to a slow and steady crawl. It's durable, reliable and also comes with a one-year limited warranty. So if you want to turn ordinary drawings in 3D works of art, then grab yourself this fantastic offer.
Key Features:
Kit includes three colors of ABS plastic filament
Fitted with a new ultrasonic sealed clog-proof nozzle
Stepless speed slider to regulate flow
Easily turn drawings into 3D works of art
Ideal for kids and adults, budding artists and engineers
Specification:
Brand

MYNT3D

Model

Super 3D Pen

Weight

8 ounces
MYNT3D Professional 3D Pen
The MYNT3D Professional Printing 3D Pen is another fine example of the technology at its best. It has all the features that make for one of the best 3D pens including flow rate regulator, temperature control in 1 degree increments and OLED display that allows you to monitor the goings on with the pen. With practice and imagination there's not much you can't do with the MYNT.
The control buttons on the MYNT 3D pen have been well thought out and make for a hassle-free experience once you get the feel of the pen. Because it's corded they've been able to make the device slim and easy to handle for young hands. You can also hook it up to any battery power bank with 2A minimum output which means it travels well.
The MYNT won't bowl you over with its looks but once you get used to it you'll appreciate how well it's built and you'll understand why it's one of the best-selling 3D pens out there today. One big plus of the MYNT 3D pen is the replaceable tip which means that if you should wind up making an egregious temperature error there's no need to reach for your multi-tool to try and effect repairs. Just swap out the tip and you're good to go. Good for pros and amateurs alike including kids over 8 if they're properly supervised. Be sure to also check out our list of the best bolt action pens for more great items like this.
Key Features:
Delivers a great user experience and features incredible ergonomics
Nozzle can be easily removed and cleaned
Supports all types of filaments including ABS and PLA
Excellent OLED screen displays speed, temperature and flow settings
Easily re-charge with USB adapter
Specification:
Brand

MYNT3D

Weight

12.8 ounces
3 colors of PLA plastic filament included.
Power cord allows for slimmer profile, easier handling for the kids.
Easy to read OLED display.
Full temperature control.
Lowest feed rate doesn't always work as it should.
Power cord could be a bit longer.
3Doodler Start 3D Pen for Kids
The 3Doodler Start 3D Pen for Kids is a kid's pen that looks and feels like a kid's pen. It's got a nice rotund shape that's easy for the young ones to take hold of and minimal control options so things don't get confusing for your child. There are no obvious hot components for the kids to burn their fingers on and the package comes with enough stencils to fire their imagination.
The 3Doodler Start Essentials 3D pen is the 3D pen reduced to its most basic components. There's an on/off button, 1 feed rate, 1 temperature setting and no exposed hot parts for your child to burn themselves on. They can use it plugged in or, if you think they'd be better off not having a wire impose itself on their process, it can be used on battery mode for up to 1 hour.
This 3D doodle pen set comes with 48 strands of colorful plastic filament, a micro usb charger system and robust online support where you'll find hundreds of templates and project ideas. The fact that the device is so aggressively aimed at younger kids means two things; they're going to love it at first but if they don't have some guidance about how to put it to good use they'll likely lose interest pretty quick. So be there to unpack it with them and help them get started. Find more great products like this by checking out our guide to the best mechanical pencils.
Key Features:
Child-friendly 3D starter kit features no hot parts
Interactive app packed with ideas and tutorials
Plastic rapidly hardens in the air with one speed and one temperature
Simply plug and play design
Perfect tactile toy for STEM learning
Specification:
Brand

3Doodler

Model

3DS-ESST-SIOC

Weight

8.3 ounces
The most kid-safe 3D pen on the market.
Easy to use with basic controls.
Comes with activity guide to get your child started.
1 year replacement warranty.
Same as the pros: limited functionality.
3Doodler Create+ 3D Printing Pen
If you are one of the very many people who just love to doodle, then how about getting even more creative with this 3D printing pen. It's ideal for all the family from kids to adults alike. You might even get your teenager in on the imaginative 3D modeling action. Featuring dual drive technology, this 3D printing device enjoys improved power, reliability and durability for the best doodling experience to date. You can literally enjoy hours of creative fun.
It couldn't be simpler to use. You just plug in your 3D pen, insert one of your 15 different colored plastic refills and wait for it to heat up. As soon as it does, you are ready to extrude. There's even an activity guide book included as well as those 15 filaments so that you can doodle away to your heart's content. Your 3Doodler Create+ 3D pen is compatible with 3mm plastic ABS and FLEXY plastic filaments only.
Key Features:
3D printing and doodling pen
The re-engineered pen delivers ultra-smooth and precise results
Better speed control to create intricate designs
Supplied with 15 colored filaments and a stencil book
Uses safe and non-toxic ABS and FLEXY plastic filaments
Specification:
Brand

3Doodler

Model

8CPSBKUS3E

Weight

1 pounds
MYNT3D Junior 3D Pen for Kids
Why should kids miss out on all the fun that 3D pens have to offer? Well, if you let them have a go with one of the other 3D pens we've featured, they'd find them too large and cumbersome and it could even be dangerous. That's why we're so excited about the MYNT3D Junior 3D Pen for Kids. It features all of the same technology but in a safe and ergonomically suitable format. 
If your kid is artistically-inclined, this 3D pen will blow their mind. It's designed for smaller hands and has a comfortable ergonomic shape that allows them to work for hours, without getting cramps. It's also much safer for young children. With no external hot components and a maximum internal temperature of 88ºC, you're not putting them at risk of burning. This is because it uses PCL (instead of ABS or PLA), which operates at a much lower temperature. The 3D pen is battery powered and uses a micro USB charging cable (included). 
Key Features:
Works with 1.75mm PCL filament
Maximum internal temperature – 88ºC
No hot external components
Micro USB charging
User manual, 3 rolls of PCL plastic, & stencils included
Specification:
Brand

MYNT3D

Model

MP030-OG

Weight

8.78 ounces
Designed for small hands
No dangerous hot components
Long battery life
Covered by a one-year warranty
LESHP Professional 3D Pen
The LESHP Professional 3D Printing Pen is indeed a professional grade 3D pen, in spite of the cutesy balloon in the photo. It offers 8 different feed settings, temperature control, loading/unloading button and an LED that indicates the pen is ready to go. As such it offers some of the most precise control of any consumer grade 3D pen on the market.
The LESHP 3D pen feels just right in an adult hand and allows you the kind of control you need to create finished products with as much polish or texture as you need. It's very light in spite of being fairly large and battery powered. You'll find it easy to release as much or as little material as you need and work it to perfection. With a bit of practice you can create everything from toys for the kids to basic architectural models.
This is an outstanding pen that lets you create a full range of objects both simple and complex. It comes with a 3 pack of PLA/ABS plastic filament and decent instructions on how to use it. Because the 3D pen gets and stays hot it's not for the little ones although with proper training and supervision your older kids will no doubt be able to master it. The pen is easy to load, easy to hold and switching back from one feed rate to another is hassle free. Whether you teach high school arts and crafts or work in an industrial design office you'll find plenty to keep you busy with the LESHP 3D pen. If you love pens, make sure you read of review of the best fountain pens. 
8 different speeds allows you greater control over feed and flow.
LED display lets you monitor pen functions while in use.
Easy enough for older kids to use.
Extremely light weight.
Beware kids. Pen tip gets really hot.
The 3Doodler Create 3D pen is arguably one of the world's best-selling 3D pens and it's not hard to see why. It's slim and comfortable to hold, accommodates 3 different types of source material, is reliable, quiet and affordable and is a popular choice for the kids. Just plug it in, wait for the ambient light and you're good to go.
The 3Doodler Create is something of an enigma. At the same time, it provides you the ability to create with 3 different types of filament it doesn't offer precise flow rate or temperature control. One could ask why and we'd like to hear the answer. That said this 3D pen still has enough going for it that it deserves a place on this "Best of" list. Those positive attributes include its build quality and reliability, the consistent quality of the extruded materials and the fact that it's not too complicated for the kids to pick up on quickly.
The lack of precise control over temperature and flow rate mean this is not a 3D pen for professionals. It's aimed squarely at teenage kids who want to explore the possibilities of modeling with something other than clay or cardboard and glue. From a practical standpoint, this pen is easy on the hands, heats up quickly so you can get right to work and shuts off with a single click of any button. We said the 3Doodler 3D pen was enigmatic and maybe the biggest head-scratcher of them all is the fact that, while it provides limited precision in the final output, it's also one of the most expensive 3D pens on our list. Go figure. Our handy guide to the best EDC pens features more great products like this.
Comfortable, slim design is good for smaller hands.
Compatible with PLA, ABS and TPU filaments.
Controls are minimal but thoughtfully laid out.
Comes with comprehensive instructions.
Can accept 3 types of filament but doesn't give you temperature control over them.
Creating 3D structures from your imagination might seem like such a futuristic thing that exists only in movies, but it's not. With the AtmosFlare 3D Pen Set, you can get this done easily and without stress.
The AtmosFlare 3D Pen Set brings your imagination to life effortlessly. It features a blue LED light and a spot of special ink, both of which allow you to draw and sculpt 3D objects in mid-air. With the AtmosFlare pen set, you can make 3D renditions of nature, animals, objects, and others. You can draw on flat or curved surfaces, non-sticky textured materials, even objects like coins or buttons for cool effects. You can also thicken lines and shapes and create texture by drawing over your finished work and curing it by shining light on your art.
The Atmosflare pen comes with ink refills in twelve different colors. This 3D pen is recommended for ages twelve and up, and it will make an excellent artistic gift for any creative child or young adult. If you are new to 3D pens, the Atmosflare website features tips on how to use them and art courses you can explore.
Unlike other 3D pens, the AtmosFlare 3D Pen doesn't use heat. Instead, it uses light to cure the ink. However, one downside to this product is that the ink has a strong smell, so it is crucial to keep it covered.
The pen is also quite sticky, but you can easily clean it from your hands and work area with some baby wipes, a hand sanitizer, or regular soaps and cleaners.
Key Features:
Blue LED light and special ink for drawing 3D objects
Versatile and can work on many surfaces
Includes cartridges and ink refills available in twelve different colors
Specification:
Brand

AtmosFlare

Model

158101

Weight

8.2 ounces
3D Pen Buyers Guide and FAQ
Key Features We Recommend You Consider When Purchasing A 3D Pen
Below we run you through a few key features we recommend you consider before unleashing your creativity on the world by purchasing a 3D pen. First and foremost, the function of a 3D is to draw, so most pens feature three key elements. The ability to load filament, converting that filament so that it can be manipulated and the physical action and means of drawing with the pen. Besides those obvious features, some products might also include a filament jamming detection system and even LED lights so that you can spotlight on intricate detail. Let's just quickly run through the key features of 3D pens.
Control - For more precise and intricate designs, you need to be able to control your pen. Look for a pen that you can control the temperature and speed of and which features an adjustable product flow so that you can regulate the rate if you are more advanced and confident operating your pen. Just starting out, you might prefer to go for something with a continuous flow option so that you can focus on your technique and getting used to using and controlling the pen itself. Intelligent controls will become more valuable, the more advanced your method and skill level becomes.
Design - The first 3D pens were very bulky and slightly cumbersome, which did make them more challenging to hold and manage. As technology is advancing, pens are becoming slimmer and more ergonomic in design so that they are easier to carry, direct, and control. Many pens are now compact in design and can also be conveniently recharged via USB, which is a significant advantage. The design of a pen plays a massive part in how natural it feels when you hold it in your hand. Ideally, you want something lightweight and ergonomic but also a pen design that features a visible filament window so that you can see how much ink you have left to work with.
Filament type - The type of filament you go for affects the kind of pen design you should purchase and ultimately, the level of results you can expect to experience too. Currently, there are about a dozen or so different filament types being used by the most popular brands. Generally speaking, the easier the filament is to replace, the better quality it should be. There are four main categories of filament currently available to purchase; Standard, Flexible, Composite as well as Speciality types.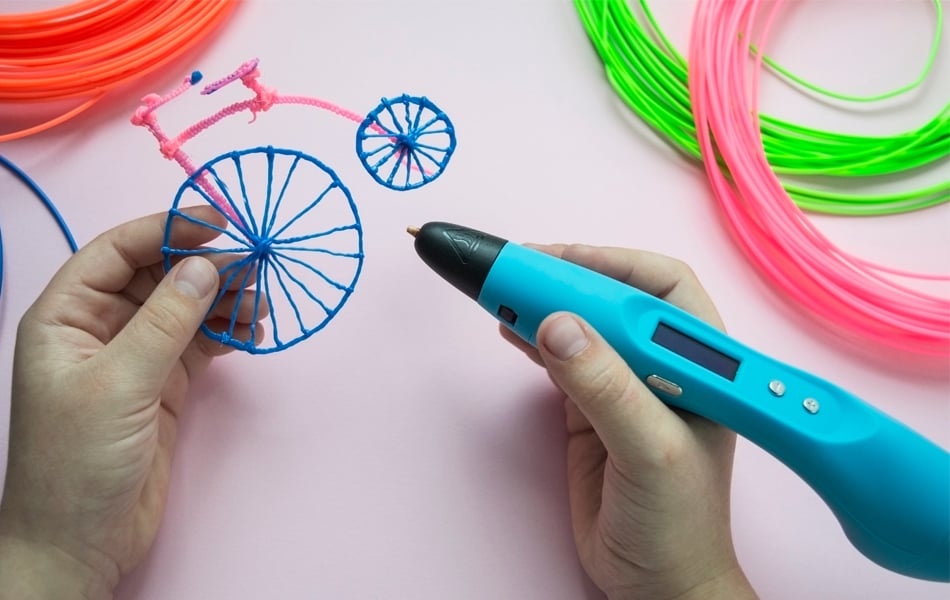 3D Pen FAQs
Q: What is a 3D pen?
A: Design-wise a 3D pen looks like a beefed-up and bulkier version of an ordinary pen or pencil; however, instead of being filled with lead or ink, a 3D pen utilizes plastic to create designs and shapes.
That might sound like a strange concept and something that will take a bit of practice to master. However, remember what it was like to first pick up a pen or a pencil? You soon perfected that technique and operating a 3D pen is no different. Patience and practice and a certain level of natural skill and artistry, and you will quickly be creating masterpieces! You hold it in the same way as you would a regular pen, so once you get your head around the new technology, the only limit to your creativity is your imagination.
Q: How does a 3D pen work?
A: Most 3D pens use plastic filaments instead of lead or ink cartridges which are inserted inside the pen and then heated up to such an intensity that they become a liquid that you can then manipulate and work with. As soon as your various colored plastics have turned to liquid format, you're ready to starting writing and designing. One of the distinct advantages of 3D pens is that you can use them on pretty much any surface, not just paper.
They're not that dissimilar in functionality to something like a glue gun. With 3D pens, you have hundreds of choices in terms of colors, and while regular drawings using a pen and pencil are limited to be strictly two-dimensional, with a 3D pen, you can, of course, create endless designs and much more realistic artwork.
Conclusion
3D pens are a bit like tactical pens: there's a lot more going on with them than meets the eye. Whether you're in high school or are an established professional designer you'll discover this innovative technology is no gimmick.
We hope you found these 3D pen reviews helpful and are able to use this information to make an informed decision when it comes time to purchase your own 3D pen. Don't forget to stop back regularly and check out more product reviews from the experts at gearhungry.com.
Sign Up Now
GET THE VERY BEST OF GEARHUNGRY STRAIGHT TO YOUR INBOX