Best Ozone Generators In 2022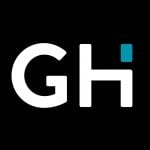 This product guide was written by GearHungry Staff
Last Updated
July 1, 2020
GearHungry Staff
GearHungry Staff posts are a compilation of work by various members of our editorial team. We update old articles regularly to provide you the most current information. You can learn more about our staff
here
.
GearHungry may earn a small commission from affiliate links in this article.
Learn more
Bad odors are, unfortunately, a by-product of life, but the great thing is that you don't have to tolerate it. There are a few routes to take, one of them being an ozone generator. Choosing can be hard because of market saturation and a broad range of styles and brands. This article contains ten of the best ozone generators on the market, as well as a few things you need to know when you want to purchase one.
The Best Ozone Generator
Enerzen Commercial Ozone Generator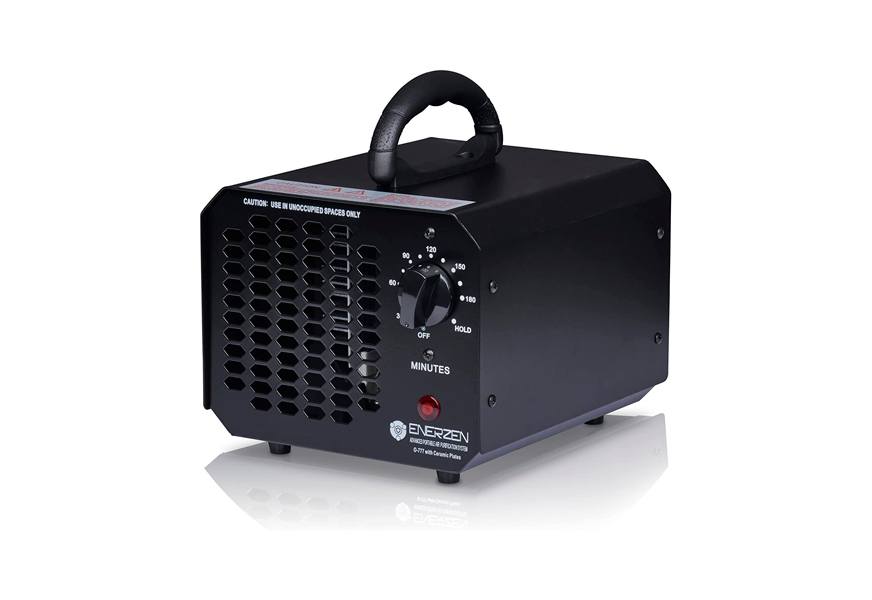 Enerzen delivers sturdiness alongside easy maintenance and a stylish compact construction in this commercial-grade ozone generator. The Enerzen Commercial Ozone Generator combines a cooling fan system and a ceramic ozone generating plate to produce 6000 mg (6g) of ozone per hour. That's enough power to de-odorize medium-to-large areas. This powerful odor eliminator will take care of smells caused by water damage, mold, long-term cigarette usage, pet urine, and other forms of pet waste.
This product is incredibly easy to maintain because the filters are made of a durable, washable material that will significantly reduce replacement costs. Stainless steel construction helps prevent ozone-related degradation. A timer system allows you to control the number of hours you want to have the device up and running.
The good thing is, you can activate this bad boy and leave for work with the timer counting down the allotted time. For less than $100 and a one year warranty to further cover your purchase, this product is a must-have.
Key Features:
A customizable timer that gives you total control
Portable design that makes it easy to carry
Low power usage helps to save money
Sturdy design and larger fans ensure it affects larger areas
Specification:
Brand

Enerzen

Model

USA 110V ONLY Model

Weight

5 Pounds
It's fitted with washable filters
Can work in large spaces
It's relatively affordable
No wheel at the base
Power cable not very long
Long exposure may cause user irritation
Airthereal MA10K-PRODIGI Digital Ozone Generator
You may have seen some reviews that say ozone cannot completely get rid of mold, but that's not applicable when you've got Airthereal MA10K-PRODIGI Digital Ozone Generator, which produces ozone at 10,000mg per hour. This odor cutting monster can handle any mold hiding deep in your walls, odors from pet waste, smoke, old apartment odors, cigarette smoke, etc. Even more, this odor treatment machine features compact construction and a finished weight of 7.4 pounds. It doesn't come with wheels at the base, but it compensates on this front with an ergonomic handle.
This ozone generator features an easy-to-read LCD screen for a smooth user control experience. Using just five easy to tap buttons, operating your machine is a breeze. Once you are ready to use it, simply close all the windows and get any living, breathing members of the family out, then light this bad boy up. The timer mode makes it possible to run your ozone generator for multiple hours if you have serious odors plaguing your house.
Lastly, the interval function mode furnished into the MA10K-PRODIGI makes it possible for you to run this Ozone generator for short intervals; every day or half a day. For $179.99, it's a little pricy, but for what you get, it's worth every dollar. Be cautious using this one, 10,000 mg/hr is a lot of ozone.
Key Features:
Sports a friendly user interface for smooth operation
Stainless steel exterior that is corrosion-resistant
Easy to clean and maintain
Possesses extra-long timer for longer operation
Specification:
Brand

Airthereal

Model

MA10K-PRODIGI

Weight

7.43 Pounds
No analogy tuning control
Easy to use
Anti-corrosion parts
Not very cheap
Devoid of base wheels
Ozone damage risk
Airthereal MA10K-PRO Ozone Generator
Airthereal enters our list with a compact ozone generator with a stylish yellow appearance. This friendly-looking odor eliminator delivers an impressive 10,000 mg/hr, so whether you are tackling odor at home or in an office building, this is what you need. It doesn't matter what kind of odor it is, from cooking fumes to dog waste, dampness, and even that choking formaldehyde odor from a new paint job, there's enough ozone to go round with the Airthereal MA10K-Pro Ozone Generator.
The MA10K-Pro features an upgraded ozone-generating plate with a five-year operating capacity. That's good news on the economic side since you won't be spending much-replacing plates. The wide range timer gives you up to two hours of unsupervised ozone generating action and odor removal. Just make sure you clear the room and lock the door/ windows for effective use.
This device is a quick alternative to fumigation, which comes with a pungent chemical odor and the inconvenience of not being able to return to your home for many hours after. Thirty minutes after the timer goes off, you are free to return to your apartment without any risk. It even comes with a three-year warranty. If you are an animal lover, here are some top air purifiers for pets you might like.
Key Features:
Two-hour timer
Portable design 
Effective against bacteria, mold, and fungi
Easy to use, maintain, and store
Specification:
Brand

Airthereal

Model

MA10K-PRO

Weight

8.38 Pounds
Suitable for home and large facilities
Easy to use
Three year warranty
Risk of ozone exposure
Analog control prone to breakage
Parts may need replacement
Airthereal MA5000 Ozone Generator
The MA5000 from Airthereal is one of the lightest ozone generators on the market. With a finished weight of just three-and-a-half pounds, this generator is easy to move from the living room to the basement to the garage. The Airthereal MA5000 Ozone Generator further features a durable metal case and an ozone-generating capacity of 5000 mg/r.
While it's not the most powerful generator on the market, make no mistake that 5000 mg/ hour is enough to cause some irritation to your throat and lungs if you get exposed during operation. To ensure no one else (including your pets and plants), is within the range of the ozone, take advantage of the timer mode so you can steer clear of the machine while operating. This machine will conveniently eliminate all odor within a thousand square meter range.
The MA5000 is an efficient power saver operating on 50 watts and 110v, that's good news for those big on energy saving. The removable and easily maintained filter also contributes to the machine's cost-effectiveness. Now add the durable ozone plate that reduces the cost of regular replacement, and you have a complete package of efficiency and effectiveness. If you need a solution for keeping the air in your home fresh on hot summer days, make sure to browse our list of the best portable air conditioners, too.
Key Features:
User manual to ease the user experience
Easy to carry and only weighs 3.5lbs
5000 mg/h ozone production capability
Sturdy design that stands the test of time
Specification:
Brand

Airthereal

Model

MA5000

Weight

3.45 Pounds
Energy-saving capabilities
It's lightweight
It's quite affordable
Not ideal for very large space
The stress of evacuating before use
Ozone may be harmful
OdorStop OS2500UV Ozone Generator
The OdorStop OS2500UV – Ozone Generator comes in hot with all the extras that separate the toys from machines. This machine is a giant in its field, dishing out ozone to a maximum coverage of 2500 square feet. If you think that's impressive, wait until you see the ultraviolet light for extra environmental sanitation. Furnished with a 12-hour timer, you can now engage your ozone generator for as long as half a day while you are at work, and you'll be confident you are returning to a cleaner, fresher home.
The OS2500UV comes with a washable antibacterial filter and a cleanable ozone generating plate. Even better, the patented design allows you to clean the ozone filter without taking apart the generator. We recommend the OdorStop for its ability to handle not just foul odor but also bacteria and viruses. On top of all this, the OS2500UV comes with an ozone output controller so you can have a controlled release into your space. With a 5-year warranty and 30-day money-back guarantee, the unit is near perfect, just like any of these HEPA air purifiers.
Key Features:
Customizable timer for safer usage
Backed by a five-year warranty
2500 square feet of operation
Useful for homes, offices, and cars
Specification:
Brand

OdorStop

Model

OS2500UV

Weight

9.75 Pounds
Longer timing operation
Extra sanitizing ultraviolet light
Customizable output
2500 square feet limit
Low maximum ozone output
A bit on the pricey side
ELINP Industrial Ozone Generator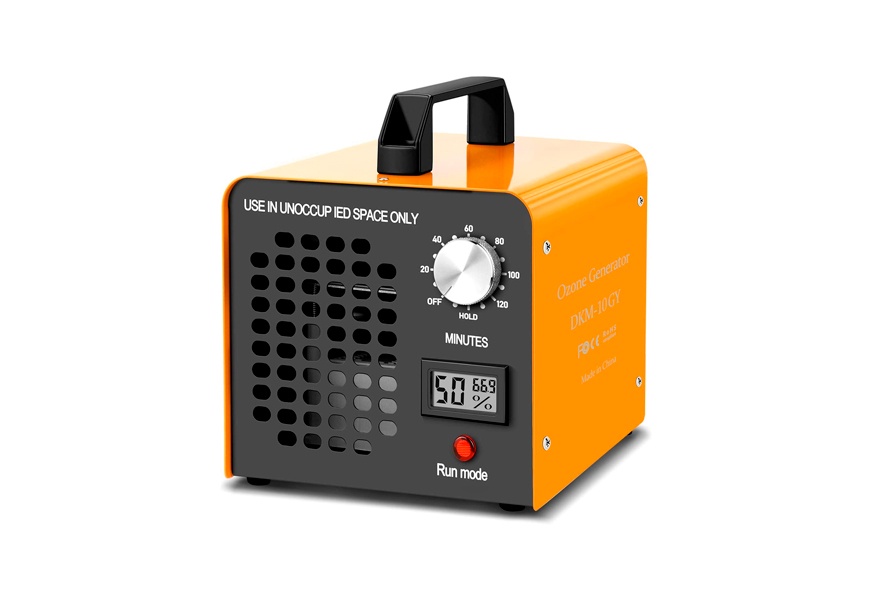 Here's another large output ozone generator for a relatively affordable price. Since it comes with a humidity level monitor, users can create a suitable environment for the optimum functioning of their ozone generator. Churning out ozone at a maximum and constant rate of 10,000 mg per hour, the ELINP Industrial Ozone Generator can handle small and large spaces. If you are a disaster management professional, this odor eliminator is a must-have.
It features a metallic construction with resistance to corrosion and a hygrometer to monitor the water vapor level in the air before usage. Simply use your air conditioning unit to reduce humidity, but make sure you shut it off before lighting up the Ozone generator.
Furthermore, the timer affords users enough time to engage this machine without necessarily being close to it to adjust it. The manufacturer designed this generator with a ceramic ozone plate that guarantees long hours of usage before replacement and also threw in a free ozone plate replacement. And like every ozone generating unit, evacuation of all living beings from the premises is a must-do before engaging this high ozone output machine. This unit comes with a 60-day money-back guarantee.
Key Features:
Hygrometer
Durable metallic construction
Operates at 10,000 mg/hour
Features a timer mode
Specification:
Brand

ELINP

Model

YL10G

Weight

4.54 Pounds
Can monitor humidity level
Money-back guarantee
Suitable for small and large spaces
No filter unit
May not work well in humid conditions
Needs regular ozone plate replacement 
The VIVOSUN Ozone Generator is a commercial-grade ozone producer with a unique three-hour timer. This timer gives users the ability to deal with those long existing odors, hidden mold, bacteria, etc. It also features a large ozone-generating capacity of 10g per hour. Combine this with the three-hour run time, and you have quite a powerful machine. There's also a hold-feature, which serves as an override control on the timer mode if you want to keep the machine running as long as you want. But ensure that there's no person, pet, or plant within a 2000 square feet radius of this generator while it works.
The ozone plates are ceramic, so you'll be using them for a considerable amount of time before replacement is needed. That's not to say maintenance isn't required. For optimum functioning of your unit, ensure ozone generating plates are clean and free of cracks. The VIVOSUN goes for a little above $100 with a generous two-year warranty. Our buying guide on smart air purifiers features some more amazing products for your home, so make sure to check them out as well.
Key Features:
10,000 mg per hour capacity
Ceramic material ozone plate
Comes with a hold feature
Equipped with a timer mode
Specification:
Brand

VIVOSUN

Model

7.63 pounds

Weight

7.63 Pounds
Longer programmed time
Larger coverage
Comes with a warranty
Devoid of humidity monitor
Ozone plates require replacement
User needs air conditioning if the air is humid
DKMHA Industrial Ozone Generator
Adopt a chemical-free approach and get the freshness you deserve using the DKMHA Ozone Generator. This machine produces ozone at a maximum output of 10,000 mg per hour. For a little over $100, you'll get a long-lasting, easy to maintain ceramic-plate ozone generator. It's also quite easy to operate, thanks to the two-hour timer mode, which offers safe, unsupervised operation.
The full anticorrosive metal jacket fixture ensures your device is protected from corrosion. The generator also comes with a hygrometer so you can condition your environment before launching your ozone attack. The manufacturer added a one-time, free ceramic replacement and a cashback guarantee within 60 days of purchase. If you have a spacious home or office, here is our list of top air purifiers for large rooms you might need, too.
Key Features:
10000 mg/hour ozone production
Two-hour timer mode
Has a ceramic ozone plate
Fitted with a humidity display monitor
Specification:
Brand

DKMHA

Model

DKM-10GY

Weight

4.54 Pounds
Suitable for large space
Two-hour timer mode
Money-back guarantee
Has no filter
Ceramic plate requires continuous replacement
High ozone can be harmful
WSTA Portable Ozone Generator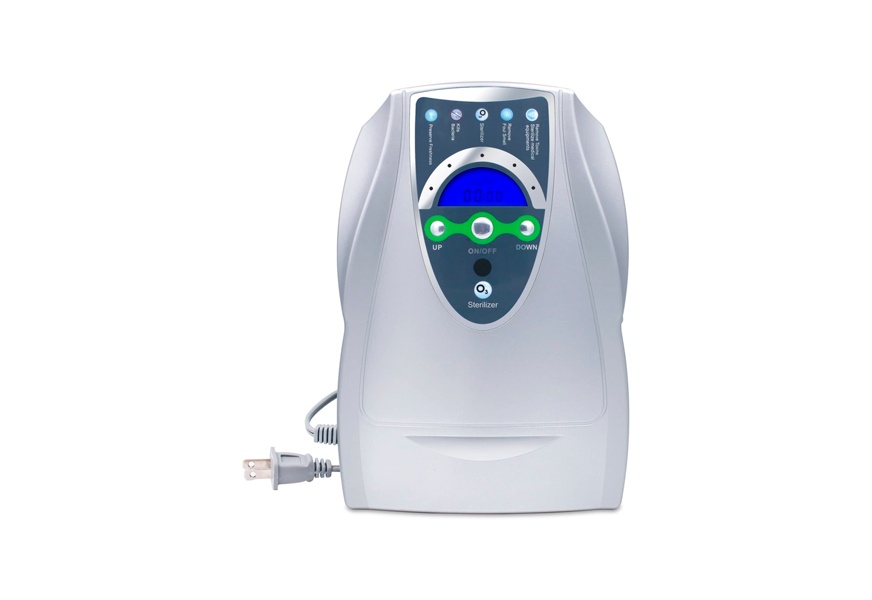 The WSTA Portable Ozone Generator is another stylishly constructed, versatile piece of odor-eliminating equipment.
With a digital LCD screen, operation is a breeze. The WSTA is easy to carry and compact. Surprisingly, this efficient ozone generator generates at a maximum rate of 500 mg/hour. This small ozone generator is a brilliant energy saver as it runs with a voltage of 110v/ 60Hz. To avoid having dry air in your home, choose one of these humidifiers everyone is buying right now.
Key Features:
Offers 0.5 g/hour ozone generation
Fitted with a wall-mountable hole
Has an LCD monitor
Comes with a timer mode
Specification:
Brand

WSTA

Model

WT600

Weight

2.25 Pounds
Energy-saving capabilities
It's quite versatile
Affordable price
Doesn't have a handle
Low ozone output
Not suitable for large space
Ozone Generator Buying Guide & FAQ
Features To Look For In Ozone Generators
Ozone Output - The output of an ozone generator is the maximum amount of ozone it can produce over time. Most manufacturers measure ozone output in mg/h. If your deodorizing needs are for a small apartment or fairly sized office space, then you may be okay with ozone generators that operate from 1000 mg/h to 5000 mg/h.
If you need a bigger space covered, you can opt for capacity in the range +10,000 mg/hr.
Timer - Exposure to a significant level of ozone concentration can cause throat irritation or can be lethal if exposure is very high. You don't want to be in the room or office when the machine is active. That is where the timer feature comes in handy.
Manufactures furnish their ozone generators with timers so that you can set the desired runtime and vacate the space until the machine stops running.
Many machines come with one-to-three hour timers. Other designs come with a much longer time frame so you can operate the machine for longer without supervision. Some timers come with a "hold" feature, which overrides the timer to make the machine work for as long as you want.
Note that this is not widely encouraged because of the risk associated with ozone exposure. However, with the necessary safety precautions in place, an ozone generator can be used at a long stretch quite effectively to tackle stubborn odor, mold, and stale cigarette odor in homes.
Fan - Conversion of oxygen to ozone is a high energy transfer process, and the process creates heat. Ozone generators are designed to remove the heat either by water or fan. Most ozone generators used for homes and reasonably sized offices use fans. Fans ensure the efficient running of the machine as well as the discharge of ozone.
The material used in the fan is crucial as generating ozone in the presence of a small amount of water vapor in the air leads to corrosion. The fan must be constructed of durable, corrosion-resistant material.
Many plastic fans will not last as ozone can degrade plastic. It's advisable to look out for fans made using stainless steel in addition to a high activated carbon finishing. Ozone generators with higher quality fans can sometimes be pricy.
Filter System - Most ozone generators contain a filter to trap dust, dirt, and even large germs. A high-quality filter goes a long way towards helping an ozone generator run efficiently and effectively. The material used in the construction of the filter will determine its ease of maintenance and cost-effectiveness.
Look out for filters made out of washable materials. Manufacturers usually state this as a selling point, because filters that are not washable will need regular replacement.
Ozone Control - Because of the risk associated with ozone exposure, a feature that allows you to control ozone levels is an important feature. Some manufacturers design this feature as an automated smart sensor; others use a manual dial system.
Safety - Ozone is harmful in sufficiently large quantities. Use caution when operating an ozone generator in enclosed spaces.

Ozone Generator FAQ
Q: What is an ozone generator?
A: An ozone generator is a device that uses ozone to cleanse the air of odors, kill mold, bacteria, and even viruses. The generator exploits the reactivity of ozone (O3), which possesses one extra oxygen (O2) atom compared to naturally occurring oxygen. Ozone is highly reactive when attaching itself to other molecules in the atmosphere. It gives away it's extra oxygen molecule, which then reacts with odor-causing pollutants, neutralizing them.
Q: What type of maintenance do ozone generators need?
A: Ozone generators are usually fitted with ozone generating plates made of ceramic or other materials. The ceramic material should be occasionally cleaned and examined for cracks. You'll have to replace these parts frequently. Many manufacturers recommend four-to-six months, depending on the frequency of use. The filters also require frequent washing if the material is washable. If not, you should opt for a total replacement.
Q: How long should I run my ozone generator?
A: For safety reasons, you should not run your ozone generator for too long. Half an hour or an hour daily is enough to address mild odor. If the odor is stronger or you want to kill mold, a couple of hours every other day or so should suffice.
Q: What can happen if I am in the room/area while these are running?
A: Do not try to test the effect of being in the same room with an operational ozone generator. When inhaled, ozone can impair the functioning of the lungs, cause chest pain, short breath, and irritation in the esophagus. In the worst cases, it can cause death for folks with respiratory disorders such as asthma or pulmonary fibrosis.
Q: How big of an ozone generator do I need?
A: This depends on the kind of space you would like to deodorize. If you have an apartment or small office, a 5000-10000 mg/ hr generator is ideal. Opt for a larger device if your space is larger.
Sign Up Now
GET THE VERY BEST OF GEARHUNGRY STRAIGHT TO YOUR INBOX